Blog Home
Looking at Pictures with Mary Heilmann
Jul 5, 2016
Looking at Pictures, a retrospective of the work of Mary Heilmann currently on view at London's Whitechapel Gallery, is relaxed, playful and profound. Heilmann's work doesn't just occupy the space; it inhabits it. It transforms the gallery into a home. Abstract geometric paintings; figurative depictions of waves and lines on the road at night; ceramic orbs spreading out across a wall; pastel beach chairs casually strewn about. The moment you enter the exhibition you realize that stories are being told. It feels less like you walked into an art show, and more like you crawled into the cavernous tree house of a trusted friend, where you are now invited to explore her memories and dreams.
Narration and Imagination in the Art of Mary Heilmann
Heilmann's work is about conversation. Ideas are being exchanged between the works, between Heilmann and her past and future, between all of those things and every viewer that enters the space. Looking at Pictures spans five decades of Heilmann's career. Born and raised in California, she earned her MA from Berkeley in 1967. She moved to New York City in 1968 and was welcomed by her fellow artists, befriending Richard Serra and other legendary souls while hanging out at Max's Kansas City, an equally legendary watering hole. Misogyny toward female sculptors inspired Heilmann to start painting. She recalls, "I didn't study the craft of oil painting; I picked it up as I went along."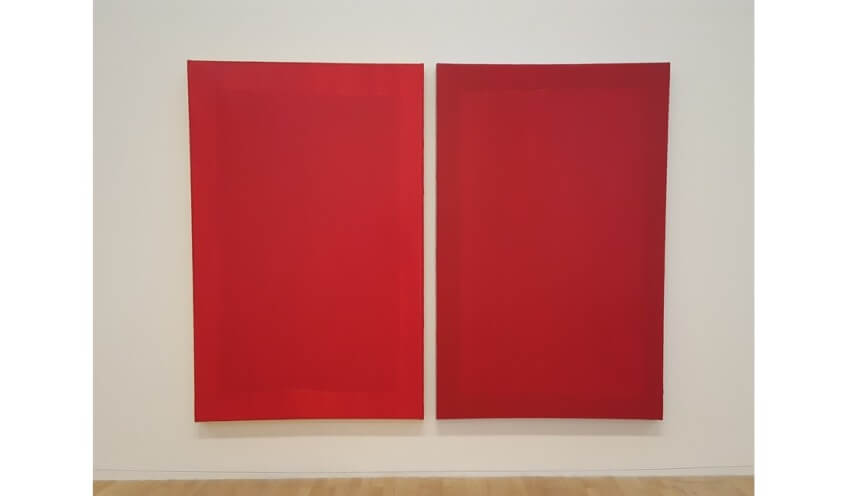 Mary Heilmann - Chinatown, 1976, Oil on Canvas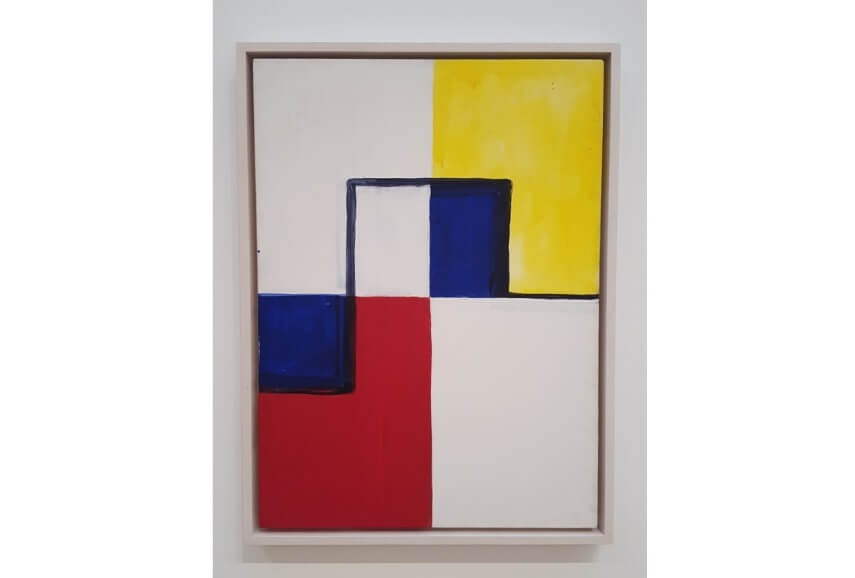 Mary Heilmann - JJ, 1986, Acrylic and Watercolour on Canvas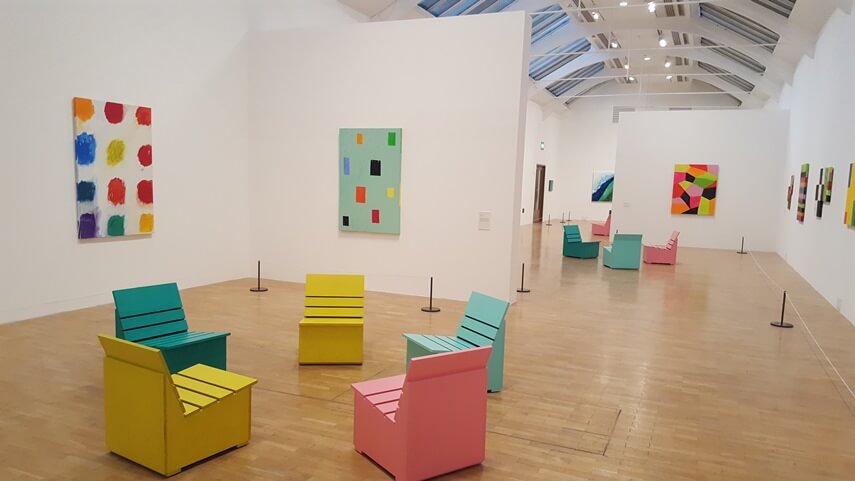 Mary Heilmann, Whitechapell Exhibition 2016, Exhibition view
Taking More Narrative Vibe
This thoughtful exhibitiontakes on that entire evolution Heilmann experienced as an artist. It begins with abstract, Post Painterly works like Corona Borealis (1970) and Chinatown (1976), which reference Minimalism and the color studies of Josef Albers. Then as Heilmann gains confidence as a painter, we see her work take on a more narrative vibe. Her titles become more personal, and figurative elements begin showing up among the abstract imagery. That evolution is poignantly captured in Ghost Chair (1989). From afar this serene, white canvas with large blocks of red and yellow seems like a punk rock adaptation of a geometric grid by Piet Mondrian. But when viewed up close the subtle image of a nearly translucent white chair appears between the vibrant, red and yellow rectangles, painted in homage to Heilmann's friends lost to AIDS.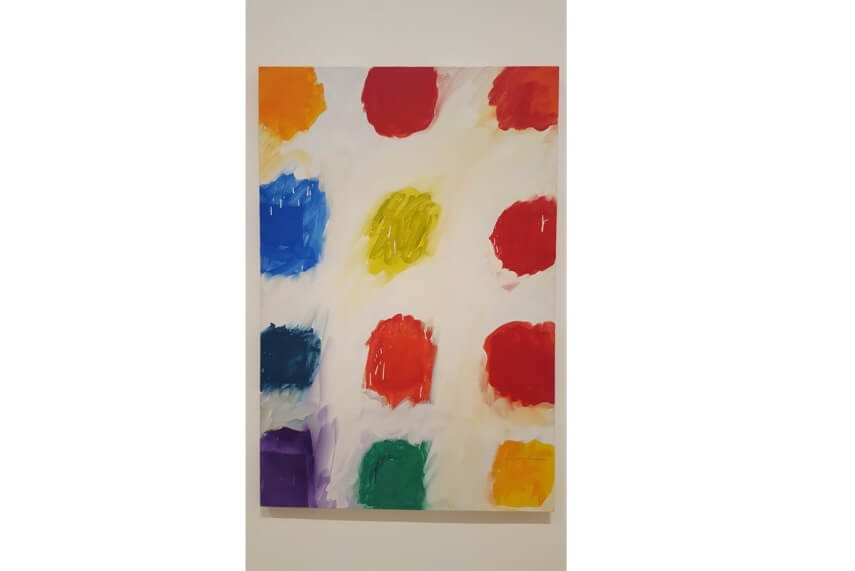 Mary Heilmann - Franz West, 1995, Oil on Canvas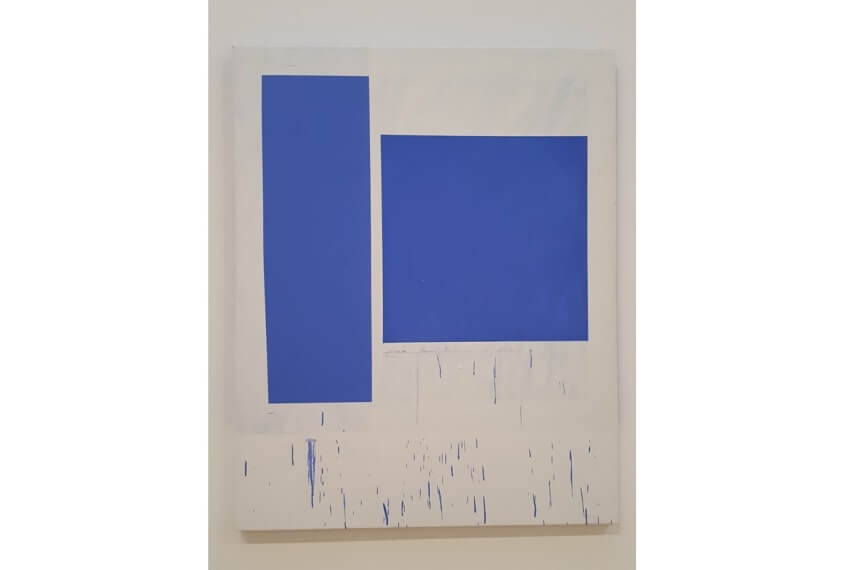 Mary Heilmann - Blue and White Squares, 1997, Oil on Canvas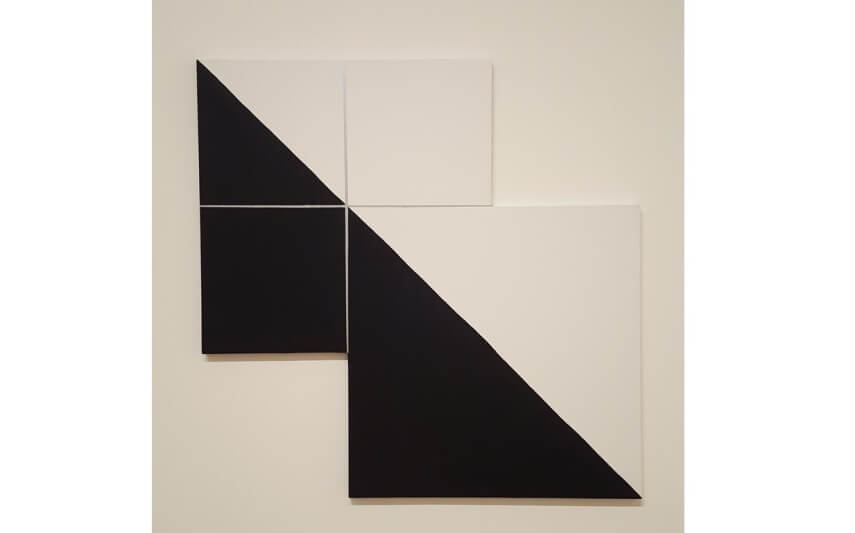 Mary Heilmann - Lifeline, 1990-94, Oil on Canvas
Between Insanity and Mathematics
Heilmann's sincerity and range eventually brought her enough recognition that she enjoyed more freedom to make and exhibit whatever kind of work she wanted. She returned to her sculptural background, creating ceramic works such as Piano (1983), interweaving shaped canvases such as Lifeline (1990-94), and the oh-so-California, dream-like beach chairs that act both as aesthetic objects and places of respite in which viewers might relax and consider the other works. The impact of experiencing Heilmann's oeuvre up to this point together in one place is akin to hearing an epic tale told by a trusted friend in pieces, out of order but somehow making uncanny sense.
Heilmann addressed that feeling herself in a 2013 interview with Hyperallergic, saying, "…it's like mathematics without numbers, or symbolic logic. I imagine that insanity could be like somebody looking at the world and taking it apart and putting it back together, without ever communicating verbally…But then people like you come over and we have a conversation and I figure out how to make sense."
Mary Heilmann: Looking at Pictures is on view now through 21 August 2016 at London's Whitechapel Gallery.
Featured Image: Mary Heilmann - Renny's Right Geometry of a Wave, 2011, Oil on wood panel
All photos by IdeelArt