Blog Home
Maija Luutonen - A Star Shining Bright on the Finnish Contemporary Art Scene
Mar 5, 2018
Finnish artist Maija Luutonen was recently given an important opportunity—and an even more important responsibility. She was chosen as the first artist to participate in a groundbreaking new art program called the Kiasma Commission by Kordelin. The goal of this program is to identify one Finnish artist each year who is at a point in their career between local and international acclaim. If the artist is able, and willing, to make the leap, this project offers them the chance to create a new body of work that will then be exhibited at the Museum of Contemporary Ary Kiasma in Helsinki. The exhibition is then promoted globally to the media and to art institutions as a representation of the condition of the Finnish artistic vanguard. The opportunity is guaranteed to offer the selected artist international exposure. It also comes with the burden of acting as the official representative of the contemporary art scene of Finland to the entire world. Luutonen was a fascinating choice to pioneer this innovative program. She describes herself as mostly a painter who works with acrylics on paper. She also constructs sculptural objects, such as shoes and bottles, which sometimes accompany her paintings, resting on the floor beside them or underneath them. The images she paints are mostly abstract, or if they are representative they tend to be suggestive rather than obvious. Every work she makes is stylistically unique, almost to the point that an exhibition of ten of her paintings could easily look as if it represented the work of ten different painters. Rather than choosing an artist with a more immediately identifiable, or iconic stylistic approach, the Kiasma Commission chose one that is hard to define. The choice says a lot about the state of Finnish art. Luutonen fits naturally with the concept for which the project was named. Kiasma (or chiasma) is an anatomical intersection at which a metamorphosis begins. The architect of the Museum of Contemporary Art Kiasma designed the building to represent a shining crossroads—a point of activity where transformation is possible—an idea that is fundamental to the work Luutonen creates.
The Space of Existence
It has been said of Luutonen that, "through her work, [she] explores the space that is brought into existence in the paintings." Space is a frequent concern for many different artists. Every surface awaiting paint is a two-dimensional, flattened space. The painter has an option to leave it flat by avoiding depth and perspective in the image; or the painter might mobilize illusionistic space by using perspective and depth to draw the eye inward toward an imaginary world "within" the surface of the work. Luutonen embraces the notion that either choice has ramifications outside of the painting. If a viewer is drawn into illusionary space, they might become less aware of the room they are in. If they are met with a flattened surface, they may become more aware of the painting as an object. Every work Luutonen creates is an attempt to find some new starting point between these two states of mind—a unique attempt to create a spatial reality that will surprise and delight viewers, as they navigate their relationship to the environment inside and outside of their mind, and inside and outside of the painting.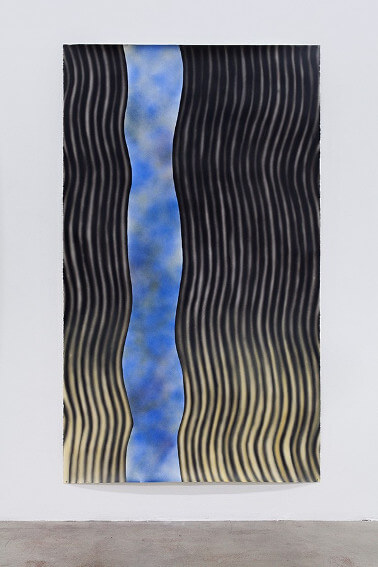 Maija Luutonen - For a Broken Heart, 2016, 240 x 140 cm, Acrylic on paper, Installation view, Maija Luutonen: Soon, Nov 19 – Dec 18, 2016, SIC, Helsinki, Photo: SIC
Essential to her exploration of space is the gallery itself. Luutonen meets each new exhibition room with a critical eye. The choice she makes of how the work will interact with the room is on one hand simple and intuitive. On the other hand, she sees it as critically important. In her Kiasma Commission exhibition, she has arranged her works so that viewers will feel a cohesive sense that they are in an installation. Some of the works are hung so high that they are impossible to view on an intimate scale. Some lean against windows, making them vulnerable to fluctuations of natural light, and forcing them to compete with the allure of the outside world. Some works are huddled in tight groupings, such that they take on the presence of families of objects, which rely on each other in part for their meaning and purpose. The exhibition declares that it is a unified experience, in which disparate-seeming artworks collaborate with each other toward an unknown goal. It is the manifestation of spaces—both physical and psychological—within a space.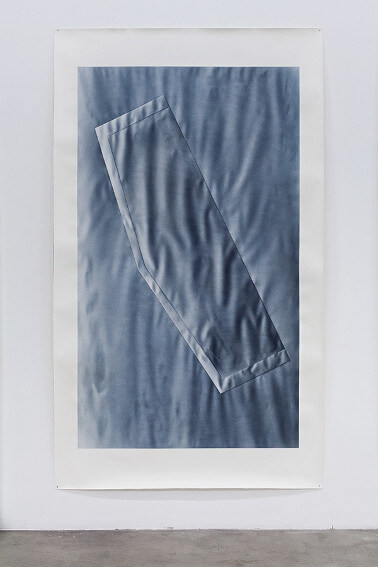 Maija Luutonen - In Ur Pt, 2016, 240 x 140 cm, Acrylic on paper, Installation view, Maija Luutonen: Soon, Nov 19 – Dec 18, 2016, SIC, Helsinki, Photo: SIC
The Compulsion to Repeat
What is most notable about Luutonen is that her work is so open. Sometimes her paintings feel as though they were completed in just a few minutes—and indeed sometimes they were, using a spray can. Other times the nuanced mastery of technique is overwhelming. Some images present themselves like sophisticated graphics; others like primitive scrawls; and still others like photorealistic glimpses of an uncanny dreamscape. Everything about every painting is fresh. An experimental vibe gives this installation an electric charge. Luutonen avoids what psychoanalysts refer to as repetition compulsion—the desire to revisit something over and over again—which so many other artists give in to while driving at one concept throughout their career.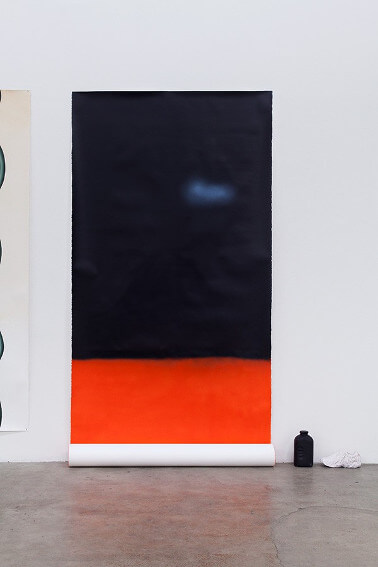 Maija Luutonen - Weights, Calories, Two Weeks, 2016, 320 x 140 cm, Acrylic on paper, Sculpture: epoxide resin and silicone, Installation view, Maija Luutonen: Soon, Nov 19 – Dec 18, 2016, SIC, Helsinki, Photo: SIC
With this installation, Luutonen brings to mind the opposite of the compulsion to repeat—the work embodies the compulsion for new beginnings. As such, it perfectly inaugurates the Kiasma Commission by demonstrating that the Finnish avant-garde is committed to vision and experimentalism. It also challenges us as viewers to ask whether we are here to see art, or whether the art we look at is intended to help us see something about ourselves. As will be the case for all future Kiasma Commissions, the works Luutonen created for this installation will join the permanent collection of the Museum of Contemporary Art Kiasma following the exhibition. Until then, they will be on view in their current state through 29 July 2018.
Featured image: Maija Luutonen - Rednose Barista, 2016, Acrylic on paper, Sculpture: epoxide resin and silicone, Installation view, Maija Luutonen: Soon, Nov 19 – Dec 18, 2016, SIC, Helsinki, Photo: SIC
By Phillip Barcio