Blog Home
Loie Hollowell Debuts in Asia with New Abstract Artworks
Feb 21, 2018
Loie Hollowell has tapped into something powerful. She sold out her first solo exhibition at Pace Gallery Palo Alto in 2017. Now her second solo show, Loie Hollowell: Switchback, opening on 26 March at Pace Hong Kong, is generating extraordinary buzz. What is so exciting about the work is the way Hollowell plays with abstraction and sexuality. Through a process of intense feeling and meticulous reduction, she conjures exciting, contemporary, trans-denominational symbols for the worship of creation. Her luminous, colorful images employ ancient forms, such as the ogee (back-to-back S-curves representing breasts), the mandorla (a pointed, upright, ovular form representing the vagina), and the lingam (a phallic representation of the energy of Shiva, the Hindu deity of transformation and the destruction of evil). It is a visual language abstracted from reality, but Hollowell does consider herself an abstract artist. As she told Haley Mellin of Garage Magazine in 2017, "Even though I am constantly trying to push the figure into an abstract space' I can never get the realism of where it originated out of my head." Hollowell considers her images to be clear representations of sexual organs, biological functions, and the physical union of bodies. But what makes them so compelling is that they are also unavoidably open source—viewers can add or subtract to their content, meaning and functionality in endless ways. Like Josef Albers paintings, these images can be read as formal studies of color relationships. Like Georgia O'Keeffe paintings, they can be interpreted as aesthetic explorations of the sensuality of natural forms. Or like the overtly religious paintings of Ghulam Rasool Santosh, they can be experienced as signposts along the route of a spiritual quest.
This Means That
Perhaps a better word than abstraction for what Hollowell does would be aniconism—the self-manifestation of archetypal representations of spiritual forms. Aniconism is an ancient approach to art-making. It involves adopting naturally occurring objects, such as sticks and rocks, as symbols for spiritual entities, such as fertility gods and goddesses. Much like abstraction, aniconism is democratic, meaning it plays to the most universal form of animal communication—substitution; or the understanding that one thing is capable of meaning another thing. A gesture can refer to an object; a sound can refer to a gesture; a symbol can refer to a sound—such is the basis of all language. Some substitutions are meaningless. Others contain a multitude of meanings. Not all substitution is abstraction; and not all abstraction is substitution. Contemplating the difference is part of what is fun about looking at abstract art.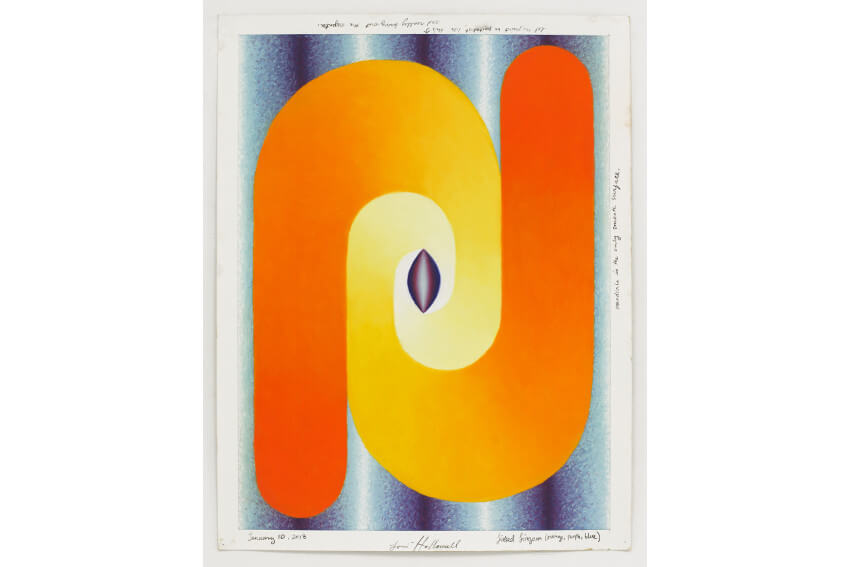 Loie Hollowell - Linked Lingam (orange, purple, blue), 2018, Soft pastel and graphite on paper, 26" x 20", 66 cm x 50.8 cm, © Loie Hollowell Photograph by Kerry Ryan McFate, courtesy Pace Gallery
Unlike abstraction, aniconic art is specific in its meaning, and intentional in its symbology. It is rooted in iconoclasm—the belief that religious imagery is heretical, and should therefore be destroyed. Almost every religious tradition embraces spiritual totems. Some totems, like Pueblo kachina dolls or Christian crucifixes, represent figurative images of deities. Since iconoclastic religious sects ban such imagery, aniconic forms are instead mobilized to fulfill the totemic need. The images Hollowell makes are aniconic in two ways. First, they employ existing aniconic symbols, such as the Shiva linga. Secondly, they are themselves aniconic, in that Hollowell intends them as celebrations of the ecstasy and agony of the human sexual experience within a culture that is borderline puritanical in its avoidance of celebration of human sexuality. These images are themselves totems—emblems showing reverence for the sanctity of the human body, while avoiding accusations of cultural heresy.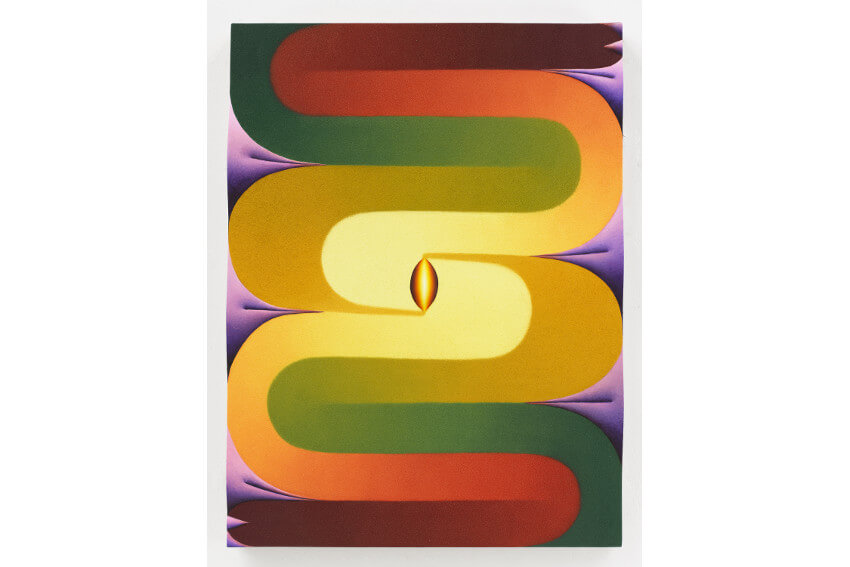 Loie Hollowell - Stacked Lingams (yellow, purple, green, red), 2018, oil paint, acrylic medium, sawdust, and high-density foam on linen mounted on panel, 28" x 20-1/2" x 2", 71.1 cm x 52.1 cm x 5.1 cm, © Loie Hollowell, Photograph by Kerry Ryan McFate, courtesy Pace Gallery
A Formal Journey
What makes the work Hollowell makes extra compelling is that in addition to its symbolism, there is a formal conversation playing out. On their way to completion, her works go through a highly structured and inquisitive process. The process begins when Hollowell has a flash of an idea about, for example, part of her body, or a sexual experience she had with her husband. She sketches that idea in a figurative way then transforms it into pared down symbols using pastels and graphite on paper. Next she builds a custom painting surface. That surface starts with poplar. She then builds it up with linen, molding paste and sawdust, creating a surface into which she can carve, so she can actually enter the surface. The size of the surface is related to the subject of the work, and the scale of her own body. Says Hollowell, "When I started on this work' I began with 9 by 12-inch paintings. I liked that size because it was the size of the area of my vagina and ovaries' my female core area. Last year I made a series of 21 by 28-inch paintings, Lick Lick—they were paintings of psychological headspace. I liked that size for exploring the territory of the brain."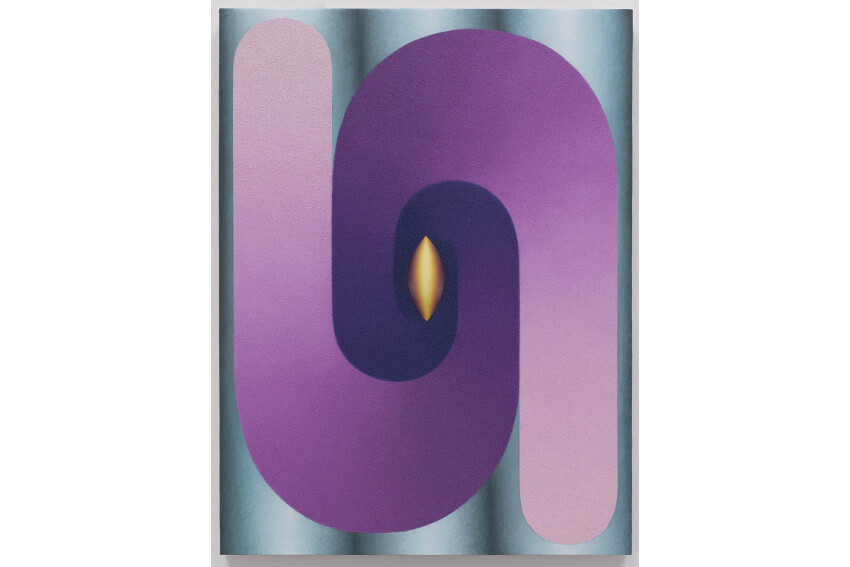 Loie Hollowell - Linked Lingam (purple, teal, yellow), 2018, oil paint, acrylic medium, sawdust, and high density foam on linen mounted on panel, 28" x 20-1/2" x 2", 71.1 cm x 52.1 cm x 5.1 cm, © Loie Hollowell Photograph by Kerry Ryan McFate, courtesy Pace Gallery
Within this process, Hollowell engages in formal explorations of color, medium specificity, and sculpturality in painting. These aspects of her work arguably have no symbolic power at all. They have to do with mastery of craft and technique. Her dedication to this lengthy process, however, is what gives her paintings such textured depth. It is what gives them their physicality; what pulls viewers closer to them, and inspires them to stand for long periods of time assessing what they are looking at and how it came into being. Her willingness to dive deep into the intimate, physical, and formal aspects of her work is what enables such luminosity to emerge from her surfaces. Such qualities are what separates paintingsand drawings from ink jet printsand photographs. And in that way, this formal aspect of what Hollowell does is symbolic after all, as it adds emotional presence, and justifies the value of human touch.
Featured image: Loie Hollowell - Stacked Lingams (orange pussy squeezed by blue, purple, red and green lingams), 2018, Soft pastel and graphite on paper, 26-1/16" x 20-1/16" (66.2 cm x 51 cm), © Loie Hollowell, Photograph by Kerry Ryan McFate, courtesy Pace Gallery
By Phillip Barcio