Blog Home
The Cool Years in LA and The Early Works of Judy Chicago
Jul 11, 2018
Judy Chicago is easily amongst the most influential artists today. Her monumental installation "Dinner Party" (1974-79), part Minimalist icon and part Feminist masterpiece, inspired simultaneous criticism and acclaim, and established her as a cultural pioneer. Yet there are many who are still unfamiliar with her early work. Chicago has been such a vital and prolific member of the vanguard since the 1970s that many of her experimental works from the 1960s have never even been seen by contemporary viewers, including many of her biggest fans. Happily this summer, in anticipation of a Judy Chicago retrospective opening in December at the Miami MOCA during Art Basel Miami Beach, the Villa Arson in Nice, France, is hosting an innovative exhibition that aims to bring her early experimentations back into the light, to give them the respect they deserve. Titled Los Angeles, the cool years / Judy Chicago, the exhibition offers a detailed and intimate look at the many aesthetic phases Chicago went through leading up to the creation of "Dinner Party." It shows the incredible range of ideas this artist developed during that vital decade, and offers a glimpse of an undeniable genius who was, and still is, completely dedicated to openness and growth.
The Power of a Name
Judith Sylvia Cohen was born in Chicago, Illinois, in 1939. Her father, Arthur Cohen, was a liberal and open minded Rabbi who also instilled in both Judy and her brother an appreciation for the arts and music, as well as an appreciation for gender equality and respect for the rights of workers. Judy was only five years old when she first began taking classes at the Art Institute of Chicago. But sadly, her father died when Judy was just 13 years old. Five years later, Judy left her hometown and moved to California where she enrolled as an art student at UCLA. There, she met her first husband, Jerry Gerowitz, who tragically died just five years later in a car crash, leaving Judy a widow at age 23. Along with these devastating losses, of her father and first husband, Judy founder herself facing the cruel, ironic notion that the only names by which she had ever been known belonged to men. Despite her love for them, she resented the fact that she had never had the chance to choose her own identity.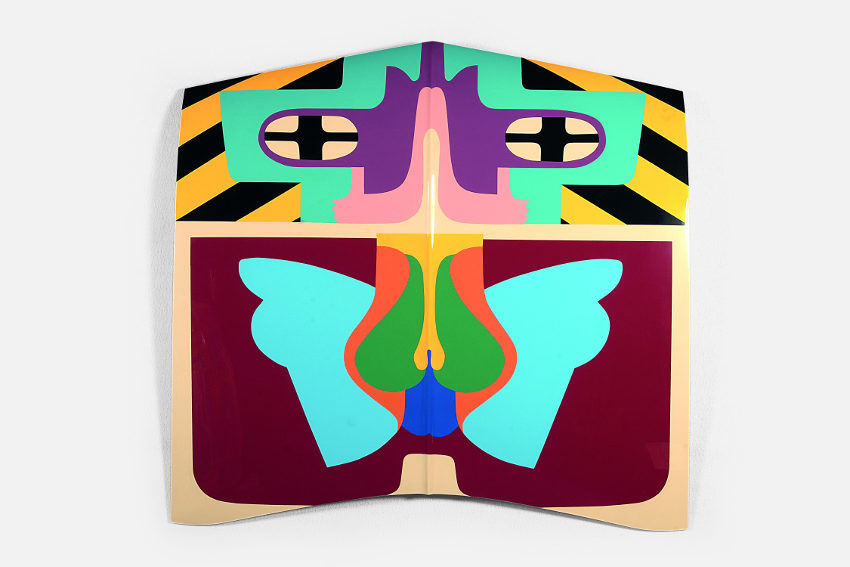 Judy Chicago - Flight Hood, 1965-2011. Peinture spray sur capot de Corvair, 109 x 109 x 71,1 cm. Courtesy de l'artiste et Salon 94 Gallery, New York. ADAGP 2018
As she worked towards her Masters Degree, Judy struggled to understand what her true identity was, and wondered what she should call herself. Around 1965, she began a series of paintings on car hoods which involved symbology related to gender roles and sexuality. The surface meanwhile speaks agonizingly to the circumstances in which her love had recently died. In 1967, an essay by Lucy Lippard and John Chandler titled "The Dematerialization of Art" was published, which inspired Judy to contemplate the true value of concrete objects, and for that matter material labels related to identity. She gave voice to her ideas on the topic in 1969 with a series of Atmosphere works, in which fireworks created clouds of ephemeral smoke. By 1970, her work had helped her reach a moment of resolve. She dissolved her past self, and emerged as a more confident, self-actualized artist. In celebration, she posted an advertisement in Artforum, and simultaneously hung a banner at one of her solo exhibitions, which read: "Judy Gerowitz hereby divests herself of all names imposed upon her through male social dominance and chooses her own name, Judy Chicago."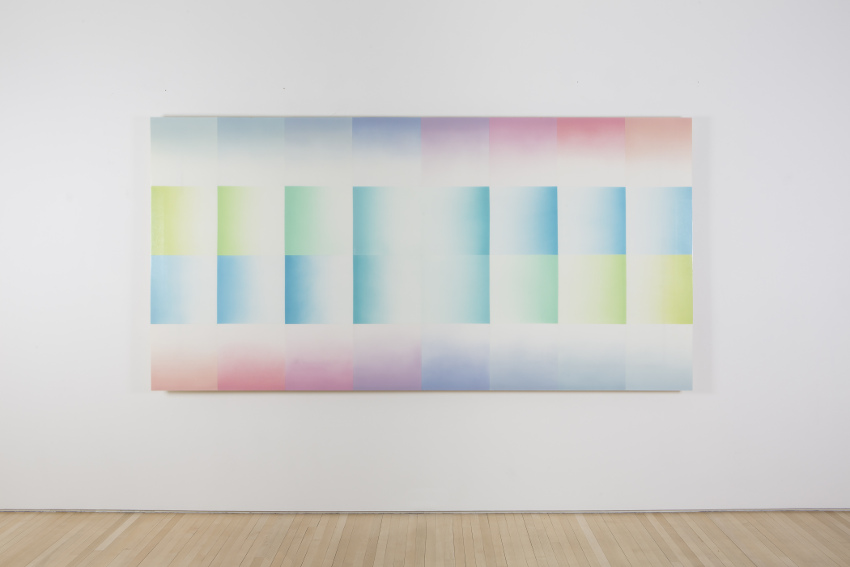 Judy Chicago - Evening Fan from Fresno Fans series, 1971. Laque acrylique pulvérisée sur acrylique, 152,4 x 304,8 cm. Courtesy de l'artiste et Salon 94 Gallery, New York. ADAGP 2018
All Shapes and Colors
Alongside the very personal works that Judy Chicago made during the 1960s, she also created several bodies of work that took on the more academic issues that were brewing in the art world at that time. The current exhibition at Villa Arson in Nice reconstructs several of those groundbreaking pieces. One is "Feather Room" (1967), a white cube gallery space filled knee-deep with feathers, Another, titled "Rearrangeable Rainbow Blocks" (1965), offers a whimsical, play-based perspective on Minimalism, counteracting the stoic, male dominated point of view of artists like Donald Judd with something fluid, creative, and open. Seeing these works together alongside her car hood pieces and images of her Atmospheres series offers a much more complex vision of Chicago than most other exhibitions have offered in the past. This exhibition portrays a witty, intelligent, highly conceptual individual who is unafraid to express both her intellectual side and her poetic, human side. It is a show rich with feeling and full of heart, giving us the sympathetic, well-rounded glimpse of Chicago that this artist deserves.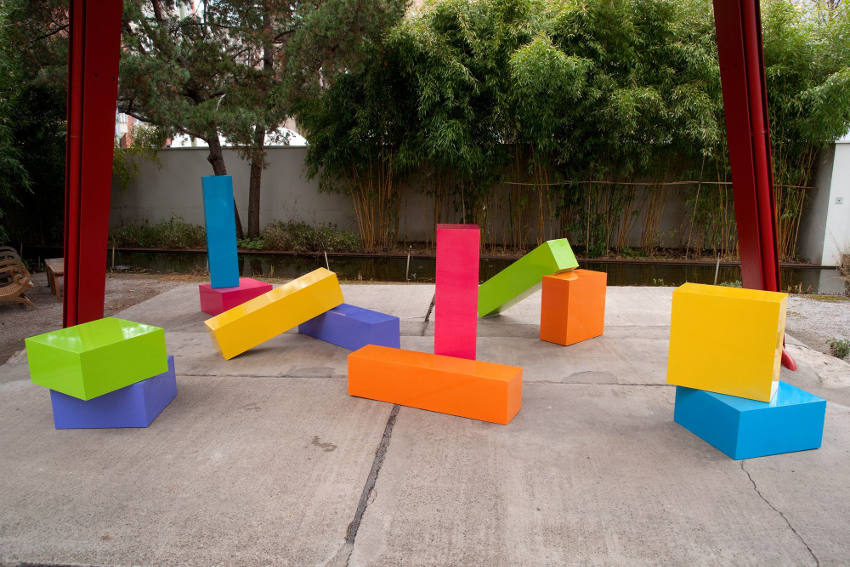 Judy Chicago - Rearrangeable Rainbow Blocks, 1965. Laque sur aluminum, 12 éléments : 6 blocs 30,5 x 30,5 x 121,9 cm et 6 blocs 61 x 61 x 30,5 cm. Courtesy de l'artiste et Salon 94 Gallery, New York. ADAGP 2018
Additionally, Géraldine Gourbe, the curator of this exhibition, has pursued the innovative idea to re-imagine what the limitations of a solo exhibition usually are. Calling this show "a monographic and collective exhibition," she curated it from the perspective that we cannot really fully appreciate the work Chicago made during this essential time in her life without also seeing some important works from a number of contemporaries who directly influenced her. I love this idea, that a solo show might also include just a small sampling of works by other artists that inspired the featured artist to make the works that are on view. In this case, the other works on view are by Marcia Hafif, John McCracken, Robert Morris, Bruce Nauman, Pat O'Neill, and DeWain Valentine, each an innovator in their own right. They help demonstrate that despite going through some intensely personal circumstances, Chicago was not working or thinking in a vacuum. Furthermore, they do nothing to diminish Chicago, but they in fact elevate her genius by specifying exactly how she stood apart from the other brilliant artists of her generation, even as they helped shape her vision. If you are in France this summer or autumn and would like to experience this extraordinary exhibition for yourself, Los Angeles, the cool years / Judy Chicago is on view at Villa Arson Nice through 4 November 2018.
Featured image: Judy Chicago - Model for Fresno Fan #6, 1971. Laque acrylique pulvérisée sur acrylique, dimensions encadré : 38,1 x 76,2 cm. Courtesy de l'artiste et Salon 94, New York. ADAGP 2018
By Phillip Barcio