Blog Home
5 Current and Upcoming Exhibitions of Female Abstract Artists to Visit
Mar 11, 2019
In celebration of International Women's Day, we are taking time to draw attention to five of our favorite exhibitions by female abstract artists in 2019. Some are on view right now, others are upcoming: all are extraordinary and promise to be well worth a visit. The first International Women's Day was organized in 1909 in the United States. In the years since, it has spread all over the world, growing into a global celebration of "the social, economic, cultural and political achievements of women." The day is also about bringing attention to the idea of gender parity—something that has long been at the center of calls for reform in the art world. Happily, in recent years great leaps have been made towards achieving a more equitable atmosphere for women in the art world. One extraordinary recent example—the participants in the 2019 Whitney Biennial were just announced, and for the first time in its history, more than half of the artists in the Biennial identify as female, and in addition, more than half are artists of color. We realize, of course, that by highlighting only five exhibitions here today, we are leaving hundreds of deserving exhibitions out of our list. All we can say is we look forward to the challenge of seeing, and covering, as many other exhibitions by female abstract artists as we can for the rest of the year, and every year moving forward.
Bridget Riley at the Hayward Gallery, London
23 October 2019 – 26 January 2020
Bridget Riley is one of the most influential artists of our time. At age 87, she continues to be a vibrant member of the contemporary art community, expanding on a visual legacy that traces back more than 70 years. This landmark exhibition will be the first large-scale retrospective of her work in the U.K. in nearly 20 years. It will span her entire career, and will feature several groundbreaking moments. For example, in addition to important, historical Op Art works from the 1960s, the show will feature the only three-dimensional work Riley has ever made—a piece called Continuum (1963)—and will also feature a series of new wall paintings that Riley created especially for this exhibition.
Lee Krasner: Living Colour, at Barbican Gallery, London
30 May – 1 September 2019
Lee Krasner never stopped experimenting with her artistic vision. After coming to prominence as a first generation Abstract Expressionist, she walked away from the signature method she had developed in order to explore ever more personal and innovative ways of formulating abstract images. Krasner pushed the development of he unique position further with every new work, and Lee Krasner: Living Colour will span each of her innovations in detail, including nearly 100 works spanning the entirety of her 50-year career. This is the first survey of its kind to come to Europe in more than half a century. It is a must for anyone seeking to discover the spirit of originality, and for anyone intent on celebrating one of the most dynamic, and under appreciated, abstract artists of the 20th Century.
Hilma af Klint: Paintings for the Future, at the Guggenheim Museum, New York
Open now, ongoing
When Hilma af Klint: Paintings for the Future opened last year at the Guggenheim, it caused an immediate sensation. This visionary abstract artist created a body of work that predates the giants of early abstraction, and to this day remains unique. She was not only a pioneering abstract artist, in fact, she was also an advocate for the notion that art and spirituality are powerfully intertwined. This Guggenheim exhibition is the first opportunity most American audiences have ever had to encounter her work—tens of thousands of the visitors who have seen the show had never heard of af Klint before, but have emerged from the exhibition convinced that she was amongst the greatest artists of her time, or for that matter of any other time. A massive, full color catalogue was produced to accompany this exhibition, and is a must for any serious library of abstract art.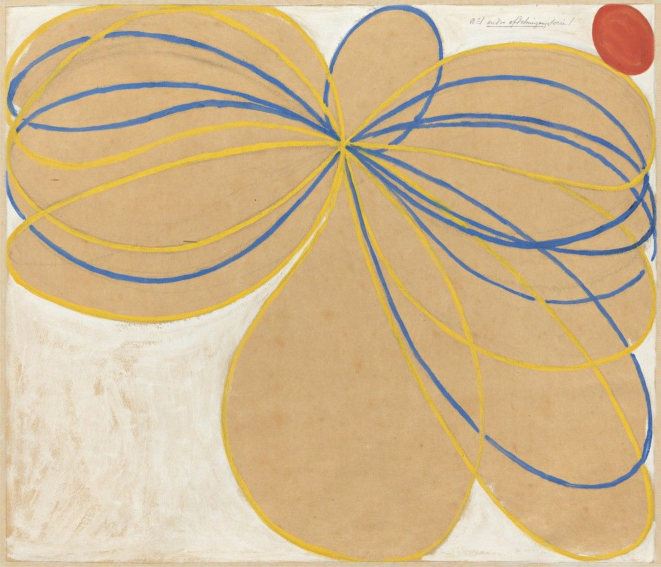 Hilma af Klint - Group V, The Seven-Pointed Star, No. 1n (Grupp V, Sjustjärnan, nr 1), from The WUS/Seven-Pointed Star Series (Serie WUS/Sjustjärnan), 1908. Tempera, gouache and graphite on paper mounted on canvas. 24 3/5 × 28 3/10 in (62.5 × 72 cm). Guggenheim Museum.
Sheila Hicks: Campo Abierto (Open Field), at The Bass Museum of Art, Miami
13 April – 29 September 2019
Sheila Hicks is a giant amongst fiber artists, and a living monument to the emotive power of color and material. At 84 years old she continues to elaborate on her idiosyncratic vision, creating ever more complex and beautiful compositions in space. This exhibition builds off of the extraordinary installation Hicks created for the 2017 Venice Biennale, re-configuring it to accommodate the specific surroundings of the upper floor of the Bass Museum in Miami Beach. It brings together an amalgam of works spanning the full range of scale, from tiny, intimate pieces, to monumental, room-sized installations.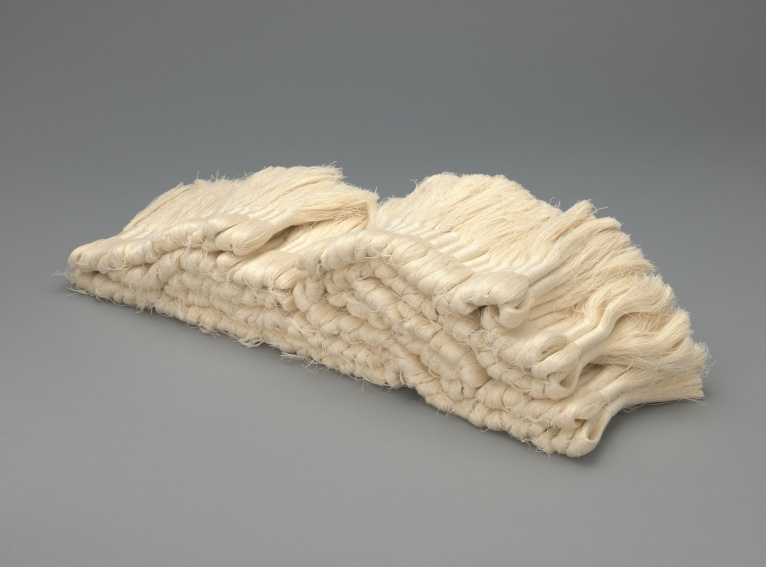 Sheila Hicks - Cartridge, 1962. Linen. .1a: 141 × 21" (358.1 × 53.3 cm) .1b: 133 × 21" (337.8 × 53.3 cm). Gift of Melvin Bedrick. MoMA Collection.
Roni Horn: When I Breathe, I Draw, Part I, at the Menil Drawing Institute, Houston
15 February – 5 May 2019
American artist Roni Horn (b. 1955) has devoted herself to the medium of drawing for more than 30 years. Her compositions transform pure pigment into transcendental arrangements of lines and forms in space. Often muted and subtle, her work can be monumental in its presence, like the breath of well-travelled wind rolling across a vast landscape. This is the first museum show of her drawings ever held in the United States. It will unfold in two parts. The first part will examine a selection of large-scale drawings, some more than 10 feet tall. The second part will explore the rest of the diverse oeuvre of this fascinating artist, including her cadmium red drawings and a selection of her cut photograph collages. This is an unprecedented opportunity for American audiences to discover a major talent who had been living and working in their midst, sublimely under the radar, for more than a generation.
Featured image: Roni Horn - Double, 2011. Pigment print on Hahnemuehle matte paper. 25.4 x 30.5 cm (10 x 12 inches). Edition of 40 works. Whitechapel Gallery. © Roni Horn
All images used for illustrative purposes only
By Phillip Barcio