Blog Home
An "Artist of Vivid Forms" - Elizabeth Murray
Jan 12, 2018
Over the course of her 40-year career, Elizabeth Murray built a unique aesthetic legacy—one that was undeniably serious, and yet also one at which it is impossible not to smile. As an artist, she exemplified vision, humor and curiosity. I place her in the tradition of Jean Dubuffet, Nikki St. Phalle, Keith Haring and Alexander Calder—artists who grasped the importance of play. And as a human, she exemplified street smarts and likability, exuding a seemingly effortless, casual and friendly nature. Her sense of herself was established in her youth, when she was frequently nearly homeless. She learned young the lessons of self-reliance and hard work. She also too an early shine to art, recalling that as early as fifth grade she was selling her drawings to her classmates. Her captivating, mature visual style was first nurtured in her hometown of Chicago, and then later in Oakland, two cities with a reputation, especially during the 1960s, of breeding idiosyncratic, maverick artists with big ideas. Just before her death, Murray was celebrated with a retrospective at the Museum of Modern Art New York. It featured roughly 75 works spanning her career. With her entire evolution finally on display at once, it was revealed in vivid color the depth of her imagination, the intensity of her focus, and the whimsy and elegance of her contribution to abstract art.
The Hopeful Imagist
A basic sense of the aesthetic evolution Murray fostered over the course of her career can be garnered from her website. A glimpse of her total output is there, arranged chronologically from 1976 through 2007. It plainly shows that the seeds of her mature painting style were present in her earliest work. Also evident are the influences of the two cities where she learned her craft. For her undergraduate degree, Murray attended the Art Institute of Chicago (AIC). She was there during a time when the artists associated with The Monster Roster, The Hairy Who and the Chicago Imagists were hitting their stride in that city. She shared the connection to Surrealist forms and vivid color for which those groups were known. Also like many of those artists, Murray made work that was personal. She was not in conversation with the wider, commercial culture, like Pop artists of her generation tended to be, but rather she was having a dialogue with something internal.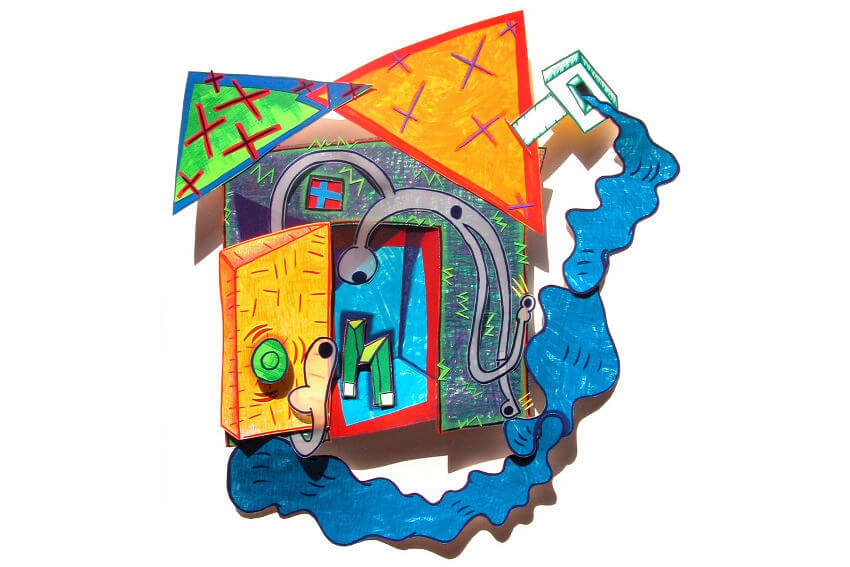 Elizabeth Murray - Who Wants, 2003, From the series One series of 6 unique works, 3-dimensional multi-colored lithograph/screenprint, cut, collaged, and hand-painted by the artist, 50 × 47 1/2 × 6 in, 127 × 120.7 × 15.2 cm, Edition of 6, Gemini G.E.L. at Joni Moisant Weyl, New York, © Elizabeth Murray
Those early paintings also reveal that Murray lacked the disenchantment so often associated with the figurative Chicago movements of the 1960s. That may have been what drew her to California after graduating from the AIC. She entered Mills College in Oakland in 1962, where she earned her Masters Degree. The Bay Area at that time was the epicenter of Funk Art. Murray was in tune with the wit, ambiguity, and off-beat sensuality that defined that movement. Her experiences out west empowered her to unabashedly pursue her own voice. By the time she moved to New York in 1967, she was armed with an idiosyncratic, confident aesthetic position, and knew not to worry what other artists were doing. It took her some time to establish herself in New York, but her first show was a big one—the Whitney Museum of American Art 1972 Annual Exhibition: Contemporary American Painting. Works by Murray would eventually join the permanent collection of that institution, along with that of MoMA, the Guggenheim, the Walker, the Met, and more than 50 other prominent art museums around the world.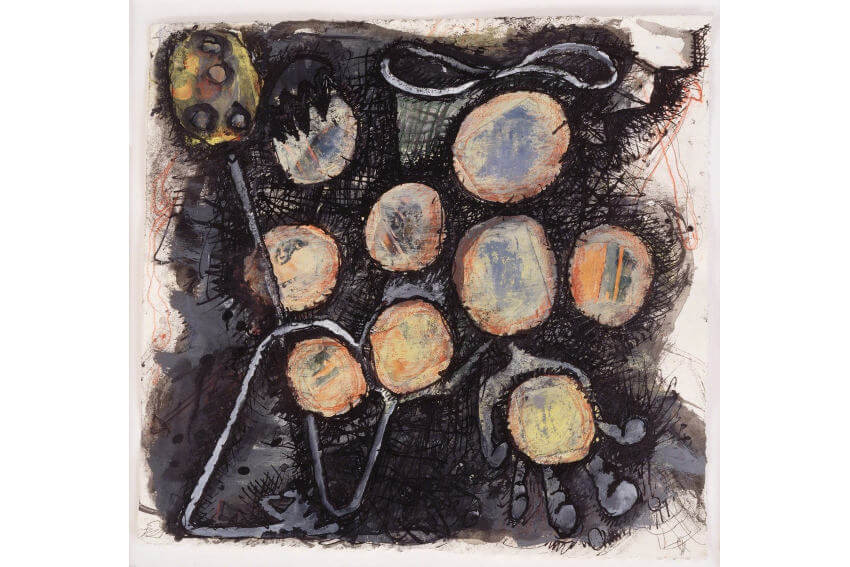 Elizabeth Murray - Untitled, 1991, India ink, colored pencil and gouache on paper with collage, 10 2/5 × 10 7/10 in, 26.4 × 27.3 cm, Pace Gallery, © Elizabeth Murray
From Surface to Form
What Murray is most often remembered for today is her last body of work—large-scale, complex, interconnected configurations of shaped canvases. Her journey to that point, in retrospect, seems almost inevitable. From the start she was interested in the life-force of shapes. About her 1976 painting Beginner, she said she "wanted to deal with an organic shape that could be read in a lot of different visual ways. I thought of the little mars violet spiral as the voice or the heart or the real inner part of the shape." It was around that same time she started painting her compositions on unusually shaped canvases, like triangles and diamonds. A short time later, she started making canvases that were the shapes—abstract, biomorphic forms of her own invention. This brought her compositions to life in a literal way. About one such work, titled Yikes, from her coffee cup series, Murray recalled, "I was thinking of early Cubist landscape painting; imagine walking inside one of those Braque landscapes."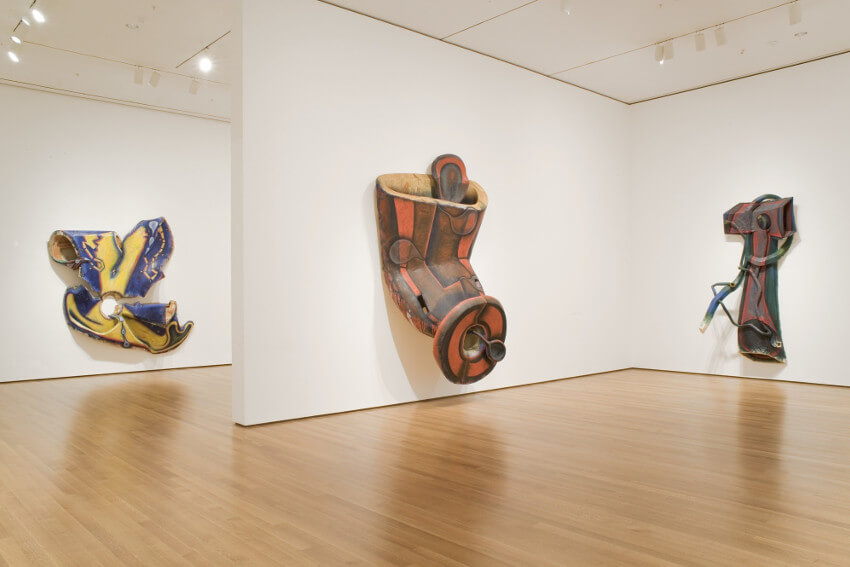 Elizabeth Murray - installation view, Museum of Modern Art New York, © The Museum of Modern Art Archives, New York
The full maturity of her vision is visible in architectonic master works like Everybody Knows (2007), the last painting Murray made before her death. The complicated and time consuming process of their creation was captured in a 2003 episode of Art 21. As it shows, she began by drawing a composition on paper then constructing a canvas for each shape. Finally, she joined the shaped canvases together and brought them to life with layers of paint. Her final works are testaments to the masterful talent Murray cultivated in her studio. Nonetheless, some in the art world diminish her efforts, calling her output "low art," and mocking the joy it inspires. Such critics only reveal their own failure to comprehend the underlying seriousness of an artist enraptured with art history, the inherent power of color and shape, and the relationships between objects. Such criticism had no lasting effect, anyway. Despite her humility and sense of humor, Murray assertively stood her ground. Her legendary resilience in the face of those who would diminish her made her an icon of feminism. She left a legacy not only of great abstract art, but also of humanity and strength. She proved, as many have proved before, that artists possess the right to make whatever they please; and that a strong, confident, masterful body of work will always outlive its critics.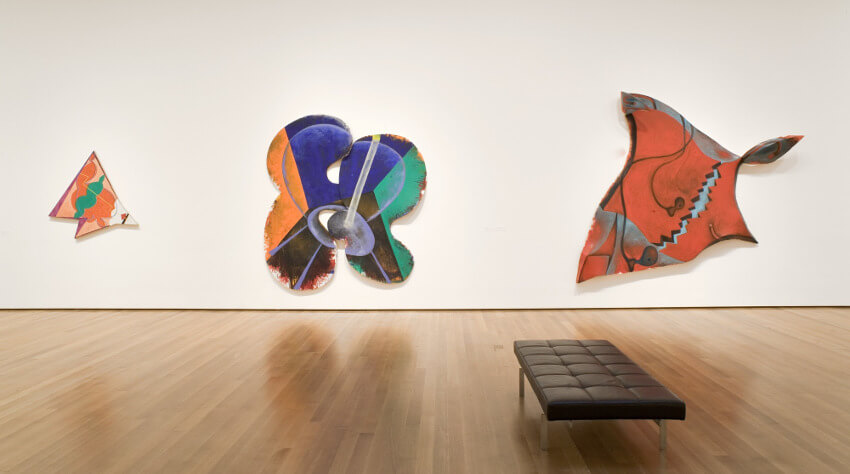 Elizabeth Murray - installation view, Museum of Modern Art New York, © The Museum of Modern Art Archives, New York
Featured image: Elizabeth Murray - installation view, Museum of Modern Art New York, © The Museum of Modern Art Archives, New York
All images used for illustrative purposes only
By Phillip Barcio