Blog Home
The Abstract Salt in the Photographs of David Burdeny
Jul 24, 2017
David Burdeny belongs to a photographic heritage that uses the camera not only to document the physical world, but also to investigate the mysteries of how shapes, colors, forms and spaces function abstractly within that world. To artists like Burdeny, the visual elements of our surroundings are worthy of consideration not only for their aesthetic function, but also for the ways they speak to our universal psyche. Burdeny seeks within ordinary environments what he calls liminal spaces: areas that seem to function as a transitory bridge between physical reality and transcendental potentiality. He then tries to capture the liminal essence in a photograph. Burdeny has gained much attention for his captivating photographs of interior spaces, such as extravagant palaces in Italy and architecturally stunning metro stations in Russia. The elegant way he captures these beautifully built environments seems to demand that we be awed by their physical presence. But Burdeny has been quite clear that he hopes we will not focus purely on such material aspects. He says his goal is to show us the "sublime experience located in ordinary space." It is admittedly difficult to call a palace, or even a palatial metro station, ordinary, which perhaps explains why it is hard to see in such images where the material ends and the sublime might begin. But a much better understanding of what Burdeny is talking about can be realized in a recent body of work he created titled Salt. In 2015-16, Burdeny took to the skies in a helicopter to capture aerial photographs of salt ponds and salt flats in Mexico, Australia, and the United States. Though shockingly vibrant and colorful, these extraordinary images were taken in plain daylight under ordinary circumstances. With this series, Burdeny indeed creates opportunities for transcendence as we are able to contemplate the abstract essence of the ancient language of shapes, forms, colors and spaces that has emerged in these places where humanity collides with the natural world.
Western Australia
Hut Lagoon is a natural salt lake located near the town of Gregory (population 46) on the coast of Western Australia. The lagoon is caused by a depression a few meters below sea level. Seawater flows in from the Indian Ocean all year long, and groundwater from rainfall feeds the depression from the inland side. As the water continually evaporates, large salt ponds are created. Because of the particular type of algae present in the water, which contains a high amount of carotenoids, Hut Lagoon is home to the largest micro-algae farm in the world, where beta-Carotene is produced for use as vitamins and food colorants.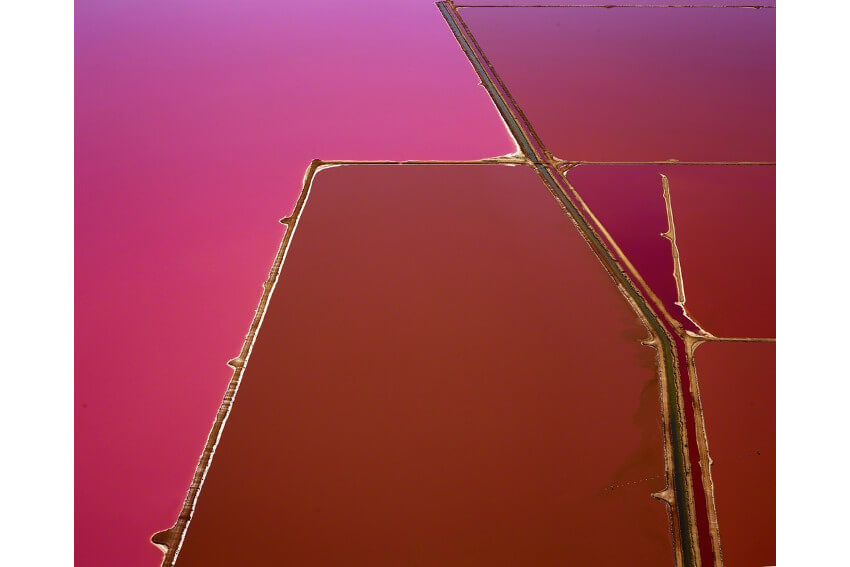 David Burdeny - Pink Pools, Hut Lagoon, Western Australia, 2015
In his photographs of Hut Lagoon, David Burdeny achieves a balance between documentary and transcendent abstraction. The vibrant red and pink hues have not been altered or touched up—this is simply the way the algae makes these salt pools look in the sunlight. But it is precisely the fact that these colors are natural that makes them so contemplative. Like Color Field paintings in which color is the subject and the relationship between the colors invites us inward toward a transcendent experience, these images pose questions about what mysteries are being spoken to us by the colors, shapes and surfaces of the natural world.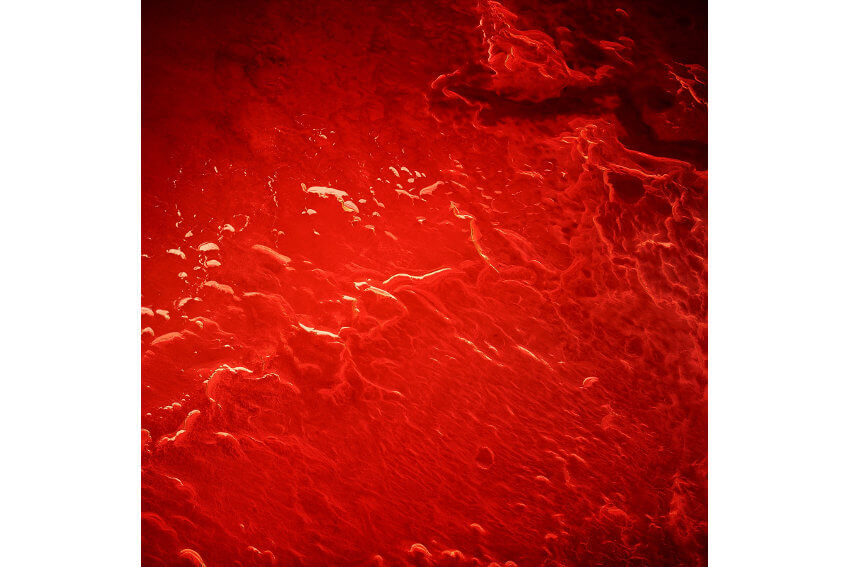 David Bourdeny - Red Water, Hut Lagoon, Western Australia, 2015
Western Mexico
The Sea of Cortez flows between mainland Mexico and the Baja California Peninsula. It was formed about five million years ago when tectonic activity caused a massive rift along the San Andreas fault. It is highly volcanic, and is one of the most biologically diverse bodies of water on the planet. Salt flats exist naturally along the coast of the Sea of Cortez, and for centuries the local populations have constructed controlled salt ponds along the shore, allowing the sea water to evaporate then extracting the salt to use mainly for culinary purposes.
The iconic white-grey hue of the Sea of Cortez salt flats salt gives an ethereal, cloud-like feel to the photographs David Burdeny took of the area. In the picture Salt Flat & Stream, a single line carved into the surface of the salt flat by the flow of water extends toward the horizon. A physical sense of place is conveyed in this image that conveys the reality of this special location, and yet like the solitary zip in a Barnett Newman painting the river in this image communicates a feeling of solitude, evoking abstract thoughts of eternity, mortality, and fortitude.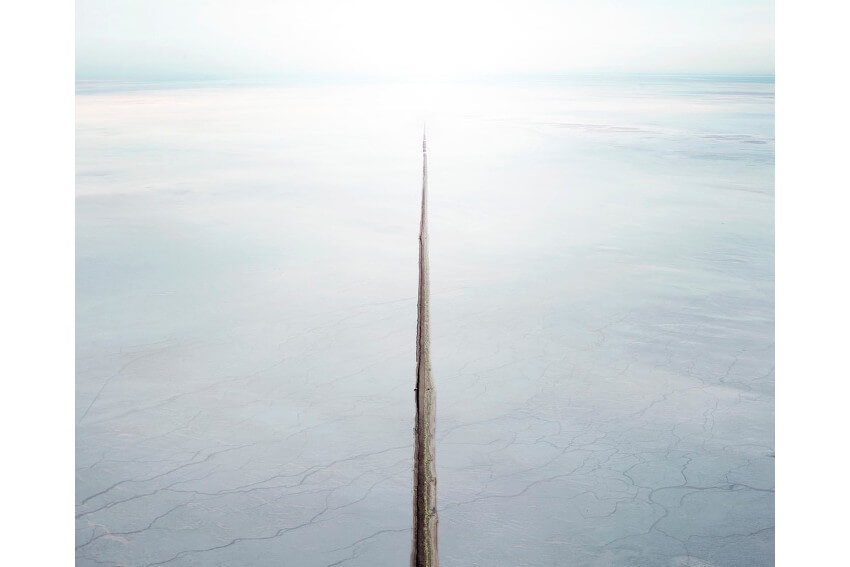 David Burdeny - Salt Flat & Stream, Sea of Cortez, Mexico, 2016
Western United States
The western U.S. is home to multiple prehistoric dry lakes. Most prominent among them is the Great Salt Lake in Utah. Much lesser known is a modern dry lake in the Mojave Desert of California known as Owens Lake. This highly saline lake was drained in the 1920s when its water source was diverted by construction of the Los Angeles Aqueduct. Its salty surface is now one of the largest sources of air pollution for residents of the area. Kicked up by frequent high winds, the dust from these salt flats contains multiple carcinogens, including cadmium and arsenic.
For his Salt series, David Burdeny photographed the Great Salt Lake salt ponds in Utah extensively. The images he captured there convey a fantastic range of geometric formations, shapes, lines, colors and forms. But it is his images of Owens Lake that illuminate the organic aesthetic language, one of creeping, oozing auras and flowing, biomorphic shapes. The earthy colors in Owens Lake 1 speak to something primitive and essential. Like a soak-stained Helen Frankenthaler canvas, or a late Clyfford Still painting, these images reach beyond material reality to grasp the clarity of liminal space that Burdeny seeks.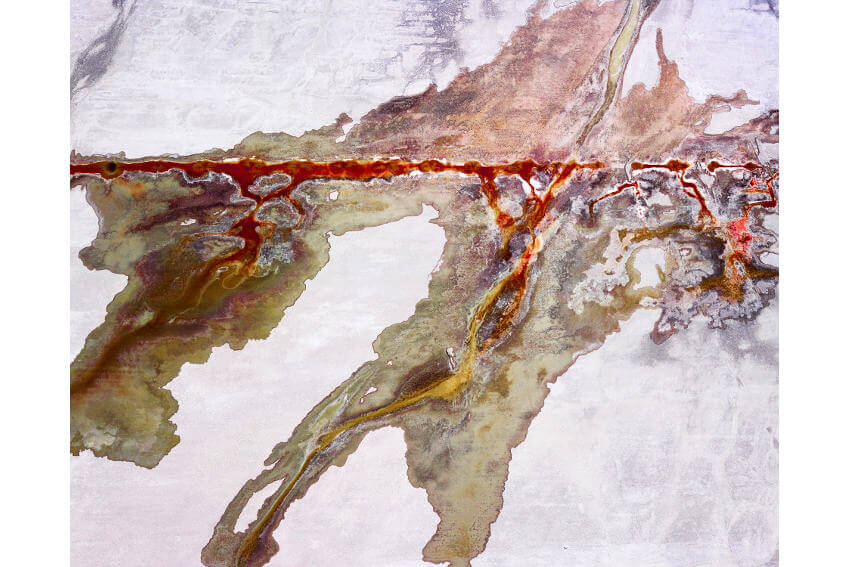 David Burdeny - Owens Lake 1, Mojave Desert, California, USA, 2015
Featured image: David Burdeny - Saltern Study 01 (detail), Great Salt Lake, UT, 2015, Archival Pigment Print (image © David Burdeny
All images © David Burdeny, all images used for illustartive purposes only
By Phillip Barcio