Blog Home
Dan Colen, Bad Boy of Post-Pop New York, To Exhibit at Damien Hirst's Gallery
Aug 4, 2017
It has been roughly a decade since New York Magazine ran the article that is widely credited with establishing Dan Colen as an art market star. Titled Chasing Dash Snow, the piece coined the moniker "Warhol's Children" for a group of young artists, then in their 20s, who were making a major impact on the New York City scene with both their art and their personas. The main focus of the article, as the title indicates, was the artist Dash Snow. As the grandson of Dominique and John de Menil, the French aristocrats who founded the Houston-based Menil Collection, Dash Snow was in line to be the heir to a literally royal fortune. His aesthetic reputation was made in part by his choice of his own ejaculate for an artistic medium. Snow died tragically just two years after the article came out, at age 27. But also prominently featured in the piece were two of his closest friends: the photographer Ryan McGinley and his roommate, the painter Dan Colen. The article chronicled not only the art these artists were making or their apparent abundance of talent, but a moment when the New York art market was ravenous for new blood; when artists who were barely out of school were being granted solo exhibitions at major museums, and their works, sold just a year or two before at a small gallery, were fetching six or even seven digit prices at top auction houses. Dan Colen was presented in the article as typical of the kind of brash, nihilistic, downright sardonic character one might expect could go directly from the Rhode Island School of Design undergrad program to worldwide fame, and believe he deserves it. His work was undeniably interesting, but that alleged persona—a seemingly spoiled, ironic, the-joke-is-on-you-but-it-is-no-joke-or-is-it egoist—led many critics to dismiss him as just the latest representative of a self-obsessed generation of hacks. That judgment was premature, and perhaps equally symptomatic of market forces—not in the art world but in the criticism world. Today, Colen is represented by some of the heaviest hitters in globally relevant art: Gagosian, Massimo De Carlo, and Lévy Gorvy. And this October, a major, mid-career retrospective of his work is scheduled to open in London. Despite, or to spite, the critics, Colen has persisted in what many saw as folly, and those who discounted him may finally now get wise.
Divine Messages
The work Dan Colen makes has continually inhabited a sort of middle ground between the easy-to-describe categories preferred by those who make a living off of things other people make. For that reason he is a difficult artist to talk about. His work is often on the nose, but then again it sometimes defies explanation. It is sometimes cartoonishly figurative, and other times it is purely abstract. Sometimes it is obviously narrative, as in his 2006 tribute to his friend Dash Snow, for which he meticulously recreated every item that then hung on an actual wall where Snow lived. Other times it is about formal concerns such as color, paint and space, such as in the Purgatory paintings he has recently been painting. But this is not to say his work cannot be described. It is just to say that it is multi-dimensional, and is best considered one body of work at a time.
One of the earliest bodies of work for which he gained attention was a series of oil paintings documenting seemingly banal, everyday interiors. But there in the otherwise uninteresting scene, Colen would insert some element of the fantastic, the mystical, or the divine. A prime example is the painting Me, Jesus and the Children from 2003, a striking self-portrait of Colen with his plaid shirt open halfway down his chest. Four cartoon cherubs hover in the air, one of them asking in a cartoon word bubble, "What did you say?" And a necklace charm of Jesus hanging on his pock-marked, bruised, slightly scrawny chest answers in another cartoon word bubble, "You know what I said." As with so many of his works, this painting can be taken to suggest Colen is simply a culture schizoid, regurgitating payers of ingested ephemera from a multitude of sources. Or it could be something more. It is funny and joking, but serious in its execution, which seems to require us to look at it more. But then again, other paintings, like Holy Shit, from the same year, seem to require us to admit this so-called artist is duping us, and making a mockery of anyone who delves deeply into his work.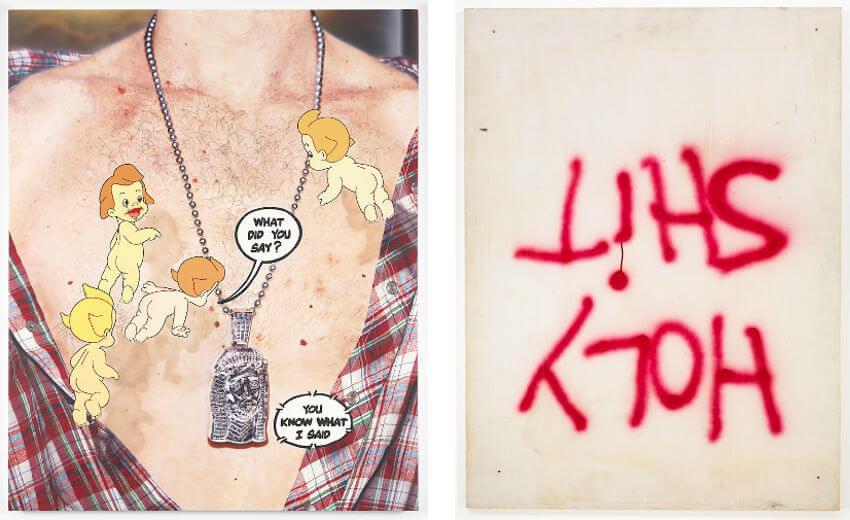 Dan Colen - Me, Jesus and the Children, 2003, Oil on Plastic, 186 x 153 cm. (left) and Holy Shit, 2003, Enamel and molding paste on wood panel, 48 × 35 in. (right), photos by Christopher Burke, courtesy of the Brant Foundation, Greenwich
Material Ambiguity
In 2006, Colen shifted away from such potentially easy-to-read and easy-to-criticize imagery and delved instead into an investigation of materiality. He began exploring unusual materials like chewed up bits of gum, flowers and trash. The works he made from these everyday materials have often been compared to those created by Arte Povera artists in decades past—artists who turned to everyday materials as a rejection of bourgeois influence over the art market. But Colen does not seem to have much negative to say about the bourgeoise. On the contrary, he appears to have accepted it and benefitted from it, and remarkably somehow not been changed by it.
The works he has made out of everyday materials really can simply be read as explorations of the aesthetic properties of gum and flowers and grass and trash. They are not a comment on anything. They are just the aesthetic result of materials and processes manipulated by a skilled artist. In many cases, especially when the works take on a sculptural presence, they seem almost figurative, like urban regionalism, as though they have been ripped right out of the visual environment of almost any contemporary city. About these works, Colen has said that the he enjoys the loss of control he feels when he gives himself up to the demands of the materials. Has likenedthe experience to feeling as though he is facilitating in the materialization of "inevitable forms—almost like destined forms."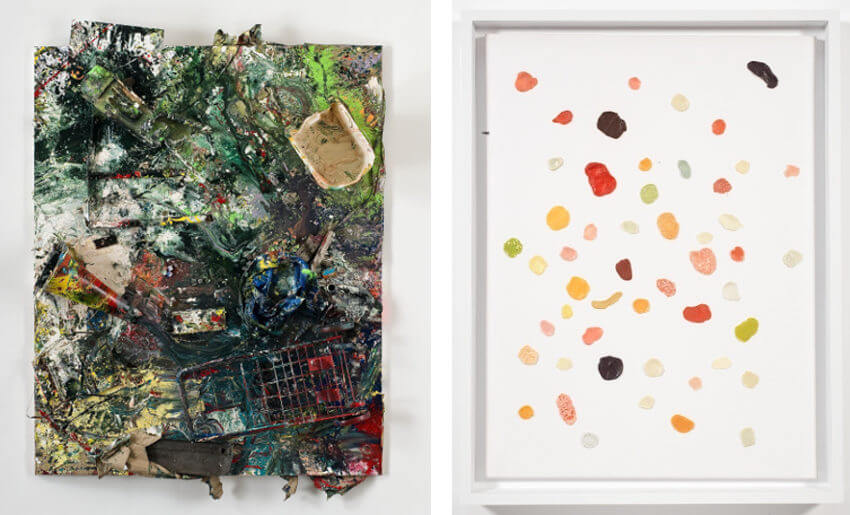 Dan Colen - The Women's Movement / Crazy Mamma, 2011, Trash and paint on canvas 111 3/8 × 85 13/16 × 17 11/16 in (left) and This Painting Will Fit Over Your Sofa, 2006, Chewing gum on canvas, 24 × 18 in. (right), © Dan Colen, Courtesy Gagosian Gallery, Photography by Giorgio Benni
The Next Chapter
The various dealers who currently represent Dan Colen are on a campaign to re-contextualize him as an artist worthy of serious, widespread, academic consideration—one who is poised for longevity. And it is in that context that the first major solo show in London of work by Colen is scheduled to go on view. It seems particularly fitting that the exhibition will be held at Newport Street Gallery. Opened in October of 2015, the Newport Street Galleryis owned by the British artist Damien Hirst. He conceived of it as a place to exhibit his personal art collection, known as the Murderme Collection, which consists of more than 3000 objects.
The Murderme Collection consists of a serious and wide-ranging assortment of works by many of the most important and influential artists of the past century. But there are many critics who would be quick to exclude Damien Hirst himself from the ranks of the serious or the important, although few could plausibly argue that he has not been influential. In many ways, Hirst has suffered throughout his career from the same types of criticisms that Colen receives: that he is mocking, cynical, sardonic, or somehow not to be taken seriously. So it is a fascinating pairing to exhibit Dan Colen at his gallery. And since this exhibition promises not only past works from Colen that Hirst has collected, but also new works and fresh in situ installations by Colen, the exhibition also offers a rare and unique opportunity to examine what, for this fascinating mid-career artist, may be coming next.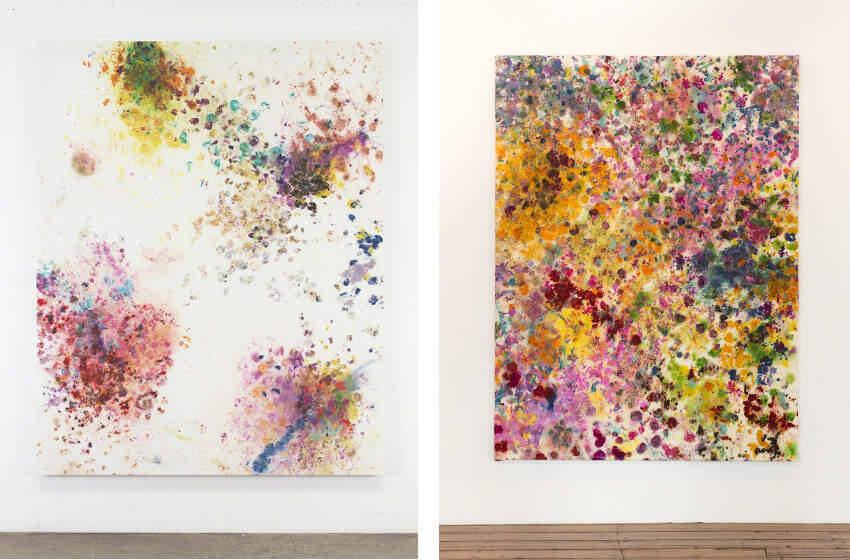 Dan Colen - Let's have a war, 2016, Flowers on bleached Belgian linen, 93 × 74 in (left) and Dominatrix Tonight, 2015, Flowers on bleached Belgium linen, 88 × 66 × 1 1/2 in, images © Dan Colen. Photography by Christopher Burke. Courtesy Gagosian Gallery
Dan Colen at Newport Street Gallery in London, England, opens on 4 October 2017 and runs through to 21 January 2018.
Featured image: Dan Colen - Secrets and Cymbals, Smoke and Scissors - My Friend Dash's Wall in the Future (detail), 2004-06, Styrofoam, oil paint, paper, metal, 106 × 113 × 6 in, photo by Christopher Burke, courtesy of the Brant Foundation, Greenwich
All images used for illustrative purposes only
By Phillip Barcio