Blog Home
The Meticulous Process of Hard Edge Painter Frederick Hammersley Honored
Jul 31, 2017
When it comes to American, Post-War, abstract art movements, Abstract Expressionism tends to get most of the press. But while New York School artists like Pollock, Krasner and de Kooning were exploring action and primal energy on the east coast, a multifaceted artist named Frederick Hammersley and a small group of likeminded compatriots were busy investigating a much diferent approach to American painting out west. In 1959, their efforts were revealed to the wider public in a landmark exhibition called Four Abstract Classicists. The title of the show intentionally drew attention to the differences between the methodical, hard edge work of these artists and the spontaneous, gestural approach of the Abstract Expressionists. Following its opening at the San Francisco Museum of Art, Four Abstract Classicists traveled to the Los Angeles County Museum of Art then crossed the Atlantic for visits to museums in London and Ireland. Today we call the movement it inspired Hard Edge Painting. In addition to helping to found the movement, Frederick Hammersley was also a thorough documentarian of it. He kept records of his processes, catalogued his thoughts, made lengthy lists of possible titles for his artworks, and developed thousands of preliminary sketches as he pared down his compositional ideas. In 2013, four years after his death, the Frederick Hammersley Foundation donated a treasure trove of his notes and sketchbooks to the Getty Research Institute. Since Hammersley was one of the earliest pioneers of hard edge abstraction, these items have proved invaluable in the quest to understand its evolution. This coming October, the Huntington Library, Art Collections and Botanical Gardens will present a rare public glimpse of some of these materials along with a selection of paintings and other works by Hammersley in the retrospective exhibition Frederick Hammersley: To Paint without Thinking.
Getting a Hunch
Frederick Hammersley was already well into his education at Chouinard Art Institute in Los Angeles (now known as the California Institute of the Arts) when the United States entered World War II. Like millions of others in his generation, Hammersley dropped out of school and enlisted in the army. As fate would have it, he was eventually stationed in Paris. Recounting how that lucky accident changed his life, Hammersley once recalled how, "One day, the USO posted a sign offering trips to Picasso's studio." He signed up, and later on ended up paying Picasso four more visits. Thoroughly inspired, he stayed in Paris for a year after the war ended to study at the Ecole des Beaux Arts.
Upon returning to the US, Hammersley returned to Chouinard to finish his art education. But finding the experience lacking, he followed one of his professors, Herbert Jepson, who was leaving Chouinard to open his own school in Los Angeles, the Jepson Art Institute. It was at that short-lived institution that Hammersley found his unique voice as a painter. That voice first manifested in 1950 in the first of what he called his Hunch paintings. The name came from the fact that they started by way of intuition. He looked at the surface of a bare canvas and instinctively imagined what shape belonged on it. Then that shape would inspire the next shape, and so on, until the unplanned composition resolved itself. The shapes and colors that ended up manifesting in these Hunch paintings tended to be geometric in nature, and Hammersley painted them flatly with clean lines, pure colors and hard edges.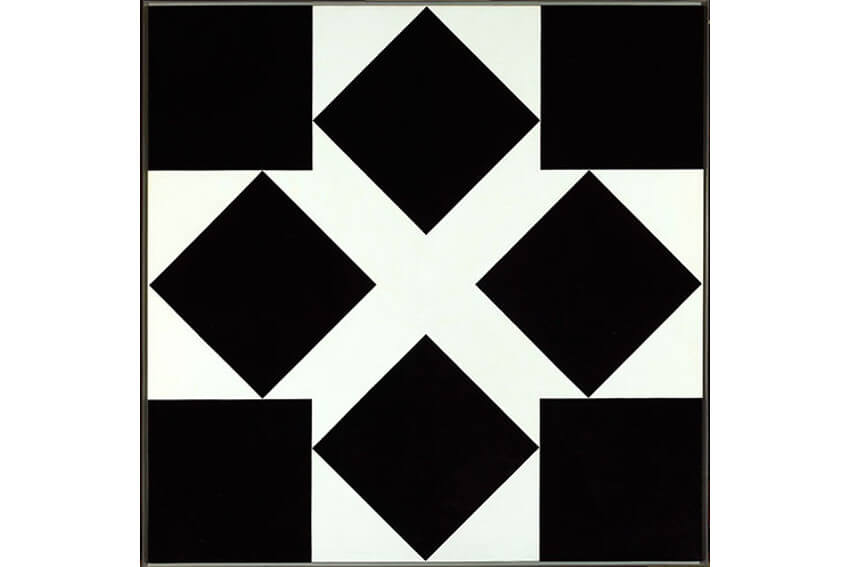 Frederick Hammersley - See saw, #3, 1966, oil on linen, 44 x 44 in. The Huntington Library, Art Collections, and Botanical Gardens, anonymous gift in honor Robert Shapazian. © Frederick Hammersley Foundation, Albuquerque, New Mexico, USA
Geometrics and Organics
Next, Hammersley translated that clean, pure, hard edge look into two more approaches to image-construction, which he called Geometrics and Organics. The Geometrics were dominated by traditional geometric shapes and the Organics consisted of biomorphic, abstract shapes that he created intuitively. These were the paintings that ultimately came to defined the hard edge, geometric abstract aesthetic of the 1950s and 60s. Hammersley started them by sketching in his notebooks, exploring possible compositional strategies by making meticulous, postage stamp-sized drawings. Once a worthwhile compositional strategy started to emerge he enlarged the drawings, until finally he felt compelled to create a full-sized painting. He painted each shape by hand with a palette knife, attaining their perfect, hard edge lines without taping the edges.
In addition to painting and drawing, Hammersley also experimented widely with other mediums. He made hundreds of lithographs. And in 1968, after accepting a teaching position at the University of New Mexico in Albuquerque, he became one of the first artists to make art with a computer. He used an experimental program called Art1 to program an IBM 360/40 computer to print out geometric abstract compositions on a line printer. A selection of those computer drawings will be on view in Frederick Hammersley: To Paint without Thinking, as will 45 of of his lithographs.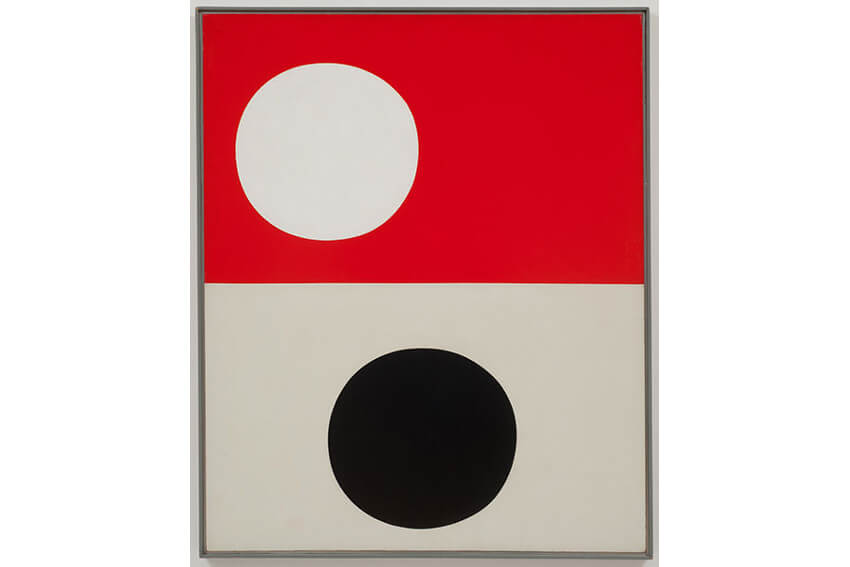 Frederick Hammersley - Like Unlike, #6, 1959, oil on linen, 49 × 40 in. Private collection. © Frederick Hammersley Foundation, Albuquerque, New Mexico, USA
Painting Books
Most excitingly, this exhibition will feature two of the so-called Painting Books Hammersley created. These books contain the aforementioned meticulous documentation Hammersley kept, cataloguing the entire process he underwent to create hundreds of his artworks. And not only did he maintain rigorous records of his creative process, allowing us to go back and understand the line of thought that led to so many of his paintings, but he also documented his paint choices, surface materials, and every other material step he underwent to make his work.
With nearly 100 paintings, silkscreens, lithographs, Painting Books, sketchbooks and computer drawings on display, Frederick Hammersley: To Paint without Thinking promises a fascinating glimpse into the life of this American pioneer, and fresh insights into the origins of one of the most influential American abstract art movements of the 20th Century. Frederick Hammersley: To Paint without Thinking opens 21 October 2017 and will run until 22 January 2018 in the Virginia Steele Scott Galleries of American Art, Susan and Stephen Chandler Wing, at the Huntington Library, Art Collections, and Botanical Gardens in San Marino, California.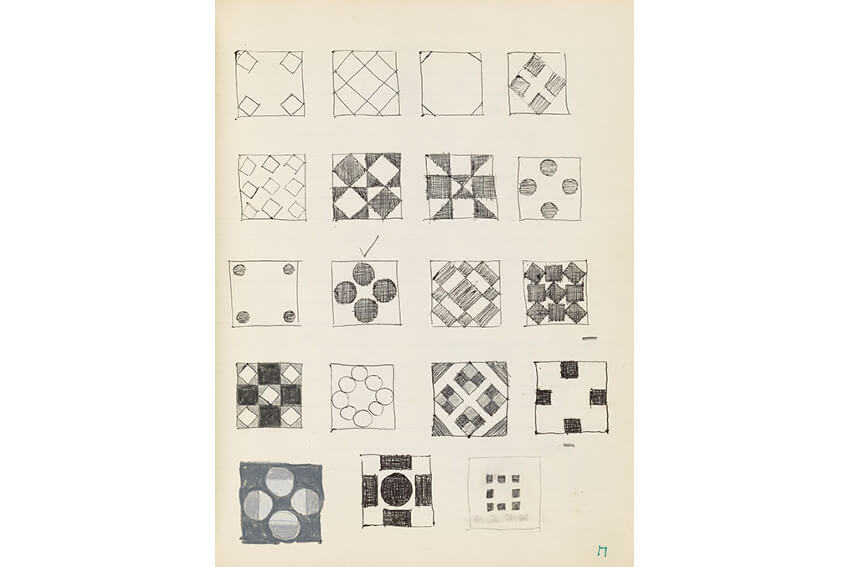 Frederick Hammersley - Page 17 of Notebook #3, bound fabric-covered sketchbook with colored pencil and ballpoint pen, 8 1⁄16 × 6 1⁄2 in. Getty Research Institute, Los Angeles, gift of the Frederick Hammersley Foundation. © Frederick Hammersley Foundation, Albuquerque, New Mexico, USA
Featured image: Frederick Hammersley - Jelly Centers #31 (detail), 1969, from one incomplete set of the series of 72, computer-generated drawing on paper, 11 x 15 in. The Huntington Library, Art Collections, and Botanical Gardens, gift of the Frederick Hammersley Foundation. © Frederick Hammersley Foundation, Albuquerque, New Mexico, USA
All images used for illustrative purposes only
By Phillip Barcio