Blog Home
Female Australian Abstract Artists at Newcastle Art Gallery
May 31, 2017
We love any opportunity to discover the hidden geniuses who helped make abstraction what it is. So many stories from abstract art history remain untold. One current exhibition in which we are particularly interested uncovers the hidden story of female Australian abstract artists. Abstraction: Celebrating Australian Women Abstract Artists brings together 74 artworks by 38 artists at the Newcastle Art Gallery. The works on view, which are on loan from the National gallery of Australia, include a selection of rarely exhibited paintings, ceramics, drawings and sculptures ranging from the 1920s through to today. Artists from Europe, the United States, and increasingly Asian tend to be the central focus of major, international exhibitions about abstraction. But the roots of non-representational art in Australia stretch deep into the culture of the country. This exhibition takes steps to fill in the missing parts of this fascinating story. And it not only covers the early, modern roots of Australian abstraction. It highlights the tradition of abstraction intrinsic to Australian Aboriginal aesthetic practices and continues all the way through to the discoveries of major contemporary Australian abstract artists like Emily Kame Kngwarreye, Sally Gabori, Melinda Harper and Savanhdary Vongpoothorn. It is indeed an unfortunate oversight that so often Australia is left out of the global conversation about abstract art. Bringing together an extraordinary selection of abstract works, Abstraction takes a major step towards establishing the true history of how Australian artists, and in particular Australian female artists, played a pivotal role in the development of many of the most important global movements that define what abstraction is today.
Early 20th Century Australian Abstraction
Margaret Preston was among the most influential Australian abstract artists of the early 20th Century. She happened to be in the midst of her second educational foray into Europe in 1912. In addition to basking in the general fervor among European artists about Modernism, she was able to encounter revolutionary works such as Nude Descending a Staircase, by Marcel Duchamp, which was exhibited for the first time that year. And she could also read major philosophical works such as Concerning the Spiritual in Art by Wassily Kandinsky, and Du Cubisme by Albert Gleizes and Jean Metzinger both published that same year. By the time Preston returned to Australia in 1919, she was thoroughly convinced that something monumental had changed in art, and was determined to explore its possibilities. Wrote Preston at the time, "Cubism is the foundation of all twentieth-century thoughtful original work. It is a revulsion against the anecdotal type of art."
Along with early masterworks by Preston, Abstraction also presents works by a number of other pioneering, early 20th Century Australian female artists. Among the highlights are works by Dorrit Black, Grace Crowley and Anne Dangar, all of whom left Australia temporarily to study in Europe. Learning from masters such as Albert Gleizes and Cyril Power, these artists quickly realized the power and the potential of non-representational art. When they returned to Australia, they brought back with them a true passion for abstraction. Said Black, who founded the Modern Art Centre in Sydney upon her return, "Realistic painting has proved to be a blind alley. We have reached the end of that alley, and been obliged to turn around and retrace our steps. Now we have started on the new track, and already find it rich in new discoveries."
Grace Crowley - Abstract, 1953, photo credits of New Art Gallery, NSW
Post-War Australian Abstraction
One work in the show by Anne Dangar, titled Pochoir Composition and painted in 1936, seems impossibly contemporary, presaging much more famous works of Op Art by a decade or more and showing just how far these hidden figures of Australian abstraction went. And that feeling of intrinsic inspiration and genius becomes even more palpable when considering the works on view in Abstraction from the Post-War era. When movements such as Abstract Expressionism, Organic Abstraction (or Biomorphism), Minimalism, Color Field Painting, and Op Art were underway across Europe and the United States, Australian abstract artists were building on their conceptual frameworks in uniquely fascinating ways. The organic wood sculptures of Inge King, dating back to the late 1940s, rival the works of European masters like Barbara Hepworth. The late 1960s hard-edged, flat paintings of Normana Wight express with profound earnestness the formal aspects of Post-Painterly Abstraction, exploring color, form and surface in soulfully sincere, blissfully non-academic style.
Also of special interest in Abstraction are the inspired paintings of Yvonne Audette, who studied in New York in the 1950s and while there became steeped in the ideas of the Abstract Expressionists. In particular, she was influenced heavily by Franz Kline. After a studio visit with Kline, Audette exclaimed that she finally understood that "form free of all associations was now valid in its own right!" She went on to develop a unique aesthetic voice that, while hinting at the influence of masters like Kline and Willem de Kooning, entirely held its own. Her paintings such as The Flat Landscape (1959), which combine an earthy, organic, muted palette with bold forms, energetic lines and rough textures, perfectly express that authenticity.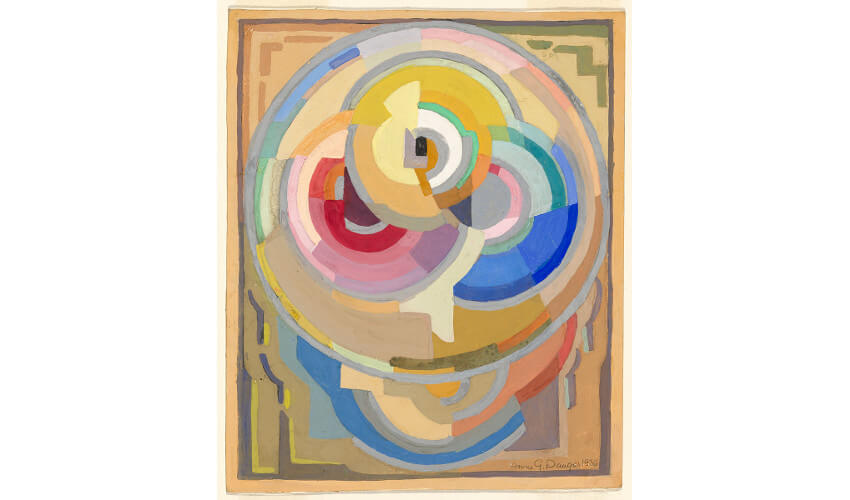 Anne Dangar - Pochoir Composition, 1936, photo credits National Gallery of Australia
A Global Influence
As Newcastle Art Gallery manager Lauretta Morton points out, "This exhibition reveals the remarkable contribution Australian women artists have made to abstract art through a wide range of media." We agree it is a welcome revelation. Even more than highlighting the incredible range of female artists that have moved abstraction forward in Australia, it is an elucidation of the hidden role these artists played in affecting global trends in abstract art. It hints at a vibrant, rich aesthetic tradition: one we hope to learn much more about in the years to come, and one that deserves to be included in the larger, international conversation about abstraction.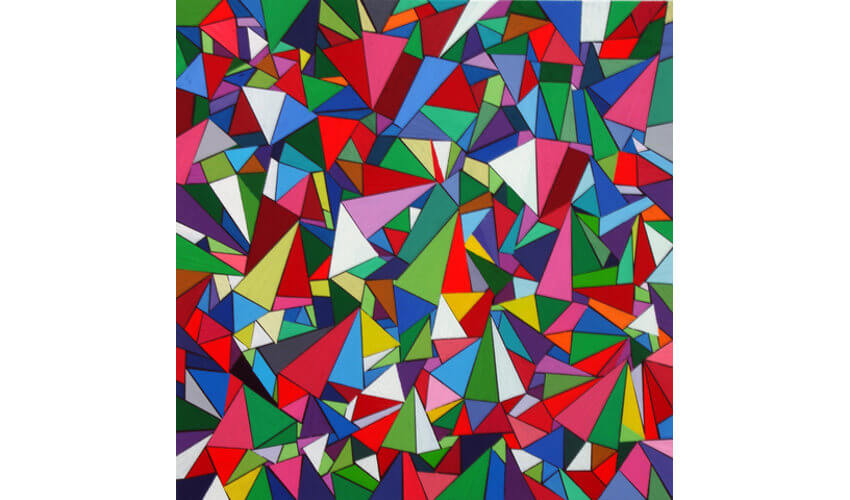 Melinda Harper - Untitled, 2005, oil on canvas, photo credits Anna Schwartz Gallery
Abstraction: Celebrating Australian Women Abstract Artists is currently on view at Newcastle Art Gallery in South Wales, and runs through to 23 July 2017.
Featured image: Emily Kame Kngwarreye - Awelye (detail), 1994, acrylic on canvas, photo via invaluable.com
By Phillip Barcio