Blog Home
Arshile Gorky to Get the First Italian Retrospective in 2019
Nov 28, 2018
The Ca' Pesaro International Gallery of Modern Art in Venice will mount an ambitious Arshile Gorky retrospective in 2019. Titled "Arshile Gorky: 1904 – 1948," it will coincide with the run of the 58th Venice Biennale. It will be the first ever comprehensive Gorky survey held in Italy, and its curators hope to articulate a novel theory about the artist: that the building blocks of his mature style were present "from the earliest stages of his career." When writing about Gorky, most critics cannot help pointing out the various influences present in his paintings. They say his early work was influenced by Paul Cézanne; his mid-career work by Pablo Picasso, Georges Braque, and Piet Mondrian; and his mature work by Joan Miró. "Arshile Gorky: 1904 – 1948" aims to disprove that notion. If it is successful, it would do a great service to the reputation of this fascinating artist whilst also offering a fresh perspective from which to analyze his legacy. Was he truly a Modernist bridge between Impressionism, Cubism, Surrealism and Abstract Expressionism, as historians often argue? Or was he actually the first Post-Modernist? After all, he did reject the idea that theory and art historical narratives hold primacy over individual artistic impulses. And like the Post-Modernists he also believed in the inherent right of the viewer to "finish" a work of art with their personal interpretation. If this exhibition ends up being everything it could be, rather than saying Gorky copied or imitated other styles, we might be able to hold him up as the first appropriation artist, a forward thinker who simultaneously celebrated and questioned the authenticity and originality of the past.
Constructing a Personal Style
The earliest works in "Arshile Gorky: 1904 – 1948" will date to the 1920s, when Gorky first arrived in the United States. Born in Turkey in 1904, Gorky spent his early years as a child refugee, fleeing along with his sister and mother from the Armenian genocide by the Ottoman Turks. His mother died of starvation in his arms when Gorky was 14 years old. In 1919, he and his sister managed to flee to the US and join their father who in Providence, Rhode Island, where he had immigrated years before. That is where Gorky received his first formal artistic training. He encountered the work of Cézanne while studying at the New School of Design in Boston. In 1925, he moved to New York City and took classes at the Grand Central School of Art and the National Academy of Design, where he encountered a menagerie of Modernist styles such as German Expressionism, Fauvism, Cubism, and Surrealism.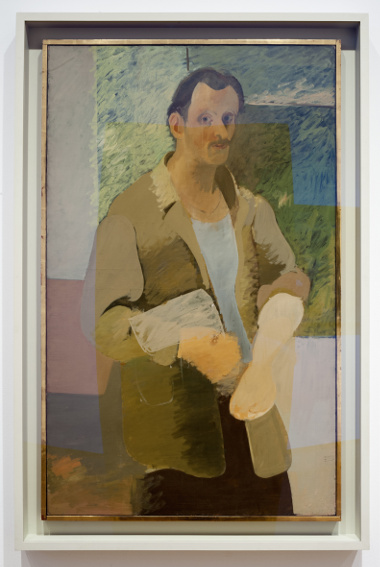 Arshile Gorky - Self Portrait, c. 1937, oil on canvas, 141 x 86.4 cm/ 55 ½ x 34 in. © 2018 The Arshile Gorky Foundation / Artists Rights Society (ARS), New York
New York is also where Gorky met other immigrant artists like himself who had escaped from other war torn countries around the world. Coming into contact with these likeminded souls helped him realize the opportunity America offered. He felt empowered to reinvent himself, and to make anything he wanted out of his art. He changed his name from Vostanik Manoug Adoian to Arshile Gorky and liberally mined the various styles with which he was coming in contact. "Staten Island" (1927) hints at Post-Impressionism and Fauvism. "Still Life with Pitcher" (1928) hints at Synthetic Cubism. "Organization (1933-36)" references De Stijl. Yet none of these paintings demonstrate that Gorky actually bought in to the philosophies of these styles. He only adopted their plastic tendencies—everything else he made his own. Just as he constructed his own name and identity by using pieces of the names and identities of others, he constructed his own aesthetic style by using pieces of the styles of the past.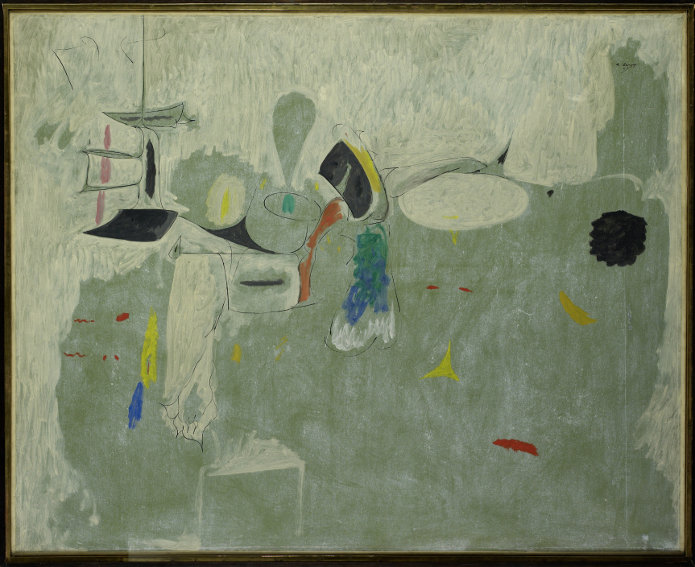 Arshile Gorky - The Limit, 1947, oil on paper mounted on canvas, 128.9 x 157.5 cm / 50 3/4 x 62 in. © 2018 The Arshile Gorky Foundation / Artists Rights Society (ARS), New York
Public Private Partnerships
Much of the spotlight in "Arshile Gorky: 1904 – 1948" will be focused on the last five years of his life. Despite the misery of his youth, his final years easily compete for the most tragic. A series of major health challenges and romantic troubles culminated in a studio fire that destroyed much of his work, leading Gorky to commit suicide in 1948. In the midst of this awful time he made some of his most captivating paintings. He adopted a completely abstract aesthetic, but gave each painting a narrative title referencing an intimate detail of his own life. These late paintings are not often compared to the works of other artists form the past; instead they are held up as works that presaged the future. The loose composition, lyrical brush strokes and freely dripping paint splotches in "How My Mother's Embroidered Apron Unfolds in My Life" (1944) could easily have been painted 20 years later by Joan Mitchell. The rustic mesh of stains, scribbles and painterly markings in "Making the Calendar" (1947) could easily have been painted three decades later by Cy Twombly.
Arshile Gorky - Portrait of Master Bill, c. 1937, oil on canvas, 132.4 x 101.9 cm / 52 1/8 x 40 1/8 in. © 2018 The Arshile Gorky Foundation / Artists Rights Society (ARS), New York
These last paintings are also a major part of the reason why Gorky is seen as such a powerful influence on the Abstract Expressionists. This was the time of his life when he is said to have helped Willem de Kooning find his voice, and Jackson Pollock get in touch with his subconscious. But I hope this upcoming exhibition in Venice will prove that these things do not represent the limit of what Gorky had to teach. He was not just telling his contemporaries to follow a particular method. He was teaching them self-reliance; that they were free to mingle every style and method together at once to find their own way. His own method was a hybrid of everything he had ever seen and experienced. Like him, it was part truth, part fiction, part realism, and part abstraction. "Arshile Gorky: 1904 – 1948" will hopefully redefine Gorky in this way—not as an imitator, but as one of the first 20th Century artists to embrace both the autonomy of the artist to denounce the belief that movements belong to any one time, or that artists belong to any one style.
"Arshile Gorky: 1904 – 1948" will be on view from 8 May through 22 September 2019 at Ca' Pesaro International Gallery of Modern Art, Venice.
Featured image: Arshile Gorky - One Year the Milkweed, 1944, oil on canvas, 94.2 x 119.3 cm/ 37 1/16 x 46 15/16 in. National Gallery of Art, Washington, D.C. Ailsa Mellon Bruce Fund © 2018 The Estate of Arshile Gorky / Artists Rights Society (ARS), New York.
By Phillip Barcio