Blog Home
How Arshile Gorky Discovered Abstraction
Sep 12, 2016
Where would we be without camouflage? It helped the Allies win World War II and has since become ubiquitous in military strategy. And there are other types of camouflage besides those used in war. Animals use camouflage. So do plants. And what about emotional camouflage? The abstract artist Arshile Gorky was a camouflage master. In the years preceding World War II, Gorky was one of many artists invited by the American government to participate in the development of effective camouflage techniques for soldiers, vehicles and ships. Gorky even organized a group of New York artists to prepare their camouflage skills to peacefully contribute to the war effort. And in 1941 he taught a class on camouflage at the Grand Central School of Art. In the course description he wrote, "What the enemy would destroy…he must first see. To confuse and paralyze this vision is the role of camouflage." Betty Parsons, owner of the eponymous Manhattan gallery, took Gorky's camouflage class, and remarked years later that, "Gorky probably knew more about aesthetics than anybody I ever met in my life." But the visual variety was only one type of camouflage of which Gorky was a master. He also camouflaged his life, falsifying his name, biography and resume. And for decades, until just a few years before his tragic death, he even camouflaged his authentic artistic voice.
Seeds of Suffering
The story of Arshile Gorky begins as the story of Vosdanig Adoian, a boy born to peasant parents in Ottoman Turkey sometime in the first four years of the 20th Century. Vosdanig lived in a beautiful country, full of gardens, streams and willow trees. From a young age he took every chance to study art in order to copy the beautiful things he saw. According to his sister, young Vosdanig even drew in his sleep, his hand moving as though holding a pencil as he dreamed.
When Vosdanig was about six, his father left for America. The family was supposed to follow, but before they were able, World War I began. The Turkish government began a systematic genocide of the Armenian Turks. For the next five years, Vosdanig and his family fled from refugee camp to refugee camp, slogging through mud and suffering disease. After years of horror, Vosdanig's beleaguered family took shelter in the relative safety of an abandoned, roofless room in Russia. In that room, Vosdanig watched his starving mother die.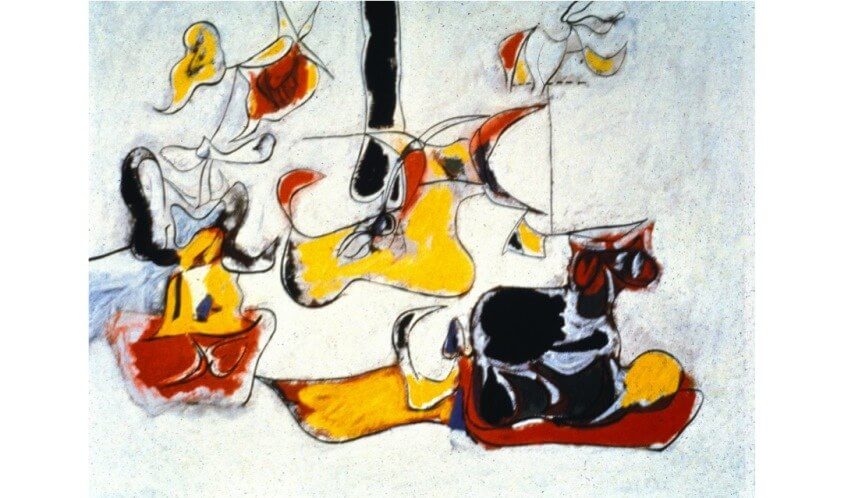 Arshile Gorky - Garden in Sochi, c. 1943. Oil on canvas. 31 x 39" (78.7 x 99 cm). Acquired through the Lillie P. Bliss Bequest (by exchange). The Museum of Modern Art, New York. © 2018 Estate of Arshile Gorky / Artists Rights Society (ARS), New York
Becoming Arshile Gorky
After their mother died, Vosdanig and his sisters fled Russia by boat. After a year passing from port to port they arrived in America where family awaited in Massachusetts. As so often happened, immigration officials at Ellis Island misnamed their little party of survivors, calling Vosdanig "Vartanouche." This would not be his last name change. He would spend the rest of his life editing his identity in an effort to rise above the tragedy of his past.
Once settled in America, Vosdanig returned to his passion for art. He frequented museums and enrolled at Boston's New School of Design and Illustration. An expert realistic artist, he supported himself by drawing pictures for cash on the sidewalk. So impressive were his skills that the New School administrators invited him back after graduation to teach life drawing. It was there, in 1924, during recess, that Vosdanig painted Park Street Church, Boston, and signed it "Gorky, Arshele," the first use of a pseudonym that would eventually become Arshile Gorky.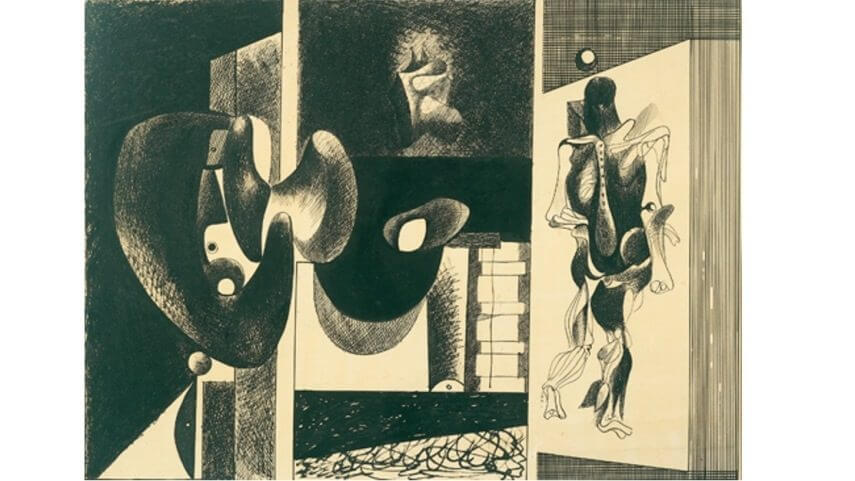 Arshile Gorky - Nighttime, Enigma And Nostalgia, 1931-1932. Pen and brush and ink on board. 26 1/16 × 34 1/8 in. Whitney Museum of American Art, New York City, NY, US. © 2018 Estate of Arshile Gorky / Artists Rights Society (ARS), New York
Gorky's New York
Not long after choosing his new name Gorky received an opportunity to remake the rest of his life story. He moved to New York to teach at the New School's new Broadway campus. Enthralled with New York, he embarked on what he called "apprenticeships" with the masters he admired, especially Cezanne and Picasso, sitting in front of their paintings in museums and meticulously copying their works. Two years later he landed his teaching job in the School of Painting and Drawing at the Grand Central School of Art. His biography at the school lists him as a Russian native who studied in Paris and whose work had been included in multiple exhibitions: all of it lies.
The reasons for Gorky's lies may have been grounded in fear. He surely feared backlash against being an immigrant. And he must have feared he would not be taken seriously without an impressive pedigree. He struggled endlessly to make a living in New York. His teaching job paid little, and the New York art world had almost no interest at all in the work of immigrants. Most galleries and museums wanted European Modernism or American folk art. What Gorky and his contemporaries were making was somewhere in between, a sort of melting pot of influences and styles.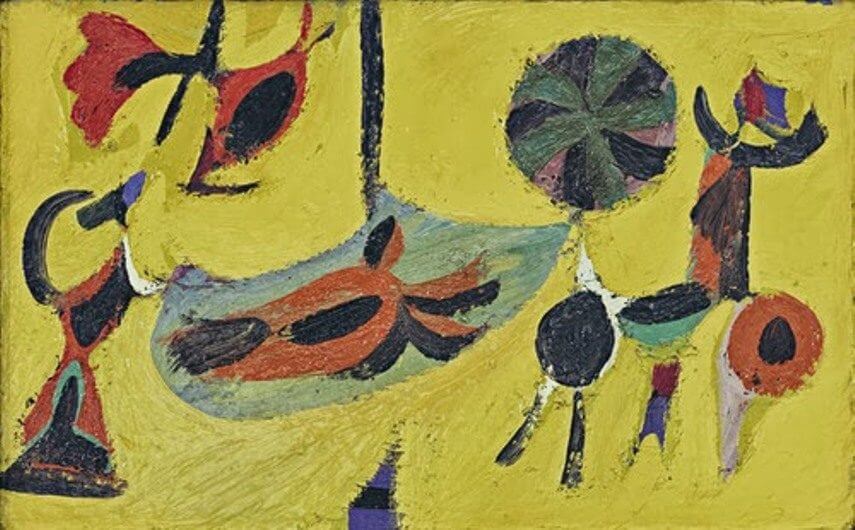 Arshile Gorky - Argula, 1938. Oil on canvas. 15 x 24" (38.1 x 61 cm). Credit Gift of Bernard Davis. Museum of Modern Art, New York. © 2018 Estate of Arshile Gorky / Artists Rights Society (ARS), New York
Breaking Through
Despite his struggles, Gorky was immensely passionate and spoke poetically about the promise of Modernism. He attracted many of the greatest New York artists to himself with the power of his personality. His acquaintances included Lee Krasner, Isamu Noguchi, André Breton and Willem de Kooning, who once said, "[Gorky] knew lots more about painting and art—he just knew it by nature—things I was supposed to know and feel and understand. . . . He had an extraordinary gift for hitting the nail on the head."
Happily for Gorky and the rest of these artists, two new museums opened in New York in the early 1930s: the Whitney and MoMA. One of Gorky's first exhibitions was a group show of contemporary artists under the age of 35 at the MoMA. The catalogue for that exhibition offers yet another different account of his birthplace in addition to the false claim that he studied under the painter Wassily Kandinski. Despite the obvious beauty and mastery of Gorky's work, critics called it derivative. Gorky was so adept at copying that he was incorporating elements of other abstract artists into his paintings. Perhaps his false claims about his apprenticeships were attempts to justify this to his critics.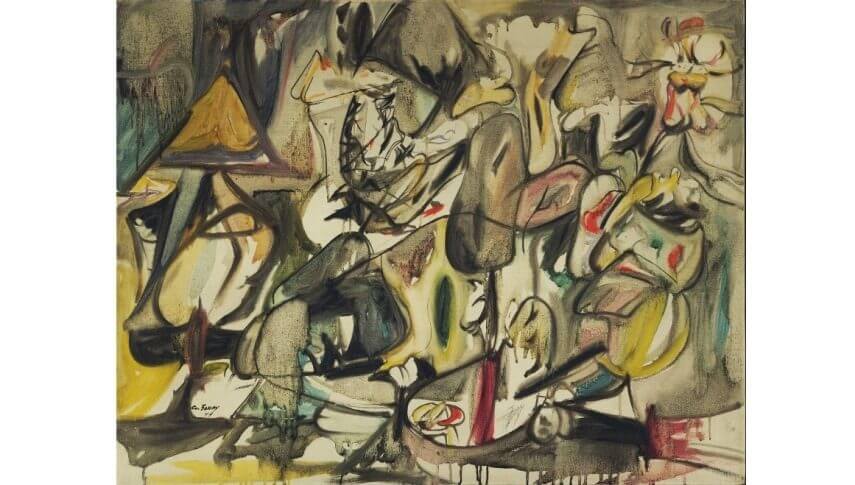 Arshile Gorky - The Leaf of the Artichoke Is an Owl, 1944. Oil on canvas.28 x 35 7/8" (71.1 x 91.2 cm). Credit Sidney and Harriet Janis Collection Fund. Museum of Modern Art, New York. © 2018 Estate of Arshile Gorky / Artists Rights Society (ARS), New York
Living the Dream
The process that ultimately led to Gorky's breakthrough began in 1936 when he read Julien Levy's book on Surrealism. Gorky began experimenting with automatic drawing, opening himself up to his authentic subconscious self. Over the next eight years, through a multitude of setbacks due to failed relationships, money problems and the onset of World War II, Gorky developed his search for his inner self. By 1944 he developed what would become recognized as his mature, unique style. It was informed by Surrealist technique but relied on a visual language that was completely abstract.
With the help of his friend André Breton, Gorky added deeply personal titles to his new works, which gave them an expressive quality that defied their abstract nature. The titles conveyed what was finally the truthful narrative of his life story. Between the years of 1944 and 1948 he painted would come to be regarded as his masterpieces, such as, The Liver is the Cock's Comb, How My Mother's Embroidered Apron Unfolds in My Life, and Water of the Flowery Mill.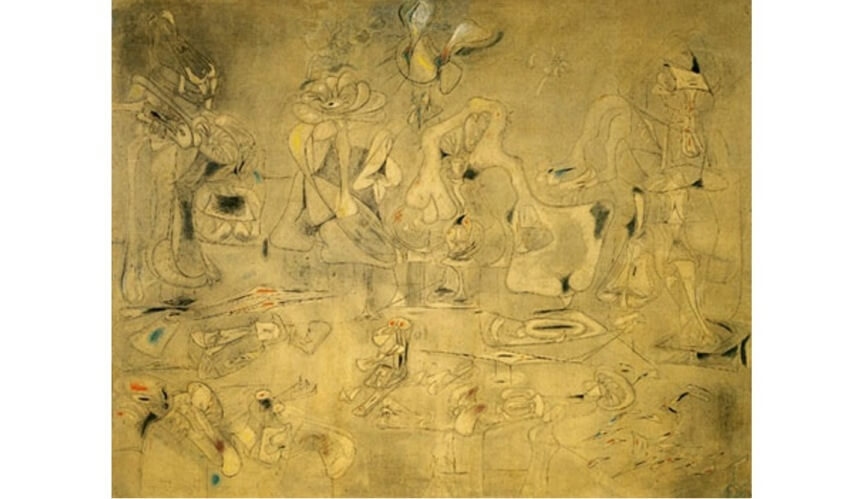 Arshile Gorky - Summation, 1947, Pencil, pastel, and charcoal on buff paper mounted on composition board. 6' 7 5/8" x 8' 5 3/4" (202.1 x 258.2 cm). Credit Nina and Gordon Bunshaft Fund. Museum of Modern Art, New York. © 2018 Estate of Arshile Gorky / Artists Rights Society (ARS), New York
Bittersweet Success
Having finally found his voice, Gorky became associated with the most influential artists of his time. He was included in the article "Five American Painters" in Harper's Bazaar along with Jackson Pollock. And after an exhibition that included his work along with that of Mark Rothko and Lee Krasner, the gallery owner remarked, "I believe we see real American painting beginning now." Gorky's mix of personal, subconscious expression and abstract imagery became the hallmark that many historians to refer to as the beginning of Abstract Expressionism.
But at the height of his success, Gorky's life again turned tragic. In just a two year span, a fire destroyed his studio, wiping out dozens of artworks and all his favorite books; he was diagnosed with cancer and underwent surgery; his father died; then in a rain storm Gorky got into a car accident and broke his neck. After the accident, Gorky feared he would never paint again. His depression caused his wife to break down. She left him and took the kids. Days later Gorky removed his neck brace and hung himself. His suicide note read, "Goodbye My Loveds."
Considering his tragic life, the liberties Gorky took with reality can be forgiven. He did not lie, so much as he abstracted. As he said, "The stuff of thought is the seed of the artist…Abstraction allows man to see with his mind what he cannot physically see with his eyes...It is the emancipation of the mind. It is an explosion into unknown areas." Gorky's genius at hiding the grotesque facts of objective reality inspired his transformation into one of the 20th Century's most influential American abstract artists. Through imagination and exaggeration, he created camouflage for his mind, from which he emerged to embody the ultimate accomplishment for an abstract artist: through obfuscation he expressed truth.
Featured Image: Arshile Gorky - The Liver is the Cock's Comb, 1944, The Liver is the Cock's Comb (1944). Oil on canvas. Support: 73 1/4 x 98 3/8 inches (186.055 x 249.8725 cm); framed: 75 3/16 x 100 3/8 x 2 3/4 inches (190.98 x 254.95 x 6.99 cm). Collection Albright-Knox Art Gallery, Buffalo, New York. Gift of Seymour H. Knox, Jr., 1956. © 2018 Estate of Arshile Gorky / Artists Rights Society (ARS), New York
All images used for illustrative purposes only
By Phillip Barcio