Blog Home
The Importance of Anni Albers' Textiles. At Tate Modern
Jun 22, 2018
In October of 2018, in anticipation of the 100th anniversary of the founding of the Bauhaus, the Tate Modern in London will present the first-ever retrospective of the work of Anni Albers to be held in the United Kingdom. Albers is known today as one of the foremost Modernist thinkers, and is renowned for both her art and her writings on the theory of art and design. She first enrolled in the Bauhaus in 1922 at age 23. She was attracted to the school because it had a reputation for being on the cutting edge in every way, including in its admittance of women as students. Yet the administration was not as forward thinking as they would have liked to claim, as evidenced by the fact that, like all other female students, Albers was not allowed to enroll in painting or sculpture classes. She was instead steered into weaving as an artistic medium. Undeterred by this blatant sexism and disregard for her other talents, Albers embraced her weaving classes, absorbing everything she could about the methods, materials, and histories of fiber art. She subsequently went on to become one of the most recognized students, and teachers, in Bauhaus history, eclipsing the accomplishments of many of the same men who had attempted to diminish her potential by limiting her education. The Anni Albers exhibition at the Tate will feature an extraordinary selection of works spanning the entire career of this massively important artist. Among the more than 350 objects that will be on view will be examples of works representing each of the multiple disciplines she mastered, including her early abstract textiles, her large wall hangings, and her small, hand-woven abstract studies. Also included will be selections of her hand-crafted jewelry and textile products she created for the mass consumer market. The range of works on view not only elucidates the tremendous abilities of this multi-disciplined artist, but also demonstrates the commitment Albers had to the Bauhaus philosophy—that art and design have an obligation to intersect with everyday life.
The Process of All Creation
Though she admittedly did not have an intrinsic desire to take up weaving prior to enrolling in the Bauhaus, Albers did have a natural desire to understand what she once referred to as "the process of all creation." She believed that everything created by an artist demonstrated not only the particular qualities of that one work, but also acted as a representative of the ancient methods and techniques responsible for the creation of all things. When she taught art, she insisted her students focus not on the importance of any one work, but on the importance of understanding the underlying techniques and structures that are the foundation of the processes involved in its making. Considering that she held this belief, it is possible that being forced to study weaving at the Bauhaus was probably the best thing that could have happened to Albers at the start of her professional career, because, as she soon learned, weaving is one of the most ancient human crafts.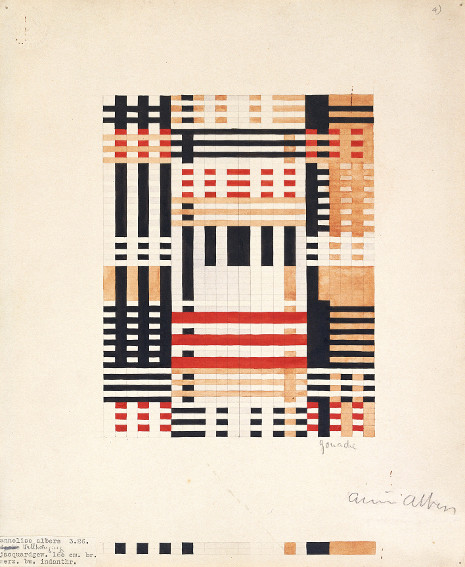 Anni Albers - Design for Wall Hanging 1926 Gouache and pencil on paper. 356 x 292 mm. Museum of Modern Art, New York, Gift of the designer. © 2018 The Josef and Anni Albers Foundation/Artists Rights Society (ARS), New York/DACS, London
Weaving is older than pottery. And amazingly its patterns do not only relate to art and craft, but they also mimic the same universal patterns that hold the natural world together. Albers wrote a vital essay on this topic in 1957, titled "The Pliable Plane: Textiles in Architecture." The essay reveals how weaving teaches, among other things, methods of thread construction, pattern development, and structural development, which can inform our understanding of almost every other plastic art form, and the construction of natural forms and systems. The inspiration Albers received from her education in weaving not only inspired her artwork, it also informed her teaching, and brought her into contact with cultures all over the world. Albers learned every method of weaving she encountered, from making works with her hands, to using traditional looms, to employing industrial weaving tools for mass production of textiles. She even learned to construct her own tools, acquiring the intellectual and physical means to be able, if she desired, to create her works completely from scratch.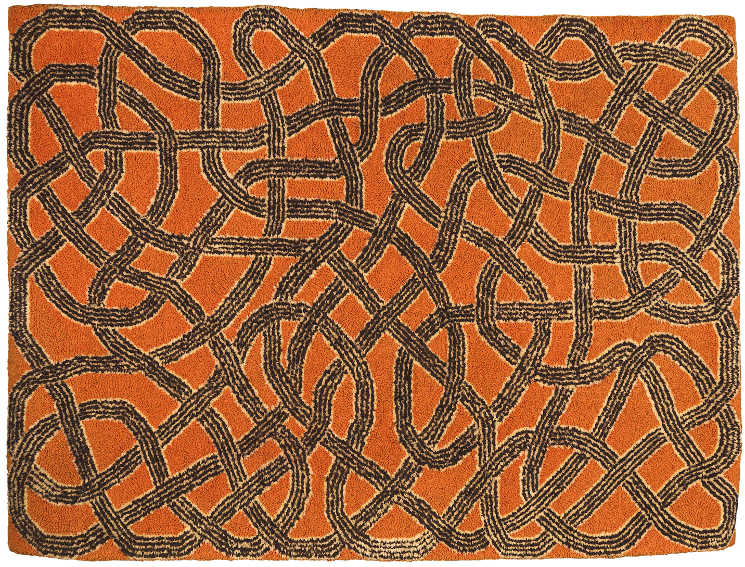 Anni Albers - Open Letter, 1958. Cotton. 57.8 x 60 cm. The Josef and Anni Albers Foundation, Bethany CT. © 2018 The Josef and Anni Albers Foundation/Artists Rights Society (ARS), New York/DACS, London Photo: Tim Nighswander/Imaging4Art
In addition, the Tate will feature rarely seen examples of works Albers made while exploring other mediums, such as printmaking, drawing, and painting. Yet, of course, the main focus of this retrospective will be, as it should be, the unparalleled body of woven artworks that Albers made over the course of her career. She called her woven pieces "pictorial weavings." Nonetheless, they reached far beyond simply being woven pictures. These artworks deftly mobilized formal, Modernist, abstract thought right alongside millenniums-old visual languages, bridging the most ancient imagist traditions with the most contemporary. They also blurred separations between previous definitions of two and three-dimensional art. Most importantly, they helped aid in the collapse of the perceived hierarchy that formerly placed other types of plastic traditions above textiles and fiber art, and helped undermine the patriarchy that originally tried to keep her and other female artists down. Anni Albers at the Tate Modern will open on 11 October 2018 and run through 27 January 2019.
Featured image: Anni Albers - Red Lines on Blue 1979. Designed for Modern Masters Tapestries. Wool. 167.6 x 182.9 cm. The Josef and Anni Albers Foundation, Bethany CT © 2018 The Josef and Anni Albers Foundation/Artists Rights Society (ARS), New York/DACS, London. Photo: Tim Nighswander/Imaging4Art
By Phillip Barcio