Blog Home
Groundbreaking Abstract Female Artists on View in London
Apr 23, 2018
Anyone interested in the topic of abstract female artists simply must try to get to London sometime in the next month. The exhibition Surface Work, which is taking place concurrently at Victoria Miro Mayfair and Victoria Miro Wharf Road, surveys the work of 56 different female abstract artists active over the past 100 years. The earliest painting on view was painted in 1918, and the most recent works were painted in 2018, several especially for this show. It is likely that no matter how informed you are about the past century of art history you would have a difficult time naming 56 female abstract artists off the top of your head. You may even have trouble naming 56 female artists of any style—such is the unfortunate nature of how the art world has tended to diminish the accomplishments of female artists. This exhibition takes an important step towards correcting that mistake, and it is a revelation. It covers a spectacular range of aesthetic propositions, a surprising number of which are fresh and contemporary despite in some cases dating from nearly a century ago. The curators have also made the effort in the case of several of the better-known artists to select works that are not representative of their most iconic works, offering new perspectives on the careers of familiar favorites. One example is the inclusion of a gestural abstract painting by Helen Frankenthaler that predates her Soak Stain technique; another is a canvas collage by Lee Krasner, which is representative of a transformative time in her career when she destroyed and reused previous works. Surface Work is on view at Victoria Miro Mayfair through 16 June, and at Victoria Miro Wharf Road through 19 May 2018. Though there is not room in this article to elucidate the careers of every artist in this monumental show, here is a glimpse at some of the featured artists whom you may not have heard of before.
Betty Blayton (1937 – 2016)
The inventor of what she called "Spiritual Impressionism," Betty Blayton was one of the founders of the Studio Museum of Harlem. Her abstract paintings have a prismatic, almost kaleidoscopic effect, as the formal elements of color and form pull together fragmented worlds into cohesive moments in space and time.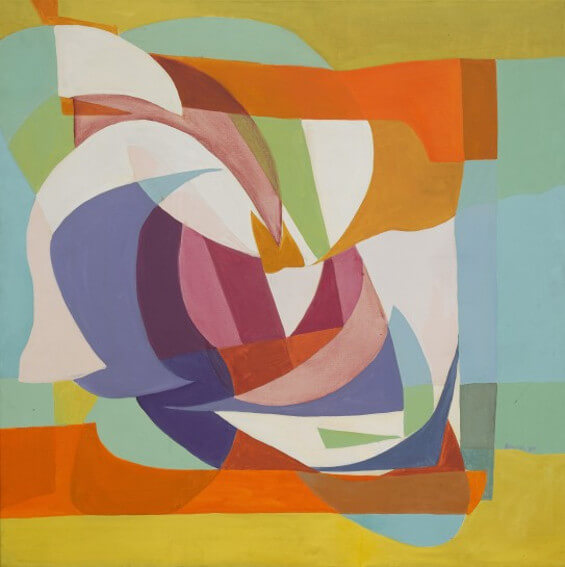 Betty Blayton - Hard Edge # 3 - Intermezzo, 1969, Oil on canvas, 102.2 x 102.2 cm, 40 1/4 x 40 1/4 in. © Betty Blayton-Taylor Lifetime Trust. Courtesy the Trustees of Betty Blayton-Taylor Lifetime Trust. On view at Victoria Miro Mayfair
Suzanne Blank Redstone (b. 1945)
The architectonic compositions of Suzanne Blank Redstone read like views from above of a geometric built world. However, their nuanced displacement of space confounds that reading, as the eye is tricked into wondering which way is up. Space becomes content in these masterfully subtle works.
Prunella Clough (1999 – 1999)
An influential artist in her UK homeland, Prunella Clough remains largely unknown throughout the rest of the world. She pioneered what has become a familiar type of urban abstraction, in which the textures and shapes of modern industrial city life are reduced into precise compositions that invite contemplation of the everyday visual environment.
Ilse D'Hollander (1968 – 1997)
This Belgian painter took her own life at age 29, leaving behind a substantial body of work, most of which was never exhibited in her lifetime. Her expressive brush strokes and visceral use of painterly textures gives her paintings a physicality that makes them simple pleasures with which to engage.
Mira Schendel (1919 – 1988)
A contemporary of Lygia Clark, Mira Schendel was born in Europe but fled to South America after being persecuted for her Jewish heritage during the build up to World War II. She made thousands of works on paper and also explored sculpture and painting in her effort to express the phenomenological essence of being and nothingness.
Adriana Varejão (b. 1964)
This Brazilian artist makes both figurative and abstract work and employs a range of different mediums. Her painting in Surface Work represents a style she has developed which mixes oil paint and plaster on canvas, resulting in a mesmerizing craquelure effect.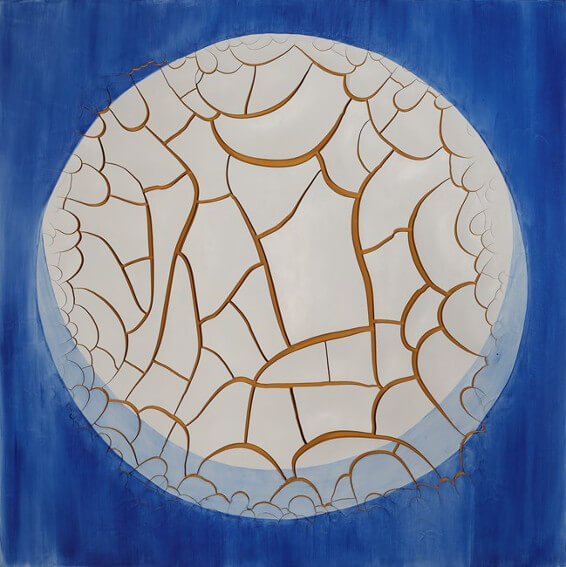 Adriana Varejão - Azulejão (Moon), 2018, Oil and plaster on canvas, 180 x 180cm. Photograph: Jaime Acioli. © the artist, courtesy Victoria Miro, London / Venice
Angela De La Cruz (b. 1965)
This Spanish artist takes the idea of the monochrome painting into a thrilling conceptual realm by contorting her stretcher bars, or foregoing them altogether. Her all-white canvas in Surface Work is unstretched and hangs like a towel from the wall.
Sandra Blow (1925 – 2006)
A master colorist, Sandra Blow created a tremendous oeuvre of heroic paintings over the course of her long and prolific career. She never settled on a particular compositional style, yet developed an instantly recognizable visual voice nonetheless thanks to her unique use of line and shape, and her muted yet vibrant use of hue.
Martha Jungwirth (b. 1940)
One of the great gestural abstractionists of our time, Martha Jungwirth has developed an instinctual visual voice full of immediacy and power. Blending a mixture of graceful mark making, explosive forms, and entrancing color relationships, she creates energy that makes her paintings seem to have just been painted moments before.
Bharti Kher (b. 1969)
This New Delhi-based, British-born artist frequently uses bindis—the colored dots often worn by Hindu women—as a medium in her complex abstract compositions. She employs these and the other everyday found materials she uses in her works in an effort to transform encounters with the mundane into opportunities to seek something mystical.
Dala Nasser (b. 1990)
This Lebanese artist seeks to discover the essential content and meaning contained within materials and processes, especially those that pertain to the social and political circumstances of our time. Her piece in Surface Work is made from trauma blankets, marble dust, and liquid latex.
Fiona Rae (b. 1963)
This Hong Kong-born, UK-based artist has developed a highly idiosyncratic abstract variation of Pop Surrealism. Her mastery of color and luminosity leads to surfaces which seem to open up into, pulling the eye impossibly deep inward towards dreamlike worlds of organic forms swirling in illusionistic space.
Featured image: Surface Work - Installation view, Victoria Miro Mayfair. Left to right: Adriana Varejão - Azulejão (Moon), 2018; Howardena Pindell - Untitled, 1971. Photo courtesy Victoria Miro Mayfair
All images used for illustrative purposes only
By Phillip Barcio