Blog Home
The Concrete Utopia of the Yugoslav Architecture
Aug 10, 2018
Some of the most jarring images I have ever seen are on view right now at the Museum of Modern Art in New York, in an exhibition titled Toward a Concrete Utopia: Architecture in Yugoslavia, 1948–1980. These images are not of human suffering or war—not directly at least. Rather, they are of architecture: buildings, memorials, and monuments. They show structures so grand and futuristic that one might imagine they are the creations of an advanced alien race. But these forms are not from the future, or even from the present. They are the remnants of the architectural legacy of one of the shortest lived nations of the modern age: the Socialist Federal Republic of Yugoslavia (SFRY). Born from the overthrow of a monarchy and the ashes of World War II, the SFRY offered its citizens the opportunity to re-imagine what their world would be if it reflected their highest hopes and dreams. The resulting designs of Post War Yugoslavian architects were perhaps the most ambitious Modernist structures ever imagined. From shockingly confident Brutalist towers to otherworldly biomorphic monuments, these creations put to shame much of the supposedly progressive architecture being created today. Even more amazing is the fact that the architecture of the SFRY was not designed with computers. It was designed by hand, and largely built with concrete. Yet as visually jarring as the images in this exhibition are, what is even more jarring is the decay and destruction that these phenomenal structures have endured in the short time they have existed. They now represent a much different story, and present to us a much different sort of monument: one to the harsh reality that the highest dreams of the human mind sometimes cannot stand up to the darkest nightmares of the human heart.
The Master Plan
The overarching concept of Post War Yugoslavian Socialist housing design was rooted in the belief that every citizen deserves access to a comfortable, visually satisfying living space. Imagine such an idea! Today we live in a world of micro-apartments and shared living spaces that feel more like college dorm rooms than homes. Only the wealthiest amongst us can afford to have spacious apartments with extra rooms for things like a library or an art studio, let alone private outdoor space. The architects of Socialist Yugoslavia felt space and beauty should not be a luxury. Their buildings were designed for equity and fairness. Housing blocks, apartment complexes and hotels offered everyone at least a small outdoor patio and some extra room inside, along with plenty of windows, and public space surrounding the buildings that was beautifully landscaped to encourage socializing and outdoor exercise.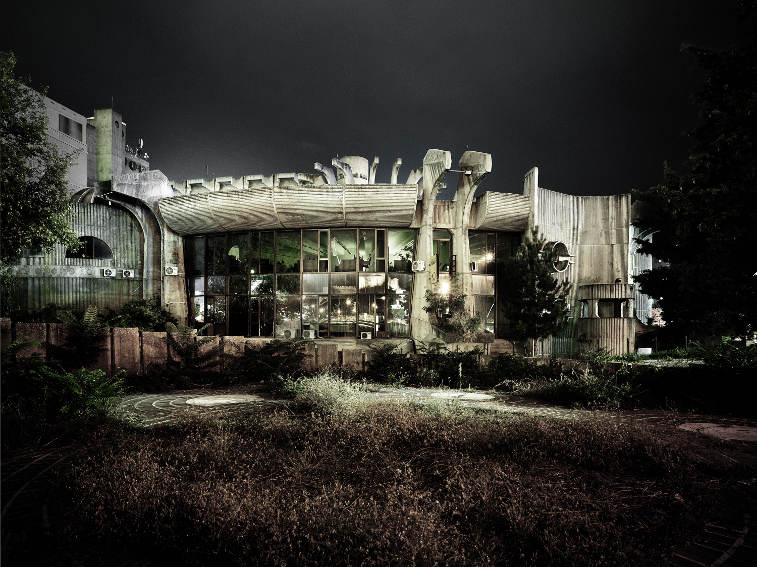 Janko Konstantinov, Telecommunications Center, 1968-81, Skopje, Macedonia. View of the
Southwestern Block façade. Photo: Valentin Jeck, 2016, commissioned by the Museum of Modern Art.
Even the public buildings, such as offices, telecommunications centers and hotels were designed to convey modernity, and to inspire everyday people to believe that they were part of a movement to build a better world. In fact, some of the most inspiring, and also saddest images in this exhibition are those of the public buildings. For example, The National and University Library of Kosovo is easily one of the most visually compelling structures I have ever seen. Designed by Croatian architect Andrija Mutnjaković, it is rich with symbolic forms, and features more than 90 domes. Much of its collection, however, was burned in the Yugoslav Wars of the late 1980s and 90s, when the building also became a temporary home for refugees. Today, the building is once again operable, but it is in disrepair. Many locals consider it an eyesore. It is sad to see both what has become of the structure itself, and also of the optimism that underscored its design and creation. On the bright side, however, is the Hotel Adriatic II, a utopian building that is still in operation today. The rooms for this luxury property, however, are not cheap. The socialist utopia is gone from this place, but the architectural one, at least in part, still remains.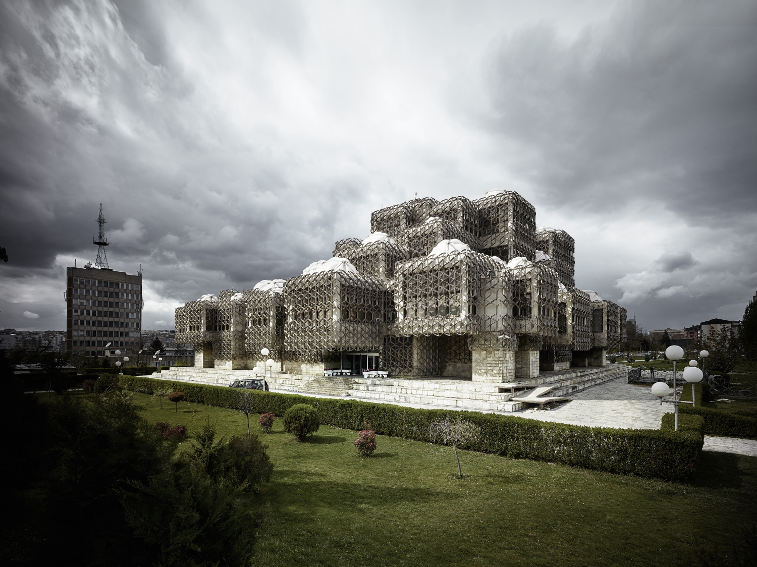 Andrija Mutnjaković, National and University Library of Kosovo, 1971–82, Prishtina, Kosovo. Exterior
view. Photo: Valentin Jeck, 2016, commissioned by the Museum of Modern Art.
Monuments and Myths
The most hopeful aspect of this exhibition is contained within the images and explanations of the multitude of Mid-Century monuments and memorials that are scattered across the landscape of the former Yugoslavia. The monument to the Ilinden Uprising of 1903, designed by Jordan and Iskra Grabul, is otherworldly in its presence. Its formal aspects evoke a beating heart, a landmine, and a space helmet. It marks a place of love and hope, and also one of profound human loss. Equally stunning is the Monument to the Battle of the Sutjeska, designed by Miodrag Živković and Đorđe Zloković. Also called the Tjentiste War Memorial, it consists of two massive, jagged, fractal wings jutting up, creating a passageway for viewers. Located in Sutjeska National Park in Bosnia and Herzegovina, it was built in memory of the more than 7000 people who died resisting a Nazi invasion. It is a heartbreaking symbol, which expresses opposing feelings of pain and glory. In my opinion, it is easily one of the most successful war memorials ever built.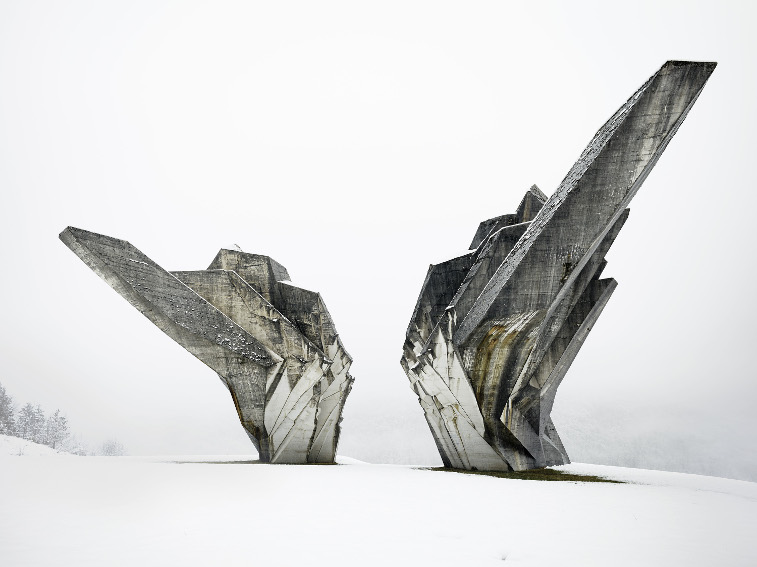 Miodrag Živković and Đorđe Zloković, Monument to the Battle of the Sutjeska, 1965-71, Tjentište, Bosnia and Herzegovina.
Photo: Valentin Jeck, 2016, commissioned by the Museum of Modern Art.
There are many other sites featured in this exhibition that nearly brought me to tears with their grandeur, such as the Jasenovac Memorial, designed by Bogdan Bogdanović, which pays homage to the victims exterminated at the Jasenovac concentration camp during World War II. Yet one of the most thought provoking images is that of Revolution Square. Designed by Edvard Ravnikar, the site is now called Republic Square today. It is the largest public square in Ljubljana, the capital city of Slovenia. The massive, flat, concrete open space is flanked by twin, angled, geometric towers. It is sparse and hauntingly empty. It holds within it the ultimate message of this exhibition, and perhaps that of the legacy of all utopian Yugoslavian architecture: that built spaces do not contain our aspirations any more than they define our failures. They only contain potential. It is up to the people who live within and amongst them to bring that potential to life. Toward a Concrete Utopia: Architecture in Yugoslavia, 1948–1980 is on view at MOMA, New York City, through 13 January 2019.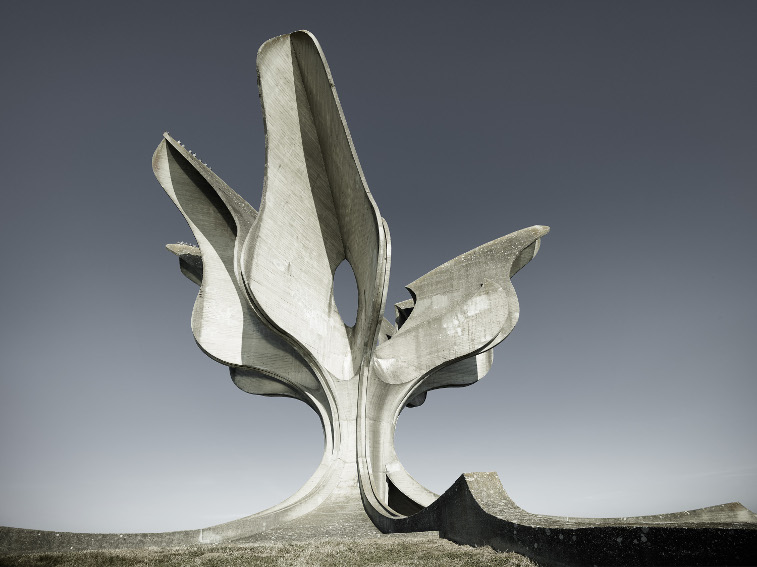 Bogdan Bogdanović, Jasenovac Memorial, 1959–66, Jasenovac, Croatia. Photo: Valentin Jeck, 2016,
commissioned by the Museum of Modern Art.
Featured image: Edvard Ravnikar, Revolution Square (today Republic Square), 1960-74, Ljubljana, Slovenia. Photo: Valentin Jeck, 2016, commissioned by the Museum of Modern Art.
By Phillip Barcio