Blog Home
Ugo Rondinone to Create a New Sculpture for Liverpool
Jul 16, 2018
Recently, news came out of Liverpool about a forthcoming sculpture to be installed there by the Swiss-born, New York-based artist Ugo Rondinone. The story has me flashing back, to 2016, when I happened to be living in Las Vegas. One warm May evening I found myself standing in the desert gazing in awe at seven massive, multi-colored, stacked boulder towers. It was no mirage. It was "Seven Magic Mountains," a site specific public sculpture created by Rondinone. The work perfectly collaborated with its environment—it was a perfect expression of what is both natural and unnatural about the city and its surroundings. When I moved away from Vegas a few months later, knowing that "Seven Magic Mountains" was only scheduled to occupy its site through 2018, I assumed I would never see anything like it again. Yet just six months later, I found myself face to face with another Rondinone Mountain. This one, titled "Miami Mountain," was installed in the grass in front of the BASS Museum in Miami Beach, Florida, in time for Art Basel. It, too, was evidently made from rocks from the Nevada dessert. While "Miami Mountain" was undeniably cool looking, it made less sense to me to have a stack of dessert rocks by the sea. Nonetheless, I explained it to myself as a sort of satellite of a larger work; a variation on a theme. But now I find that I am officially dismayed to hear that Rondinone is making more Mountains. The knowledge that a third Magic Mountain is being born into the world means that all along I have misunderstood the work. According to the Tate Liverpool, it is simply a spectacle: a highlight of the 2018 Liverpool Biennial intended to celebrate "the 10th anniversary of Liverpool European Capital of Culture, the 20th anniversary of Liverpool Biennial and the 30th anniversary of Tate Liverpool." But I cannot help but raise a concern: how many more mountains can Rondinone mount before the mountains lose their magic?
A First for Rondinone
Lest I sound like a curmudgeon complaining that something I thought was going to be special ended up not being special, let me clarify my position a little bit. I am not saying that Liverpool, or for that matter, Miami, or the moon, do not deserve their own Magic Mountains. For all I care everyone can and should get one. Nor am I claiming that Rondinone does not have the right to duplicate his artworks as frequently as he wants wherever he wants. The point I am trying to make is that when Rondinone first made "Seven Magic Mountains," it was presented as a particular type of artwork, which made sense to me at the time on every level. Rondinone proclaimed this work to be part of the Land Art Movement. And indeed, it expressed something poetic about its natural surroundings. It howled with primordial medium specificity.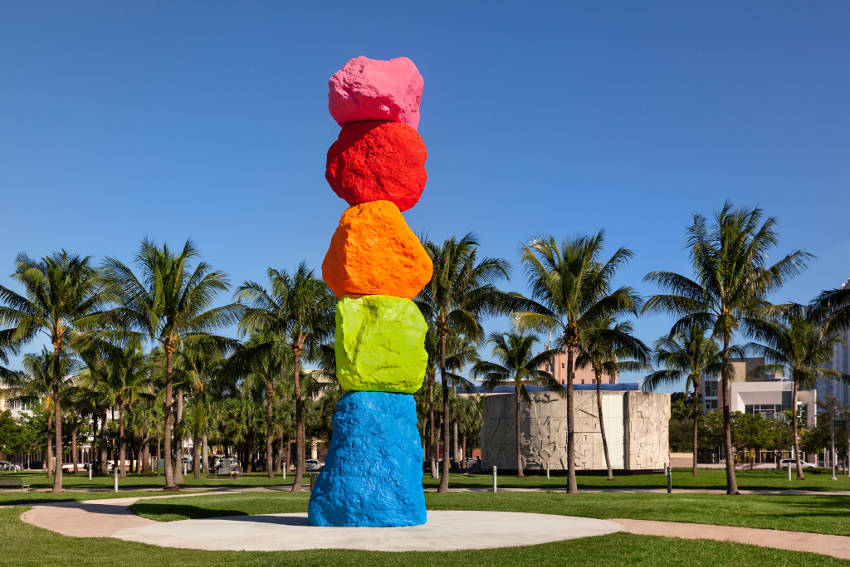 Ugo Rondinone - Miami Mountain, 2016. Image courtesy The Bass, Miami and Sadie Coles HQ, London. Photo: Zachary Balber
In Miami, the medium did not make as much sense. But at least "Miami Mountain" was installed in the grass, so there was some land in the vicinity. And the colors fit in with the place, as did the scale and the form of the work. The rocks were just a little too out of touch. They seemed kitschy, not poetic. Meanwhile, "Liverpool Mountain" will be installed in a paving stone covered, urban pedestrian zone along the docks of the river, in a place called Mermaid Courtyard. What has that got to do with Land Art? It is art made from the land, but why? What meaning does it have for this place? The work is starting to just seem derivative. What is most confusing to me is that this is the first public work Rondinone has done in the United Kingdom. Is it really the best he could come up with to express the unique aspects of the locale?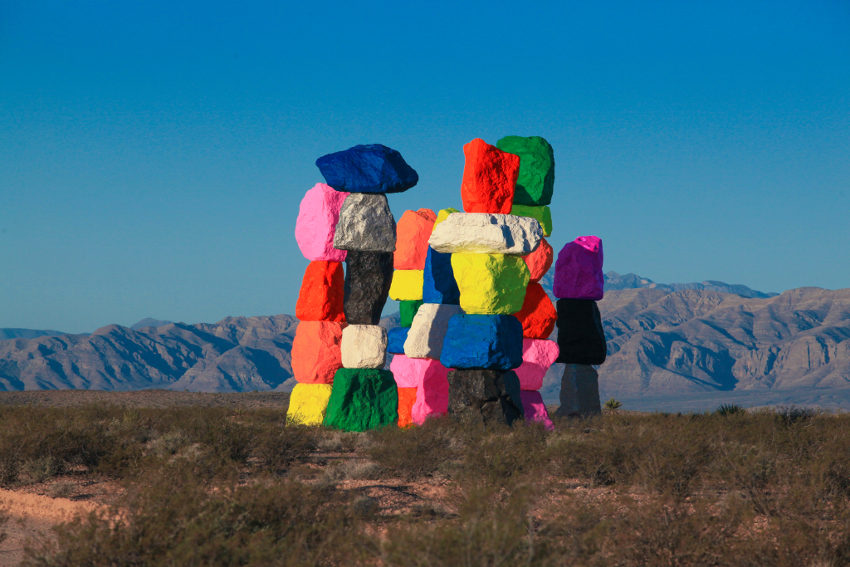 Ugo Rondinone - Seven Magic Mountains, Las Vegas, Nevada, 2016. Image courtesy Art Production Fund and Nevada Museum of Art. Photo: Gianfranco Gorgoni
I Want to be Wrong
What I hope is that I am getting something fundamentally wrong, both about Rondinone and his Mountain series. I went back and re-listened to an interview Rondinone did when "Seven Magic Mountains" debuted, and I heard something that I had missed the first time. Rondinone said that he intends the work to go beyond Land Art. He said he wants it to also incorporate the legacy of Pop Art. That, to me, makes more sense. Just go back and refer to what Robert Hamilton, one of the original Pop Artists, said about the genre. He said Pop Art is, "popular (designed for a mass audience); transient (short-term solution); expendable (easily forgotten); low cost; mass produced; young (aimed at youth); witty; sexy; gimmicky; glamorous; and last but not least, Big Business." Rondinone has arrived at a spectacularly memorable aesthetic phenomenon. People will flock to see it because it is memorable and instantly recognizable. It is popular, it does not have to make sense.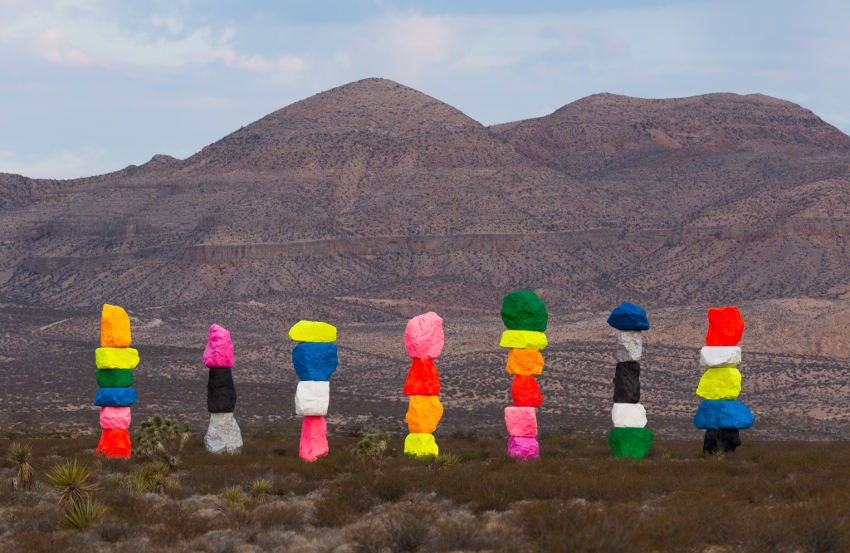 Ugo Rondinone - Seven Magic Mountains, Las Vegas, Nevada, 2016. Image courtesy Art Production Fund and Nevada Museum of Art. Photo: Gianfranco Gorgoni
Nonetheless, I am just a little disappointed to see the proliferation of what I at first considered to be an instantly iconic installation. I cannot help but think that had there only been one Magic Mountain sculpture, it would have been more important, more powerful, more memorable. So again, I turn to the words of another Pop Artist, the greatest of them all, Andy Warhol, to find my solace. Warhol considered Pop Art to be distinctly American in nature. He said, "Buying is more American than thinking, and I am as American as they come." Warhol was right. I am over thinking "Liverpool Mountain." It is the product of a Swiss-born artist who moved to America. It is an export of Swiss-American ideas from America to a place from which America was exported. It represents something distinctly contemporary: a melting pot, albeit a shallow one. Like everything else my home country has ever invented, I simply need to buy into it: only then can I enjoy its strange beauty, and recognize its magic.
Featured image: Ugo Rondinone - Seven Magic Mountains, Las Vegas, Nevada, 2016. Image courtesy Art Production Fund and Nevada Museum of Art. Photo: Gianfranco Gorgoni
By Phillip Barcio