Blog Home
Steven Parrino, The Bad Boy of the 1980s Abstract Art
Oct 2, 2019
The artist Steven Parrino never made a living off of his art. He died in 2005, so you could be forgiven for thinking recent press reports that Parrino is "enjoying an art market renaissance" are at best hyperbolic. Dead people (hopefully) do not enjoy the same stuff living people enjoy. What is undeniable, however, is that the work Parrino made prior to dying in a motorcycle accident at age 46 has been steadily increasing in financial value since his death—a renaissance that perhaps his collectors enjoy. The reason his work has been increasing in value could be because he was a punk rocker, and the world is maybe finally waking up to the value of the punk ethos. Or then again, it could be entirely thanks to his estate being represented post-mortem by Gagosian Gallery, the art dealer which currently represents a lot of the highest priced artists in the contemporary art market. Maybe the Gagosian team is great at spotting important artists, or great at predicting the tastes of collectors. Or maybe the gallery is just connected to a cadre of elite, global speculators whose choices manipulate the art market pyramid scheme. Either way, if Gagosian represents an artist, the work must have something unique going for it. After all, according to Artnet News when Parrino was alive José Freire of Team Gallery, his sole representative at the time, sold only two of his paintings, for a grand total of only $19,000, only half of which assumedly went to the gallery. Today, Parrino paintings sell for more than a million dollars. Was Parrino really as punk rock as people say? Is Gagosian punk rock for recognizing the fact that a dead artist was not appreciated properly in their lifetime and capitalizing on the value gap? Was Team Gallery punk rock for sticking with Parrino even though no one saw his value at the time? These may sound like silly questions, but there is little else to say about what Parrino did. His work is the simplest thing in the world—it speaks for itself, and it came from a place of honesty and energy. The only thing worth speculating about it is what the point is of remembering it.
Anarchy Art Fair
The most famous body of work Parrino made was a series of painted black surfaces that he then proceeded to smash with a sledgehammer. Critics like to say that this work represented a "literal deconstruction of art history," something they claim Parrino did in order to revive painting. But maybe Parrino just had fun smashing things. Maybe it was part of his unique pathology to feel he had to destroy in order to create. Or maybe the critics were right and he really was trying to take a dead medium (artists and teachers and critics in the 1970s were fond of saying "painting is dead") and revive it through spectacle, ala Doctor Frankenstein.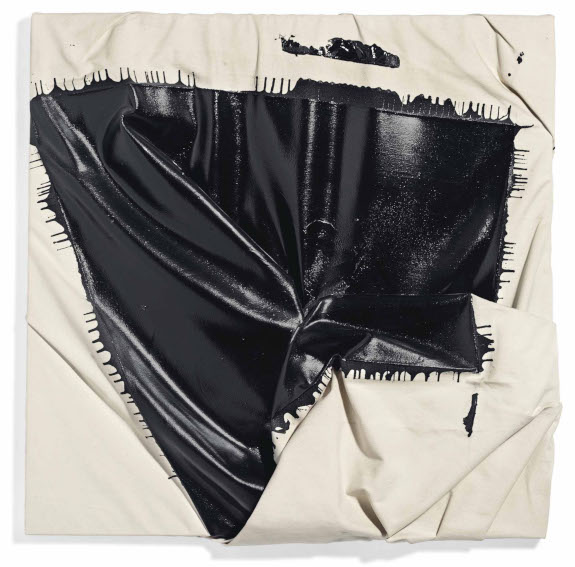 Steven Parrino - No Title Painting #4. Executed in 2000. Acrylic on canvas. 39¾ x 39¾ in (101 x 101 cm). © Steven Parrino. Galleria The Box Associati, Turin. Acquired from the above by the present owner.
I think the simplest explanation is the most likely explanation. I think Parrino was just expressing his angst. He was an artist who felt he had something authentic and personal to add to art history, so he added it. It was not deep. It was quite shallow, in fact. Maybe you think smashing paintings was original. Or maybe you think it was derivative. In the end, Parrino just liked doing it and it felt earnest, so he kept doing it. He barely made a dime off his efforts, but neither did most punk bands. It is the people who are selling his work today who say his work was anarchic. But what does that mean? Do they understand what anarchy is? It is not lawlessness. It is more like the simultaneous validation of every possible viewpoint. Anarchy is political correctness gone wild; it just feels like chaos. So is that punk rock? And is that what Parrino was about?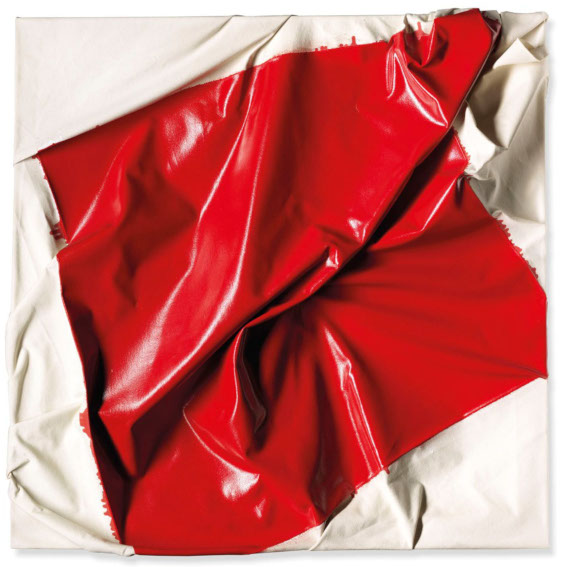 Steven Parrino - Devil's Day. Executed in 1995. Enamel and gesso on canvas. 48 7/8 x 48 x 6 ¼ in (124 x 122 x 16 cm). © Steven Parrino. Galleria Massimo de Carlo, Milan. Private Collection, Switzerland. Anon. sale, Christie's New York, 14 May 2009, lot 338. D'Amelio Terras Gallery, New York. Acquired from the above by the present owner in 2010.
Smash the State
When I look back at the art Parrino made—especially those carefully painted black surfaces, smashed to bits and tossed into piles—I see the fruits of a frustrated human heart. I see someone who, like so many punk bands, Dadaists and others, viewed contemporary society and its twisted culture through a veil of sweat, exhaustion, and tears of sadness and hilarity. Making things in order to smash them is just a theatrical microcosm of the entirety of human history, is it not? Other art critics might talk about the formal aesthetic aspects Parrino supposedly played with—how his black monochrome smashed paintings represent something beyond themselves and infer various underlying meanings and allegories. They might even really believe that Parrino was trying to "revive painting." I just do not see it.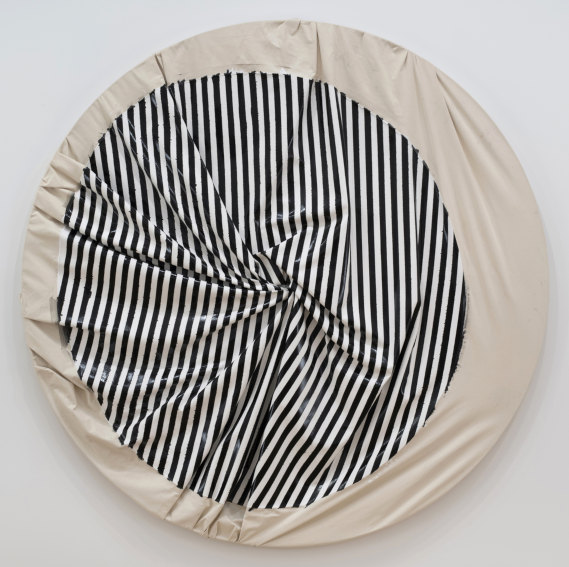 Steven Parrino - Skeletal Implosion #2, 2001. Enamel on canvas. Diameter: 81 1/4 in (206.4 cm). © Steven Parrino.
I see these piles of smashed black paintings and I intuitively place Parrino into the same aesthetic heritage as the earliest cave painters. Anthropologists say those cave painters were painting for religious or mystical reasons, but I just take it for granted they had fun painting pictures on walls. Their lives were dull, and making stuff was fun, so they did it. There is equally nothing mystical about what Steven Parrino did. Life is dull. He had fun making stuff, and he had fun breaking stuff, so he did it. There is no intrinsic reason that the value of his work should keep going up, except that there is a limited supply of it. Maybe the people who collect his work think Parrino would have sympathized with them or enjoyed hanging out with them. Maybe we could argue that he would have wanted to be represented by Gagosian and wanted to participate in art fairs. Maybe his recent emergence at the highest levels of the art market is symptomatic of the underlying depth of contemporary culture. Or maybe it is just a symptom of the shallow expectations we have for our revolutionaries.
Featured image: Steven Parrino - 13 Shattered Panels (for Joey Ramone), 2001. Industrial lacquer on gypsum plasterboard, in thirteen parts, Overall dimensions variable. © Steven Parrino. Photo: Sebastiano Pellion. Courtesy the Parrino Family Estate and Gagosian
All images used for illustrative purposes only
By Phillip Barcio