Blog Home
Sigmar Polke and His Abstract Painting Experiments
Oct 7, 2016
What are the limitations of knowledge? Can we always learn our way out of our problems? Or must we sometimes rely on something beyond knowledge, like instinct, mysticism or magic? Sigmar Polke believed that knowledge is inherently inadequate; that it can only take us so far in our search for a coherent reality; and that the truth is more layered than we realize. Both in his art and his personal life Polke experimented. Before he died in 2010 at age 69, he had traveled the world multiple times, spent years living in an artist commune, experimented with psychedelic drugs, raised a family, and for 14 years taught as a professor at the Hamburg Academy of Fine Arts. In addition, he maintained a prolific, multi-disciplinary art career that saw his works showcased in international gallery and museum exhibitions, and multiple appearances at Documenta and the Venice Biennial. Though Polke left behind an astoundingly diverse and influential oeuvre, his work is difficult to talk authoritatively about. He almost never granted interviews, and he rarely wrote or spoke about the meaning of his art. On the rare occasions when he did discus it, he used the word maybe, invoking possibilities rather than solutions. Maybe Polke was an agitator. Maybe he enjoyed frustrating people who need art to be explained. Or maybe he simply believed that there is a limit to what can be known about a work of art, even by the artist.
Forward March
When Sigmar Polke graduated from art school, he entered the rapidly transforming world of 1960s Germany. The country was literally and culturally divided. East Germany was under Soviet Control. The people there had almost no access to Western media, and were economically, socially and culturally repressed. The official art form in East Germany was called Socialist Realism. It only allowed a limited range of expression, intended to support and promote the Soviet agenda.
At university, Polke had been a student of the conceptual artist Joseph Beuys, who instilled in all of his students the importance, and the immense power, of ideas. After graduating, Polke and his classmates, who included the painter Gerhard Richter, founded their own art movement in an effort to challenge the prevailing cultural situation in their country. They called it Capitalist Realism. It appropriated the imagery and techniques of advertising, which dominated the visual media landscape of post-war Europe. Through this movement, Polke and his friends were able to simultaneously satirize Soviet dogma while critiquing the growing materialism of Western Europe.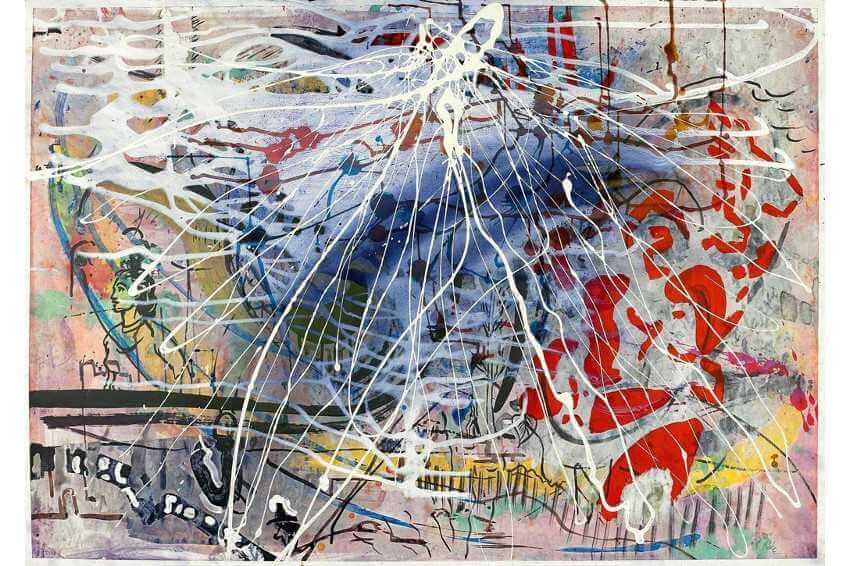 Sigmar Polke - Untitled Mönchengladbach 1983), 1983. Overpainted lithograph on cardboard. 25 3/5 × 36 1/5 in. 65 × 92 cm. Setareh Gallery, Düsseldorf. © The Estate of Sigmar Polke / DACS, London / VG Bild-Kunst, Bonn
The Power of Experimentation
Despite its instant success, Polke only stuck with Capitalist Realism for a short time before seeking other methods of expression. In addition to painting, the German artist began working with film and photography, especially exploring ways to distort the images he captured through creative staging, multiple exposures and through darkroom manipulation. Whereas Capitalist Realism helped Polke make statements, his new experiments were helping him find questions.
Polke suspended his studio work in the 1970s to travel the world with his camera. He spent extended periods of time in South America, Southeast Asia, Europe and the United States. He also experimented with LSD and other mind-altering substances in an effort to capture the sense of alternative vision in his work. By the end of the 1970s, his travels had exposed him to a variety of cultural influences and a tremendous range of new fabrics, pigments and techniques. And his experimentation had given him a layered and complex view of reality. All of these influences came together upon his return home to his studio.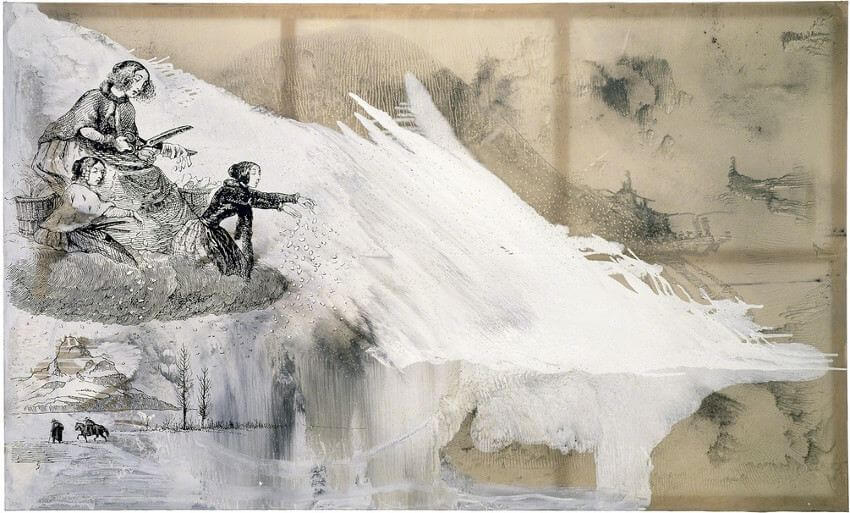 Sigmar Polke - Frau Herbst und ihre zwei Töchter (Mrs. Autumn and Her Two Daughters), 1991. Artificial resin, acrylic on synthetic fabric. Collection Walker Art Center, Minneapolis. Gift of Ann and Barrie Birks, Joan and Gary Capen, Judy and Kenneth Dayton, Joanne and Philip Von Blon, Penny and Mike Winton, with additional funds from the T. B. Walker Acquisition Fund, 1991. Walker Art Center, Minneapolis. © The Estate of Sigmar Polke / DACS, London / VG Bild-Kunst, Bonn
Fabrics of Realities
Polke developed a radical new style of painting based on what he had learned in his decade of traveling. Rather than painting on canvas he turned to synthetic fabrics that were already printed with colors and patterns he felt were in conversation with his process. For his pigments, he turned to a range of exotic sources such as meteorite dust, red lead, flower pigment, ground up stone tools, silver leaf, silver oxide, damar resin and various other exotic, and often poisonous substances. For his image sources, he turned to his vast collection of books featuring references to culture, mythology and art history.
His technique was as experimental as his mediums. He began by pouring chemicals and resins onto the front and back of the fabric, directing their flow as they stained the fabric in a semi-controlled way. Then he would paint on the front, often using dispersion paint that interacted with other layers of pigment in unpredictable ways. He used projectors then to add overlapping figurative images to the composition. Sometimes he would leave part of the fabric untouched. Other times the staining would result in huge sections of the fabric becoming completely translucent, revealing the stretcher bars and even the wall behind the painting. Polke amalgamated all of these elements into layered, abstract compositions that still seem revolutionary today.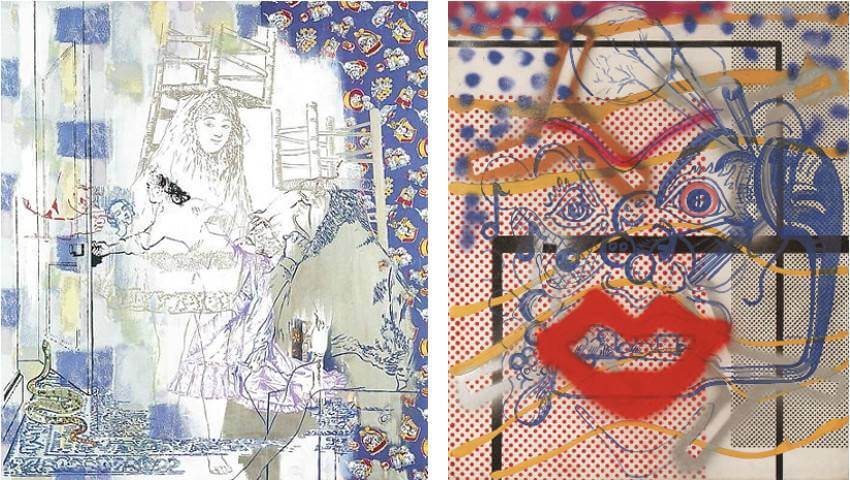 Sigmar Polke - This Is How You Sit Correctly (After Goya), 1982. Acrylic on fabric. 200 x 190 cm. Private collection. Baden-Baden (Left) / Sigmar Polke - Dr. Berlin, 1969-74 (Right). © The Estate of Sigmar Polke / DACS, London / VG Bild-Kunst, Bonn
Recognizing What Is Ignored
Polke continued his radically experimental approach to image making for the rest of his life, adding mechanical tools such as scanners and copy machines to his process, and fluctuating between figuration and total abstraction. In all of his various positions he remained committed to creating complex, layered, abstract images that defy simple interpretation. Most importantly he sought to engage with his own time. He knew that an image has the potential to interact with a viewer in a multitude of ways. Maybe the viewer will be launched forward into the future by it, or maybe the viewer will be taken backwards. By making work that reveals possibilities that otherwise would have been ignored, Sigmar Polke unabashedly sought to take us forward.
His reasons for not explaining his work likely had to do with the fact that he was just not interested in telling us what to think. He was interested in creating situations in which it was possible for us to think for ourselves. His diverse mediums, materials, processes and source images were merely prompts, as he said, "connecting everything to everything, establishing an endless rush of association until they turn against one another." Rather than claiming knowledge, he directly engaged us, the spectators, in the process of seeking to know, inviting us toward the various meanings, understandings and inspirations that we may be able to discover for ourselves.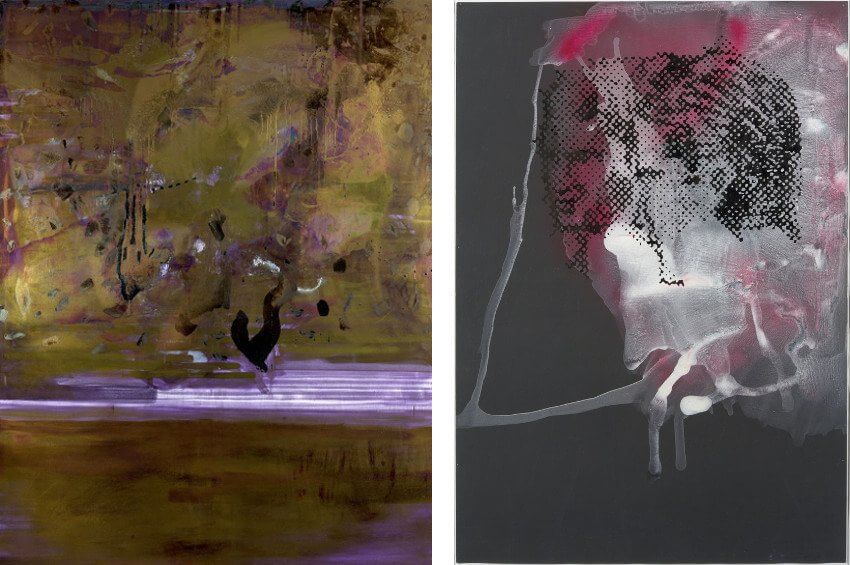 Sigmar Polke - Negative Value II (Mizar), 1982. Dispersion paint, resin, and pigment on canvas (Left) / Sigmar Polke - Ohne Titel, 2004 (Right). © The Estate of Sigmar Polke / DACS, London / VG Bild-Kunst, Bonn
Featured image: Sigmar Polke - Ohne Titel, 1985. Acrylic on paper. 39 2/5 × 55 1/10 in. 100 × 140 cm. Suzanne Tarasieve, Paris. © The Estate of Sigmar Polke / DACS, London / VG Bild-Kunst, Bonn
All images used for illustrative purposes only
By Phillip Barcio