Blog Home
A Rush of Colors in Sabine Moritz's Eden
Jul 23, 2018
Sabine Moritz has made a reputation for herself as a figurative painter—a creator of dreamlike floral images and haunting urban scenes. But a new exhibition of her work at KÖNIG GALERIE in Berlin shows an exciting new phase in her development. Titled Eden, the exhibition features 14 new paintings, nine of which are large-scale and abstract. These lyrical, impasto works immediately dominate the exhibition space, boiling with emotion and drama. Their emotional and material presence juxtaposes confidently with the sensible, organized, brick and concrete interior of the gallery. Upon entering the show, the first impression is that these images are important, and that they require long gazes. Yet they are also competing in a subtle way with something else—interspersed among the abstract canvases are five smaller, figurative works of flowers and urban scenes. Though these smaller works are less bold and smaller in scale, they earnestly hold their own against the larger abstract works. As the abstract canvases seem to demand more attention, the figurative paintings seem to whisper a kind of soft siren song. They are quiet while the abstract paintings scream out. Finally, it is the contrast between the two seemingly different bodies of work that captures the imagination. By exhibiting these works together, Moritz brings us into the sanctity of her own method and process, where all of these images fit together in an exaltation of the title of this exhibition—Eden, an unspoiled and idyllic place where everything is exactly as it should be and no one has yet arrived to corrupt or to judge.
Life Behind the Wall
Moritz was born in 1969 in Communist East Germany, in a small, northern, medieval town named Quedlinburg. She escaped to West Germany with her family shortly before the fall of the Berlin Wall. By then she had already been raised with a firm grasp of both the visual and the emotional aspects of life behind the wall. The grayness of the buildings and the streets; the crumbling surfaces; unkempt and unappreciated nature. This world of repression and decay remains part of her visual language even now. In all of her paintings, Moritz cannot help but include references to it, like a constant, ringing echo that refuses to leave her mind.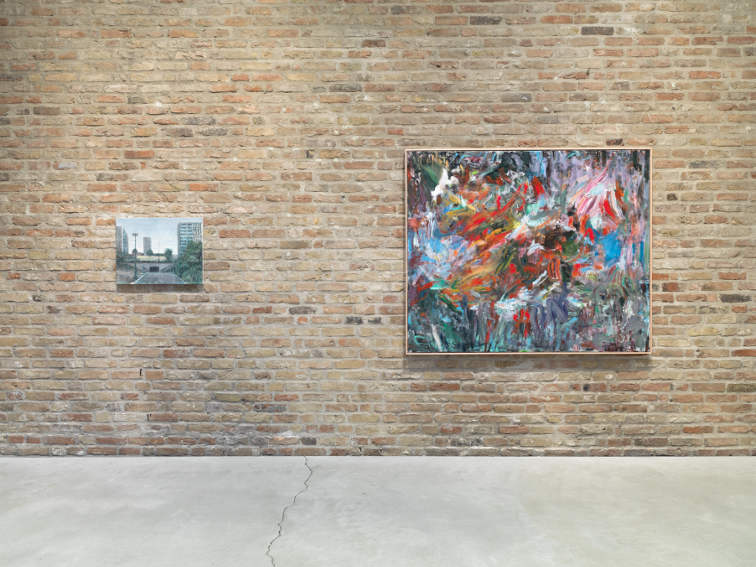 Sabine Moritz: Eden, exhibition view at KÖNIG GALERIE in Berlin, 2018. Photo by Roman März
That grayness and destitution is obvious in the two urban scenes that are included in Eden. "Neuland" (2017) shows a stray dog trotting through an overgrown, abandoned urban lot surrounded by boarded up and abandoned shops and apartment buildings. The title translates as "Unknown Territory." It is a simultaneously depressing and hopeful thought: a damaged place of despair that nonetheless holds the promise of the unknown. The other urban scene, "Tunnel" (1992-93 / 2017), shows an empty roadway disappearing into a tunnel as surrounding high rises sit quietly, uninhabited. The image is subtle, and full of quietude. Yet something about it is also disturbed. Is it my imagination, or do the colors on one of the high rises seem to mimic the American flag? Combined with the painting of the dog, I cannot help but seek references to contemporary politics and culture in this painting, which makes me wonder if Moritz sees something on our current horizon that reminds her of the story of her own past.
Sabine Moritz: Eden, exhibition view at KÖNIG GALERIE in Berlin, 2018. Photo by Roman März
A Wild Eden
The three flower paintings on view in Eden inhabit a haunting middle ground between something beautiful and something frightening. The first, titled "Rosen und Lilien" (2017), is just what it sounds like: a painting of roses and lilies. These are the flowers of love and of death, combined together. The second, titled "Peonien und Mäuse" (2017), is also exactly what it sounds like: an image of peonies in a vase next to two mice. The water in the vase is low. The flowers must have been abandoned, and now the mice have come in search of crumbs left behind by whoever has gone, or been taken away. The third flower painting, "Rosen und Schädel" (2017), is a picture of dry looking, but still lovely roses, sitting in a vase on a table with a human skull in the background. Like the other two flower paintings, it implies a simultaneous connection to life and death, and a simultaneous appreciation for beauty and decay.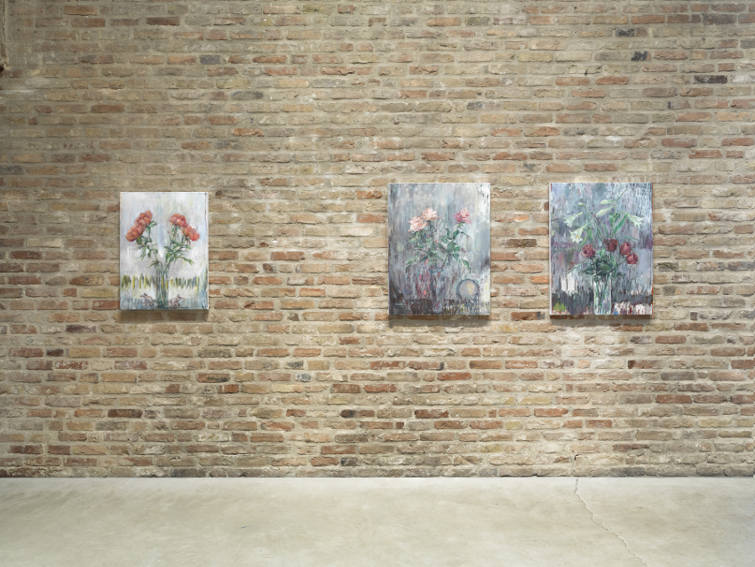 Sabine Moritz: Eden, exhibition view at KÖNIG GALERIE in Berlin, 2018. Photo by Roman März
Yet finally, it is the nine abstract canvases that reveals the true intensity and potential of Eden. In these paintings, Moritz employs an explosive language of gestures and colors, harkening back to expressionistic painters of the past, yet bringing forth something decidedly contemporary. This body of work evokes references to two painters: Monet, in his late water lilies works, and the works of the American Abstract Expressionist painter Joan Mitchell. The Monet reference comes through in both the balance of the compositions and in the color relationships, which seem to make these canvases vibrate. The Mitchell reference is expressed through the brushwork, partly, but mostly it comes through in the angst. Mitchell struggled with many demons, and it is clear in paintings such as "Als die Säugetiere ins Meer kamen" (When the mammals came into the sea) (2018), "Glut" (Glow) (2018), and "Chaos" (2018) that Moritz does as well. But there is something distinctly beautiful, and also perhaps optimistic, about some of these paintings, especially the two works that give their name to this exhibition, "Eden I" and "Eden II" (2018). Amidst their vibrant reds and blues a creative energy spills forth from these compositions. They project the full weight of their medium. The lushness and sensuality of their paint cannot help but inspire a sense of new beginnings. Though decidedly these works are abstract and not intended to convey an actual Eden, they are ripe with the one thing that Eden also once supposedly held: promise. Sabine Moritz: Eden is on view at KÖNIG GALERIE in Berlin through 19 August 2018.
Featured image: Sabine Moritz: Eden, exhibition view at KÖNIG GALERIE in Berlin, 2018. Photo by Roman März
By Phillip Barcio