Blog Home
Remembering Gottfried Honegger
Jan 20, 2016
Before the Bauhaus there was Constructivism, a philosophical movement in the arts that contended that art should have some practical social purpose, or at least contribute to one. Constructivist ideas in the early 20th Century influenced an entire generation of visual thinkers. Monumental trends in architecture, graphic design, cinema, sculpture, painting and almost every other form of visual artistic expression were inspired by constructivist beliefs. This week, we say goodbye to one of the leading figures to have come out of the constructivist perspective: Swiss artist Gottfried Honegger. Honegger died on January 17th, 2016 in Zürich, Switzerland, at the age of 98.
"I am interested in space, shadow, and light." - Gottfried Honegger, 2012
Gottfried Honegger
Honegger did not have what many would call an ordinary art career. His mother was a shepherd. His early years saw him utterly surrounded by the sensuousness of nature. He began his professional training as a graphic designer, and spent the early years of his career designing for various corporate interests. It wasn't until he was in his early 40s that he turned full-time to a career as an artist.
Honegger's early works were bold, geometric monochromes. Many fans of Honegger know him most by those dramatic explorations of geometric abstraction. Over the next six decades of his life, his oeuvre expanded to include paintings, sculptures, and wall-mounted assemblages called Tableaux-reliefs. Honegger created objects and imagery that expanded our visual understanding of the interplay of shapes, lines, curves, color, and dimensional space.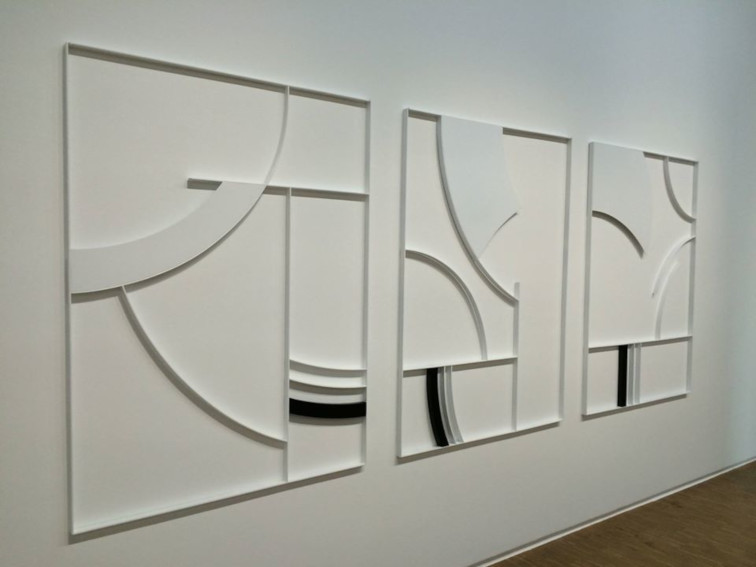 Gottfried Honegger - Tableau-relief Z 1638, 1637, 1636, 2013. Exhibition at Centre Pompidou, September 2015. Photo courtesy: IdeelArt
Concrete Constructivism
A trip to the Messmer Foundation in Kaiserstuhl, Germany, will yield a glimpse of Honegger's Monoform 13, a black granite sculpture that was recently acquired and placed in that museum's sculpture garden. As this piece testifies, Honegger indeed worked occasionally with stone. But it's not his stonework that led to him being considered one of the most important representatives of concrete constructivist art. In fact, the term concrete constructivism has nothing at all to do with concrete as a material.
The Dutch artist Theo van Doesburg, founder of the Dutch geometric abstract art movement known as De Stijl, coined the term Concrete Art in 1930. The term referred to the ultimate realness of lines, colors and planes. Honegger's dramatic use of color against stark white constructions of lines and planes is one of the most instantly recognizable trademarks of his visual voice. His relief paintings, or Tableaux-reliefs, present dimensional geometric surfaces that have been intricately cut out, bringing the surface behind the work into conversation with the work itself.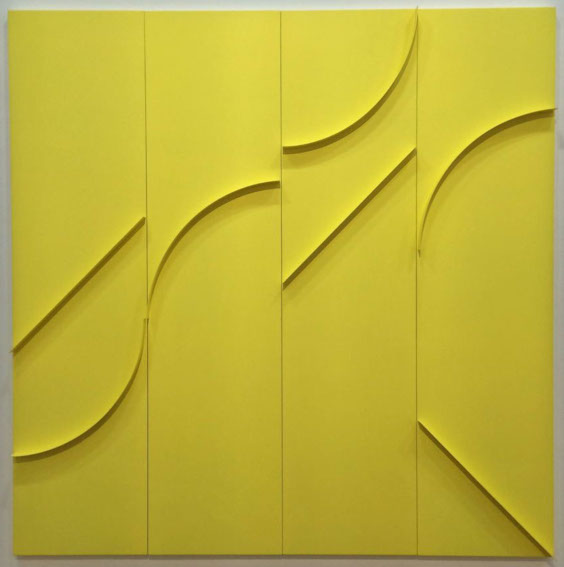 Gottfried Honegger - Tableau-relief C 1227, 2001. Exhibition at Centre Pompidou, September 2015. Photo courtesy: IdeelArt
The Folding
In his later years, Honegger began working with pliable metals, creating complex sculptures he called Pliages. The rough translation of the French word pliage is "folding." Honegger's Pliages are metal sculptures made of intersecting planes and curving surfaces, indeed reminiscent of folds. Though geometric in nature, these works seem organic in a way as they invite viewers to explore both the work's interior and exterior surfaces.
IdeelArt had the pleasure of seeing many of Honegger's Pliages in person last year at the Centre Pompidou in Paris. The Pompidou ran an exhibition of Honegger's work, which ran from June to September, 2015, and included 50 of the artist's creations. The exhibition featured many of Honegger's iconic Tableaux-reliefs, several of his early monochromes, as well as a number of his later Pliages.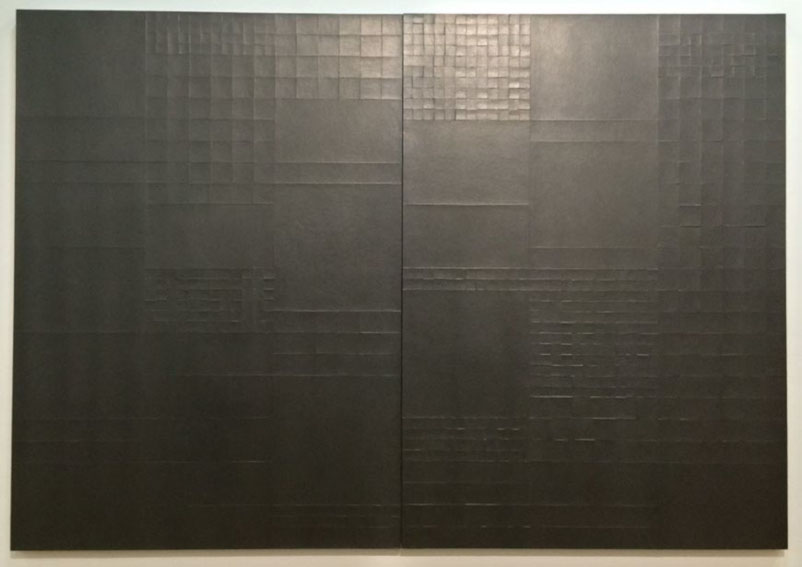 Gottfried Honegger - Tableau-relief P760/1, P760/2, 1976. Exhibition at Centre Pompidou, September 2015. Photo courtesy: IdeelArt
A Space For Concrete Art
In addition to his prolific and influential contribution to modern abstract art, Gottfried Honegger is also owed a tremendous debt of gratitude for helping to create a truly special place where important works of concrete art can be encountered in person. On the grounds of a castle in an idyllic, forested section of Mouans-Sartoux, South of France, a museum called Espace de L'art Concret permanently houses what has come to be called one of France's national treasures: the personal art collections of Gottfried Honegger and his fellow collector Sybil Albers.
On our recent visit to Espace of Art Concret, we viewed the extraordinary collection, which includes work from some of the most important voices in abstract, minimalist, conceptual and avant-garde art. The museum includes work by Josef Albers, Marcelle Cahn, Max Bill and Camille Graeser. Works by minimalist masters Donald Judd and Richard Serra are on display, as is work from Dan Flavin, Richard Long and Helmut Federle. This lovely space along with its uniquely important collection of contemporary abstract art is a lasting monument to the contributions of Gottfried Honegger, an important and influential artist and thinker who will be missed.
Featured image: Gottfried Honegger - Exhibition at Centre Pompidou, September 2015. Photo courtesy: IdeelArt