Blog Home
6 Examples of Public Abstract Art on the Verge of the Representational
Sep 3, 2018
Sometimes people embrace abstract public art, and sometimes they most definitely do not. Some abstract public artworks become beloved parts of the public landscape; others are misunderstood, or even loathed by those who live with them every day. Either way, what often ends up happening is that in order to comprehend why and how some new abstract public artwork has occupied their home, the public creates a custom narrative about what the work is, what it represents, or what it means. Some of the most successful abstract public artworks easily cross over to be interpreted in representational terms, offering viewers the option of relating to them on multiple different levels. Here are six famous works of public art that are beloved by the communities in which they reside, and which exist on the border of being considered representational and abstract.
Isamu Noguchi - Red Cube (New York)
Located at 140 Broadway in New York City, "Red Cube" (1968) by Isamu Noguchi is not actually a perfect cube. The red, painted steel form is slightly distorted, as if it has been stretched. Through its center is a hollow, circular tunnel. The piece is easy to relate to on figurative terms since a cube is such a common geometric form. Yet there are many abstract and symbolic elements to the piece as well. Abstractly, it contradicts its surroundings since the lines of all of the surrounding structures are vertical and horizontal, while every edge of "Red Cube" is diagonal. The circular hole challenges the voyeurism of the innumerable surrounding windows, offering a peephole through which to view the neighboring high-rise. Symbolically, Noguchi said, "The cube signifies chance, like the rolling of dice," a reference to nearby Wall Street. The artist also noted that the form relates to "man-made" blocks, while the circular hole relates to "solar radiance."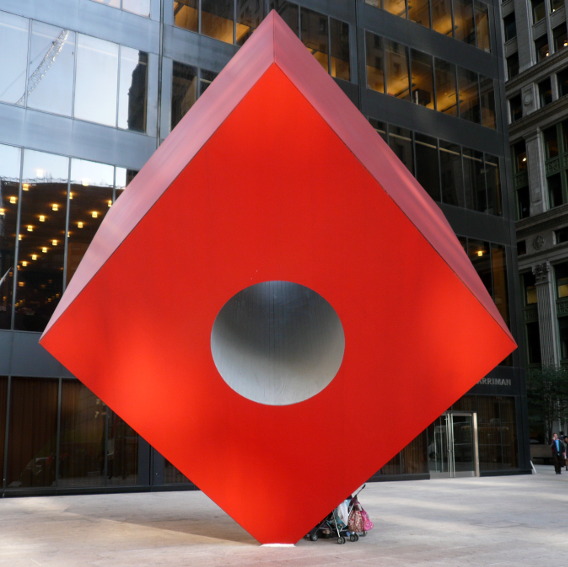 Isamu Noguchi - Red Cube, Broadway, Manhattan, New York. Photo credits Николай Максимович
Sol LeWitt - Four-Sided Pyramid (Washington)
Located in the National Gallery of Art Sculpture Garden in Washington, D.C., "Four-Sided Pyramid" (1999) is typical of many LeWill works, as the "structure" as he called it was designed but not built by him. A team of stonemasons and engineers constructed it based on his detailed instructions. Symbolically, LeWitt has said the form references "set back" skyscrapers, an architectural trend common in the mid-20th Century that mimics the pyramid shape. Figuratively, anyone could look at this work and assume it references the Egyptian pyramids. Abstractly, it is deeply conceptual, since LeWitt intended it to be able to be recreated at any time, anywhere, by anybody. In a formal abstract sense, the work offers an endlessly changing interplay of lines, shapes, patterns, and forms, as the evolving natural light interacts with the myriad concrete and mortar surfaces.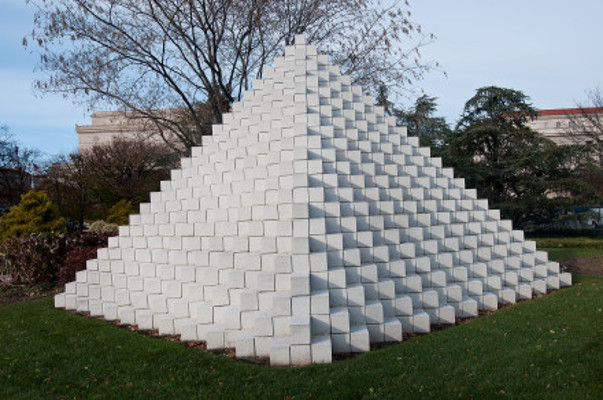 Sol LeWitt - Four-Sided Pyramid. first installation 1997, fabricated 1999 concrete blocks and mortar. overall: 458.2 x 1012.2 x 970.9 cm (180 3/8 x 398 1/2 x 382 1/4 in.). Gift of the Donald Fisher Family 1998.149.1. On View: Sculpture Garden. © National Gallery of Art
Henry Moore - Large Two Forms (Toronto)
Originally installed in 1973 on the sidewalk in front of the Art Gallery of Ontario, "Large Two Forms" by Henry Moore now resides in a nearby open space called Grange Park. The two bronze forms epitomize the interest Moore had in biomorphic abstraction. They evoke references to bones, as well as to a pair of human bodies interacting with each other in space. They also resemble natural rock forms such as might be carved by erosion. When this piece was moved to its new location, its abstract qualities changed significantly since for the first time it was viewable from 360 degrees. No longer flanked by a tall building, it was free to express its natural organic qualities more fully. Surrounded by grass and trees it far less resembles two human forms, and far more invites purely abstract interpretation.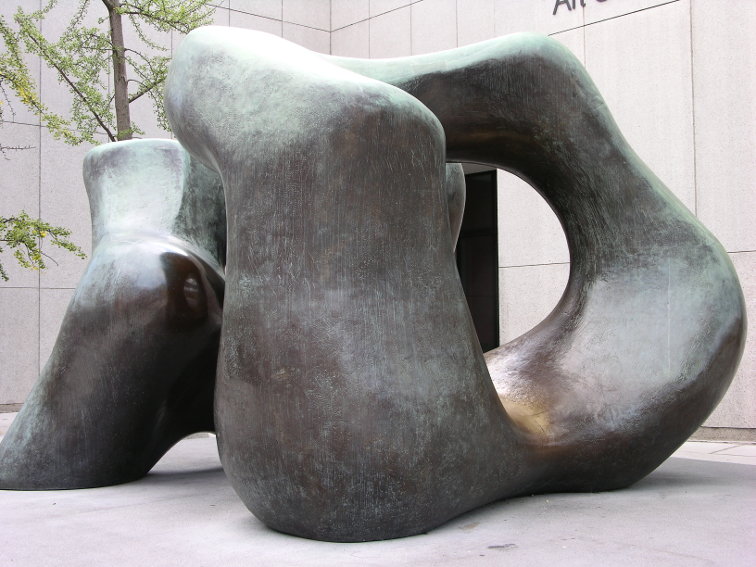 Henry Moore - Large Two Forms. Art Gallery of Ontario. Photo credits M. Readey
Anish Kapoor - Cloud Gate (Chicago)
One of the most obvious examples of an abstract public sculpture being assigned a representational interpretation by the public is "Cloud Gate" (2006) by Anish Kapoor. Installed in Millennium Park in Chicago, the 33-foot tall stainless steel sculpture was inspired by the visual qualities of liquid mercury. Its abstract tendencies include ts biomorphic presence amidst a towering jungle of manufactured geometric structures, as well as its ability to distort the reflections it offers of the sky, the city, and passersby. Despite these aspects, the people of Chicago have famously given it a new name, calling it "The Bean," based entirely on its kidney bean shape.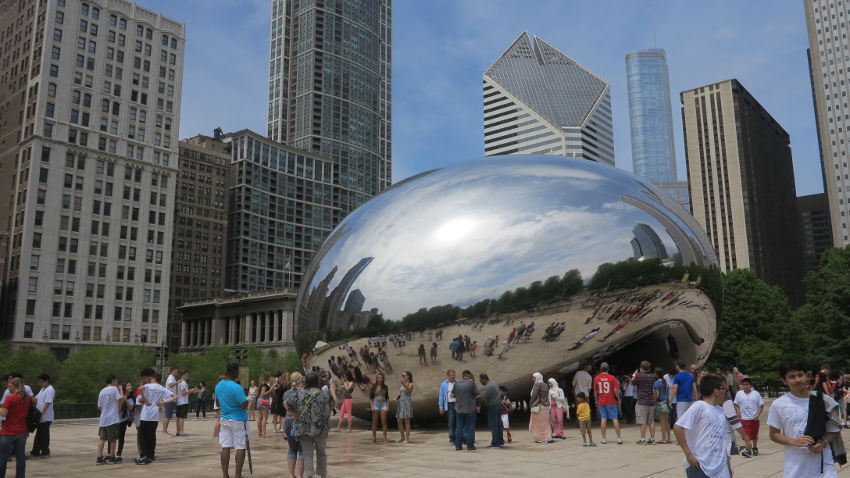 Anish Kapoor - Cloud Gate, 2006. Millennium Park, Chicago. Photo credits Nyx Ning
Claes Oldenburg and Coosje van Bruggen - Needle, Thread and Knot (Milan)
Designed by Claes Oldenburg and his wife Coosje van Bruggen, "Needle, Thread and Knot" (2000) was installed in Milan, Italy, as part of the renovation of a nearby railway station. Its colors echo those of the surrounding architecture, and its imagery, says Oldenburg, represents a train going through a tunnel. This essentially figurative sculpture has experienced the opposite reaction as that of "Cloud Gate" in Chicago. Rather than responding to its figurative qualities, locals admire it for the way its lines, colors and shapes juxtapose with the visual elements of the surrounding architecture. Its presence brings out the formal abstract visual qualities of the entire public space, giving the street, the lamp posts, and the surrounding buildings a new, distinctly non-figurative flair.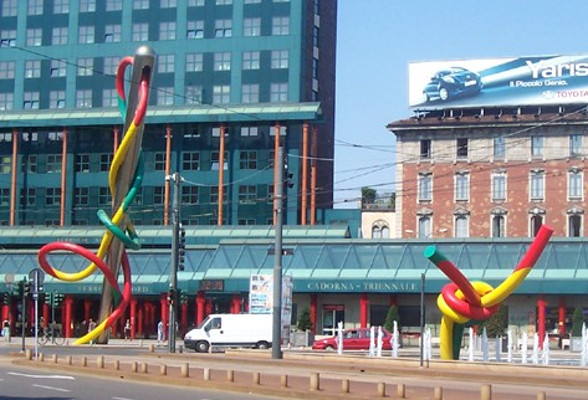 Claes Oldenburg and Coosje van Bruggen - Needle, Thread and Knot, 2000. Milan, Italy. Stainless steel, reinforced plastic, polyester gelcoat, polyurethane enamel. 18 m × 20 m × 37.5 m (59 ft × 65 ft × 123 ft). Photo credits MarkusMark
Alexander Calder - The Eagle (Seattle)
Originally erected in Fort Worth, Texas, "The Eagle" (1974) by Alexander Calder clearly resembles a bird of prey. The 39-foot-high, red, painted steel form seems to have two legs, two wings, a tail, and a beak. Yet, in its original location in front of a glass high-rise, its figurative aspects were lost. Amidst the towering steel and glass background, its vivid hue, biomorphic curves, and multitudinous planes endowed the piece with dramatic formal abstract qualities. But in the 1990s, the building sold and the sculpture was purchased by an investment group. It was exhibited briefly at the Philadelphia Museum of Art, before Seattle-area art collectors Jon and Mary Shirley bought it for the Seattle Art Museum. It now resides in the ocean-side Olympic Sculpture Park, where it has taken on a completely different visual presence. With no other tall structures to compete with, the representational aspects of "The Eagle" come immediately to the forefront, especially considering the thousands of resident sea birds, whose graceful, primeval forms are so beautifully echoed in the work.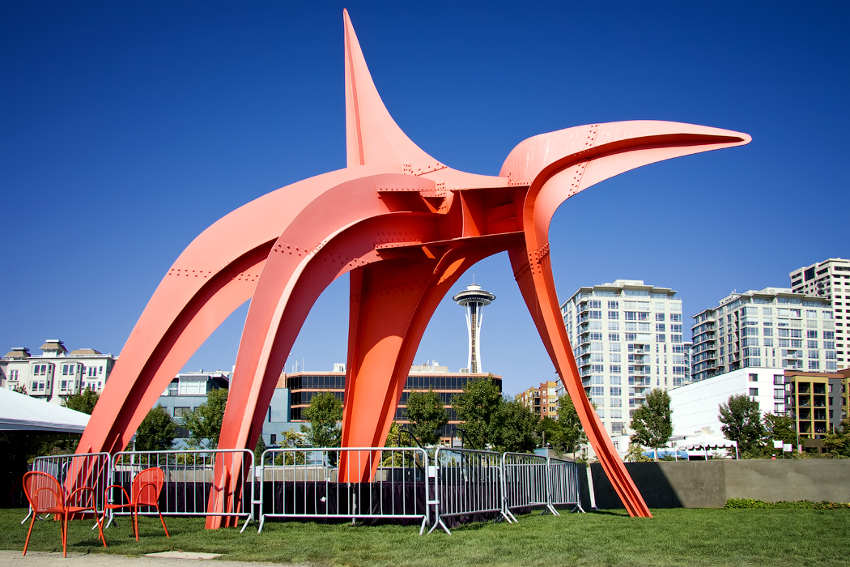 Alexander Calder - The Eagle, 1971. 11.81 m × 9.8 m × 9.91 m (38 ft 9 in × 32 ft × 32 ft 6 in). Seattle, Washington. Owner: Seattle Art Museum
Featured image: Isamu Noguchi - Red Cube, Broadway, Manhattan, New York. Photo credits Ken Lund.
All images used for illustrative purposes only
By Phillip Barcio