Blog Home
Peter Soriano: 3 Murals and Related Drawings
Sep 14, 2016
Meaning is everything. We search for meaning in our experiences. We assign meaning to every relationship we develop, whether with creatures, places or objects. Somewhere in every interaction between ourselves and every outside phenomena we seek meaning to enrich our experiences and expand our understanding of life. Peter Soriano's new exhibition, "3 murals and related drawings," presents new opportunities for us to challenge our relationship with our environments. Through an examination of the objects and patterns that make up our aesthetic reality, Soriano constructs a framework in which we have an opportunity to challenge the sense of logic exists in our search for personal meaning.
Sculpting in Two Dimensions
Trained as a sculptor, Peter Soriano is deeply familiar with the relationship viewers have with objects. But Soriano has recently stepped away from the logic of objects. For this exhibition, he has created a series of wall murals that explore the underlying systems that inform our relationship with the three dimensional world. At first glance his murals seem like technical drawings, or detailed maps leading us on a trek toward some specific revelation or scientific truth. But what seem like detailed schematic drawings of logical systems and rational phenomena are actually informed by deeply personal observations Soriano has made of physical locations dear to his own life.
By offering us a glimpse of what appear to be scientific renderings but are actually personal observations, Soriano creates a new math, an aesthetic experience through which we can examine the very notion of aesthetic logic. When viewed from the outside the nature of our personal logic becomes abstract and opens itself up to new levels of interpretation. We interact with the places and objects that have been meaningful to him and construct from it a personal framework for universal meaning. Soriano's murals and drawings explore the deeply personal relationship Soriano has with his environment in a way that invites a deeper examination of our overall cultural systems
Soriano's "3 murals and related drawings" is on view through 22 October 2016 at Lennon Weinberg in New York.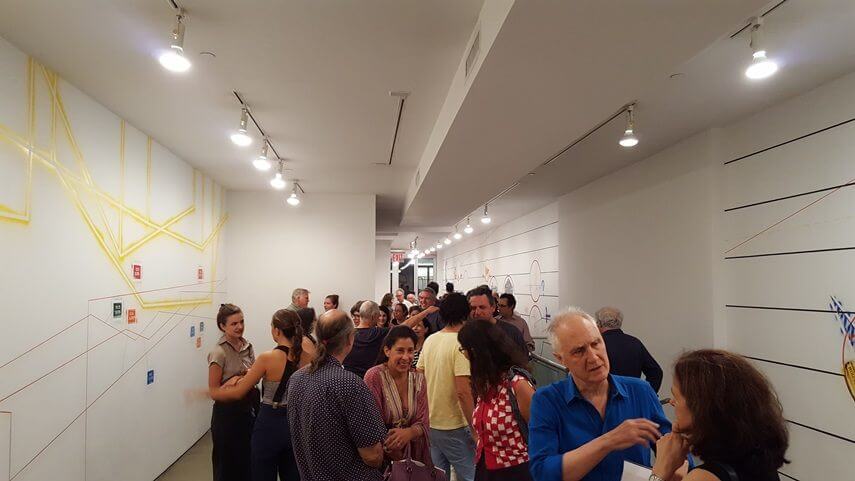 Peter Soriano Exhibition at Lennon Weinberg
By Phillip Barcio