Blog Home
Artists Peter Soriano and Harald Kröner Featured at Drawing Now Paris
Mar 30, 2016
If you're wondering about the status of contemporary drawing look to Drawing Now Paris, the world's foremost contemporary drawing fair. This prestigious annual event returns on 30 March, again highlighting the contemporary artists working in the medium of drawing deserving of special consideration. This year again, Peter Soriano and Harald Kröner, two artists represented by IdeelArt, are included in the fair.
Peter Soriano began his career as a successful sculptor, his biomorphic fiberglass sculptures being exhibited in New York and Paris. His practice has since evolved to include large-scale murals and smaller, more intimate drawings. The visual language of his drawings strongly references his surroundings, including architectural elements. By adding folds in his paper drawings, he gives the works a sculptural dimensionality. Peter's work is being exhibited at Drawing Now Paris by Jean Fournier Gallery of Paris. Jean Fournier Gallery was established in 1954 and represents a select group of European and American artists engaged in abstract and painterly practices.

Peter Soriano - Panorama #9, 2013, Graphite and watercolor on paper, 45 x 89 cm.
Harald Kröner would best be described as a paper artist. This means not only that he makes works on paper, but that he also rigorously collects paper and incorporates it into his work in many ways. His process makes use of the interplay between randomness and control as he strives for harmony between the visible and the invisible. He utilizes a variety of mediums, including ink, spray paint, pencil and lacquer, and sometimes cuts, tears or folds the surface to create the sense of line. Harald's work is being presented at Drawing Now Paris by Gallery Bernhard Knaus of Frankfurt, Germany. Bernhard Knaus Fine Art has been publishing art books since 1996 and exhibiting the work of a select group of fine artists since 2001.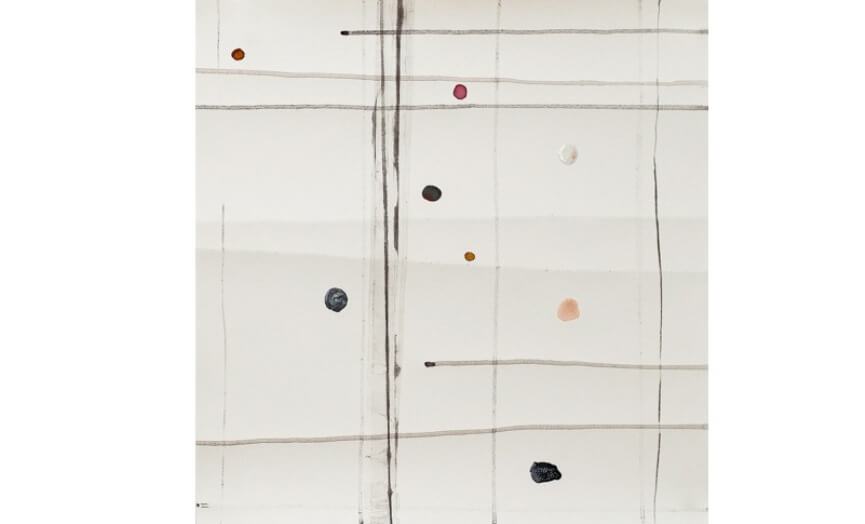 Harald Kröner - Monophthong #22, 2015, Ink on paper, 43 ½ x 43 ½ x 3 cm.
Drawing Now Paris is distinguished as the first European art fair exclusively devoted to contemporary drawing. The first edition of the fair opened on 22 March 2007. In that year 36 galleries participated in the event. Now in its tenth year, the 2016 edition of Drawing Now Paris includes the artwork of more than 400 artists represented by 74 international galleries. This year the fair will be held at the Carreau du Temple in Paris. Originally constructed in 1863, this elegant market hall was nearly demolished to make way for a parking lot in 1976. Saved by petition of Parisian citizens, the location recently underwent a complete renovation, and is now a world-class destination for cultural and sporting events. This will be the third year in a row Drawing Now Paris has been held at the site.
Featured Image: Peter Soriano - Porch Drawing 2, 2010, Spray paint, pencil, ink, watercolor on paper, 50x50 to 100x100cm