Blog Home
Not to be Missed: Belgian Geometrical Abstraction at the "Espace de l'Art Concret"
Aug 30, 2015
The "Espace de l'art Concret" in Provence (Mouans-Sartoux, France) is one of these small pearls hidden in the lovely French countryside, such as the "Fondation Maeght" or the "Domaine de Kergehennec", which should not be missed if you are staying in France and interested in contemporary abstraction. IdeelArt visited their latest exhibition: "Belgian Geometric Abstraction" which will run until the 29th of November 2015. This show is the first retrospective of Belgian geometric abstraction in France. As they say in Provence: "Osco!" (Bravo!).
Belgian Abstract Art Evolution
In line with what happened in the rest of Europe, Belgian abstraction underwent two major peaks in the course of the 20th century. One, known as the Plastique Pure movement, occurred in the early 1920s and saw the emergence of a group of young artists, mostly originated from Brussels and Antwerp, who questioned the foundations of painting by further developing ideas started by cubism and futurism. This relatively ephemeral movement was spearheaded by artists such as Jozef Peeters, Michel Seuphor, Victor Servranckx and Paul Joostens.

Then, just after World War II, a new generation of artists found itself facing two diametrically opposed choices: that of lyrical and impulsive abstraction and that of a geometrical and rationalized one. Jo Delahaut was the leader of those who positioned themselves as successors to the Russian constructivists and Bauhaus artists.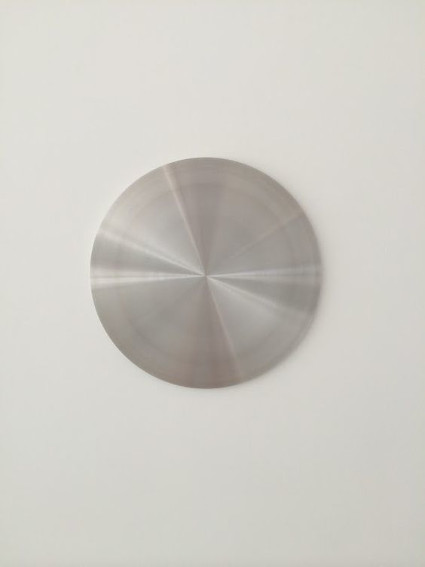 Ann Veronica Janssens - Sans titre, 1998.
Geometrical Abstraction at the "Espace de l'Art Concret"
The works shown in the two temporary exhibition spaces offer a large overview of Belgian geometric art's evolution from the 1920's to the current day, notably by showing how contemporary artists continue to explore ideas initiated by their predecessors. In the galleries of the castle, the historical exhibition presents several artworks from modern Belgian masters, along with chronological but also thematic lines.

In the more recent building, mostly dedicated to the permanent collection (not to be missed either), the work of three contemporary artists of the Belgian art scene is on display on the lower level. Various ways of perceiving the works will be broached in this gallery placing works from a new generation in the context of a pictorial history exploring color and light, perception and abstraction:
Pieter Vermeersch presents an impressive site-specific wall painting. Color occupies a central place in the work of this artist who explores its chromatic nuances in relation to natural or artificial light. The drawings of Bas Ketelaars continue this dialogue between art and space, although in a more conventional way. The representation of space is indeed at the center of his pictorial works, which use simple forms to suggest depth. Meanwhile, Ann Veronica Janssens disrupts spatial and bodily relations, deconstructing the object and turning viewers inward to their own bodies and deep perceptive emotions. Her work creates an active experience of loss of control and instability, whether visual, physical, temporal or psychological. This exhibition has been curated by Fabienne Grasser Fulchéri, assisted by Alexandra Deslys and Claire Spada.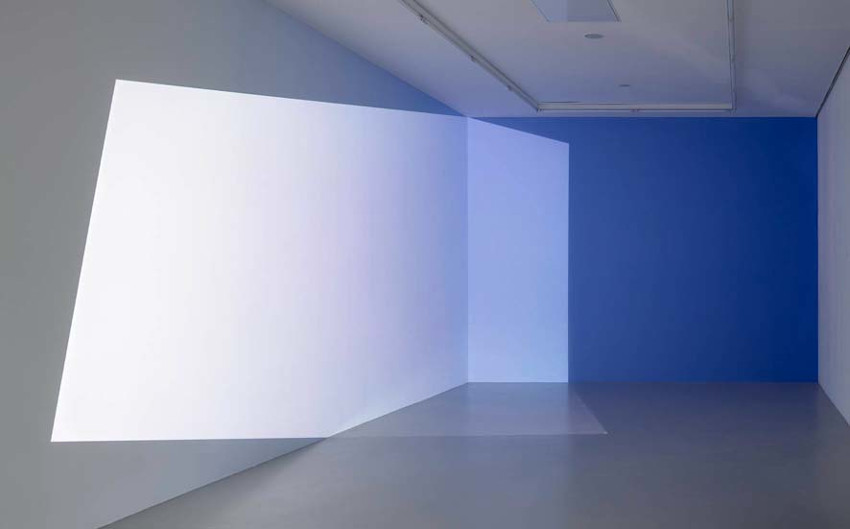 Pieter Vermeersch - Untitled, 2015, Espace de l'Art Concret
About the Espace de l'Art Concret
Inaugurated in 1990, the Espace de l'Art Concret was born of the meeting between two collectors, Sybil Albers and Gottfried Honegger, and the then-mayor of Mouans-Sartoux, André Aschieri. From the outset, its artistic and cultural mission has been founded on educating the eyes. Sybil Albers and Gottfried Honegger wanted to make their collection accessible to the public. The first step toward this goal was to place it in the care of the city of Mouans-Sartoux, enabling the creation of the Espace de l'Art Concret.

In 2000, when the Espace de l'Art Concret was celebrating its tenth birthday, Sybil Albers and Gottfried Honegger decided to donate their entire collection to the state on the dual condition that, on the one hand, this unique French collection be exhibited permanently in a building built for this purpose on the Mouans' castle grounds, and on the other, that the project's theoretical coherence and commitment to concrete and contemporary art be guaranteed. Since then, many additional donations have enriched the initial collection from such collectors as Sybil Albers and Gottfried Honegger, Aurelie Nemours, and Gilbert and Catherine Brownstone. The collection's new home, designed by Swiss architects Gigon and Guyer, was inaugurated on 26 June 2004.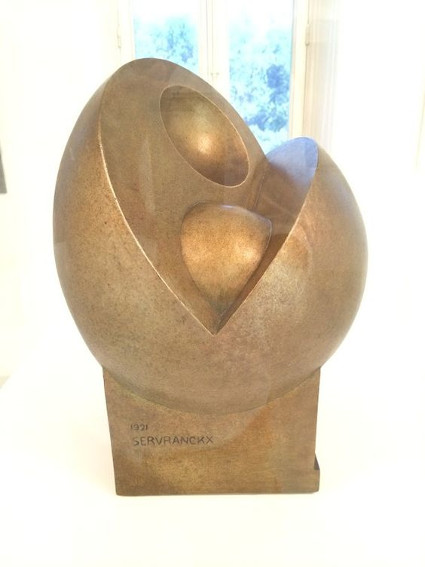 Victor Servranckx - Opus 1, 1921.
The Albers-Honegger Donation is one-of-a-kind and has been classified as a French National Treasure. It offers the public a collection of works unrivaled in Europe, representing the main protagonists of abstraction and the historical avant-gardes from Josef Albers to Jean Arp and Marcelle Cahn. It includes major works by Swiss artists Max Bill, Richard Paul Lohse and Camille Graeser to complement the equally exceptional Gottfried Honegger or François Morellet collections. Also represented in the collection are the major players of minimalism and conceptual art: from Daniel Buren to Olivier Mosset or Bernar Venet; from Carl Andre to Donald Judd or Richard Serra; from Joseph Kosuth to Robert Barry or Dan Flavin; from Richard Long to Franz Erhard Walther; from Alan Charlton to Helmut Federle; from Imi Knoebel to Franz Erhard Walther; from Alan Charlton to Helmut Federle; from Imi Knoebel to Günther Umberg.
Featured image: Jean-Pierre Maury - Mars black painting, 1995, Espace de l'Art Concret. Photo courtesy: IdeelArt