Blog Home
To Dot, Pour and Puddle - The Abstract Side of John Armleder's Art
Dec 8, 2017
John Armleder entered 2017 with simultaneous retrospectives of his work in two American coastal art capitals: New York, at Almine Rech Gallery, and Los Angeles, at David Kordansky Gallery. Anyone who saw both exhibitions encountered a terrific range of works representing multiple disciplines. But as odd as it may seem, they likely would have sensed they were seeing the work of the same artist. That contradicts what many critics say about Armleder. They tend to tout him as so diverse, so out-of-the-box, so experimental that no two things he has ever done are comparable. But I do not have that feeling about him. He is omni-disciplinary, which is to be expected with an artist who aligns himself with Fluxus. But whether he has made a painting, a flower stand, a pile of bricks, wallpaper, a found object sculpture, or a line of commercial objects against a wall, something about everything he does seems to me to possess his imprint. I am talking about something visceral. It is like it has something to do with how he sees. Armleder responds to space, color, form and materials in an indefinable yet undeniably personal way. That has helped him carve out a successful career in the art market despite not having a distinct, specific, easy-to-sell style. It is that idiosyncratic but instantly recognizable aesthetic vibe that has brought him to a third coastal American art capital to end 2017. His work is featured in Art Week Miami through 10 December at the Moore Building in the Design District. It is in the monumental exhibition Abstract/Not Abstract, presented by Larry Gagosian and Jeffrey Deitch. These two veterans of the American gallery scene assembled works from 33 artists in an attempt to explore the history of abstract art from 1910 through the present. The presence of Armleder in the show is no surprise. He has been active for almost half that time span, and throughout has found ways to remain relevant, progressive, and to serve as a living example of what Fluxus is about.
The Fluxus Pioneers
I am a John Armleder fan, but there is one minor point about his life story I feel compelled to debate—that is the description of him as a Fluxus pioneer. That was the headline in Forbes Magazine last January when David Alm profiled Armleder for his bi-coastal exhibitions. The label does not make sense. Armleder was born in 1948, making him 15 years old in 1963 when Fluxus founder George Maciunas wrote the Fluxus manifesto. Granted, 15 is old enough to be a serious artist, but the writing of the manifesto did not mark the beginning of Fluxus. As Dick Higgins, a true Fluxus pioneer, once said: "Fluxus started with the work, and then came together, applying the name Fluxus to work which already existed. It was as if it started in the middle of the situation, rather than at the beginning." He was referencing the fact that what was eventually called Fluxus was a long-percolating global phenomenon that included artists, performers, publishers, composers and other members of the avant-garde who all found themselves gravitating toward a more open, experimental, unregulated vision of what art could be.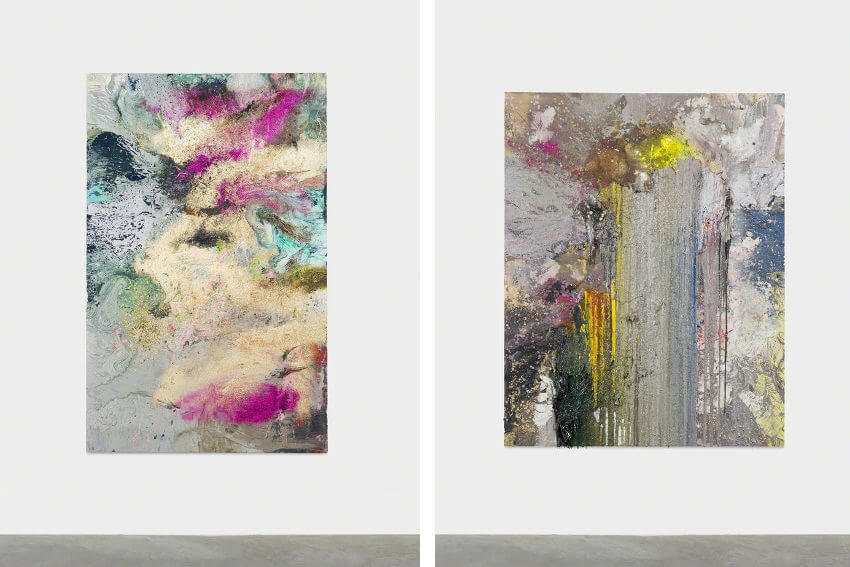 John Armleder - Festival of Dolls, 2014, Mixed media on canvas, 118 1/10 × 74 4/5 × 2 2/5 in, 300 × 190 × 6 cm (Left) and La Bruche, 2014, Mixed media on canvas, 94 1/2 × 74 4/5 × 3 7/10 in, 240 × 190 × 9.5 cm (Right), Courtesy of the Artist and Almine Rech Gallery
Most Fluxus artists name the composer John Cage as their true founder. His work in the 1930s explored chance and infinite possible variation in the creative process. It is cited by scores of influential 20th Century artists. Throughout the 1930s, 40s, 50s and 60s, the drive toward truly free expression in contemporary art include sympathizers as diverse as the Gutai Group (an experimental, omni-disciplined Japanese art collective), Alan Kaprow (who pioneered the concept of Happenings), Ray Johnson (who started the medium of Mail Art), Yoko Ono, and members of Nouveau Réalisme, such as Yves Klein, Arman, Jean Tinguely and Niki de Saint Phalle. By the time John Armleder graduated from school and founded his own collective, Groupe Ecart, in 1969, these other artists had extensively laid out their vision of Fluxus, and done the difficult work of convincing the world their vision was the way of the future.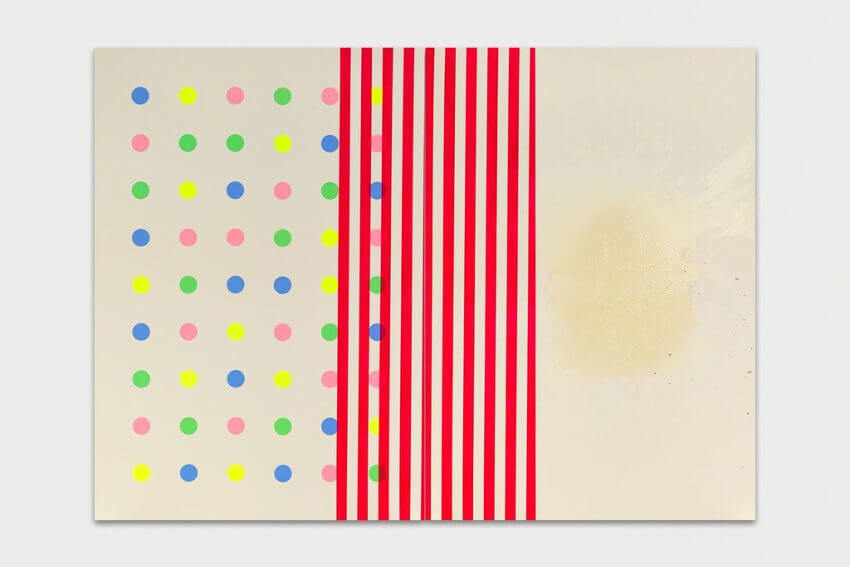 John Armleder - Cast iron, 2016, Left: Acrylic on canvas, Right: Varnish on canvas, 84 3/5 × 118 1/10 × 2 in, 215 × 300 × 5 cm, Courtesy of the Artist and Almine Rech Gallery © Annik Wetter
Dots, Pours and Puddles
Rather than a pioneer, what Armleder represents to me is the mature manifestation of Fluxus at its best. He came of age while the older generation was opening doors and knocking down walls. He was not born into the old world. He was among the first generation to not need to have it explained to them that art should be free. That is why it is so natural for him to experiment, and why he has no interest in defining what he does. His work is abstract by design. He gives autonomy to the viewer, allowing us to decide for ourselves what he has done and what it means. He has a sense of humor, acknowledging the absurdity of authorship in a world where escape from influence is impossible. And he has a keen sense of the false divisions we put up between culture and non-culture, art and non-art, creative life and so-called real life.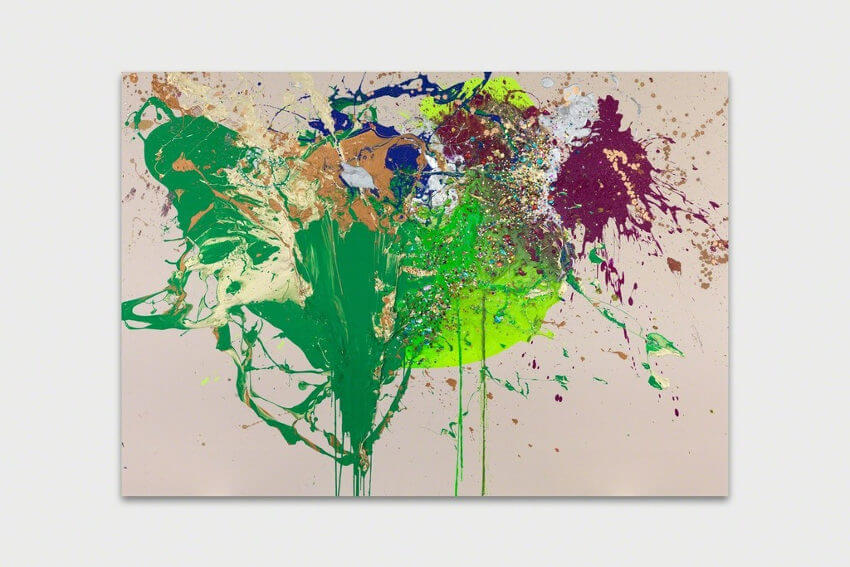 John Armleder - Haejangguk, 2016, Mixed media on canvas, 59 1/10 × 84 3/5 in, 150 × 215 cm, Courtesy of the Artist and Almine Rech Gallery © Annik Wetter
His philosophy is alive in the work for which he has become most well known by collectors: his dot, pour and puddle paintings. He makes these works intuitively. The seemingly orderly dots and poured lines mix freely with the chaotic puddle paintings. Conjoined in diptychs and triptychs, their aesthetics do not defy each other. They are complimentary opposites. They speak to the universe of visual possibilities a painter might explore. In particular, the pour paintings astutely express Fluxus attitude. Armleder pours various different paints on a canvas without regard for color or material likenesses. They bubble and churn like primordial soup. The paint oozes and erupts from chemical reactions. The resulting image is one of intentional acts and unintended consequences. It is a picture of mystery and experimentation. It is not definable. It is just John Armleder. It is just Fluxus. It is just art.
Featured image: John Armleder - Calcareus Sponge, 2016, Mixed media on canvas, 88 3/5 × 110 1/5 in, 225 × 280 cm
All images used for illustrative purposes only
By Phillip Barcio