Blog Home
The Abstract and the Obscure in the Art of Niki de Saint Phalle
Feb 15, 2017
More than a decade after her death Niki de Saint Phalle remains an icon of courage. It is an act of bravery for an artist to make honest, personal work. Inviting the rest of humanity along as you learn about yourself, confront your demons then transform yourself, all in public, requires trust, guts, generosity, and a sense of humor. De Saint Phalle possessed all of those characteristics. She demonstrated bravery by confidently forging a career as a self-taught artist. She displayed trust by openly discussing her personal traumas and her ambitions to prove female artists could attain the same success as males. She lived generously, donating several hundreds of paintings and sculptures to multiple museums over the course of her life. And her immense capacity for humor manifested in the abundant whimsy and wit in so much of her work. When she died in 2002 at age 72, de Saint Phalle had become best known for her Nanas: colorful, figurative sculptures seen to celebrate the feminine essence. But her initial success came in the form of abstract works she called Shooting Paintings. By tracing her development through those early works we can gain more perspective on the depth of her thinking and better understand the symbolism and underlying narratives in the rest of her oeuvre.
A Not So Model Youth
Fans of Niki de Saint Phalle often tend to interpret her oeuvre as quintessentially joyful. It therefore came as a surprise to many when de Saint Phalle wrote publicly in her 60s about the sexual abuse she had suffered at age 11 at the hands of her father. To outward appearances she had enjoyed a somewhat typical, even pleasant youth. She was one of five children born to a French father and an American mother. When she was three her family moved from Paris to New York, necessitated by the effect the Great Depression had on the family banking business. But once in New York, de Saint Phalle grew into a well educated, successful young woman.
By the time she was a teenager, de Saint Phalle was modeling professionally, eventually reaching the height of that industry, appearing on the covers of major international publications like Life Magazine and Vogue. But despite the outward appearance of the good life, small hints of a darker side could be seen behind closed doors. She was kicked out of school once for vandalizing statues. And at age 18, despite adamantly declaring her resistance to patriarchal bourgeois expectations that women should be housewives, she ran off and married a family friend, the future author Harry Mathews, also 18 at the time.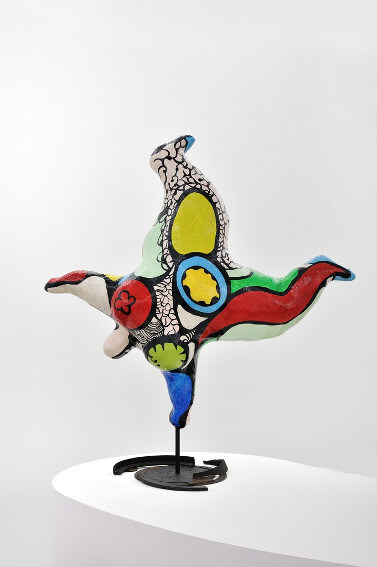 Niki de Saint Phalle - Bathing Beauty, Resin and iron 65 × 65 × 35 in, 165 × 165 × 89 cm, Unique, Painted polyester, 18 × 19 × 8 1/2 in, 45.7 × 48.3 × 21.6 cm, photo credits Madelyn Jordon Fine Art, Scarsdale
Finding Inspiration
The earlier abuse from her father undoubtedly led to her decision to leave home, but as mentioned it would be nearly five decades before de Saint Phalle would reveal the abuse and confront it in public. Nonetheless it influenced her early work. Shortly after eloping, she and Harry moved to Cambridge, Massachusetts, where Harry earned a music degree from Harvard. While living there they had their first child, a daughter, and Niki began teaching herself how to paint. Then in 1952, after Harry graduated, the young family moved to France. There, de Saint Phalle suffered a nervous breakdown.
She was institutionalized, diagnosed with schizophrenia and given electroshock therapy. The diagnosis was misguided. But while in the hospital she connected with the notion of addressing her inner turmoil through her art. After recovering, she and Harry and their daughter moved to Spain. There, they had their second child, a son, and de Saint Phalle had her next major breakthrough courtesy of the work of Antoni Gaudí, a master of decorative Modernism. His strange and wonderful style incorporated everyday materials like ceramic, glass, concrete and metal to create fantastical biomorphic designs.
Niki de Saint Phalle - California Nana, 2000, Polyester resin, 13 × 7 3/4 × 7 in, 33 × 19.7 × 17.8 cm, Edition 124/150, photo credits Heather James Fine Art
Home Again
De Saint Phalle returned with her family to Paris full of inspiration, and avidly immersed herself in the Modernist art community of the city. She encountered the work of the Abstract Expressionists, and connected intimately with their quest to express the inner self. She also saw an exhibition of the assemblages of artist Robert Rauschenberg, which she connected with for their ability to contextualize everyday objects and materials in abstract and symbolic ways.
Most importantly she became acquainted with the work of the Nouveau Realism. This group of vanguard artists was focused on discovering "new ways of perceiving the real." It included artists like Yves Klein, Arman, and Jean Tinguely, who were all dedicated to finding ways to bring art and life closer together. De Saint Phalle was particularly inspired by the ideas of Jean Tinguely, and she soon began collaborating with him on new ideas. She spoke of Tinguely as a sort of soul mate, someone she had been meant to meet.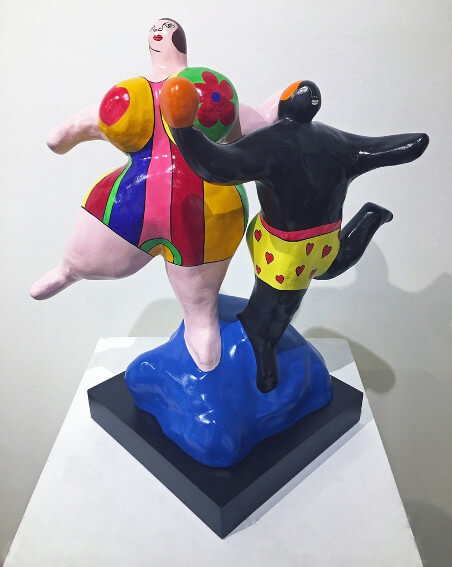 Niki de Saint Phalle - Les Baigneurs (The Bathers), 1980, Painted polyester, 18 × 19 × 8 1/2 in, 45.7 × 48.3 × 21.6 cm, photo credits Madelyn Jordon Fine Art, Scarsdale
Destroying the Patriarchy
The turning point for de Saint Phalle came around 1960. That was the year she divorced Harry Mathews and moved into an artist colony with Jean Tinguely. And it was the year she began what would become Niki de Saint Phalle's first major body of work. Drawing on all of her influences and experiences, she created a series of abstract objects that incorporated performance, found objects, and commonplace materials, and embodied her desire to express her inner trauma while also communicating her disdain for the patriarchal bourgeois values. She called the works Tirs, or Shooting Paintings.
Her Shooting Paintings were basically assemblages of found objects attached to a flat surface then painted over with white plaster. Within them were hidden balloons full of paint. After building them, Niki de Saint Phalle would shoot them with a rifle. The bullets would pierce the work, releasing volcanic sprays of paint from the balloons. The first Shooting Paintings were abstract compositions, made more so by the splatters and drips of paint from the gunshots. But soon the compositions began incorporating human forms, particularly those of human males. About these objects, de Saint Phalle once said, "I shot at Papa, at all men, at important men, fat men…my brother, society, the church, the convent, school, my family…"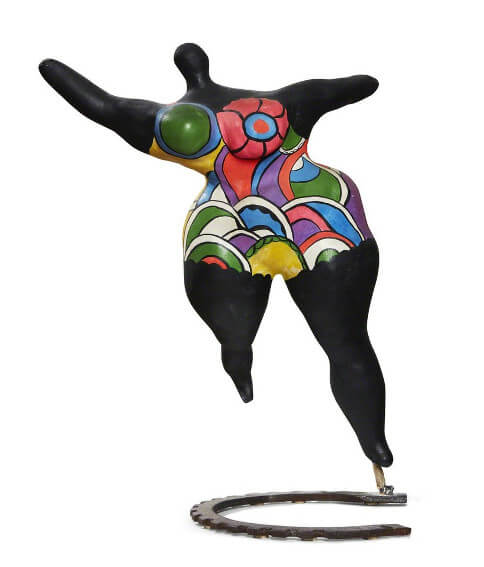 Niki de Saint Phalle - Nana moyenne danseuse, 1970, Painted plaster on metal base, executed b Jean Tinguely, 22 in, 56 cm, Unique, photo credits CFHILL, Stockholm
Changing Momentum
The Shooting Paintings conveyed the idea of creation through destruction, and connected many of the prevailing art movements of the time, such as Action Painting, Performance Art, Conceptual Art and Arte Povera. Their impact was immediate. They led to de Saint Phalle receiving her first solo show in Paris in 1961, and becoming the only female artist invited to join the Nouveau Realists. That year her assemblages were also included in the MOMA exhibition in New York titled The Art of Assemblage, alongside works by some of her most important contemporaries, from Marcel Duchamp to Robert Rauschenberg.
At the height of this attention, de Saint Phalle took time off to travel with her life partner Jean Tinguely throughout the American West and Mexico, taking part in Happenings and expanding her awareness of folk art traditions. On this trip she encountered the Watts Towers, an iconic masterwork of outsider art created over several decades by self-taught artist Simon Rodia in his backyard on the south side of Los Angeles. The work reconnected de Saint Phalle to a dream she had back in the hospital, of a monumental sculpture garden based on the characters on Tarot cards. Rather than continuing to pursue the abstract trajectory she was on, she returned to France and began taking her work in a decidedly figurative direction, building toward what she hoped would be the ultimate realization of her sculpture garden dream.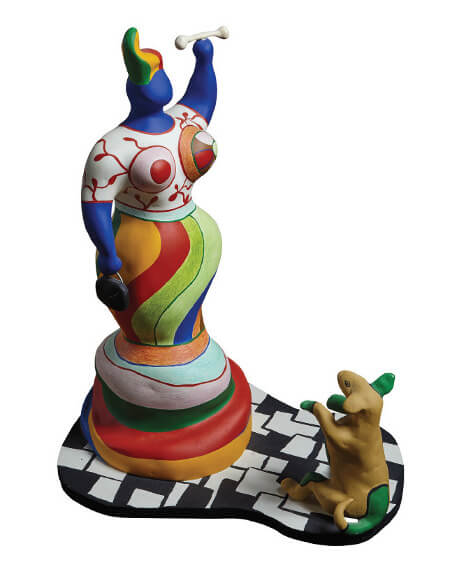 Niki de Saint Phalle - Nana et Chien, 1986, Painted polyester, 16 1/10 in, 41 cm, photo credits CFHILL, Stockholm
An Invitation Inside
A few years later, Niki de Saint Phalle created the masterpiece that defined the nature of her future art, and enabled her to realize her Tarot Garden. That masterpiece was a monumental sculpture called Hon, Swedish for She, made in collaboration with Jean Tinguely and Pet Olof Ultvedt. Hon was an 82-foot long, 30-foot wide, 6-ton female figure on her back with legs spread. By walking through its vaginal opening, viewers could enter the piece where art exhibitions, a bar and a cinema awaited.
Hon offered a literal peek inside the female essence. Conceptually it was a rejection of patriarchy and a celebration of femininity. Aesthetically it prefigured the Nanas de Saint Phalle would spend the next several decades creating. Those Nanas, as well as her now completed monumental Tarot Garden in Tuscany, embody the figurative, literal qualities with which they are associated. But like her Shooting Paintings, they also convey the abstract essence of the Nouveau Realist desire to appropriate images of the world and translate them in ways that help us perceive reality anew. They are the culmination of the lifework of an artist who was fully committed to expressing her personal truth in her own way.
Featured image: Niki de Saint Phalle - La Machine a Rever, 1970, photo credits Opera Gallery
All images used for illustrative purposes only
By Phillip Barcio