Blog Home
Joan Mitchell's Polyptych Paintings Land at David Zwirner
Apr 29, 2019
Visitors to The Long Run exhibition at the Museum of Modern Art (MoMA) in New York (which closes 5 May 2019) were no doubt transfixed when they first set eyes on the selection of large-scale diptychs by Abstract Expressionist painter Joan Mitchell that were included in that show. The two adjoining panels of "No Rain" (1976) offer two distinctive takes on gesture and composition, while embodying a sense of connection through a common, green-hued palette. Similarly, the twin panels of "Taillade" (1990) embrace a mutual language of blues, reds, ochres and whites, while expressing subtle differences in balance and perspective. Meanwhile, the side-by-side panels of "Wood, Wind, No Tuba" (1980) flood the senses with brilliant yellows and blues, while offering two distinctive structures—one calming and open, the other tightly wound, almost frazzled. These works demonstrate the brilliant talent Mitchell had for showing both commonalities and differences through the device known as the polyptych—a single painting made up of multiple adjoining panels. Now, for the first time, we will have the chance to enjoy an exhibition focusing entirely on her polyptych paintings. Joan Mitchell: I carry my landscapes around with me will open this summer at the 537 West 20th Street location of David Zwirner gallery in New York. It will feature polyptych works spanning four decades, some from the Joan Mitchell Foundation and other major donors, and others assembled from private collectors. This is a unique chance to admire what Mitchell was able to accomplish with this unusual format—one which few painters of her generation embraced, but which she truly mastered.
The Power and Problem of Scale
Like most other Abstract Expressionist painters, Mitchel was well aware of the importance that her generation put on scale. In 1943, when Jackson Pollock completed his famous "Mural" painting—which measured a whopping 2.43 by 6.04 meters—he established definitively the effect that could be achieved by literally enveloping the viewer within the visual world of a painting. Painters like Adolph Gottlieb, Franz Kline, Helen Frankenthaler, and Robert Motherwell followed in his footsteps, making impactful large scale abstract paintings that were often painted right on the floor on massive swaths of unstretched canvas, building their careers partly on the idea that bigger can always be better. But there are certain challenges that always arise when a painter is trying to work large. One problem is finding a place to show large-scale paintings—normally only museums have that kind of wall space to spare. And another is the simple practicality of finding room to paint them.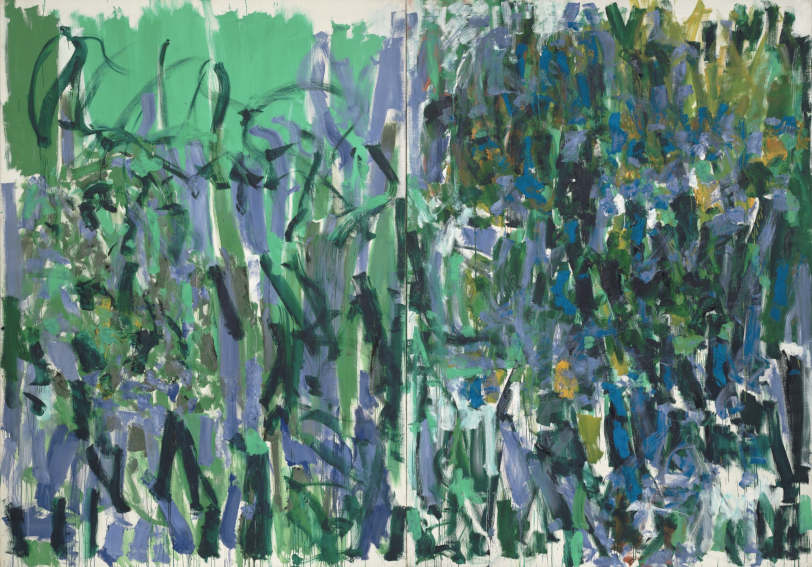 Joan Mitchell - No Rain, 1976. Oil on canvas, two panels. 9' 2" x 13' 1 /58" (279.5 x 400.4 cm). Gift of The Estate of Joan Mitchell. MoMA Collection. © Estate of Joan Mitchell.
That second problem affected Mitchell in interesting ways as she moved around from one studio to the next. In her Paris studio at 10 rue Frémicourt, where she moved in 1959, she faced the problem of having to roll her large-scale canvases up when moving them out of the studio, which meant she could not overload them with thick layers of paint. The concept of a polyptych offered one possible solution to this problem, allowing her to paint thickly on multiple small canvases. This strategy is evident in a large scale quadryptych that will be in the upcoming Zwirner show called "Seine" (1967). The colorful, energetic composition is filled with biomorphic fields of blue and calligraphic brush strokes, evoking a world of emotion and memory, like watching the glistening lights of Paris float by from the river bank through tear-soaked eyes. Overall, the quadryptych measures nearly 2 x 4 meters. Each of the four canvases individually, however, measures a much more manageable 2 x 1m.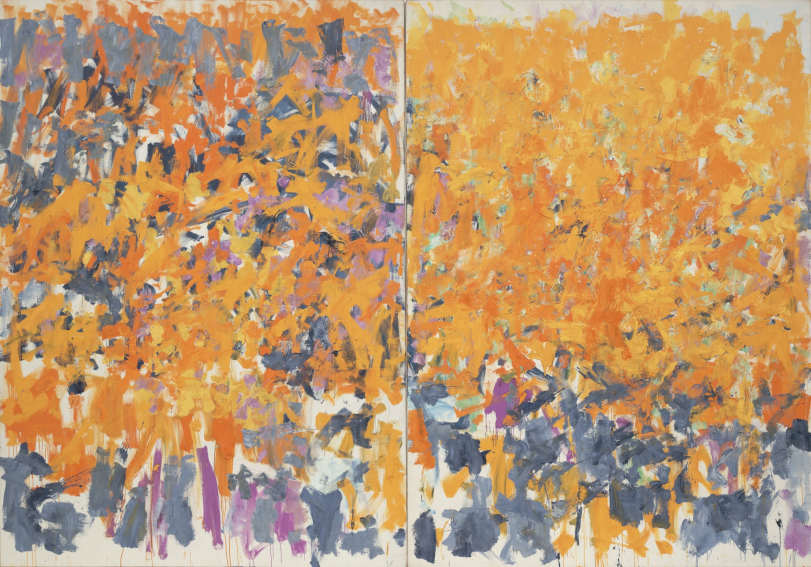 Joan Mitchell - Wood, Wind, No Tuba, 1980. Oil on canvas, two panels. 9' 2 1/4" x 13 1 1/8" (280 x 399.8 cm). Gift of The Estate of Joan Mitchell. MoMA Collection. © Estate of Joan Mitchell
The Feeling of Memory
When Mitchell later moved to a larger studio in the countryside of Vétheuil, she no longer faced the problem of having to roll her painted canvases up to move them. She was able to create large-scale canvases that were painted as thickly as she liked. Yet she still remained more committed than ever to the polyptych format. The combination of working on a massive scale and also creating pictures that spanned multiple canvasses allowed her to accomplish something unique: she was able to construct monumental compositions, while also allowing the viewer to compartmentalize various aspects of the work. This strategy created opportunities for ever-more subjective experiences to emerge from her multi-paneled paintings. Consider, for example, the quadryptych "Minnesota" (1980), which measures 2.6 x 6.1 meters across its four panels, and which will be on view at Zwirner. From afar, the overall composition evokes a fairly straight-forward, light-filled, country landscape. From up close, however, the eye cannot help but separate the individual panels, perceiving in them an array of distinctive attitudes—from the jungle of wild, energetic brush marks on the two far sides, to the tranquility flowing from the vast, wide-open, glowing yellow cosmos of the third panel from the left.

Joan Mitchell - Edrita Fried, 1981. Oil on canvas, four panels. 116 1/4 x 299 5/8 inches (295.3 x 761.1 cm). Collection of the Joan Mitchell Foundation, New York. © Estate of Joan Mitchell.
The notion that viewers would be able to take a range of different emotional responses from her polyptychs was essential to what Mitchell was hoping to achieve with these works. She once said, "I paint from remembered landscapes that I carry with me—and remembered feelings of them, which of course become transformed. I could certainly never mirror nature. I would like more to paint what it leaves me with." One of the largest polyptychs that will be on view in the Zwirner exhibition offers a most poignant opportunity to reflect on this statement. Titled "Edrita Fried" (1981), it measures 3 x 7.5m. It is named for her dear friend and former psychoanalyst Edrita Fried, who died the year the painting was finished. The composition speaks to the pain of loss and the promise of hope as it transitions elegantly from thickets of deep blue brush marks to a rising wave of glowing ochre—the gentle, flowing energy of the painterly gestures pulling the eye across the four panels along its visual and emotional journey from darkness to light. Joan Mitchell: I carry my landscapes around with me is on view at David Zwirner gallery in New York from 3 May through 22 June 22.
Featured image: Joan Mitchell - Taillade, 1990. Oil on canvas, two panels. 8' 6 1/4" x 13' 1 1/2" (259.8 x 400 cm). Gift of Galerie Jean Fournier, Enid A. Haupt Fund, and Helen Acheson Bequest (by exchange). MoMA Collection. © Estate of Joan Mitchell
All images used for illustrative purposes only
By Phillip Barcio