Blog Home
Robert Motherwell's Monumental Approach to Painting
Apr 22, 2019
Some words do not retain the same meaning over time. Monumental is one such word. Its value— at least in relation to painting—is currently being tested in Sheer Presence: Monumental Paintings by Robert Motherwell, on view at the new flagship location of Kasmin Gallery, at 509 West 27th Street in New York. The show consists of eight rarely exhibited Motherwell paintings dating from the mid-1960s through 1990, the year before Motherwell died, several of which are on loan from The Dedalus Foundation, which Motherwell set up in 1981 "to support public understanding and appreciation of the principles of modern art." Each of the eight paintings offers something new for longtime fans of the artist to consider. That is because none bear obvious aesthetic resemblance to the most iconic, and thus most frequently exhibited, Motherwell paintings, which tend towards large, black, emotive, gestural forms on muted backgrounds, as in his Elegies series. Here, we see instead chromatic experimentation and compositional restraint. Yet, the question begs to be asked: what is meant by monumental? Writing about the exhibition for Frieze Magazine, Matthew Holman quotes Motherwell as once saying, "The supreme gift, after light, is scale." Are we thus to believe that is what monumental means in this case? Each of the works on view in this exhibition is definitely large-scale, as compared to, say, "The Mona Lisa," which measures a mere 76 x 53 cm, or "The Persistence of Memory" by Salvador Dali, which measures a minuscule 22 by 33 cm. "Open No. 97: The Spanish House" (1969), one of the smaller paintings in this exhibition, measures a comparatively whopping 235 x 289 cm—it could contain nearly 100 Dalis. But I cannot help thinking something more has to be present in a painting for it to be called monumental than simply being bigger, by any degree, than the paintings of the past. Physical scale is the laziest measurement of a work of art. To discover what is truly monumental about these Motherwell paintings, we need to look deeper.
Something to Remember
One additional possible definition of monumental has to do with memory. Monuments frequently commemorate events from the past. And there are clearly a couple of ways that Motherwell embraced commemoration in the paintings on view in this exhibition. The most obvious is in "Dublin 1916, with Black and Tan" (1964). The painting features vertical bars of black and ochre along with fields of red, white, and blue. In the center of the blue field is an ochre form resembling something between the number four, an up-facing arrow, and a headless person carrying a gun. The overall effect of the piece is that it resembles a flag. The title refers to the Easter uprising of the Irish against the British in 1916, an event monumentalized by William Butler Yeats in the poem Easter 1916. For me, the monumental aspects of this painting are found not in the size of the canvas, but in the somber, abstract memorial offered by its content.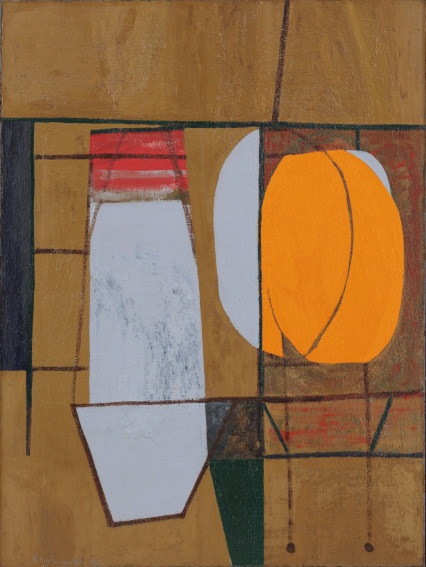 Robert Motherwell - Western Air, 1946-47. Oil and sand on canvas. 6' x 54" (182.9 x 137.2 cm). Purchase (by exchange). MoMA Collection.
The concept of commemoration comes to bear also in "The Grand Inquisitor" (1989-90), which boldly welcomes viewers to the exhibition. The most emotive and complex painting in the show, this is one of the last paintings Motherwell finished before he died. It belongs to his final series, called The Hollow Men after an eponymous painting from 1983, which shows six globular, translucent forms parading across an ochre field, enclosed by horizontal fields of yellow and black. In "The Grand Inquisitor," the hollow forms are more substantial, and the surrounding bands of color—red, yellow and black this time—are more ominous. Motherwell did not intend it as a memorial to any historical event; rather, it is a monument to the evolution of his own creative process, which had endowed him, finally, with the ability to let go and convey something personal from inside. In his own words, Motherwell once said of this series, "I am groping for a way of synthesizing a lifetime of work . . . My work throughout has had a certain esthetic distance or reserve, and I think now it is beginning to mellow . . . I can see where I am closer to my inner self and where I depart from it."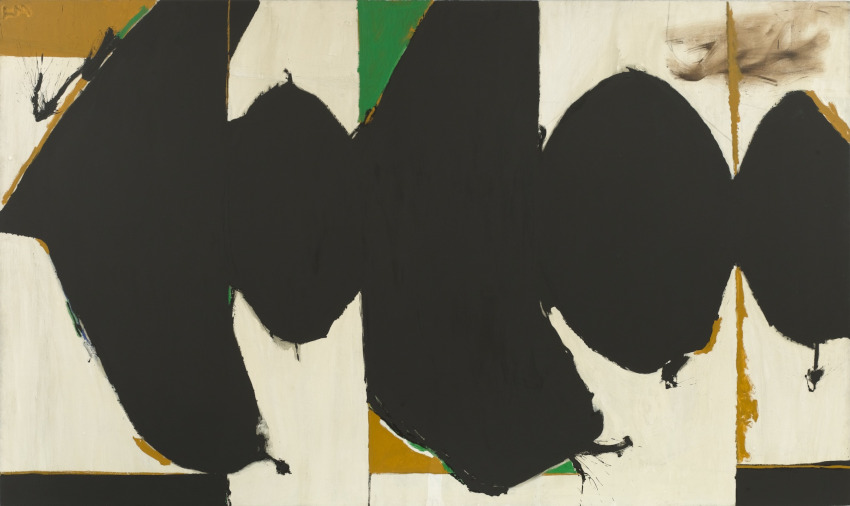 Robert Motherwell - Elegy to the Spanish Republic, 108, 1965-67. Oil on canvas. 6' 10" x 11' 6 1/4" (208.2 x 351.1 cm). Charles Mergentime Fund. MoMA Collection.
Something to Celebrate
Another definition of monumental could have to do with celebration. Many of the other works in this exhibition belong to a series Motherwell started in 1967, referred to as his "Open" paintings. These works are often discussed as taking their starting point from the allegorical symbol of the window, as an opening between one world and another. Characterized by abstracted architectural lines that indeed evoke windows, doors, or even entire houses, the paintings in this series have been compared to works from the past like "View of Notre Dame" (1914) by Matisse, a pared down, linear composition in which the French cathedral is flattened in space and placed in such a way that it seems to become a sort of window on the wall of the picture. These paintings could thus be called monumental for the way they celebrate some of the key accomplishments of painters from art history.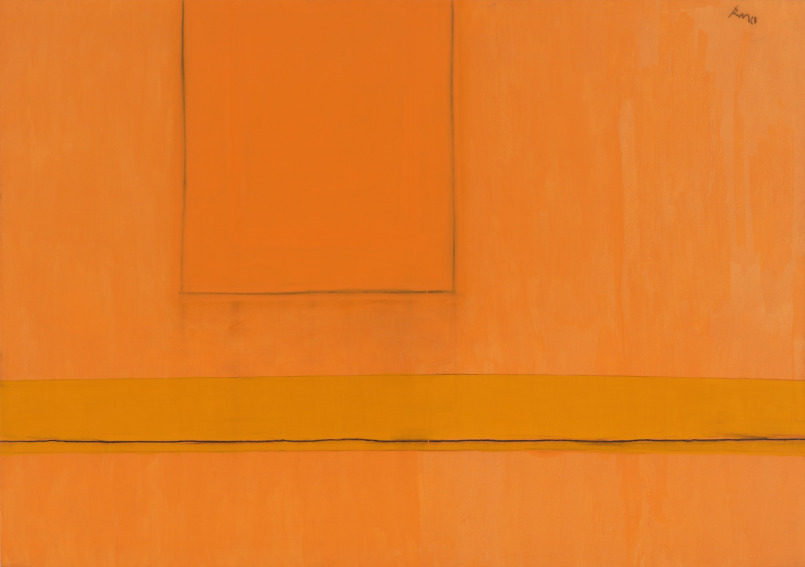 Robert Motherwell - Open Number 24 in Variations of Orange, 1968. Synthetic polymer paint and charcoal on canvas. 6' 9" x 9' 7 1/8" (205.6 x 292.3 cm). Gift of the artist. MoMA Collection.
Yet there is also something else celebratory going on with the "Open" series, something flowing from a different reading of the word "open." The simplified visual language he employed in these paintings is a total departure from the Abstract Expressionist compositions that just years earlier had made him one of the most famous painters of his generation. They literally signify his openness towards the idea of transforming his own method. In their minimal quietude, they fly in the face of everything Motherwell must have been expected by his fans, his friends, and his dealers to paint. They are not his largest paintings, but they are celebrations of experimentation, making them my choice for the most "monumental" paintings in the show. Sheer Presence: Monumental Paintings by Robert Motherwell is on view at Kasmin Gallery in New York through 18 May 2019.
Featured image: Robert Motherwell - Open Study #8A (In Blue with Black Line), 1968. Synthetic polymer paint on paper. 22 1/8 x 30 1/2" (56.2 x 77.5 cm). The Judith Rothschild Foundation Contemporary Drawings Collection Gift. MoMA Collection. © 2019, Dedalus Foundation, Inc./Licensed by VAGA, NY.
All images used for illustrative purposes only
By Phillip Barcio