Blog Home
Jeff Elrod, Alex Hubbard, Yang Shu and the Three Approaches to the Painted Medium
Jul 30, 2018
Simon Lee Gallery in Hong Kong recently opened the eponymously titled Jeff Elrod, Alex Hubbard, Yang Shu, a new exhibition of works by three painters from three different cities. I am a bit baffled, though, about how to write about the show. Not because of the work, but because the writing that accompanies the show. The words did not make me want to look at the art. Quite the opposite. Dominated by hyperbole and fluff, they made me want to bury my head in my hands. But again, in my opinion this is an excellent show, elegantly hung, and full of confident pictures that are intriguing to look at. Some pieces even now pervade my memory. But I made the mistake of looking at the writing the gallery released about the show before looking at the show itself, so I got derailed. The gallery uses words like "bold" and "experimental" to describe these painters—a tall order in 1958, let alone 2018. I thus expected to see something new, but even though I cannot deny the creativity of what these artists are doing, I cannot explain what makes their work more bold or more experimental than that of any other artist working today. In some ways, in fact, they are following derivative trends, or even in some cases pursuing ideas that are past their prime. But artists are not required to be bold, nor experimental. I only expected these artists to be those things because the gallery told me they were. A worse offense than this hyperbole, however, at least in my opinion, is the fluff. The press release states that Elrod, Hubbard and Shu share "a common approach to anti-hierarchical materials and techniques." I have no idea what that sentence means, despite having written about art for more than a decade. "Anti-hierarchical materials and techniques?" I feel sorry for casual art lovers who read things like this. No wonder so many people shy away from visiting galleries. And I feel sorry for these three artists, whose work would be perfectly valid if it were just allowed to speak for itself.
Pictures and Place
Jeff Elrod, Alex Hubbard, Yang Shu consists of an intimate selection of paintings hung interspersed in such a way that a playful, almost chaotic visual interaction is created. At first glance, it might seem as though all of the work could have been done by the same artist, especially considering the common color relationships in the images. But in fact these images were all made by different artists using different processes, and who live and work in significantly different locations. Jeff Elrod is based in Marfa, Texas, a remote dessert art and agriculture town with a population of just over 2,000 people. Alex Hubbard is based in Los Angeles, California, the second most populous city in the United States. Yang Shu is based in Chongqing, China, a municipality with a population of more than 30 million people, almost ten times that of Los Angeles.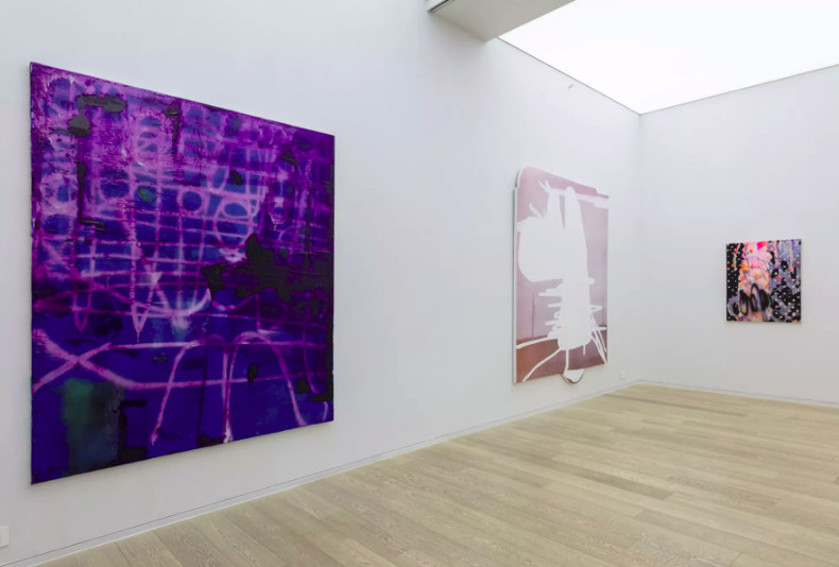 Jeff Elrod, Alex Hubbard, Yang Shu, 2018, installation view at Simon Lee Gallery, Hong Kong. Photo courtesy Simon Lee Gallery
Home address in no way defines an artist, but our physical surroundings cannot help but seep into our ideas about the visual world. After prolonged looking, the inherent differences that define each of these artists emerge. I became viscerally attracted to the works of Yang Shu. To me, their impasto layers and frantic lines feel alive with material sensuality and vibrant color. But the work of Jeff Elrod, in particular his shaped canvas work "H-Town" (2017), became more quiet over time, piquing my curiosity about its origins. The works of Alex Hubbard, meanwhile, wore thin to my eyes over time. Though interesting visually, they do little for me intellectually, and even alienate me a bit. Their material qualities, however, still make me want to get close to them. All of these various feelings, as I reflect, match strangely the sense I have of the places from which each of these painters comes.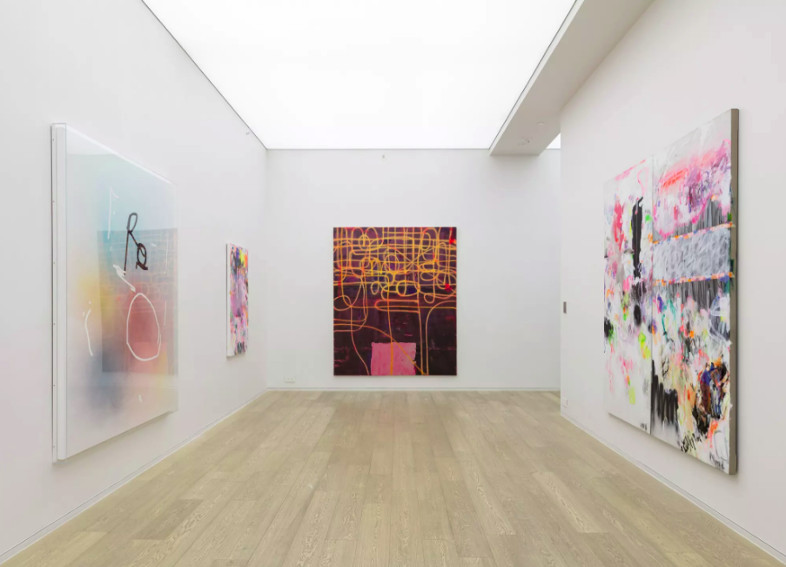 Jeff Elrod, Alex Hubbard, Yang Shu, 2018, installation view at Simon Lee Gallery, Hong Kong. Photo courtesy Simon Lee Gallery
No Explanation Needed
Something else that distinguishes Elrod, Hubbard and Shu from each other is the processes they employ. That is one of the key reasons their works are being shown together: to showcase three different takes on contemporary abstract painting methods. The Elrod pieces are digital images that have been printed on canvas, their imagery sourced partly from his own past work. Hubbard pours, spills and sprays his mediums, using a mixture of acrylic paint, resin and fiberglass on canvas. The gestural, abstract paintings that Yang Shu contributed to this show are the most dramatic in terms of content, yet they are also the most traditional in the sense that they were created using common, everyday painting mediums and methods.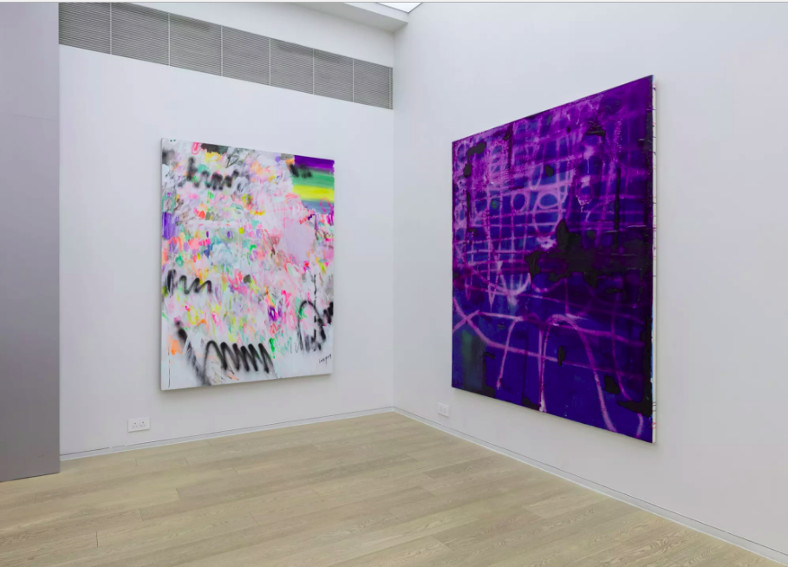 Jeff Elrod, Alex Hubbard, Yang Shu, 2018, installation view at Simon Lee Gallery, Hong Kong. Photo courtesy Simon Lee Gallery
According to the writing that accompanies this show, however, there is much more to these artists and their work. It says Elrod incorporates "the development of sophisticated software and print technology...resulting in an innovative visual language specifically his own." And Hubbard opens up "every traditional opposition of the formal language of painting." Finally, the work of Shu hints "at more subversive themes than his energetic oeuvre presents at first glimpse." I cannot agree with any of that. Photoshop, Illustrator, and digital printers are not sophisticated—they are a generation old, and their visual language does not specifically belong to anyone. And I cannot even venture a guess as to what "every traditional opposition of the formal language of painting" might mean. And to me at least, Shu does not seem subversive at all, not in this world. But if I had not read this fluff, I would have understood immediately exactly why these three artists were being shown together. Their juxtaposition presents viewers with an opportunity to consider three different takes on lyrical, gestural, contemporary abstract painting. That is a good enough reason to have an art show. No further explanation is needed.
Featured image: Jeff Elrod, Alex Hubbard, Yang Shu, 2018, installation view at Simon Lee Gallery, Hong Kong. Photo courtesy Simon Lee Gallery
By Phillip Barcio