Blog Home
How Ismail Gulgee Contributed to Abstraction in Pakistan
Mar 28, 2018
At the time of his sudden death in 2007, Ismail Gulgee was the most famous artist in Pakistan. He was beloved not only for his immense talent as a painter and sculptor, but also because he built a unique legacy of understanding that helped make abstract art accessible to all kinds of people. When he first took up painting in the 1940s, Gulgee was temporarily living in the United States where he was training to become an engineer, first at Columbia University and then Harvard. His understanding of the world was rooted in two perspectives: one was logical and constructive; the other was theoretical and abstract. His engineering mind grasped that each individual part, action, gesture, material, force or technique that he might be working with in itself may be insignificant, but combined in the proper way they could collaborate to create something monumental like a machine, a bridge, a home, or a dam. That understanding informed his engineering work, and also came to be an important part of his art. Self-taught as a painter, Gulgee began by making figurative work. In the 1950s, his photorealistic paintings attracted the attention of the wealthy and powerful, bringing him hundreds of portraiture commissions from the Afghan and Saudi Royal families, and several American presidents. It was in 1960, after seeing an exhibition of the work of the action painter Elaine Hamilton in Karachi, that he grasped the more theoretical aspects of painting. Rather than focusing on creating functional images, he started deconstructing the process. He examined the forces that hold an image in place: the brushstrokes, lines, colors, shapes and forms that collaborate to give images their essential character. He saw that each of those elements held its own truth and beauty. This realization transformed his work, and set him on a path toward becoming the most important pioneer in 20th Century Pakistani abstract art.
An Idiomatic Art
One of the ways Gulgee helped the public gain a wider appreciation of abstraction is that he appreciated art as a type of three-dimensional language. Written letters and words are just shapes imbedded with thoughts. Combined, they become phrases, which can inspire actions. Paintings, sculptures, music and dance are the same. They are manifestations of thought, which can also inspire action. When he first experienced action painting, Gulgee saw it as an idiomatic technique—one capable of creating works with individual parts that are unclear, but which can nonetheless combine to convey a meaningful expression. His action paintings isolate gesture as the fundamental building block of art. Lush, impasto brushstrokes glide across the canvas, expressing the motion and energy that are essential to human communication. These paintings are called calligraphic, not because they necessarily imitate specific writing, but because they rely on the same kind of energetic swoops, curves, lines and diagonals that give calligraphy its beauty.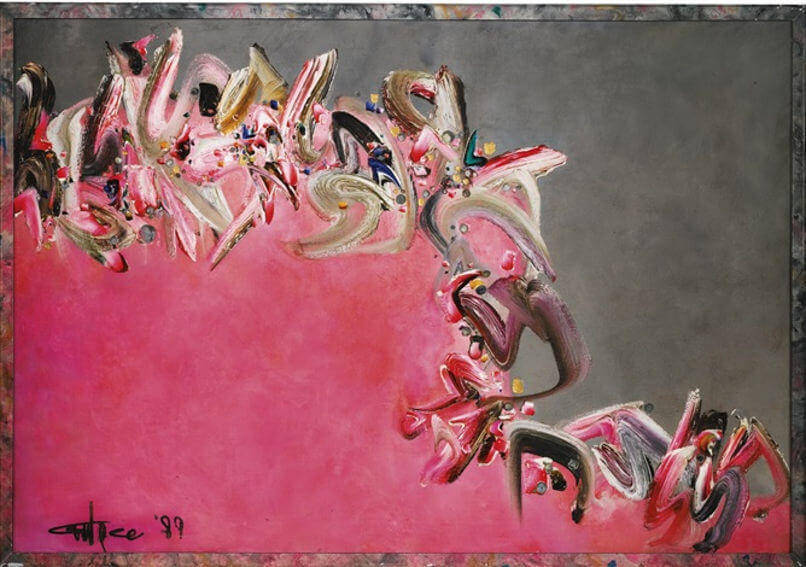 Ismail Gulgee - Untitled, 1989, Oil on canvas, 125.2 x 179 cm, 49.3 x 70.5 in, © Ismail Gulgee
Spiritually, Gulgee was influenced by Sufism, the mystical aspect of Islam—the part which calls believers to reflect upon the inner self. Much like in the mystical traditions of Hinduism or Christianity, Sufism encourages certain repetitive, physically active meditations as a way of freeing oneself from the powers of the ego. Whereas Christians have their rosary beads, and Hindus their mala, Sufis have customs such as whirling. Dervishes, or Sufi ascetics, spin around in repetitive circles in an attempt to free themselves from personal desires and achieve closeness to the divine essence. The calligraphic swoops, curves and lines Gulgee explored in his abstract paintings relate directly to the motion of whirling dervishes. They embody the same expression of the essential energy of the universe, which reminds us that we are not separate from each other, but rather part of something vast and connected.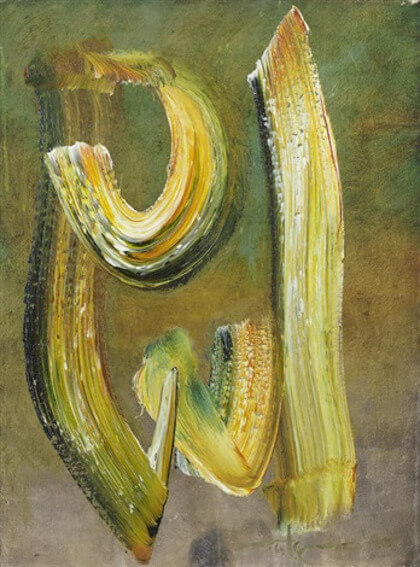 Ismail Gulgee - Untitled (Calligraphic 'Allah'), 1986, Oil on canvas, 82 x 45 cm, 32.3 x 17.7 in, © Ismail Gulgee
Intangible Forms
As Gulgee honed his mastery of gestural abstraction, his brushstrokes gradually again came to emulate recognizable forms. His intangible expressions of force related more and more to actual written characters. Many of his later works present figurative images of the words and phrases of Islam. To someone who cannot read these symbols, there might be little difference between his purely abstract gestural paintings and his calligraphic paintings of passages from the Quran. To those who can translate the symbols, however, additional layers of meaning area accessible. At the same time, understanding the symbols also limits the potential layers of meaning in the work. Once we can read these works, we cease to try to understand their underlying mystery. When we see a passionate, energetic, colorful swirl of paint, we may understand the same forces that propel the planets around the sun, or a dancer around a dance floor. When we see in that same swirl of paint a written command, the universal aspects of its character evaporate as we become compelled to react to the figurative meaning of the form.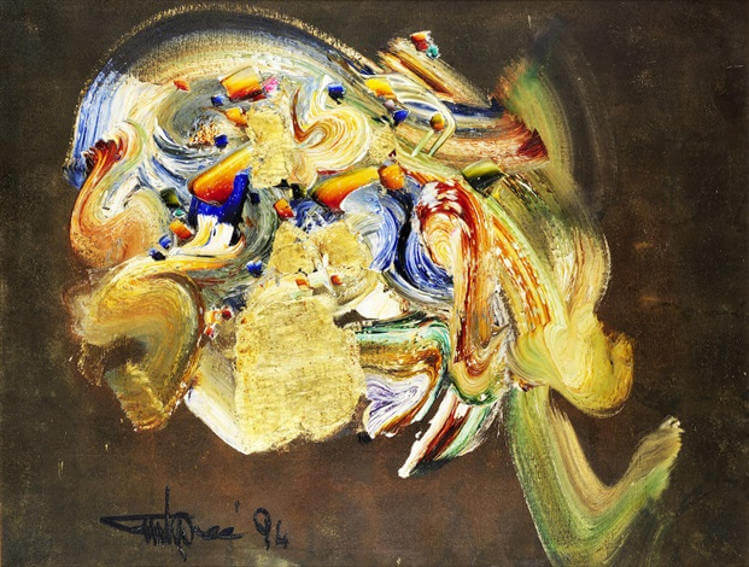 Ismail Gulgee - Untitled (Gold Abstract), 1994, Oil and gold leaf on canvas, 90 x 121 cm, 35.4 x 47.6 in, © Ismail Gulgee
Something that was important to Gulgee was that everyday people appreciated his work. That is one reasons he fluctuated between pure abstraction and calligraphic figuration. By deconstructing writing, and examining the abstract elements that combine in order to build language pictures, he expressed something complicated in a simple and beautiful way. He connected people who may not normally feel included in the abstract art conversation with the notion that under different circumstances abstract markings can develop a different kind of substance. His work is a poetic statement of how intent can combine with energy to create action, and how action can convey feeling and ideas. Like an engineer, he built a bridge—this one between abstraction and figuration; between art and everyday life. In his own words, this is what he hoped his legacy would be about. As he described his work in an interview recorded just before his death, "It is an expression of love. That is the basic thing that guides me and give my work strength. Because if you love something you understand it better."
Featured image: Ismail Gulgee - Sans titre, 1998, Oil on canvas, 81 x 116 cm, 31.9 x 45.7 in, © Ismail Gulgee
All images used for illustrative purposes only
By Phillip Barcio