Blog Home
The Artist Who Painted the Sky, Every Sunday for Seventeen Years
Feb 5, 2018
Byron Kim is an abstract artist, but he has a troubled relationship with abstract art. Some of the evidence of that troubled relationship was recently put on public view in the exhibition Sunday Paintings, 1/7/01 – 2/11/18, at the Chelsea location of James Cohan Gallery in New York. The exhibition, which despite its title runs through 17 February 2018, features nearly 100 paintings. Each one is identically sized (14 x 14 inches), and each shows a picture of the sky, painted by Kim on a Sunday. Each painting also includes a bit of text. The writings are diary entries composed on the day the painting was made, expressing thoughts that range from the personal to the political to the existential. Kim began this series of works on 7 January 2001. He has since painted one sky painting every Sunday since (minus a handful of Sundays along the way when he forgot, or was other prevented from doing the work). And Kim has continued adding one sky painting to the show each Sunday since it opened, demonstrating the continuum this project represents. That choice to keep adding works as the show continues on harkens back to similar projects, such as the Robert Morris installation Continuous Project Altered Daily. It "breaks the fourth wall" of the artist-viewer experience by acknowledging that the work an artist does is never really done. It is also a choice that directly addresses expresses the "story" of these works. And that is where the troubled relationship between Kim and abstraction is most evident. Like several his other bodies of work, this sky series could be read as both figurative and abstract. That is how Kim likes it. He has been quoted as saying, "I love a good abstract painting, but I'm often not interested in what people talk about when they talk about abstraction, so I prefer to apply my own content." That content is evident in the back story mentioned in the title of the show, and it is evident in the diary entries. But most of these images are almost monochrome, except for nuanced shifts in hue and tint. And from afar, the text is invisible. It is conceivable that a viewer could enter the gallery, walk through quickly, then go go on for hours about the formal merits of what they thought was an abstract show of minimalist paintings, and never realize that was not the show they saw at all.
The Abstract Figurative Artist
Sunday Paintings has garnered a fair bit of media coverage. But that attention is not coming solely based on the merits of these paintings. It is also coming because this body of work acts as a sort of foil to another abstract-figurative series Kim did a generation ago called Synecdoche (1991), which was exhibited in the 1993 Whitney Biennial. That series also contains hundreds of identically-sized, nearly monochrome paintings. But in that case, each one a representative portrait of the skin tone of a sitter. Formally speaking, Synecdoche is an excursion into the myriad possible hues a painter can convey of tan and pink. It is also an exploration of form and seriality.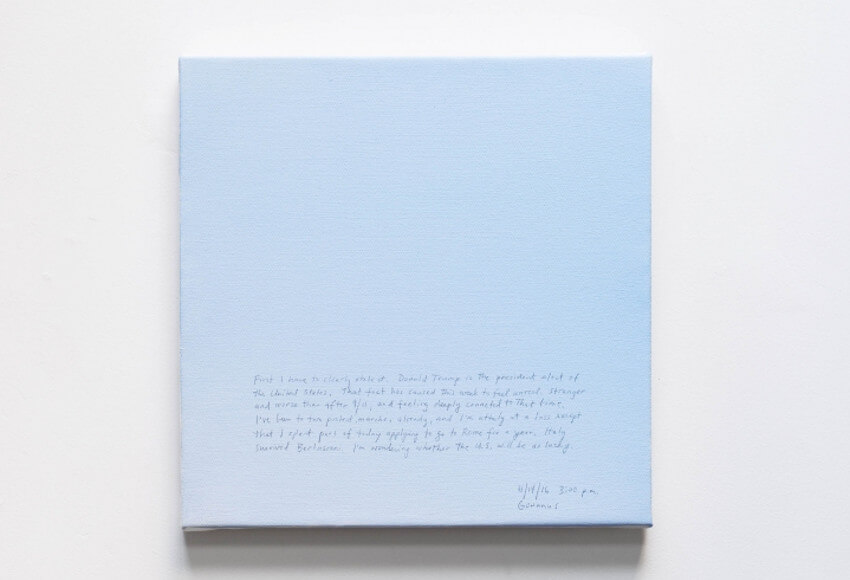 Byron Kim - Sunday Painting, 11/14/16, 2016, Acrylic and pencil on canvas mounted on panel, 14 x 14 in., 35.6 x 35.6 cm, Courtesy the artist and James Cohan Gallery, New York
But to paraphrase Kim, those are just the things people talk about when they talk about abstraction. They were not the things Kim was thinking about when he made these paintings. When Kim began working on Synecdoche, he was thinking about identity. He was thinking about race. He was thinking about the odd notion that humanity talks about people in terms of concrete, pure colors—black, white, yellow, red—when clearly, as his research demonstrates, there are infinite variations of hue that make up the appearance of our skin. Synecdoche made Kim famous. It was also the work that inspired critics to start calling him an "abstract figurative" artist. It pigeon-holed him in a way, as it defined him as an artist who made work about identity. But in another way, it set him free, because it gave him a structure, within which he could improvise.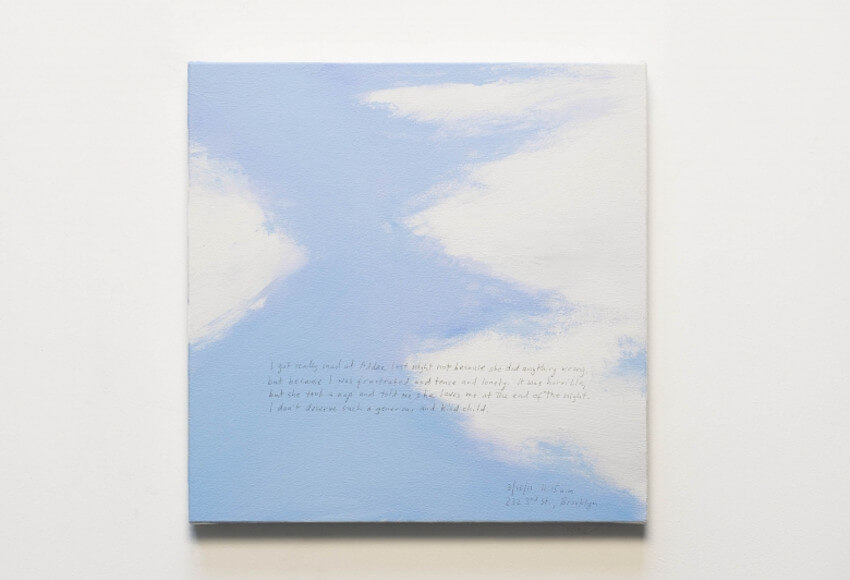 Byron Kim - Sunday Painting 3/13/11, 2011, Acrylic and pencil on canvas mounted on panel, 14 x 14 in., 35.6 x 35.6 cm, Courtesy the artist and James Cohan Gallery, New York
Theory Before Practice
I feel Kim is part of a heritage that goes beyond identity, and deeper than diary entries. He is sort of a reverse Josef Albers. We remember Albers as both an artist and a teacher. His most famous series of paintings was Homage to the Square. Ironically, that series was not about squares, it was about color relationships. But Albers used squares as a theoretical starting point from whence he could instigate a conversation about human perception of color. Squares were the figurative aspect of his work. Color was the abstract aspect. In the classes he taught, Albers had his students engage in repetitive formal exercises, which allowed them to experience color relationships for themselves. He did not explain what the point of this practice was; he just made them engage in the practice for themselves, allowing theories to emerge over time.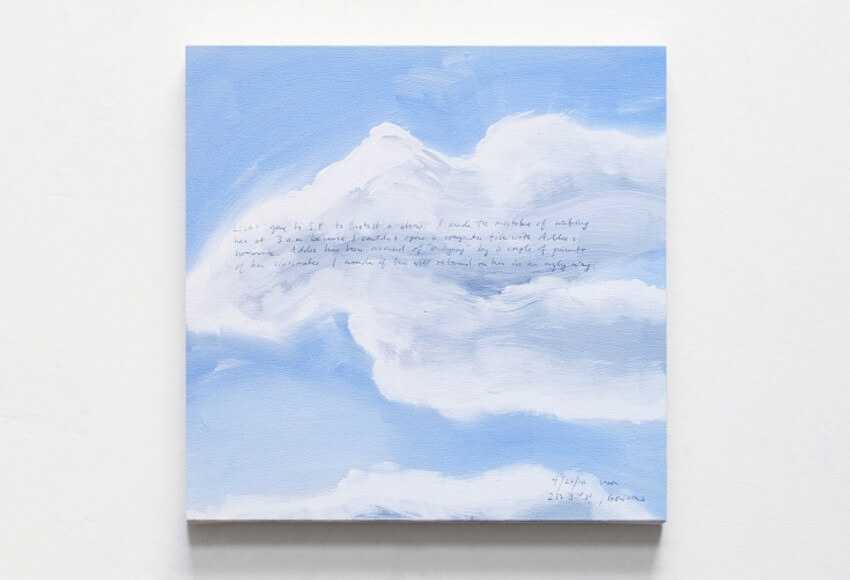 Byron Kim - Sunday Painting, 4/20/10, 2010, Acrylic and pen on canvas mounted on panel, 14 x 14 in., 35.6 x 35.6 cm, Courtesy the artist and James Cohan Gallery, New York
In other words, with Albers, practice preceded theory. With Kim, theory precedes practice. The theory Kim starts with, as I see it, is that color is nuanced, but human perception of color is often not. Synecdoche examined that theory in a direct, relatable way. And since starting that series, Kim has continued to expand on that structure to further his line of inquiry. His Sunday paintings are just one iteration of the theme. They fulfill his need for self-imposed content, especially with their diary entries, which offer viewers an additional layer of narrative, should they choose to delve into that aspect of the work. But they also fulfill the needs of viewers who are content interacting with them on an abstract level. By showing nuanced differences within a broad range of similar images, they reveal to us the limits and the depths of our perception; they speak to the riddle that to change with change is the changeless state.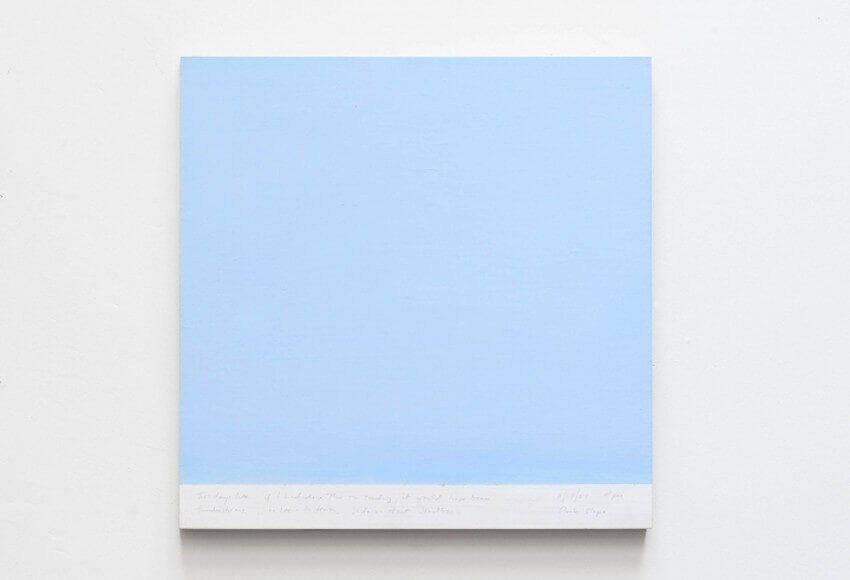 Byron Kim - Sunday Painting 6/19/01, 2001, Acrylic and pencil on panel, 14 x 14 in., 35.6 x 35.6 cm, Courtesy the artist and James Cohan Gallery, New York
Featured image: Byron Kim - Sunday Painting 1/20/09, 2009, Acrylic and pencil on canvas mounted on panel, 14 x 14 in., 35.6 x 35.6 cm, Courtesy the artist and James Cohan Gallery, New York
All images used for illustrative purposes only
By Phillip Barcio