Blog Home
The Legacy of Sir Howard Hodgkin
Mar 14, 2017
The renowned British abstract painter and printmaker Howard Hodgkin was among the most decorated artists of his generation. He represented Britain in the 1984 Venice Biennale and won the Turner Prize in 1985. In 1976, he was admitted into the Most Excellent Order of the British Empire (CBE); he was knighted in 1992; and in 2003, Queen Elizabeth II inducted him into the Order of the Companions of Honour, where he joined a select list of only three other abstract artists—Henry Moore, Victor Pasmore and Bridget Riley—to have been given the same distinction. The celebrated stature Hodgkin ultimately achieved in his career stands in stark contrast to the struggles of his early professional life. In 1981, Hodgkin stated, "I think I've been fortunate in that I wasn't at all successful until I was middle-aged, but there were many bitter moments to live through when it was so long before anybody seemed to want to look at my pictures at all." In his 30s, he was so despondent from rejection he considered suicide. But rather than giving in to despair, he rededicated himself to the aesthetic expression of his inner self. The more Hodgkin delved inward, the more intuitively he grasped the relationship between emotion and the formal essentials of art, such as color and paint; and the more abstract his work subsequently became. By the end of his life, Hodgkin created a distinctive oeuvre based on a pared-down style that communicated raw feeling in the simplest and most direct terms.
Figures and Feelings
There has long been some debate over whether we should refer to Howard Hodgkin as a figurative or abstract artist. His early work was clearly reality-based, showing figures in interior spaces, sometimes in social circumstances. But as his career evolved he blurred the line between abstraction and figuration, creating paintings that inhabited a sort of intersection between the two. Rather than dealing solely with specific content from his life, he explored the ways formal elements like color, pattern and surface could evoke emotional elements within his images. More decades his paintings contained minute figurative elements ensconced within abstract color fields, shapes and patterns. But even when he painted something that most viewers would consider purely abstract, Hodgkin himself loved to say the work was still figurative, as it all related intimately to an ongoing narrative informed by his personal reality.
Hodgkin began showing his paintings in 1950 at the age of 18, while still a student. In fact, one of his earliest works, a gouache painting on board titled Memoirs, painted when he was just 16, is considered by some fans to be among his best. He received his first solo exhibition in 1962, at the acclaimed Arthur Tooth & Sons Gallery in London. The unique blend of figuration and abstraction that defined the works in that exhibition made Hodgkin stand out as unique and daring. But the British public did not immediately understand the work, and the exhibition was not a commercial success. It would be nearly a decade later before viewers in his homeland would come to appreciate his distinctive talent.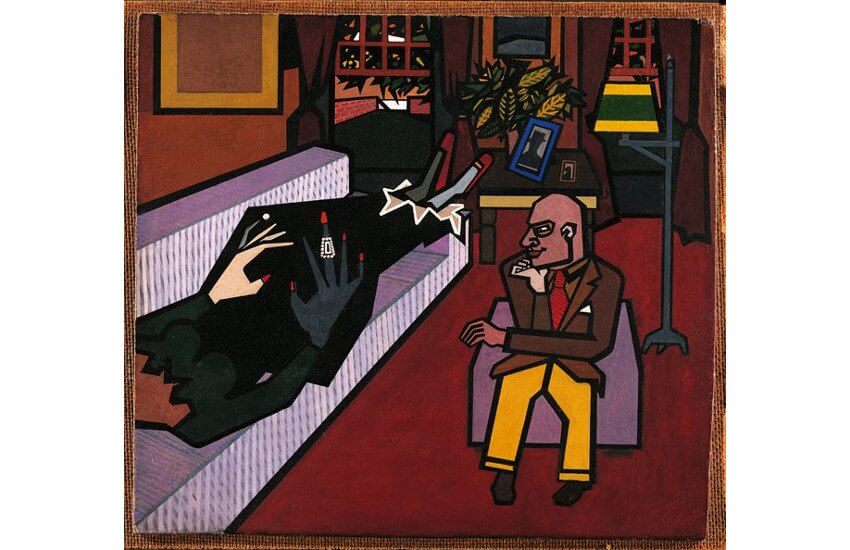 Howard Hodgkin - Memoirs, 1949, Gouache on board, 8 5/8 x 9 7/8 in, © The Estate of Howard Hodgkin
Memories of India
Early in life, Howard Hodgkin realized that the paintings he wanted to paint were more like aesthetic relics of his own memories. As someone who particularly loved to travel, many of his most potent memories dealt with the spectacular scenery and extraordinary people he encountered while abroad. Some of the most successful prints he made dealt with trips he took to India. In a series of screenprints he created titled Indian Views he addressed the small, horizontal windows common in the sides of trains in that country. The images read like simple landscapes with horizon lines, but can also be contemplated as abstract color fields.
In addition to their emotive use of color, his Indian View screenprints are also notable in that they contain the archetypal aesthetic element of the frame, which over time became vitally important to Hodgkin. In many of his abstract paintings he painted a rectangular frame containing the image. Then later he began framing his surfaces in actual wooden frames then painting the image onto the surface and the frame alike, combining the two. The painted frame defined his paintings as objects resistant to outside interference, and clarified that their meaning was entirely contained within themselves.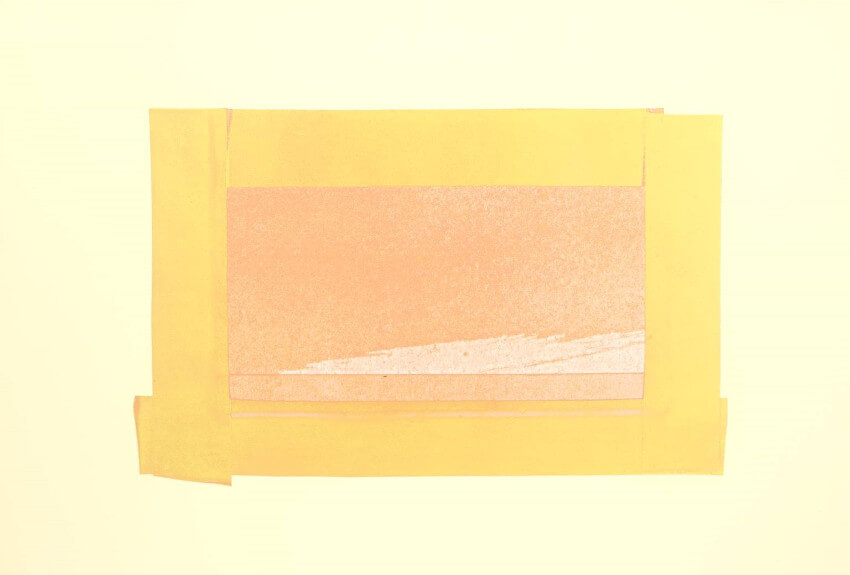 Howard Hodgkin - Indian View H, 1971, Screenprint on paper, 581 x 780 mm, © The Estate of Howard Hodgkin
Outside Recognition
Despite the lack of understanding Hodgkin initially received from the public, he continued exhibiting and kept pursuing his unique style, creating hybrid abstract-figurative images and developing an emotive, colorful visual language based on feelings. In 1971, he was invited for the first time to exhibit abroad, in Cologne, Germany. That exhibition was a success, and the following year he exhibited in a group show in Paris. And the year after he exhibited for the first time the United States, at a gallery in New York.
To his delight, foreign viewers had a much different impression of his work. After his New York debut, Hodgkin said, "they realized at once what sort of artist I was…the reaction was such that I felt I was communicating with an audience. I've rarely felt that in England." Perhaps because of this international attention, or perhaps because British viewers simply realized what they had been missing, over the next several years Hodgkin saw his reputation in Britain improve. By 1976, he had been awarded CBE, and had received his first retrospective exhibition, at the Oxford Museum of Modern Art.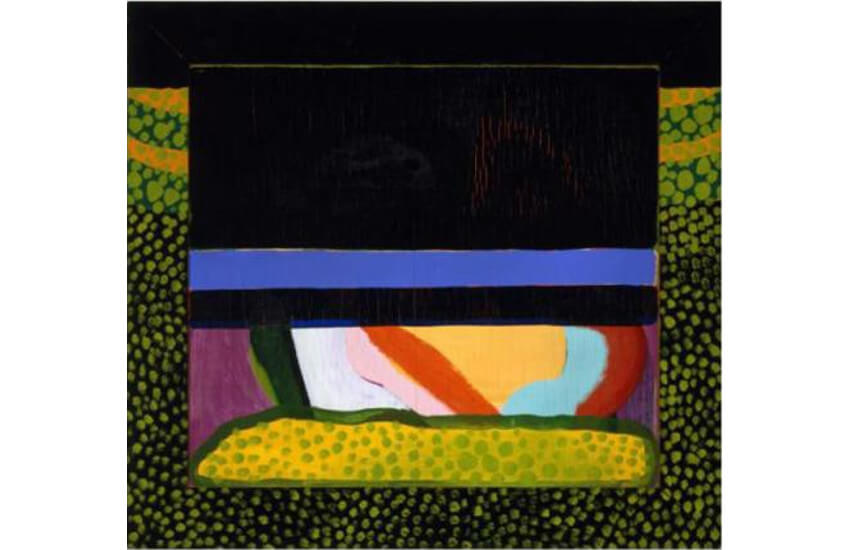 Howard Hodgkin - Not at Table, 1972, oil on wood, 33 x 36 in, © The Estate of Howard Hodgkin
The School of London
Also in 1976, Hodgkin received the honor of being included among a group of British artists associated with something called the School of London. The painter R. B. Kitaj coined the term School of London in a catalogue essay he wrote for an exhibition titled The Human Clay. Kitaj intended the term to draw attention to the fact that in contrast to global trends toward Pop Art, Minimalism, Conceptual Art and other popular styles, a group of talented British artists had been diligently exploring the modern relevance of the human figure in art.
The Human Clay included the work of 48 artists; among them were Kitaj and Hodgkin, as well as several others who subsequently became vitally influential internationally, such as Frank Auerbach, David Hockney, Francis Bacon, Henry Moore, and Lucian Freud. Each had, at the time, indeed been exploring figuration in uniquely modern ways. But most nonetheless rejected the label School of London when they first heard it. Howard Hodgkin rejected the label, though he had five works in the exhibition, the second highest number by any artist. Being included in the show nonetheless was a boost for Hodgkin, and a great public validation of his efforts.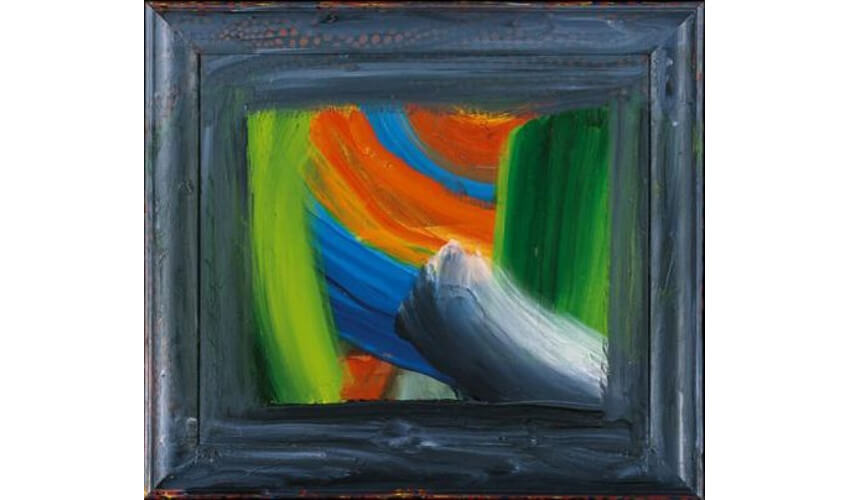 Howard Hodgkin - The Last Time I Saw Paris, 1988-1991, Oil on wood, 44 1/4 x 50 in, © The Estate of Howard Hodgkin
Less is More
Throughout his career Hodgkin searched for ways to express more while showing less, eventually reducing the figurative elements in his work until barely present at all. Coinciding with the wider public recognition he experienced in the late 1970s, Hodgkin also underwent a transition in his personal life. After 20 years of marriage to his wife Julia, Hodgkin came out as gay, and granted Julia custody of their two sons. His life became simultaneously simpler and more complex. Though the titles of his works from this point on retained the personal narrative quality for which his work had become known, referencing specific personal memories, the content of his images became dramatically more abstract.
Though he probably would have denied such an accusation, it is easy to see how freeing himself from a personal falsehood could have also freed him from the need to invest his imagery with innuendo, allowing him to become more direct with his emotions. Whether it had anything to do with that circumstance or not, in the last decades of his life Hodgkin pared down his visual language more dramatically than ever before. He became more adept at conveying the expressive potential of color, brushstroke, surface, composition and paint. In his last years his compositions were his simplest, and perhaps most profound, deftly communicating his essential idea of the fleeting power of memory and emotion.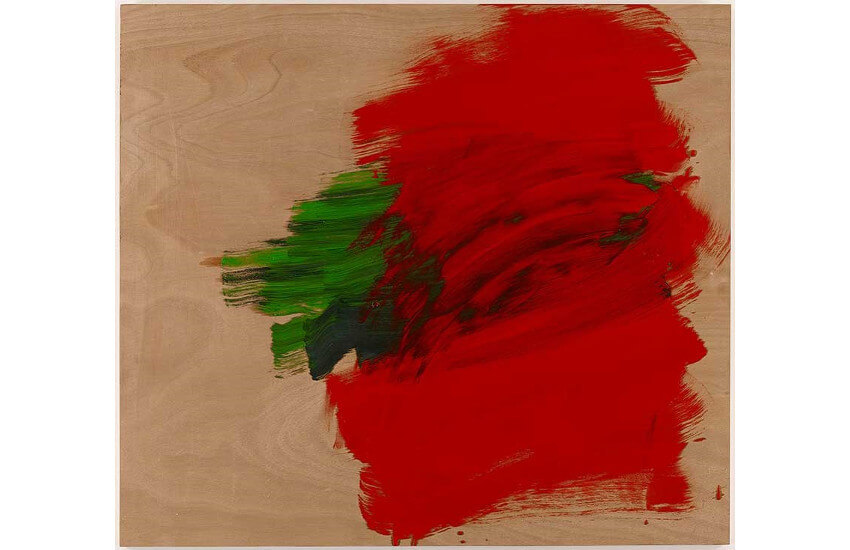 Howard Hodgkin - Love and Death, 2015, Oil on wood, 31 x 35 in, © The Estate of Howard Hodgkin
Featured image: Howard Hodgkin Brigid Seagrave (detail), 1961-62, Oil on canvas, 34 x 39 in
All images used for illustrative purposes only
By Phillip Barcio