Blog Home
Frank Stella retrospective at Whitney Museum
Aug 27, 2015
On 30 October 2015, a new Frank Stella retrospective will open at the Whitney Museum in New York. Organized in partnership with the Modern Art Museum of Fort Worth, the exhibition will be showing in New York until 7 February 2016 before relocating to Fort Worth from 17 April 2016 until 4 September 2016, and will finally show at the DeYoung Museum in San Francisco. In the inaugural year of the Whitney's new premises on Gansevoort Street in downtown New York, Frank Stella's work will occupy the entire 18,000-square-foot gallery on the fifth floor of the new building. This is the largest space the museum owns for temporary exhibitions.
Frank Stella retrospective
About a hundred works spanning Stella's 60-year career, encompassing major pieces as well as other less well-known works will be on show, from paintings, sculptures and maquettes to engravings, drawings and bas-reliefs. It will be the artist's first American retrospective since he was shown at MoMA in 1987. Michael Auping the curator in charge of the exhibition said, "A Stella retrospective presents many challenges given Frank's need from the beginning of his career to immediately and continually make new work in response to previous series. And he has never been timid about making large, even monumental, works. The result has been an enormous body of work represented by many different series. Our goal has been to summarize without losing the raw texture of his many innovations."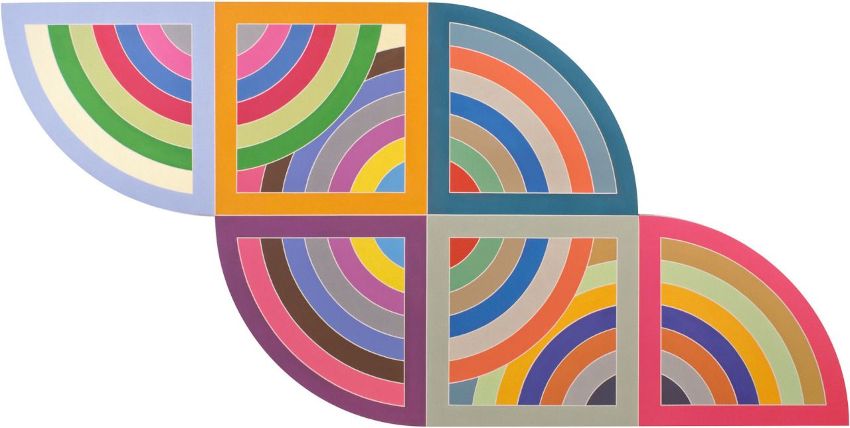 Frank Stella - Harran II, 1967. Polymer and fluorescent polymer paint on canvas. 120 × 240 in. (304.8 × 609.6 cm). Solomon R. Guggenheim Museum, New York; gift, Mr. Irving Blum, 1982 © 2015 Frank Stella/Artists Rights Society (ARS), New York
The show will exhibit works chronologically. It will begin with Stella's early colourful works of the 1950s, when he was still under the influence of Abstract Expressionism, before exploring the monochromatic turn of the minimalist "Black Paintings" and the geometric turn of the "Irregular Polygon Paintings." The exhibition then goes to show Stella's collage works of the 1970s, his 3D paintings of the 1980s, which jut out towards the viewer, and finally, his pieces of the last thirty years, which have been inspired by and sought to create a dialogue with music and literature.
Frank Stella was born in Massachusetts in 1936 and is an alumnus of Phillips Academy in Andover. He studied at Princeton University in New Jersey, graduating in 1958 with a major in History. He is a famous American artist, whose work has been at times associated with post-painterly abstraction and minimalism. Institutions which hold his work in their permanent collections include the Hirshorn Museum and Sculpture Garden (Washington, D.C), the National Gallery of Art (Washington, D.C), the San Francisco Museum of Modern Art, the Toledo Museum of Art (Toledo, Ohio) and the Whitney Museum.
Click here for more information.

Featured image: Frank Stella - Gobba, zoppa e collotorto, 1985. Oil, urethane enamel, fluorescent alkyd, acrylic, and printing ink on etched magnesium and aluminum. 137 × 120 1/8 × 34 3/8 in. (348 × 305 × 87.5 cm). The Art Institute of Chicago; Mr. and Mrs. Frank G. Logan Purchase Prize Fund; Ada Turnbull Hertle Endowment 1986.93. © 2015 Frank Stella/Artists Rights Society (ARS), New York.
All images used for illustrative purposes only