Blog Home
Celebrating 100 Years of De Stijl at The Open Air Museum de Lakenhal
Jun 5, 2017
As we recently announced, 2017 marks the 100th anniversary of the Dutch art movement De Stijl. The founders of the movement, such as Theo van Doesburg, Piet Mondrian and Gerrit Rietveld, are remembered not only forthe unique aesthetic style they created, but also for initiating an art movement that completely transformed modern visual culture. De Stijl was based on the theory that the formal elements of line and color constitute the entire basis for abstract art. The artists who embraced its philosophies manifested them not only through painting and drawing but also through sculpture, architecture, fashion, typography, advertising and industrial design. De Stijl is said to have officially begun with the first issue of De Stijl magazine, published by Theo van Doesburg in the city of Leiden, Netherlands, in October 1917. Now, 100 years later, the entire country of the Netherlands is celebrating with special exhibitions, speeches, festivals, and other events. The exhibition we highlighted earlier this week, The Colors of De Stijl, on view at the Kunsthal KAdE museum in Amersfoort, is notable for bringing a selection of paintings by De Stijl masters together with paintings by various other artists they inspired. But today we would like to share information about two other quite different exhibitions also going on this summer to commemorate the anniversary of De Stijl. The first is on view at what is being called the De Lakenhal Open Air Museum, and is titled 100 Years after De Stijl. The second, called Raakvlakken, is taking place at multiple locations throughout the city of Leiden and features artworks by 30 different artists.
100 Years after De Stijl
Piet Mondrian finished the painting Composition in line, second state in 1917. The painting is remarkably simple. It consists of only horizontal and vertical black lines of varying lengths and thicknesses, arranged in a manner that suggests a circle. What is extraordinary about this painting is that it marks a point in the evolution of his style away from a form of abstraction based on the figurative world, and toward a form of pure abstraction Mondrian would later call Neoplasticism. The paintings Mondrian was creating just prior to this work abstracted natural objects, such as trees and bodies of water. They contained multiple hues, organic lines, and undefined areas of color. But this painting is distinctly different. It sets the tone for the clear demarkations of space, confident geometric lines, and the simplified palette that would come to define his mature style.
We mention this painting now because it forms the basis of the exhibition 100 Years after De Stijl. The historic De Lakenhal Museum closed down in October 2016 for renovations, and will not reopen until 2019. So for this special summer exhibition, curators Lemke van Dijk and Guido Winkler decided to create a special experience that could be held outdoors on the museum grounds, and could be open 24/7 and free of charge. The outdoor exhibition space, known as the De Lakenhal Open Air Museum, features a series of manufactured walls on which artists have painted murals. The artists are all inspired in their own way by De Stijl, as their work clearly demonstrates. And the layout of the walls recreates one portion of the painting Composition in line, second state.
Monumental Wall Paintings
Unlike many of the other exhibitions happening around the Netherlands in celebration of De Stijl, 100 Years after De Stijl does not include any actual paintings by De Stijl masters such as Mondrian or Van Doesburg. Rather, this exhibition is intended to explore the lasting theoretical legacy of the work those artists did by examining the work of contemporary artists who are inspired by their aesthetic. Curators of the exhibition invited 20 artists in total, 12 representing the Netherlands and eight others who come from various other places around the globe, to participate in the exhibition. Each artist was invited to create a large-scale mural on one of the walls.
Representing the nation of Australia in the De Lakenhal Open Air Museum is the artist Brent Hallard, who is represented by IdeelArt. Hallard uses common geometric forms like rectangles and squares, and bold, pure colors to explore the perception of physical space. He refers to his work as simple. And indeed his designs are self-contained and straightforward. They in many ways relate to the ideas of De Stijl, such as in their heavy reliance on flat surfaces, horizontal and vertical lines and basic geometric shapes. But they are also deceptively complex in the subtle ways they fool the eyes of the viewer. Hallard has definitely taken the theories of De Stijl and added to them with a sense of wit and irony suited to a contemporary aesthetic. According to the curators, for this exhibition Hallard has created a unique wall drawing that "oscillates between flat and three-dimensional space."
Other Artists on View
Among the many Dutch artists participating in the De Lakenhal Open Air Museum is Jasper van der Graaf, who was born in the city of Dordrech and currently lives and works in Apeldorn. Van der Graaf creates paintings and wall paintings that that evoke the symbiosis of nature and machine. His hard-edged lines and forms are precise and systematic, while simultaneously seeming spontaneous and free. The confidence with which Van der Graaf commits to bold, pure colors and flat compositions aligns his work with De Stijl, but he is taking his work in a contemporary direction, seeking connections with randomness, intuitive expression, and organic shapes. Also of special interest representing the Netherlands is the artist Jan van der Ploeg, an Amsterdam artist known for bright, pure colors and rounded geometric shapes.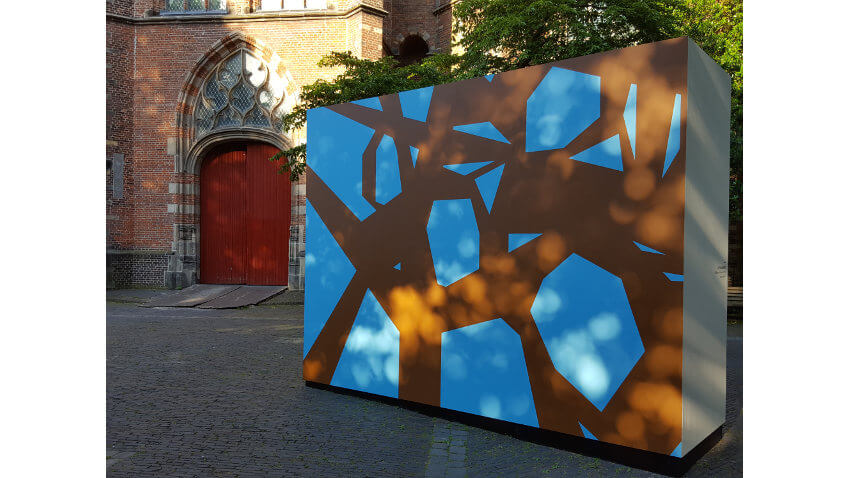 Jasper Van Der Graaf - Wall painting
Representing Belgium is the artist Alain Biltereyst, another painter who takes his inspiration from the hard-edge lines and pure fields of color espoused by De Stijl. The images Biltereyst creates occupy a space somewhere between the realm of graphics, illustration and pure abstraction. He takes visual cues from the urban landscape, identifying the essential forms and compositions that occur on and around the city streets. Whether it is a bit of advertising, or a design element on a metal street grate, or an arrangement of architectural structures, or simply a compositional sense derived from the urban environment itself, these visual cues are translated and transformed by Biltereyst into succinct, confident expressions of line, color and space.
Alain Biltereyst - Wall painting
Representing the United Kingdom is Terry Haggerty, a painter whose spectacular compositions could be said to merge the theories of De Stijl with those of Op Art and Kinetic Art. Haggerty takes his inspiration from the simple De Stijl lexicon of horizontal and vertical lines and primary colors, but goes far beyond those strict guidelines. His works bend flat lines in ways that seem to protrude outward from two-dimensional surfaces, creating the illusion of three-dimensional space. Rather than searching for some essential, universal visual language, as the De Stijl artists did, Haggerty builds on their basic language, searching for something experimental and surprising. For this exhibition, Haggerty says he has created a design "that will hopefully appear to bend and buckle into a dimensional form that pushes out from the wall, creating empty pockets of space using linear structures that step up and down across the surface, activating all aspects of the support."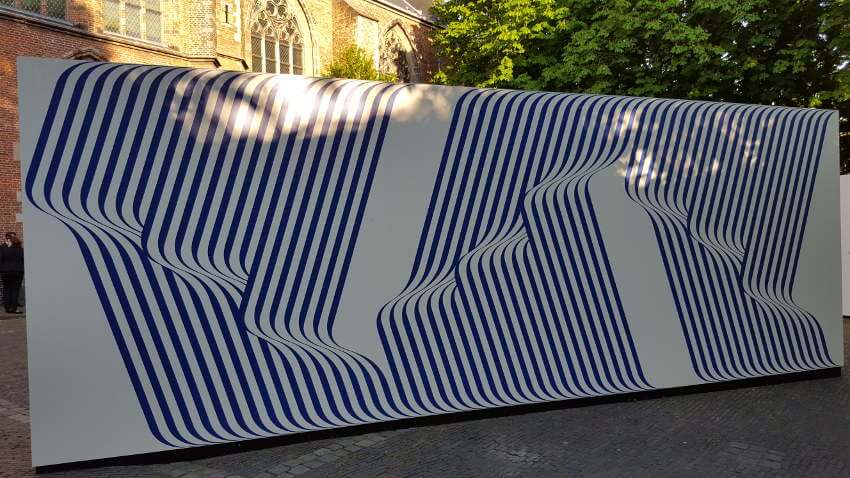 Terry Haggerty - Wall painting
The Artist House
In addition to the murals created for the De Lakenhal Open Air Museum, Professor Mick Eekhout and a group of his students from the Delft University of Technology have also created a scale model of the Maison d'Artiste. Originally, Theo van Doesburg and the architect Cornelis can Eesteren created the design for the Maison d'Artiste in 1923 as part of the first group exhibition of De Stijl artists. Their intention at the time was to create a design that could showcase the epitome of their philosophy, which is that their aesthetic theories could lead to a harmonious marriage of art and everyday life, as represented in this case by a work of architecture.
Although the Maison d'Artiste was never actually built, the design for this extraordinary building still stands today as the ultimate manifestation of utopian De Stijl ideals. The scale model of it, along with the 20 murals, will be on view from 2 June through to 27 August 2017. The exhibition will be open 24/7, all summer, free of charge, as part of 100 Years after De Stijl at the De Lakenhal Open Air Museum in Leiden, Netherlands.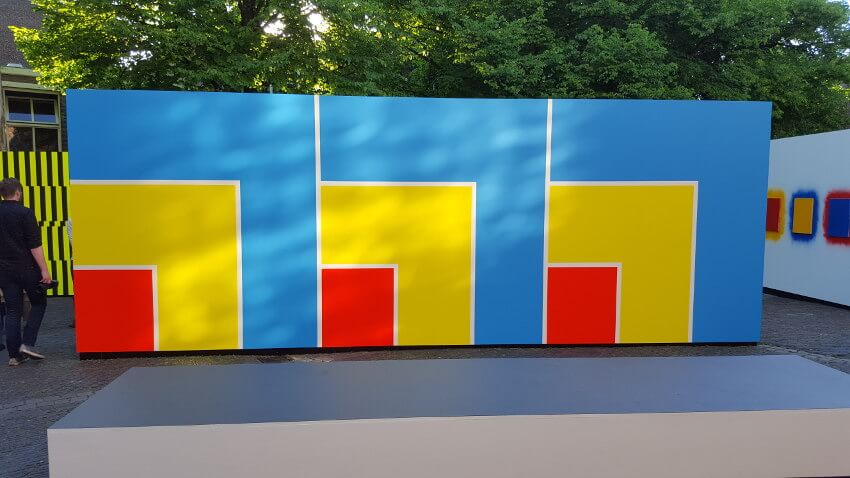 Jan Van Der Ploeg - Wall painting
Raakvlakken –An Indoor and Outdoor Celebration of De Stijl
Another exhibition taking place this summer in Leiden will take place partially indoors and partially outdoors. Of course long time residents of the city of Leiden will not find anything unusual about the idea of holding temporary art exhibitions outdoors. They are quite used to it. Since 2012, the annual public sculptureexhibition titled Beelden in Leiden (images of Leiden) has brought outdoor sculptures to multiple locations along the Hooglandsekerkgracht, a historic street and former canal that runs through the center of the ancient city. Each year the organizers of the Beelden in Leiden exhibition invite sculptors, who are normally Dutch or who have studied in the Netherlands, to create site-specific works along the street that speak in conversation with a particular theme. Past themes have included Botanica, Tradition and Talent, Strong Work, and Life Science.
This year, in honor of the 100th anniversary of De Stijl, the Beelden in Leiden organization has sponsored and curated a series of special exhibitions called Raakvlakken. This multi-venue sculpture show is of course all part of the nationwide Mondrian to Dutch Design celebration. So for this special occasion, rather than only inviting Dutch or Dutch-trained artists to participate, and only staging the exhibition on one street, artists were invited to participate from around the world, and the works fill three different locations around the city of Leiden.
Artists in Raakvlakken
One of the three locations chosen for Raakvlakken is of course the historic Hooglandsekerkgracht. In keeping with past tradition for the annual Beelden in Leiden, the eleven artists selected to create works for this particular location are all young, emerging artists who are either Dutch or who have studied in the Netherlands. Those artists are Dario Bongiovanni, Lorena van Bunningen, Joakim Derlow, Tijl Orlando Frijns, Ruben Jager, Hedri Kool, Daan Liu, Ruben Mols, Suzie van Staaveren, Olle Stjerne and Rein Verhoef. For the other locations featured in this multi-venue exhibition, no nationality restrictions were put into place. For the second location, which is the Leiden University Medical Center, the three artists who have been selected to exhibit their work are Dieter Balzer, Pieter Obels and Ewerdt Hilgemann.
The remaining 16 artists selected for Raakvlakken come from all over the world, and they have been given the opportunity to exhibit their work in a landmark office complex called the Achmea. Opened in 2011, the Achmea building is a stunning architectural homage to the aesthetic of De Stijl, boasting geometric lines, bold, primary colors, and a stunning, Modernist presence. Among those artists selected for this special portion of the exhibition is the German artist Tilman, who is represented by IdeelArt. Tilman creates bold, colorful, geometric objects and installations that speak in perfect harmony with this unique architectural environment. Also on view in this location will be artworks by Iris Bouwmeester, Gerard Caris, Henk Delabie, Edgar Diehl, Daniel G. Hill, Peter Holm, Krijn de Koning, Andrew Leslie, Riki Mijling, Brigitte Parusel, Paul Raguenes, Richard Roth, Rubins J. Spaans, Mary Schiliro, Jan Maarten Voskuil, and Thomas Wildner. In addition, a special presentation is planned by Fons Verheijen, the architect of the Achmea. Raakvlakken – Beelden in Leiden is on view now through to 6 August 2017.
Featured image: Brent Hallard - wall painting
By Phillip Barcio