Blog Home
Alfred Leslie - From Abstract Expressionism to Figurative Painting
May 10, 2017
Anyone who visited the Bruce Silverstein booth at Frieze New York 2017 was offered a rare treat: a selection of realistic paintings by Alfred Leslie spanning from the late 1960s, when he first changed his focus to figuration, to today. The central piece on display was a monumental, three-part masterwork Leslie painted in 1978, titled Americans, Youngstown, Ohio. The painting shows 14 men and women representing multiple races and ages, 13 standing and one seated, all staring starkly out at the viewer. The intense chiaroscuro effect of the painting conveys an overwhelming seriousness. The expressions on the faces of the people are dire. Their joined hands and gentle embraces communicate a sense of bewilderment, as though these people are comforting each other in the presence of some horror. It is a scene of fear, trepidation, and resolve. People unfamiliar with the history of Youngstown, Ohio, may not realize this painting tells the story of Black Monday: September 19, 1977, when more than four thousand workers were laid off from the local tube factory, the main employer in the city. The lay-offs destroyed the local economy. A few years before this painting was made, Youngstown was a thriving place. A few years after, Youngstown had one of the highest crime rates in the United States. The painting offers a fascinating glimpse at history. And equally fascinating is the fact that only about a decade before painting it, Alfred Leslie was a revered and successful abstract painter. Leslie was among the most accomplished of the second generation of Abstract Expressionists, but he seemingly abruptly changed direction in his work at what many considered the height of his burgeoning, young career. For Leslie the change was not abrupt. It was a natural evolution for an artist who has always followed his own vision. Nonetheless, the change bewildered many in the art world, which could help explain the mystery of how one of the most brilliant and influential American artists of the past half century has also somehow managed to remain one of the least well known.
Artist, Soldier, Body Builder
Alfred Leslie will celebrate his 90th birthday in October of 2017. Born in New York City to Jewish immigrants from Germany, Leslie spent his youth developing dual interests. His first love was image making. He taught himself to take photographs and develop his own pictures at age 10, and soon afterward began making his own short films with a 16mm movie camera. Meanwhile, he was also actively training as a competitive gymnast. Although all of his interests were put on hold due to the outbreak of World War II, after serving in the US Coast Guard during the war Leslie moved right back to New York and resumed both of his favorite activities.
Using his GI Bill privileges, Leslie took art courses at multiple schools, including New York University and the Art Students League. And simultaneously taking advantage of his athletic physique, he managed to earn a modest living modeling for other artists. Through the combination of art school and art modeling, Leslie became embraced by many of the most interesting and influential artists of the Post-War New York scene. But he was younger than many of his friends, and unlike most of them he was not simply focused on one type of work, such as painting or sculpture. Leslie was a painter, but he was also a photographer and a filmmaker. While artists like Jackson Pollock and Willem de Kooning were exhibiting widely and making their names throughout the late 1940s, Leslie spent much of that time studying and making films, and did not have his first solo exhibition of his paintings until 1952.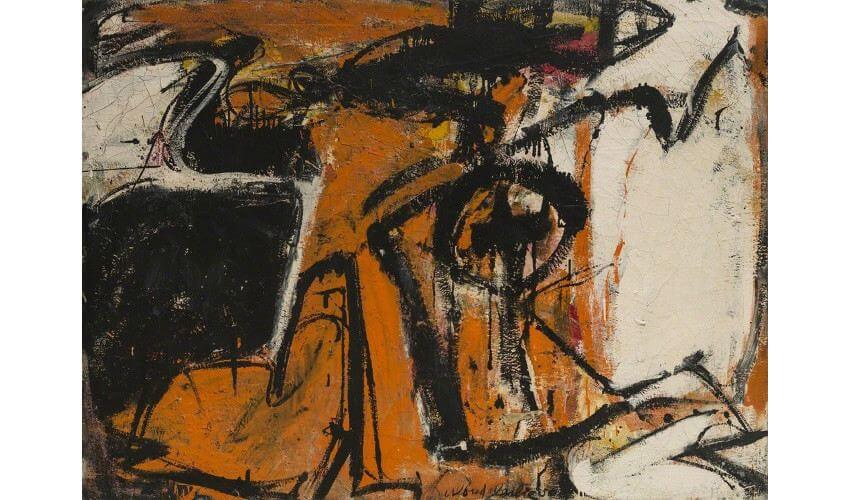 Alfred Leslie - Orange and Black, 1948-50, Oil on canvas, 48 x 65 in, image courtesy Hill Gallery, Birmingham, © Alfred Leslie
Early Exhibitions
The story of the first Alfred Leslie solo exhibition ranks easily as one of the oddest art world legends from the era. The exhibition was held at the illustrious Tibor de Nagy Gallery, which is credited with jumpstarting the careers of some of the most important artists of the mid-20th century, such as Helen Frankenthaler, Carl Andre and Kenneth Noland. The gallery itself had a funny backstory. It was founded by the poet John Myers and the banker Tibor de Nagy in 1950. It came about following the failure of the original business venture the two had entered into: the Tibor de Nagy Marionette Company. The policy of the Tibor de Nagy Gallery in its early years was to charge artists a fee for their first exhibition in order to cover marketing costs. In the case of Alfred Leslie, that meant he had to come up with $250 to fund his solo show.
Having no means to raise such a large amount of money, Leslie applied, and was accepted as a contestant on a TV game show called Strike it Rich. The premise of the show was that poor people could come on and tell the sad story of why they needed money, and then after answering a series of easy questions they would be awarded the money for which they asked. Alfred Leslie went on the show and told his story of being an artist struggling to pay for his first show and got his $250. He also received a large supply of Tide detergent, which the host of the show asked him what he would do with. On camera, Leslie said, "I'm going to eat it for breakfast every day." Aside from the comically unlikely nature of the whole story, the exhibition did indeed jumpstart his painting career. He had three more solo exhibitions in New York over the next five years, and in 1959 his work was included in the MoMA exhibition 16 Americans. The fifth in the series of "Americans" shows at MoMA, the show also introduced the combines of Robert Rauschenberg, the monochromatic black paintings of Frank Stella, and the flag and target paintings of Jasper Johns.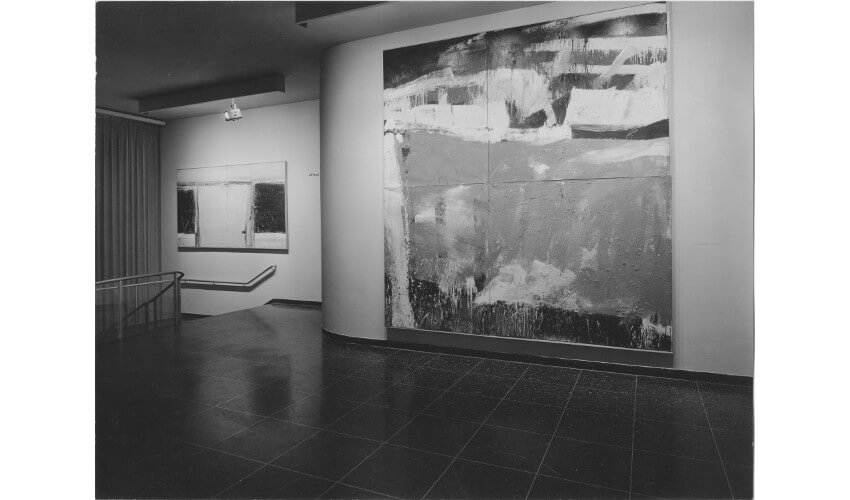 Alfred Leslie works on display at the 16 Americans exhibition at MoMA in New York, 1959, image courtesy of the Museum of Modern Art, New York, © Alfred Leslie
Back to Reality
In addition to the success he enjoyed as a key member of the second generation of Abstract Expressionists, throughout the 1950s and 60s Alfred Leslie also avidly pursued his interest in film. In 1959, he made one of the quintessential Beat movies, called Pull my Daisy, which starred Alan Ginsberg and featured narration by Jack Kerouac, and tells the true story of a wild night when a bunch of beatniks crash a dinner party with a pastor. And in 1964, Leslie collaborated with the poet Frank O'Hara on a film called The Last Clean Shirt, one of the final projects O'Hara completed before he was tragically hit by a jeep on a Long Island beach in 1966. The death of O'Hara was a terrible blow to Alfred Leslie. And later on that same year, Leslie suffered an additional loss when the building in which he and his family were living caught fire. The blaze, which killed a dozen firefighters, destroyed several other films on which Leslie and O'Hara had collaborated, and also destroyed a large number of works.
Four years before O'Hara died, Leslie had already begun creating figurative paintings using a technique called grisaille, which involves painting entirely in hues of gray. But the loss of O'Hara and the fire in 1966, as well as the death of his other dear friend, the sculptor David Smith, in a car accident in 1965, hardened his resolve to focus on creating figurative work. He embarked on his first major figurative series immediately after the accident on the beach, calling it The Killing Cycle. In the decades since, Leslie has continued to consistently create work that is somber, intense, serious and profound. But the so-called sudden change from abstraction for figuration people talk about in his work is really only a fabrication of the art market. Looking over the entirety of his oeuvre so far, it is evident that all of his work is part of a larger aesthetic position. His abstract paintings transcend their formality. His figurative works tell stories beyond their own narratives. His films embody both poetry and prose. When taken in its entirety, his oeuvre is not divided in parts. It is all informed by a common position of thoughtfulness, wit, poetry, somberness, and a desire to express whatever is universal within the now.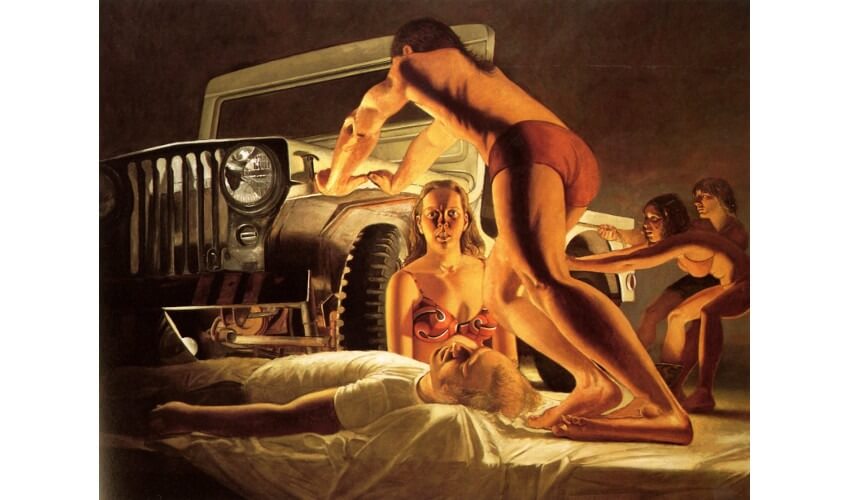 Alfred Leslie - The Accident (from The Killing Cycle), 1969-70, Oil on Canvas, 72 x 108 in, image © Alfred Leslie
Featured image: Alfred Leslie - Americans (detail), Youngstown, Ohio, Oil on canvas, image courtesy of Bruce Silverstein Gallery, New York, Alfred Leslie
All images used for illustrative purposes only
By Phillip Barcio