Blog Home
Portraits of the Best Abstract Artists: Sir Terry Frost
Nov 24, 2015
IdeelArt regularly publishes portraits of some of the best abstract artists. Today, we introduce you to the world of Sir Terry Frost, one of the key contributors to one of the most prominent abstract art movements in the United Kingdom: the St Ives School of Art. More commonly known as Sir Terry Frost, Terence Ernest Manitou Frost (1915-2003) was an English abstract painter. Born in Leamington Spa in the United Kingdom, he received his early education at Leamington Spa Central School, before leaving aged 15 to work in a cycle shop.
The War
Whilst serving his country in the Second World War, he was captured in Crete in 1941 and was held captive in Stalag 383 in Bavaria, where he met the painter Adrian Heath who recognised his artistic talent when he saw the portraits Frost was doing of fellow prisoners of war, and suggested that he should consider a career in art. His artistic career started relatively late, since he was already 32-years-old by the time the Second World War had ended and he could attend the Camberwell School of Art.
Saint Ives School of Art
He then went on to study at the St. Ives School of Art and remained in St. Ives to work as an assistant to the sculptor Barbara Hepworth, for her work entitled Contrapuntal Forms (1951) realised for the Festival of Britain. Here, he also made friends with Ben Nicholson, from who he learnt about cubism, before going to Paris to study with Roger Hilton, where he also met and made connections with Peter Lanyon and Patrick Heron.
Terry Frost, along with these aforementioned artists Ben Nicholson, Barbara Hepworth, Peter Lanyon, and Roger Hilton, was to later become associated with the artistic movement known as St. Ives Abstraction. The English painter Jeremy Annear, represented by IdeelArt, who was born in Exeter in 1949 and who currently lives on the Lizard Peninsula in Cornwall, was from an early age exposed to the works of these artists associated with St. Ives Abstraction, and they had a strong influence on his early artworks, particularly those realised during his teenage years.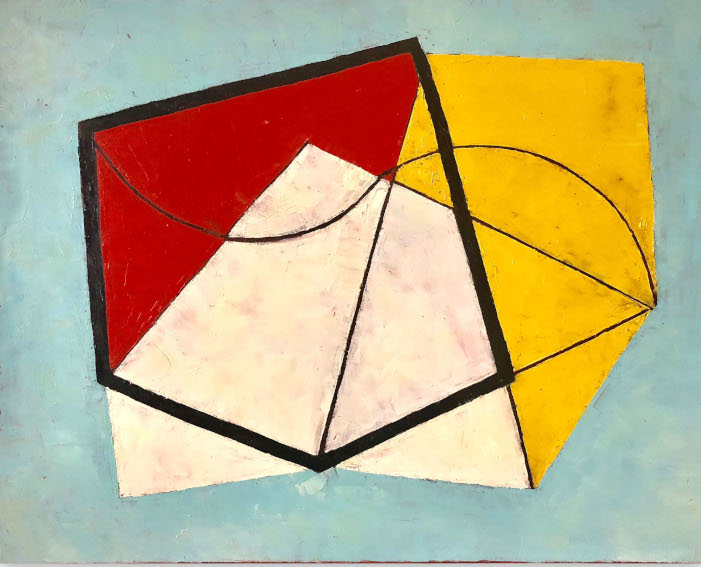 Jeremy Annear - Jazz-Line, 2016. Oil on canvas. 80 x 100 cm.
Freedom of Abstraction
Frost had his first solo exhibition in London at Leicester Galleries in 1952, and in New York at Bertha Schaefer Gallery in 1960. Despite being defined by others as an abstract artist, Frost was never programmatic about belonging to this movement and adopted its style for his work because he liked the freedom of artistic expression that it offered. His abstract paintings realised in the late 1950s and early 1960s involved a fluid application of oil paint mixed with turpentine, a technique that he had learnt from Victor Pasmore, and these works were reminiscent of the impressionist style.
Frost moved with his wife Kathleen Clarke to St. Ives in 1950 (where his five sons and one daughter were born), and the shapes characteristic of his paintings realised here were influenced by aspects of his environment such as the boats in the harbour, the fishermen's floats, waves breaking on the shore, and the buoys bobbing on the surface of the water.
"Terry Frost's contribution to life and art in Cornwall was immense. His distillation of its environment in his art fused with his personal engagement with the communities of west Cornwall to ensure that he will long be remembered there," according to Michael Tooby, former founding curator of the St. Ives Tate, an institution to which Frost regularly contributed by participating in numerous exhibitions and projects there. Frost's later works realised towards the end of the 1960s are slightly different in tone, as his brush strokes display a greater amount of freedom in these paintings, and his usual palette of blacks, greens, and nudes gradually became interspersed with brighter white colours.
Royal Academy
For Frost, teaching was an equally important part of his artistic career as painting, and this was reflected in his successful academic career, which included teaching at the Bath Academy of Art (1952), the Leeds School of Art (1954-6), the Leeds College of Art (1956-9), and the University of Leeds, as well as being an artist in residence and professor of painting at the University of Reading. He was elected Royal Academician in 1992 and received a knighthood in 1998.
Featured image: Sir Terry Frost - Green Below, 2003. 37 x 161.2 cm. Acrylic paint, collage on canvas. © The estate of Sir Terry Frost.
All images used for illustrative purposes only