Blog Home
Combining the Abstract and the Figurative - Art of Albert Oehlen
Jan 31, 2017
At first glance many of the paintings of Albert Oehlen look complicated, like the visual equivalent of noise. They combine figurative elements with elements that are purely abstract. They incorporate a wide-ranging and ever-evolving assortment of processes, materials and techniques. When we focus on those disparate elements, the compositions can seem disjointed at times, and inharmonious. But when considered from a wider viewpoint, not as final visual statements but as triggers for a deeper aesthetic response, a sense of harmony in his paintings emerges. Oehlen was a student of Sigmar Polke, a German painter, photographer and professor who challenged the boundaries between figuration and abstraction. And he is a former housemate of Martin Kippenberger, a German-born multi-media artist also known for exploring how the objective world intersects with the abstract. And he is also a long-time friend of Christopher Wool, a painter who combines bold text-based messages with abstraction in ways that create hard lines between the two, while simultaneously suggesting they are the same. In the way it combines figuration and abstraction, the body of work Oehlen has created shares a clear legacy with that of all three of these other artists. But it shares one other important, less obvious similarity as well: it is simpler than it looks.
The Evolution of Albert Oehlen
Albert Oehlen was born in 1954 in Krefeld, Germany, northwest of Düsseldorf. He was raised in an artistic family. Ohlen's father was an artist, and his brother Markus, two years his junior, has become an accomplished abstract pop artist as well working in the mediums of painting and sculpture. Albert has said that he always knew he would become an artist, as though it was just something he took for granted. But the choice to focus on painting, and especially abstract painting, was something that came to him gradually over time.
Oehlen finished his degree at the University of Fine Arts in Hamburg in 1978. After school he experimented with various forms of expression, including music. But it was after moving from Germany to Spain, where he found himself sharing a home with Martin Kippenberger, that he found his voice as an abstract painter. In an interview with Interview Magazine in 2009, Oehlen says that he seized that opportunity to transform his approach to art. "I wanted to start something new that I was dreaming of for a long time, which was abstract painting," Oehlen said, "and I took the chance to start it there [in Spain], which was very good because we were very isolated. It was Martin and I alone in that house, so you could do your failures and see how the other one reacts."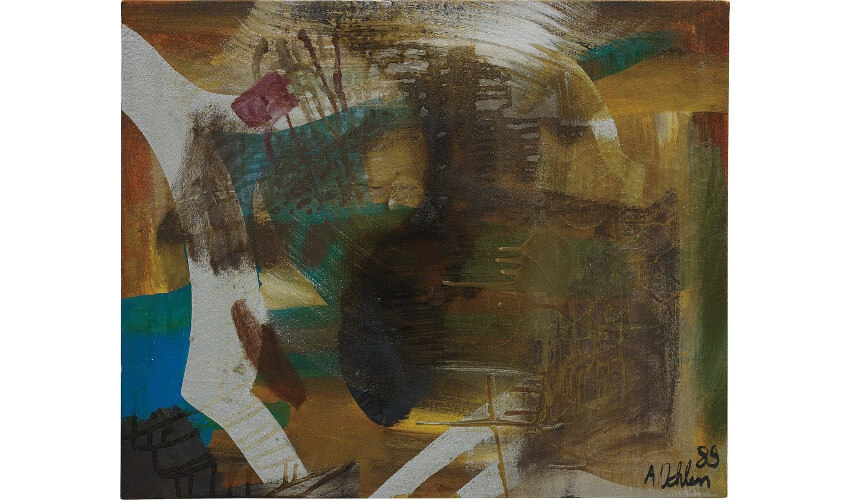 Albert Oehlen - Untitled, 1989. Oil and resin on canvas. 23 4/5 × 28 9/10 in. 60.4 × 73.5 cm. © Albert Oehlen
The Unpredictability of Painting
Having free reign to experiment and fail instilled in Oehlen the importance of insecurity in his art. There is an inherent excitement in not knowing how something is going to turn out. There is a living force that drives an artist toward manifesting the unknown, or the unimagined. But a potential drawback to the complete freedom to experiment is that it can be paralyzing. Where does one start if one has no idea where one is going? In order to give himself enough structure to remain focused while also enjoying the freedom to experiment, Oehlen began inventing simple rules for himself in the studio.
These arbitrary rules have no purpose other than to challenge him in his process, to create unpredictability and strife. He sometimes limits his pieces to a single hue. Other times he gives himself the limitation to simply go slower. One of Ohlen's favorite arbitrary rules, one he used to share with his students when teaching at the Kunstakademie Düsseldorf, was, "Change the material. Because a lot of decisions you're not aware of. It starts when you'll go shopping for art supplies. You make decisions, and they're always the same, like the kind of brushes you buy. And if you're forced to change something, it gives an insecurity to the work that is very helpful. It makes you find out what you really need."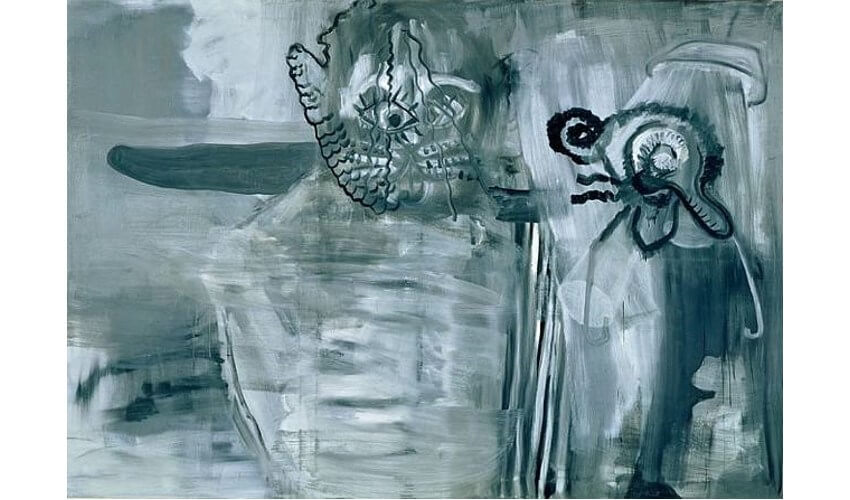 Albert Oehlen - Titanium Cat with Laboratory tested Animal, 1999. Oil on Canvas. © Albert Oehlen
Nothing is Ugly
Throughout decades of experimenting and setting arbitrary limits on himself Oehlen has come to a funny realization. Because of the unique physical qualities works possess there is little anyone can do to cause a painting to be ugly. There was a time when the idea of bad painting was on the mind of a lot of curators and artists, including Oehlen. Various definitions of bad painting were considered. Some believed it had to do with the process. Others believed it was fundamental to the composition, or the aesthetic qualities of a work.
Oehlen worked hard at the notion of making bad paintings the same way a musician might make a song that is impossible to listen to. But he discovered that someone could consider every painting beautiful, because humans simply have a visceral attraction to the inherent beauty of paint on a surface. No matter what the subject matter, no matter what the skill level of the artist, no matter what the composition and no matter what the process, an argument can be made that no painting is bad, because something good can be found in it if we are just willing to look.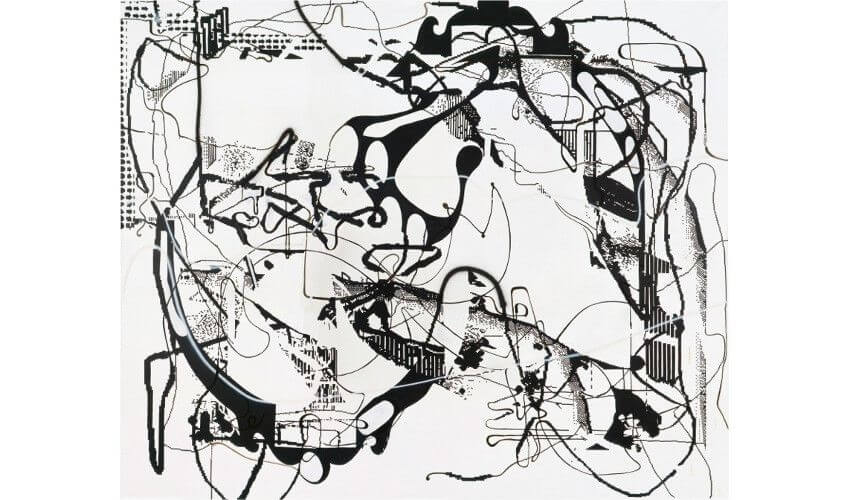 Albert Oehlen - Untitled, 2005. Acrylic and oil on canvas. © Albert Oehlen
Visual Triggers
The mature work Albert Oehlen creates today reflects the mindset of a painter who simply loves to engage in his work. He is diverse in his selection of materials and techniques, giving himself opportunities to grow and evolve. He sometimes makes collages and then paints on top of them, using for the collage materials a mixture of trashy billboard advertisements and inkjet printouts. He sometimes uses spray paint, sometimes uses oils, sometimes smudges the paint cross the surface in a blur. The joy for him as the artist clearly comes from the right mix of experimentation and rules, or in other words, the process.
For viewers, it may be easy to become confused by the myriad layers, styles and references in Oehlen's artworks. But as we mentioned earlier, by simplifying the way we look at them we can come closer to understanding their value. The way to simplify them is to see them not as pieces that contain meaning to be unraveled, but to look at them instead as visual triggers. Step back and look at them as the revelation of a process, and let them trigger an emotion, or a thought. The figurative imagery, the text, the colors, the markings, or the physical remnants of our culture together add up to a feeling, one that is mostly up to us. The picture is not the end of the story. If it were, it would indeed be confusing. But it is only the beginning.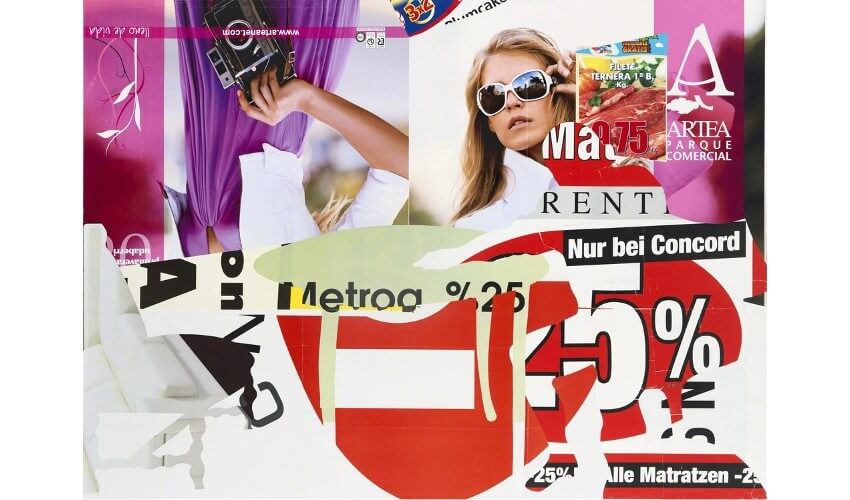 Albert Oehlen - I 28, 2011. Paper collage on canvas. © Albert Oehlen
Smooth Down the Noise
Visually, the works of Albert Oehlen have been lumped in with various art movements, such as Neo-Expressionism and Neue Wilde. The Neo-Expressionists were integral to the reintroduction of figuration in the wake of movements like Abstract Expressionism, Minimalism and Conceptual Art. The Neue Wilde, or wild youth, combined abstract and figurative imagery with vivid colors and emotive brushstrokes. At first glance Ohlen's works often do seem to contain both elements. But Oehlen has also gained another nickname: the free radical. That name is thanks to Oehlen's insistence that he is part of no movement, and that each of his works should be considered separately and according to its own aesthetic proposition.
What exactly Oehlen's propositions entail is an open-ended conversation, one that not even Oehlen is fully able to explain. All that is obvious is that he has gradually elaborated on a unique aesthetic vision, one that continues to evolve. He uses whatever visual tools are at his disposal to create something that will generate a feeling inside viewers. It is all beautiful and all good, at least in some of our minds. People can say the like it or they do not like it. So what? It cannot be understood by factual analysis. All we can say for certain is that the noise of labels and judgment and aesthetic critique really just gets in the way of his work. Like the myriad elements that Oehlen combines in his works, it is all noise. Through his unpredictable and open-minded process, Oehlen is simply trying to create good paintings. He is taking the complicated elements of the visual atmosphere and smoothing them down. The more we can simplify how we look at his work, the simpler it becomes, and the easier it is to see it as beautiful.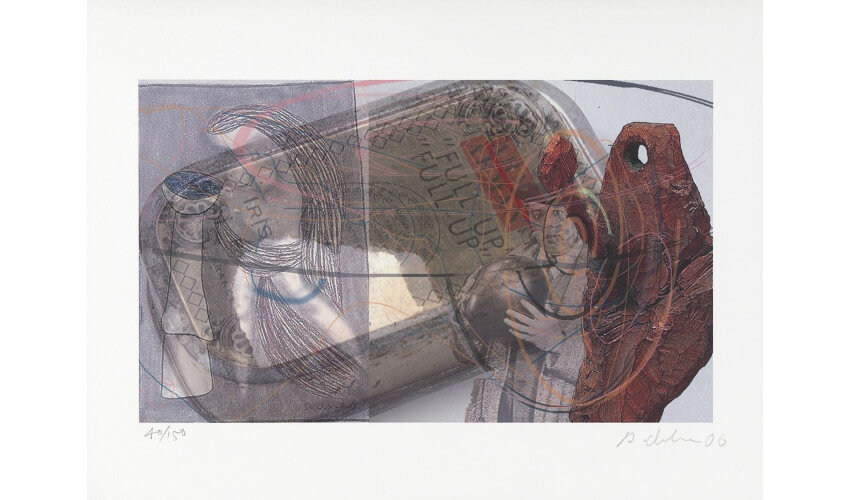 Albert Oehlen - Aus Dem Nachlass, 2007. Lithographic print on Somerset Epson. © Albert Oehlen
Featured image: Albert Oehlen - Untitled (detail), 1993. Oil on canvas. © Albert Oehlen
All images used for illustrative purposes only
By Phillip Barcio