Blog Home
Abstraction at Art Miami 2015 - By IdeelArt
Dec 3, 2015
It's art week once again in Miami. The world's most esteemed artists, dealers, curators and of course collectors have descended on the city to soak in the warm, moist air and the effortlessly chic Miami now-ness. Even as so many pundits and commentators seem to be enjoying decreeing that the art fair scene is in decline, numbers in Miami continue to inspire confidence. The enthusiasm, youthfulness and forward thinking evident in this year's Miami art week are undeniable. According to numbers compiled by Skate's Art Market Research, Art Miami is second most attended art fair in the world, with 82,500 attendees in 2014. Only Arco Madrid, which had 92,000 attendees, pulls in more traffic. To put those numbers in context, the Armory show pulled in 65,000 visitors in 2014 and last year's Art Basel garnered 74,567.
Art Miami Is Hotter Than Ever
What's astonishing, and frankly exhilarating, about Art Miami is the number of satellite art fairs, pop-up galleries, conceptual art experiences, site-specific installations, and performances it has attracted to the city for this year's art week. It's hard to remember that there was a time not long ago when Art Miami was the only game in town. Today, a staggering number of attractions are scheduled to occur concurrent with Art Miami. Visitors can take their pick from Design Miami, a showcase of eye-catching and inspiring contemporary design work; Art Miami's Context show which showcases emergent artists worthy of extra attention; Tiger Strikes Asteroid's Satellite Art Show, which focuses on independent, non-commercial curatorial approaches; NADA, or the New Art Dealer's Alliance, which engages emerging methods of art curating and dealing; and visitors can even take their turn on a giant, kaleidoscopic roller rink on the beach.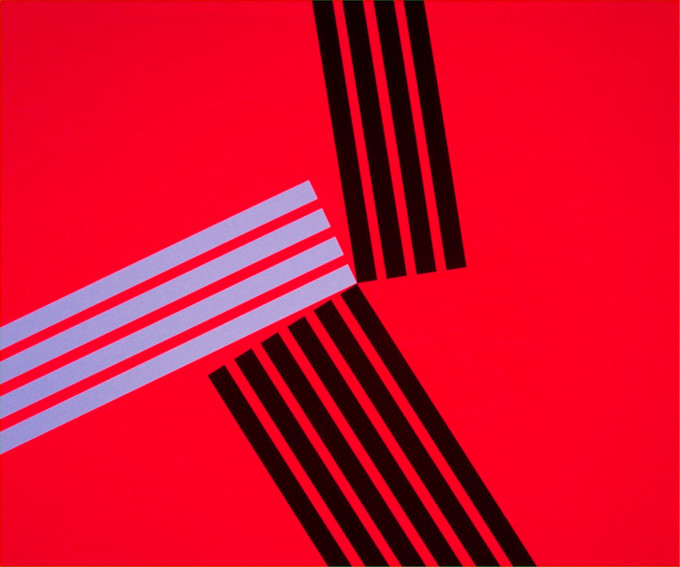 Richard Caldicott - Untitled (15), 2013, 2013. C print. 50.8 x 61 cm.
Momentum toward Abstraction at Art Miami
Much of the work in the catalogue of this year's Art Miami is confidently conceptual and steeped firmly in the now, including groundbreaking sound installations and thought provoking performance pieces. But there is also a tremendous momentum toward a reexamination of the various forms surrounding abstraction. A heavy minimalist vibe permeates the show. Color fields abound, as do works in light, gestural paintings, monochromes and a celebratory assortment of contemporary crossover expressions that beautifully defy simple categorization.
Several galleries are exhibiting abstract works from the greats. Allan Stone Projects from New York is exhibiting Willem de Kooning's "Spring Landscape" from 1966. James Brooks's "U" from 1952 is presented by Berry Campbell Gallery, also from New York. The great American Abstract Expressionist and gestural master Norman Bluhm's work is represented by two galleries at Art Miami. Connersmith Gallery from Washington, DC, will show Bluhm's painting "Citrus," from 1959, and his "Fifth Season," from 1955-56, will be presented by Hollis Taggart Galleries from New York.
Several of today's most interesting contemporary abstract painters are also making a strong showing at Art Miami 2015. Federico Herrero's "Atenas" from 2008 will be exhibited by Bridgette Mayer Gallery from Philadelphia. And KM Fine Arts from Chicago will be showing Erik Brumetti's "Monolithic Eleventh Street Fundamental (I)," a stunning metal-scape made this year.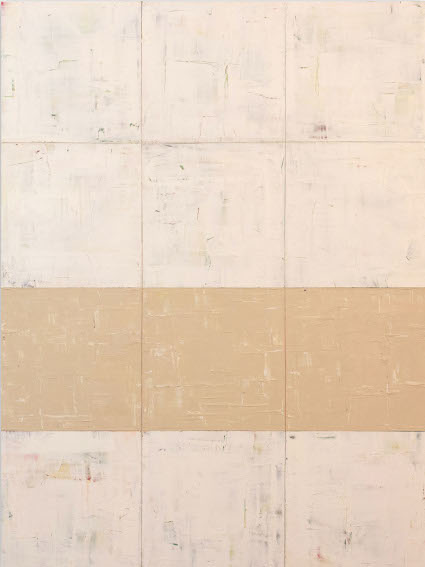 Matthew Langley - Opened Expanse, 2013. Oil on canvas. 101.6 x 76.2 cm.
Art Miami Picks - Abstract Artists Richard Caldicott and Matthew Langley
Perhaps most noteworthy among abstractionists who have work on display this year are two prolific, contemporary minimalists. In booth D2 at Art Miami, work by the artist Richard Caldicott will be exhibited by Sous Les Etoiles Gallery from New York. Caldicott, represented online by IdeelArt, currently lives and works in London, England. Usually acknowledged for his meticulous photographs of Tupperware, he also works with a variety of other media, creating new minimalist expressions that effortlessly seem to bridge the gap between past and present. His vibrant abstract explorations using paper, ink and tape produce works that evoke a profoundly modern interplay of form, light, color and space.
The other contemporary minimalist to pay special attention to this year is the painter Matthew Langley who is joining IdeelArt. Langley's work will be exhibited this week at Context Art Miami. His work is bold and confident almost to the point of becoming confrontational and yet maintains a certain serene calmness, perhaps owing to its roots in minimalist history. Langley's use of repetitive lines, shapes and textures reveal a connection to the fundamentals of abstract expressionism, while his unruly palette and primal gestures simultaneously reject formalism. Langley's work will be exhibited by the gallery Blank Space from New York.
Featured image: Richard Caldicott - Untitled 110/3, 1999. C print. 35.5 x 27.9 cm.