Blog Home
A Century-Long History of Abstract Hanging Sculpture
Jul 13, 2018
One of the happy outgrowths of the recent boom in international art fairs is the coinciding boom in concurrent museum and gallery exhibitions geared towards attracting the attention of fair visitors. This fall, a particularly noteworthy exhibition of abstract hanging sculpture will occupy dual spaces in London and Paris, and be timed to coincide with the main autumn contemporary fine art fair in each city. Curated by Matthieu Poirier, the exhibition is titled Suspension – A History of Abstract Hanging Sculpture. 1918–2018. It will trace a broad history of this singular aesthetic tendency, and will open in London during Frieze, and in Paris during the Foire Internationale d'Art Contemporain (FIAC). Each location will highlight a specially curated selection of rarely seen hanging sculptures by many of the most important artists of the past century. Included will be works by pioneers like Man Ray and Marcel Duchamp, intellectual luminaries like Alexander Calder and Jesús Rafael Soto, as well as contemporary innovators like Tomás Saraceno and Xavier Veilhan. All told, the two exhibitions will showcase 50 works, and will bring to light the accomplishments of more than 30 artists. In addition to the pure pleasure of seeing so many abstract hanging sculptures exhibited together, this dual exhibition offers another intriguing angle: by occupying two separate spaces in two different countries, it presents a unique opportunity not only to consider the peculiarities of the genre, but to contemplate the various ways in which abstract art is capable of interacting with the various architectural conditions in which it is placed.
Palais d'Iéna
The Paris section of Suspension will be exhibited in a space that is among the most spectacular environments imaginable for a hanging sculpture exhibition: The Palais d'Iéna. This historic structure, which is located in the 16th arrondissement and headquarters the International Chamber of Commerce, was designed in the 1930s by the French architect Auguste Perret. In addition to designing the first Art Deco building in Paris, Perret was one of the earliest architects in Europe to specialize in the use of re-enforced concrete. The interior of the Palais makes full use of the material, boasting a breathtaking, double horseshoe suspended staircase, and a vast, open, two-story tall hallway with floor to ceiling windows. The building has been utilized many times before to house art installations. In fact, it was recently the site of a monumental installation titled "A Floating Being," by the Venezuelan artist Carlos Cruz-Diez.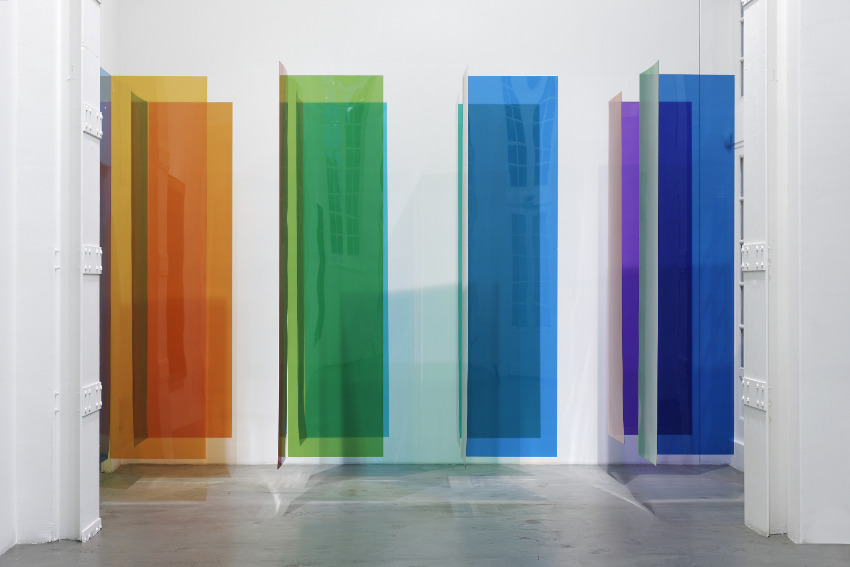 Carlos Cruz-Diez - Environnement de Transchromie, 1969, Polycarbonate, Dimensions variable, Courtesy of Aurelien Mole
A work by Cruz-Diez will also, in fact, be included in Suspension. Along with it, the Palais d'Iéna will be brought to life by works by 32 other of the most extraordinary artists of the past century, including Louise Bourgeois, Alexander Calder, Marcel Duchamp, Gego, Yves Klein, Julio Le Parc, Sol LeWitt, Man Ray, François Morellet, Robert Morris, Hélio Oiticica, Alexander Rodchenko, Monika Sosnowska, Jesús Rafael Soto, Jean Tinguely, and Georges Vantongerloo. A canopy of cables stretching across the ceiling will suspend the works. Some pieces will hang in an intentionally static state. Others will become mobile, giving in to the constant fluctuations in air movement that are a regular part of this busy environment. What is unclear is how this amazing assortment of works will collaborate with this grandiose building. Will each work hold its own? Or will the columns, windows and double dome exert too much influence for the sculptures to express their individual concerns. All that is certain is that placing so many suspended abstract sculptures in such an environment at one time is certain to raise new questions about how art and humans interact with the visual aspects of the upper interior atmosphere.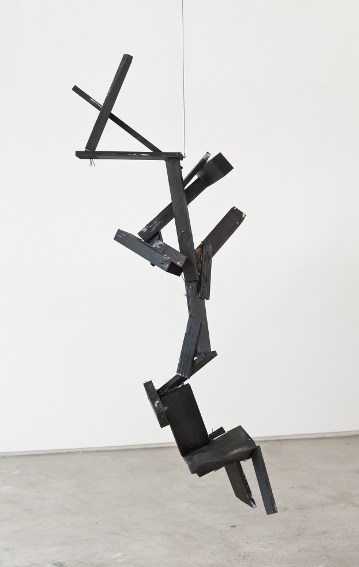 Joel Shapiro - Untitled, 2014, Wood and casein, 42 x 30 x 15 in. (106.7 x 50.8 x 35.6 cm), 2018, Joel Shapiro, Artists Rights Society (ARS), Courtesy of New York Photo Josh Nefsky
Olivier Malingue, London
Far less grandiose than its Parisian cousin, the London section of Suspension is designed to be the more intimate of the two exhibits. It will be hosted by the Olivier Malingue gallery, and will feature works by 13 artists: Alexander Calder, Yves Klein, Artur Lescher, Man Ray, François Morellet, Bruno Munari, Ernesto Neto, Alexander Rodchenko, Tomás Saraceno, Joel Shapiro, Jesús Rafael Soto, Takis and Xavier Veilhan. The gallery space itself could not be more different than the Palais d'Iéna. It is modern and linear, with dark, polished concrete floors, atmospheric lighting, and dimensional, geometric ceilings. The space does not at first seem ideal for a hanging sculpture exhibition. It seems more ideal for showcasing works that use either the wall or the floor for support. It is even quite easy to see how in a relatively confined environment such as this, so many hanging works might find themselves cramped and ineffectual. After all, a hanging sculpture is usually designed to be seen from all angles, and to interact freely with light and air.
3D model of an exhibition view of Suspension at the Palais d'Iéna, Courtesy of Stéphane Deline
Yet the whole concept that motivated artists like Calder, Man Ray, Rodchenko and Soto was that their work should be able to transcend limitations—not just limitations of how art is displayed, but also limitations of aesthetics, and limitations of thought. If managed with the proper care, the Olivier Malingue space holds the potential to offer a contemplative, understated viewing opportunity, quite different than that which will be offered by the Palais d'Iéna. Regardless, both exhibitions offer unique viewpoints on the activation of space. Overall, this unusual dual exhibit presents a chance to see important works that are rarely exhibited together, and to consider a subcategory of abstraction that truly changed the way artists thought about the way their work could interact with its surroundings. Suspension – A History of Abstract Hanging Sculpture. 1918–2018 will run from 1 October through 15 December 2018 at Olivier Malingue gallery London, and from 16 to 28 October at the Palais d'Iéna, Paris. In conjunction with both exhibitions, Olivier Malingue will also present a preview of the accompanying book by the curator, also titled Suspension, scheduled for publication in November 2018.
Featured image: Joel Shapiro - Exhibition views at the Nasher Sculpture Center in 2016
By Phillip Barcio