Blog Home
Semiabstractions with a Soul - The Legacy of Zarina Hashmi
May 13, 2020
Indian-American artist Zarina Hashmi, who preferred to simply be called Zarina, has died at age 82. Zarina has been described as a semi-abstract artist, a label that suggests the liminal zone her works inhabit between figuration and abstraction. Working only in black and white, she populated her artworks with sparse, minimal images of maps, words, symbols and other fragments of the recognizable world. These figurative elements were not intended to replicate reality. Instead, in her compositions, actual things and places are presented in a sparse way and isolated in illusionary space, becoming uncanny reminders of the ethereal nature of life, and serving as abstract triggers capable of evoking feelings and memories. Because of the formal visual qualities of her work, Zarina is sometimes compared to Minimalist artists like Agnes Martin and Sol LeWitt. There are, however, differences between her intentions and the intentions of these other artists. For Zarina, her studio practice was as much a spiritual exercise as an aesthetic one. Her work was meant to remind viewers that there is more to life than what is apparent to our senses. Zarina knew the internal aspects of our human experiences define us. By showing us only bits and pieces of the recognizable world, she endowed us with the right and responsibility to reassigned these fragments of reality with personal meaning. One of her most famous works—a series of 36 prints titled Home is a Foreign Place (1999)—strikes at the heart of this idea. Each print includes an Urdu word evocative of "home" written in calligraphy, along with an abstracted image that relates to the meaning of the word. Even if you cannot read the Urdu word, the abstracted image invites you to interpret it from a personal perspective. You do not have to know what it says in order to instinctively assign it meaning. Both descriptive and highly subjective at the same time, the work poetically expresses the unclear nature of even our most basic and universal concepts.
Calligraphic Influences
Zarina commonly included calligraphic writing in her work, mostly written in Urdu, her native language. In one series, titled Letters from Home (2004), she made eight prints of letters her sister wrote to her over a period of time. The letters describe devastatingly painful life events, such as the loss of her family home because of the forced relocation of her parents, who were Muslim, in the wake of the partition of India and Pakistan. On top of the letters, Zarina overlaid maps, floor plans, and other abstracted images suggestive of home. Even to a viewer who cannot read the words, the series suggests an almost painful feeling of nostalgia. At the same time, something hopeful and constructive seems to emerge from the work, as though the artist has constructed something of a time capsule, or a solidified memory, that can be taken anywhere, and opened whenever the memory of home is needed.
In both this series and Home is a Foreign Place, the Urdu text transcends its utilitarian function. Without even reading the words, we can appreciate the careful gestures and realize that whoever wrote these words was careful and practiced at the art of writing. Seeing this text intermingling with the lines of a map, the shape of a house, or a floor plan—all drawn in the same black ink—makes all of the elements seem more curious. In addition to conveying specific ideas to those who can read it, the letters and words become formal abstract elements, and even decoration. These images teach us that words do not only convey thought, they convey feeling; maps do not only show places, they show history and culture; floor plans do not only contain space, they contain dreams, memories, and aspirations. By reducing, abstracting and combining these elements in her compositions, Zarina created symbolic new forms capable of overcoming the futility of both words and pictures. She showed us how a word and a drawing are both aspirational attempts to make something immaterial become material.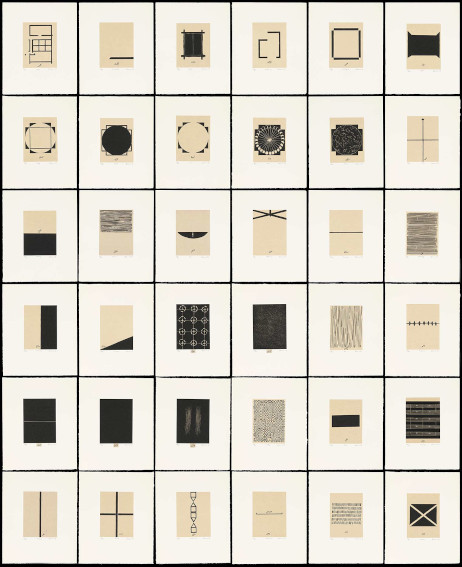 Zarina Hashmi - Home is a Foreign Place, 1999. Portfolio of 36 woodcut chine collé with Urdu text printed on paper and mounted on paper. frontispiece: 11 × 8 1/2 in. (27.9 × 21.6 cm); image: 8 × 6 in. (20.3 × 15.2 cm); sheet: 16 1/8 × 13 1/8 in. (41 × 33.3 cm); box: 17 1/2 × 14 1/2 × 1 3/4 in. (44.5 × 36.8 × 4.4 cm). The Metropolitan Museum of Art Collection. Purchase, The George Economou Collection Gift, 2013. © Zarina Hashmi
Intertextual Layers
In addition to calligraphy, Zarina frequently included geometric forms and architectural elements in her work. She deployed these elements both as aesthetic devices and as contemplative triggers. Her work Tears of the Sea (2011) features 99 rectangular forms laid out in a grid. Adhered to each rectangle is either one, three or five freshwater pearls. The pearls seem to fall like teardrops down the front of the composition. The image is unmistakably related to the Modernist grid, and mimics everything from an architectural drawing for a Corbusier mid-rise to a site plan for urban expansion. Yet, I cannot help but relate these forms to the swarms of refugee boats crossing the sea every day from Africa and the Middle East to Europe. Fewer and fewer pearls occupy the rectangles as the composition reaches its conclusion, bringing to mind the lives lost on the refugee journey. These, for me, are like tears of the sea.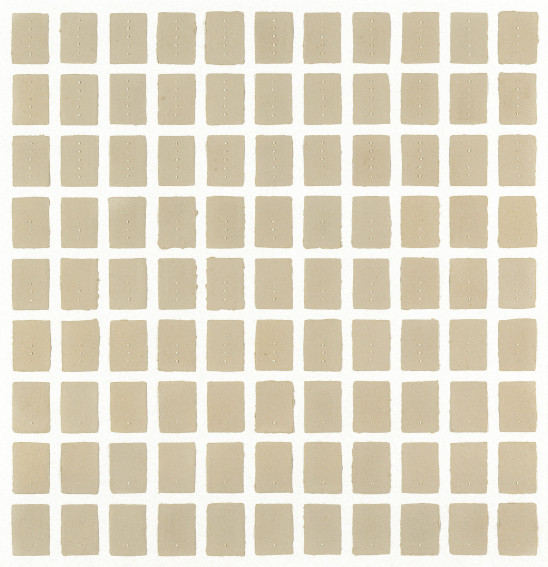 Zarina Hashmi - Tears of the Sea, 2011. Freshwater pearls on handmade paper laid on board. 5 ¾ x 4 ¼ in. (13.5 x 10.4 cm.) each. 71 ¾ x 69 ¼ in. (181.1 x 175.5 cm.) overall. © Zarina Hashmi


One of the most memorable developments Zarina achieved in her work was the technique she invented for the sculptural casting of paper, and idea she had after watching how paper was made in a factory. Rather than her usual method of carving lines and words into a surface and then printing the image, this method allowed her to endow her delicate, ephemeral material with amplified texture and bulk. Her extraordinary cast paper sculptures are elegant and organic while exuding the visual qualities of metal or stone. Zarina once said she hated to call herself an artist, and that she preferred the word teacher. In an unambiguous way, these paper castings teach us something profound: that it is our expectations alone that limit us. Zarina demonstrated how transcendent beauty can be achieved when we let go of our expectations, expand our definition of home, and open up to the possibilities of the unknown.
Featured image: Zarina Hashmi - Hot-Breeze from Home Is a Foreign Place, 1999. One from a portfolio of thirty-six woodcuts with letterpress additions, mounted on paper. 8 x 6" (20.3 x 15.2 cm); sheet: 16 x 13" (40.7 x 33 cm). © Zarina Hashmi
All images used for illustrative purposes only
By Phillip Barcio