Blog Home
When William Klein Turned to Abstraction in Photography
Mar 17, 2017
William Klein is considered one of the most influential photographers of the past century. His reputation comes largely from his work as a street photographer, a genre he all but invented in the 1950s with the release of his first photo book, New York. To capture the stunning images he took for that book, Klein skulked the streets of New York City rapidly and rabidly taking up close photos of strangers with a wide-angle lens. What he got was a collection of raw, gritty, blurred, intensely emotional portraits of humanity that portrayed a side of America never before seen on film. Following the success of New York, Klein photographed other cities, such as Paris, Tokyo and Rome, in each case capturing something about the people and place that was essential, but previously hidden from the public eye. In his late 80s now, Klein is still active. He is internationally known for his innovative fashion photography, his provocative and often controversial films, and his witty, plainspoken critiques of humankind. But before he did any of these things, before he even took his first street photograph, William Klein was an abstract artist first. He studied abstract painting under the great Fernand Léger, and held two successful solo exhibitions of his abstract work in Milan. The studies he made in his early abstract paintings and photographs point to an artistic eye drawn to bold lines, dramatic contrasts, geometric patterns, and the marriage of harmony and chaos, elements that later defined the aesthetic that made his fashion, documentary, and street photography stand out.
William Klein vs. New York
William Klein was raised in Depression-era America. He was born into a poor family in New York City in 1928. Eager to escape his surroundings he excelled in his studies, graduating high school early and entering college at only 14 years of age. At age 17 he enrolled in the US Army and was sent to Germany to serve. When his Army service was completed, he had no desire to move back to New York. He had a low opinion of the people and the place. So rather than return to America, he moved to Paris. He wanted to be an artist, and considered Paris the center of the art world. He later said he imagined he would simply stroll through cafés and meet the greats, as he said, "patting Picasso on the back."
As unlikely as that dream may sound, something quite similar came true for Klein. In 1948, using his US Army benefits, he enrolled in art classes at the Sorbonne. There, he learned from the best teachers and met other ambitious art students. His talent even earned him the great fortune to be accepted as a studio assistant and student of Fernand Léger. Klein recalls his time with Léger as being enormously influential. He describes him as a brilliant, multi-disciplinary visionary. In particular, Klein recalls that Léger used to Klein him and the other assistants that they were preoccupied with the wrong things, such as gallery representation, money and fame. He told them to study instead what artists had done in the quattrocento, or 15th Century, at the start of the Renaissance.

Sandro Botticelli's 15th Century Annunciation (left) and an abstract still life by William Klein, ca. 1949, © William Klein, courtesy HackelBury Fine Art (right)
Black and White Lines
Klein realized that as a leading Modernist and famous abstract artist, Léger surely was not telling his students to copy Renaissance subject matter. Rather, Klein had the vision to see what else about quattrocento art could inspire his modern sensibilities, such as bold lines, geometric compositions, and stark gradations of shadow and light. Klein was successful at translating those formal concerns into his abstract paintings, and the work he made met with positive critical appeal. But Klein nonetheless soon became bored with what he called, "the ABCs of abstract painting from that period in Paris."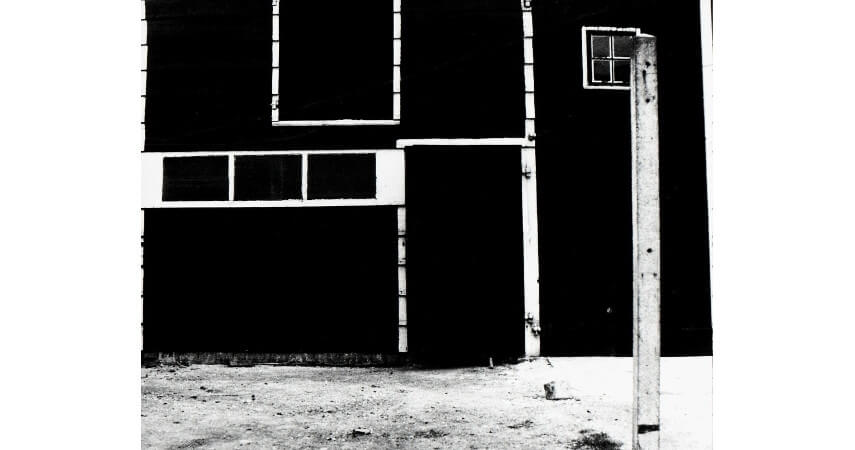 William Klein - Black barn plus White Lines, 1949, © William Klein, courtesy HackelBury Fine Art
Photography, he discovered, was one way out of the ABCs. Klein had no photographic training whatsoever, but earlier in his life he had won a camera in a poker game. He began experimenting with what the camera might allow him to do. He took blurred images of his paintings then experimented with the negatives in the darkroom. In an interview with Rachel Small in Interview Magazine in 2013, Klein recalled this time of experimentation: "It was another kind of work with forms. I discovered that I could do whatever I wanted with a negative in a darkroom and an enlarger. I said, 'Hey, I can say what I want about life around me,' which I couldn't with these geometrical paintings."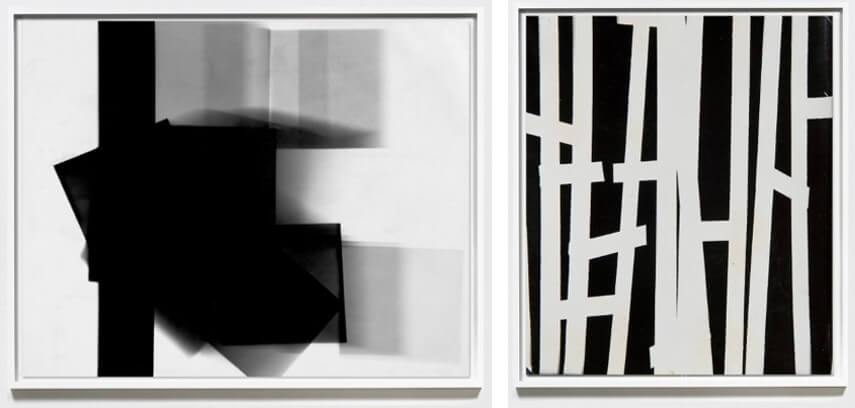 Two abstract photographic prints by William Klein, ca 1952, © William Klein, courtesy HackelBury Fine Art
High Contrast
In addition to his darkroom experiments, Klein also ventured into the outside world in search of abstract photographic content. He found a particularly fascinating subject on the Dutch island of Walcheren, where a number of artists had lived, including, most famously, Piet Mondrian. Klein took one of his most famous abstract photographs on Walcheren, of a barn. He made opposing high contrast prints of the barn photo, demonstrating the potential range he could achieve by manipulating exposure in the darkroom. He called one of the photos Barn on Walcheren Island (where Mondrian lived), drawing whimsical attention to the abstract visual language captured in the photo, identical to that for which Piet Mondrian was famous.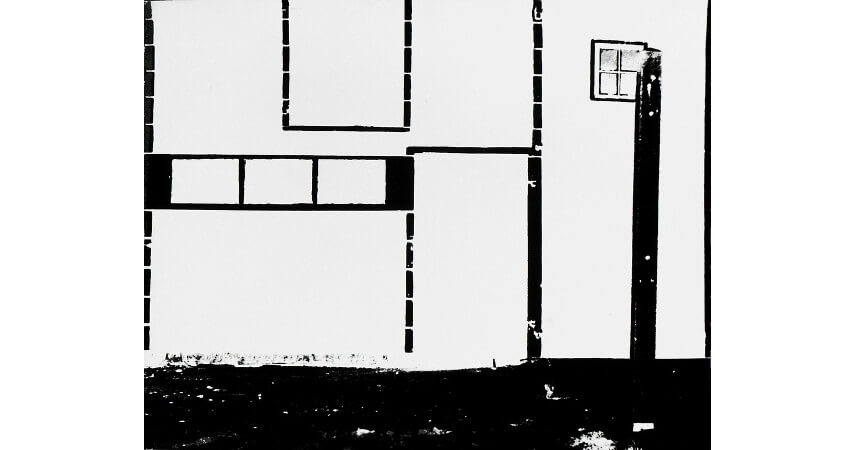 William Klein - Barn on Walcheren Island (where Mondrian lived), 1949, © William Klein, courtesy HackelBury Fine Art
The next breakthrough for Klein came when he was offered his first commission, which was to transfer the imagery from one of his paintings onto a series of movable wall panels for an interior designer. After painting the panels, Klein attempted to photograph them, but, as he said, "the light wasn't very good so the exposure was long." Then he had the idea to move the panels while the aperture was open on the camera. He enlisted his wife, Jeanne Florin, to turn the panels. "The geometrical forms in the paintings blurred," Klein said. "I realized that this blur was adding something to painting. I thought well this is something new."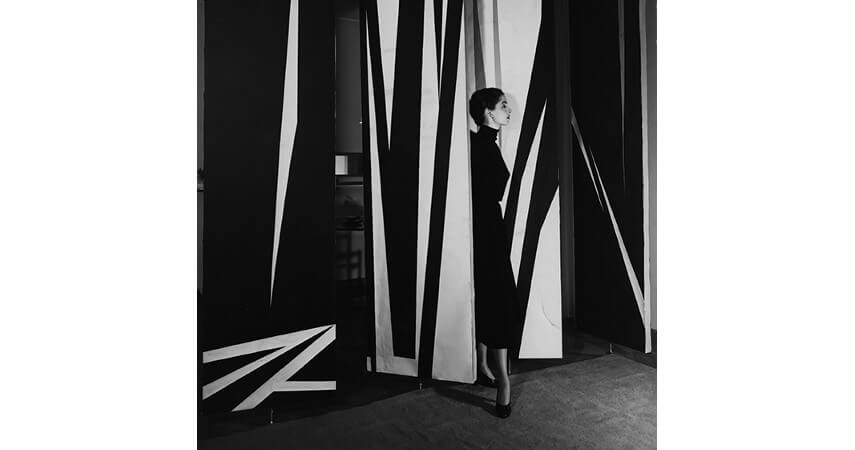 Jeanne Florin, wife of William Klein, with his painted, kinetic wall panels, © William Klein
Blurred Lines
In 1952, Klein had the opportunity to exhibit his abstract photographs in a gallery in Milan, Italy. While he was contemplating the potential of blurring effects in his photographs, another visitor to the gallery was inspired in quite another way. Alexander Liberman, then art director of Vogue magazine, saw in the photographs Klein had taken enormous potential vis-à-vis fashion photography. He offered Klein a job photographing for Vogue, for $100 per week.
William Klein - image from New York, © William Klein
It was quite a lot of money at the time, so Klein accepted the position and moved back, at least temporarily, to his hometown of New York. And once he arrived in the city, he did much more than take fashion photographs. He also furiously photographed the people and places around the city, assembling what he called a "photographic diary." Those photographs eventually made up the content for his photo book New York.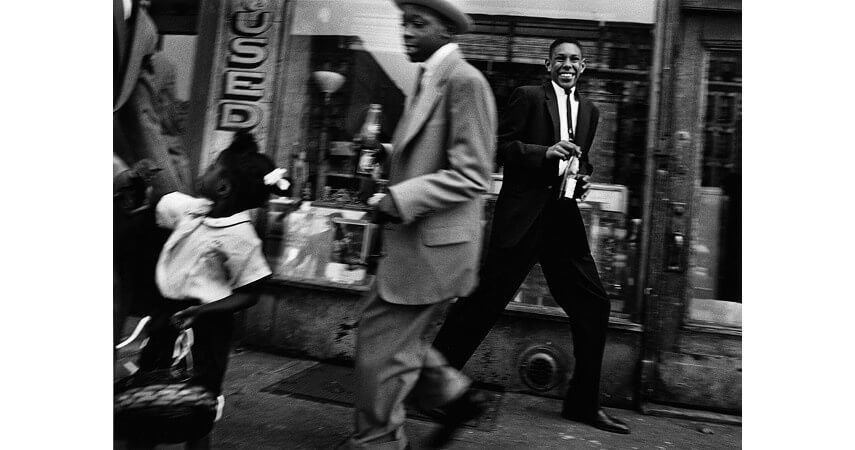 William Klein - image from New York, © William Klein
Deep Roots
As Klein took his now famous photographs of New York City, he often had no idea what he would capture. He would wave the camera around, as he said, doing the "utmost to make it malfunction." All of his discoveries as an abstract artist came by experimentation, so he applied that same spirit to this new phase of his career. "Sometimes, I'd take shots without aiming, just to see what happened," Klein recalls. "I'd rush into crowds – bang! Bang! I liked the idea of luck and taking a chance."
As Klein observed the city anew through the camera lens and embarked on his fashion career, his roots in abstraction did not leave him. The aesthetic themes he explored in his earlier work appeared time and again in his images of the city, and his images of fashion. The blurred lines he discovered while photographing his spinning panels became essential to the appeal of his New York book. And the bold lines, geometric compositions, and stark gradations of shadow and light that he first appreciated while studying in Paris with Léger came to define the appeal of the fashion shots that have made William Klein a household name.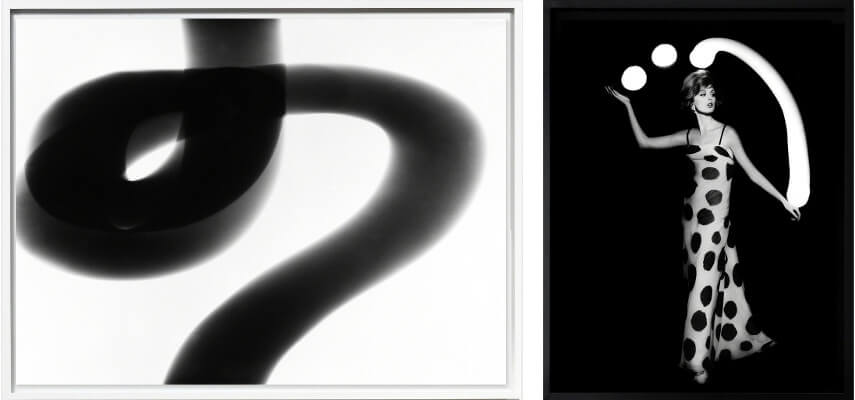 William Klein - Black Egg Swirling, Paris, 1952 (left) and Dorothy juggling white light balls, Paris, 1962 (right), © William Klein, courtesy HackelBury Fine Art
Featured image: William Klein - detail of Abstract (turning panels), 1952, Gelatin silver print, photo copyright of William Klein, courtesy HackelBury Fine Art
All images used for illustrative purposes only
By Phillip Barcio