Blog Home
What's On? Fall 2015 Issue
Sep 23, 2015
A quarterly calendar of the best abstract art events around the world.
Niele Toroni at le Musée d'Art Moderne Paris
24 September-10 January 2016
Le Musée d'Art Moderne, 11 Avenue du Président Wilson, 75116 Paris, France
An exhibition displaying the works of pioneering Swiss artist Niele Toroni (1937) is coming to Paris'Musée d'Art Moderne, offering a fascinating glimpse into his unique contribution to abstract art. Included in this collection will be 10 large canvases and murals (including Le Cabinet de Peinture (1989) and Volare (2001)) along with a selection of the artist's more recent canvases fresh from his workshop. And central to the exhibition will be Toroni's eponymous Imprints with a n°50 paint brush at regular intervals of 30cm (Empreintes de pinceau n°50 àintervalles réguliers de 30 cm), demonstrating his characteristic technique of applying a large, flat 50mm brush directly to the walls of the gallery at systematic 30cm intervals to create a seemingly never-ending sequence of precise brushstrokes.
Applauded for his innovative use of varied and unconventional surfaces (applying his imprints to anything from a wax canvas to a newspaper spread), Toroni will be showcasing his unique method in situ throughout the exhibition, perhaps as a nod to the dawning of his career, when he installed his creations in front of the public at the Salon de la Jeune Peinture in 1967.
See more about the exhibition (in French) here.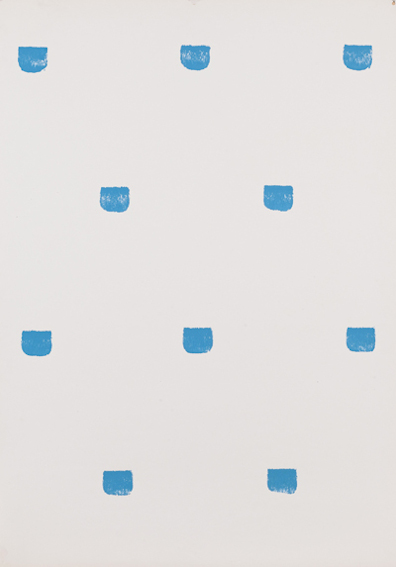 Niele Toroni - Brush imprints n ° 50 repeated at regular intervals of 30 cm. Glycerophthalic paint on Canson paper. Paris, museum of modern art. © Niele Toroni. Reproduction museum of modern / Parisian photography
Alberto Burri -"The Trauma of Painting"
9 October 2015- 6 January 2016
The Guggenheim Museum, 1071 5th Ave, New York, NY 10128, United States
The Guggenheim Museum, New York is staging a major retrospective of the work of Italian artist Alberto Burri (1915-1955), exploring the subtlety and intricacy of his process-based work and his pioneering influence on the rise of post-war material realism. Well-known for his use of humble, everyday materials, this exhibition will include his renowned Sacchi (sacks) series, as well as uncovering some of his lesser-known pieces, from his Catrami (tars) and Legni (woods) to his Ferri (irons) and Muffe (molds).
The exhibition will attempt to throw light on the creative progression of the Italian artist, delving into his simultaneously destructive and reconstructive approach to the Western pictorial tradition. Through experimenting with unusual materials, Burri blurred the lines between painting and sculpture and paved the way for a new brand of postwar abstraction. As the first showcase of his work in the United States in over 35 years, this exhibition really is one not to be missed.
Read more about the exhibition here.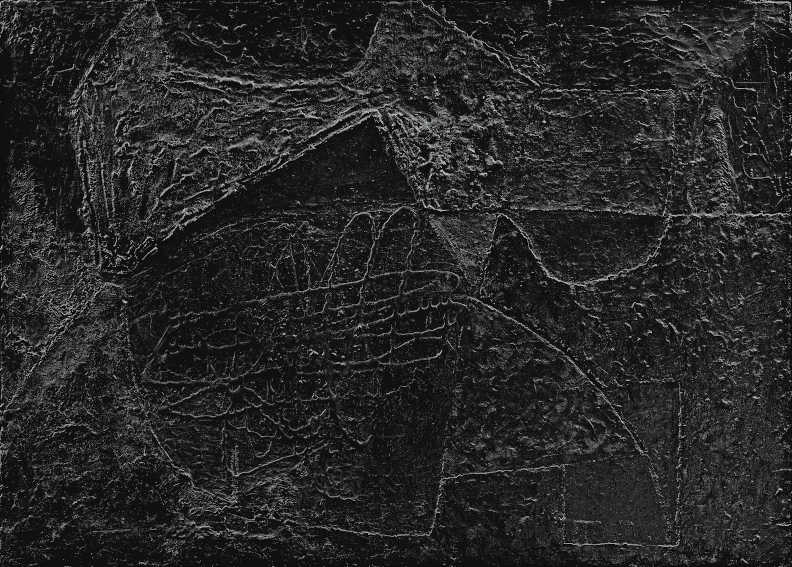 Alberto Burri - Nero Catrame. © 2015 The Solomon R. Guggenheim Foundation (SRGF)
Piet Mondrian - "The Line"
4 September - 6 December
Berliner Festpiele-Martin-Gropius-Bau, Niederkirchnerstraße 7, 10963 Berlin, Germany
The Gemeentemuseum Den Haag, in collaboration with the Martin-Gropius-Bau museum, Berlin, exhibits the work of Piet Mondrian (1872-1944), widely regarded as one of the founders of abstract painting. His iconic rectangles and coloured blocks encased in black maze-like grids have come to be recognised symbols of classic modernism.
This exhibition is showing around 50 paintings and drawings, tracing Mondrian's development from an adherent to the impressionist tradition to one of the founding fathers of abstract art. On display will be some of his early twentieth century work, capturing a turning point in his artistic career as he began experimenting with colour and space and exploring the relationships between overlapping lines to create his eponymous lattice-like compositions. However, it does not end there, with much of his later work (produced during his time in New York) also being shown, marking his gradual movement from monochrome to a brightened, somewhat musical palette.

More about this exhibition here.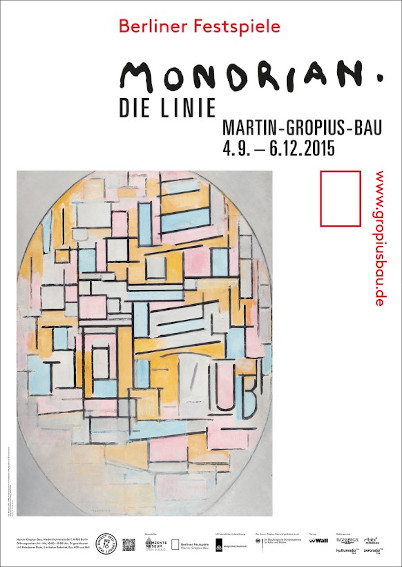 Exhibition poster "Piet Mondrian - The Line". Image: Piet Mondrian, Komposition in Oval mit Farbflächen 2. © Image: Gemeentemuseum Den Haag, The Netherlands. Poster design: Ta-Trung
Cy Twombly at the Gagosian Gallery
10 October-12 December
Gagosian Gallery, 20 Grosvenor Hill, London, W1K 3QD, England
The newest member of the Gagosian chain, opening in Grosvenor Hill, London is mounting its first exhibition, displaying the paintings, sculptures and drawings of Cy Twombly (1928-2011), an artist with strong ties to the Gagosian, having already inaugurated several of their European galleries. It will include as-yet unseen large Bacchus paintings, along with loans from the Cy Twombly Foundation and other collections.
Emerging from the New York art scene in the early 1950s, Twombly's idiosyncratic approach to painting and sculpture stood him apart from the predominant movements of the twentieth century, such as Pop Art and Abstract Impressionism, and enabled him to carve his own creative path, drawing from a wide variety of inspirations, ranging from Ancient mythology to the Mediterranean landscape and traditions. This exhibition explores the artist's playful dismantling and reformulation of natural and iconographic imagery, a daring reworking of modern abstraction.

Read more about this event here.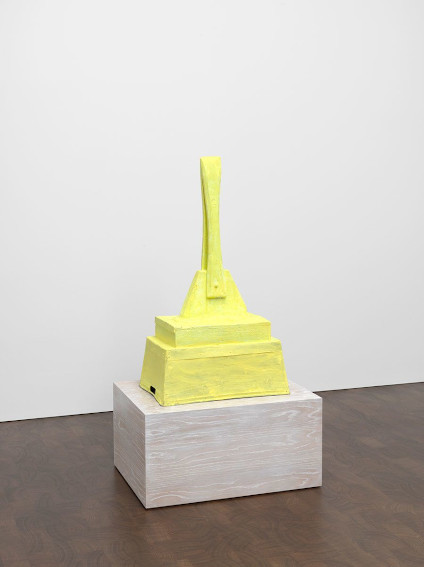 Cy Twombly - Untitled, 2006. Bronze, 44 x 24 x 14 inches (111.8 x 61 x 35.6 cm), edition of 6. © Cy Twombly Foundation, Photo: Mike Bruce
Vasudeo Santu Gaitonde -"Painting as Process, Painting as Life"
3 October 2015-10 January 2016
Peggy Guggenheim Collection, Dorsoduro, 701-704, 30123 Venezia, Italy
The Peggy Guggenheim, Venice is launching the first retrospective celebrating the work of Indian painter Vasudeo Santu Gaitonde (1924-2001). The exhibition explores the artist's pioneering contribution to the development of Indian modern art in the artistic hubs of India, Mumbai and New Delhi. It will include 45 major paintings and drawings, (some of which have never before been displayed in public), borrowed from galleries and private collections all over Asia, Europe, and the United States, highlighting the global appeal of his works and his influential role in the increasing appeal of abstract art.
Born in Nagpur, India in 1924, Gaitonde was briefly affiliated with the avant-garde movement, although he quickly forged his own individual style, experimenting with colour, line, form, and texture, as well as incorporating symbolism and calligraphy into his works. Despite his work often being compared to European movements such as Art Informel and Abstract Expressionism, Gaitonde's work was largely defined by the varied Indian landscape that formed his home and his inspiration.

Read more about this exhibition here.
All images used for illustrative purposes only