Blog Home
The Subtle Influence of the Washington Color School
Aug 16, 2017
The story of the Washington Color School is a cautionary tale. On the surface (so to speak) it is just a simple story about six painters: Kenneth Noland, Morris Louis, Gene Davis, Howard Mehring, Thomas Downing and Paul Reed. Each once lived in Washington, D.C., and each once engaged in a similar type of abstract painting defined by flat, solid areas of vibrant color, usually painted in Magna acrylic paint on unprimed canvases. Most importantly, each had work included in The Washington Color Painters, an exhibition that opened in 1965 at the brief-but-influential Washington Gallery of Modern Art (WGMA). But lurking beneath that relatively benign storyline is a world of copycats, spin doctors, and cultural myth makers, which, once understood for what it is, offers a chance to look critically at how trends take root in art, and how gallerists, curators and critics exert influence over the accepted narratives of art history.
The Back Story
Dateline: 1952. A young abstract painter named Helen Frankenthaler is experimenting in her studio in New York City. She uses oil paints, and like most oil painters she normally first primes her canvases before applying her oils, and dilutes her paints just enough so she can work with them. But on this day, she has an epiphany. She decides to heavily dilute her oil paints, and rather than applying them to a primed canvas with a brush, she lays an unprimed canvas on the floor and pours her diluted paints directly onto it. The paint soaks into the canvas, staining the fibers and spreading across the surface in unplanned ways. She titles the result of this first, experimental effort Mountains and Sea. Its ethereal lightness is the result of the ways the colors interact with the surface and with each other thanks to the new technique she has just invented.
One of the most influential art critics in America in 1952 was a man named Clement Greenberg. He did a studio visit with Helen Frankenthaler shortly after she painted her groundbreaking work Mountains and Sea. Greenberg immediately recognized the genius of her innovation. But rather than simply hailing Frankenthaler as the avant-garde painter she obviously was, Greenberg invited two male painters he respected, Morris Louis and Kenneth Noland, to come up from Washington, D.C. to see what Frankenthaler had done. Greenberg then encouraged them to take this exciting new technique and use it in their work, which they did. Then, as they developed the technique further in their own experiments, Greenberg championed Louis and Noland as being on the forefront of an art movement he made up called Post Painterly Abstraction, which was defined by flat surfaces, and which was part of an even bigger movement he also made up called the Color School, which espoused the primacy of color over other aesthetic elements.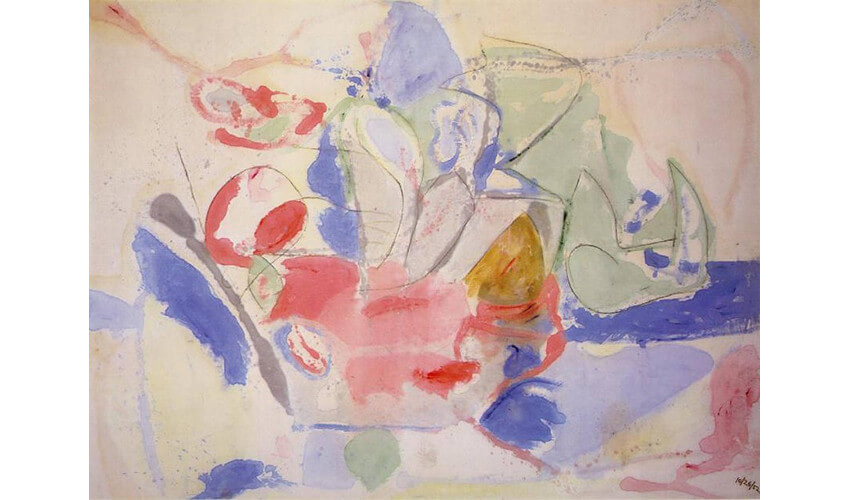 Helen Frankenthaler - Mountains and Sea, 1952, Oil and charcoal on unsized, unprimed canvas, 219.4 × 297.8 cm, © 2014 Helen Frankenthaler Foundation, Inc./Artists Rights Society (ARS), New York
The Washington Color School
Flash forward to 1962. John F. Kennedy is President of the United States. Arts and culture are foremost on the minds of Washington, D.C. socialites, and Alice Denney, the grand dame of Washington, D.C. avant-garde art, has just opened a new gallery: The Washington Gallery of Modern Art. Her first director, Adelyn Breeskin, previously of the Baltimore Museum of Art, curates an opening exhibition of the work of Franz Kline. In attendance opening night is none otherthan Helen Frankenthaler, among many other respected artists. The exhibition is a hit. Two years later, when Adelyn Breeskin moves on, the WGMA is the epicenter of the Washington, D.C. art world.
Hired to replace Breeskin as director is art critic Gerald Nordland. In the single year Nordland spends at the gallery he mounts one influential exhibition: The Washington Color Painters. The exhibition introducesthe argument that in Washington, D.C., far from the influence of the New York City art scene, a completely unique group of Color School painters emerged independently and should be regarded internationally for their idiosyncratic accomplishments. The show was a huge success, and the idea of a Washington Color School quickly gained traction among collectors, curators, gallerists, and other Washington, D.C.-based artists besides the original six, who were eager to associate themselves with a famous movement.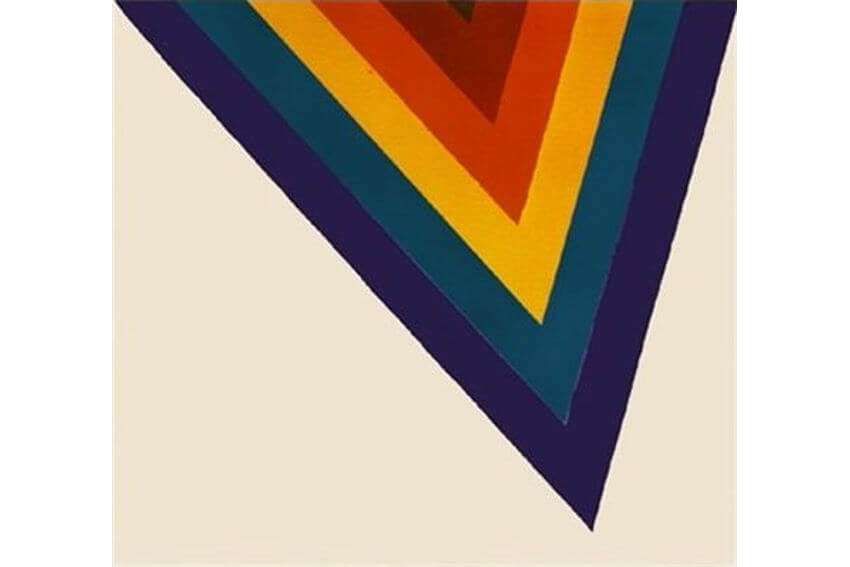 Kenneth Noland - Bridge, 1964, Acrylic on Canvas, 226.2 x 248.8 cm
Copycats, Spin Doctors and Myth Makers
The most obvious controversy that has since emerged about the Washington Color Painters is that the two most famous members of the so-called localized movement, Kenneth Noland and Morris Louis, both copied off of Helen Frankenthaler, a New York painter. If Clement Greenberg had given credit where credit was due, it would have been clear that the work of the so-called Washington Color Painters was influenced by painters from other places. But credit was not given where it was due, which leads us to the second most obvious controversy about the Washington Color Painters: all of the painters in the exhibition were white men, the only type of artist Greenberg ever championed. Most bizarrely, one of them (Morris Louis) had died three years before the exhibition, and one (Kenneth Noland) had moved to Vermont a year before that.
For the most part, rather than shattering the flimsy shell protecting the myth of a Washington Color School, the writers of contemporary art history have simply embraced the story, using its simple, straightforward narrative as a convenient jumping off point for exhibitions, lectures and essays. The resulting sub-category of 1960s abstract art thus allows certain works to fetch nominally higher prices at auction, and the careers of a handful of artists who otherwise had little original to add to the conversation to gain credibility. Which is not to malign any artists or their work. It is only to point out that when we let fabricated movements and labels dominate our understanding of something as complicated as art we give in to the influence of the power brokers of the past, who were often more motivated by race, gender and their own egos than by aesthetics.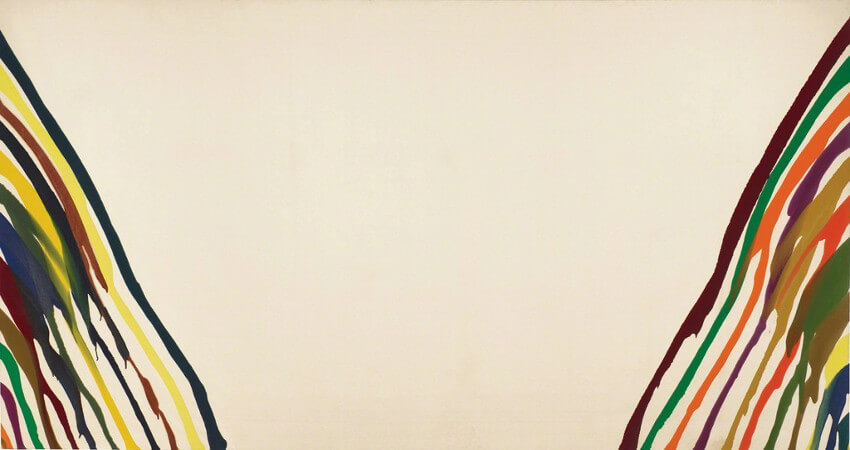 Morris Louis - Gamma Epsilon, 1960-196, Acrylic on canvas, 260.4 × 492.8 cm
Featured image: Gene Davis - Tarzan (detail), from Portfolio Series 1, 1969, Screenprint on canvas mounted to board, 61.6 × 76.8 cm, photo credits Art Resource Group, Irvine
All images used for illustrative purposes only
By Phillip Barcio