Blog Home
The Unpredictable, Nature-Inspired Abstractions of Vivian Suter
Mar 11, 2020
For the second time in her life, Guatemala-based artist Vivian Suter is becoming one of the most buzzed about abstract painters in the world. Following a breakout appearance in documenta 14, scores of her paintings recently went on view in a major exhibition at Camden arts centre in London, and Suter was also included on the 2019 Artsy Vanguard list. Along with legends like Howardena Pindell and McArthur Binion, the list hailed her as one of the artists "finally receiving the acclaim they deserve." That statement is a bit hyperbolic, however, since Suter has already once experienced what it is like to be an art star. Born in Argentina in 1949, she moved with her family to Basel, Switzerland, when she was 12 years old. It was there in that ultimate art city that her art career first began to flourish. Then in 1982, at age 33, just as her currency was rising with multiple museum shows and increasing demand from collectors, Suter became disenchanted with art market superficialities and escaped on an extended travel hiatus to the Americas. She worked her way from Los Angeles down through Mexico, all the way to a remote part of Guatemala. While resting beneath the otherworldly veins of a matapalo tree, or Strangler Fig, Suter experienced a profound reconnection with herself, with nature, and with her South American roots. She wound up buying the former coffee plantation on which the tree stood, and has lived and worked there, on the volcanic shores of Lake Atitlán, renowned as one of the most beautiful bodies of water in the world, ever since. Her art, meanwhile, has dramatically evolved to reflect the ecological dynamism of her surroundings. Something about the way her work is now being presented, however, raises questions about how far the connection between art and nature really goes, and whether it always benefits the work.
After the Flood, Me
To understand the way Suter works today, we have to look back fifteen years to a horrifying, yet pivotal moment in her career. In 2005, Guatemala was battered by Hurricane Stan, a storm which killed more than 1500 people across six countries and triggered massive landslides throughout Guatemala. At the time, Suter had untold numbers of unsold paintings stored in her studio; since leaving Switzerland, she had remained prolific as a painter, though market interest in her work had all but evaporated. Her studio was, and still is, located at the bottom of a hill on her property. During Stan, a landslide buried the studio, caking all of the paintings in mud. Suter was devastated at first, convinced that more than 20 years worth of work had been ruined. Yet, in the process of trying to salvage it, she recognized unexpected beauty in the seemingly destroyed paintings. Rather than disparaging the experience as a total loss, she decided to embrace nature as a collaborator.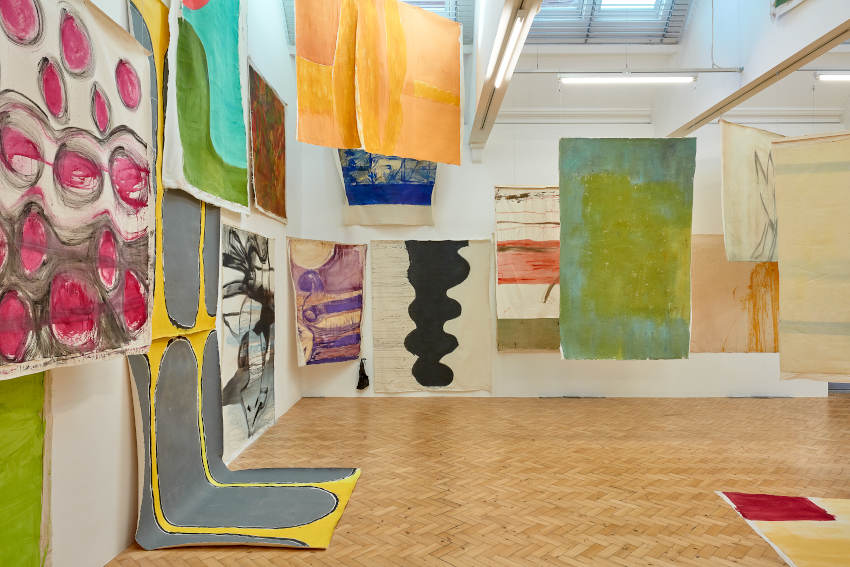 Vivian Suter: Tintin's Sofa, Installation view at Camden Arts Center


Nowadays, Suter actively seeks the intervention of natural forces. Every painting begins its life outside in the elements for several days, enduring whatever the jungle unleashes upon it. The composition that Suter ultimately creates upon each canvas is directed as much by the elements as by her artistic intuition. The title of her 2020 exhibition at Camden arts centre—Vivian Suter: Tintin's Sofa—reflects just how committed Suter has become to relinquishing control of her work to the powers of nature. Tintin is one of her three dogs. Along with leaving her canvases outside in the elements, allowing them to be rained on, crawled on by bugs, bleached by the sun and scraped by branches, she also allows the works to be trampled and sat upon by her canine companions. Among the layers of gestural brush strokes, abstract color fields, splashes of mud and occasional biomorphic forms, here and there you may find paw prints or tiny hairs stuck in the paint.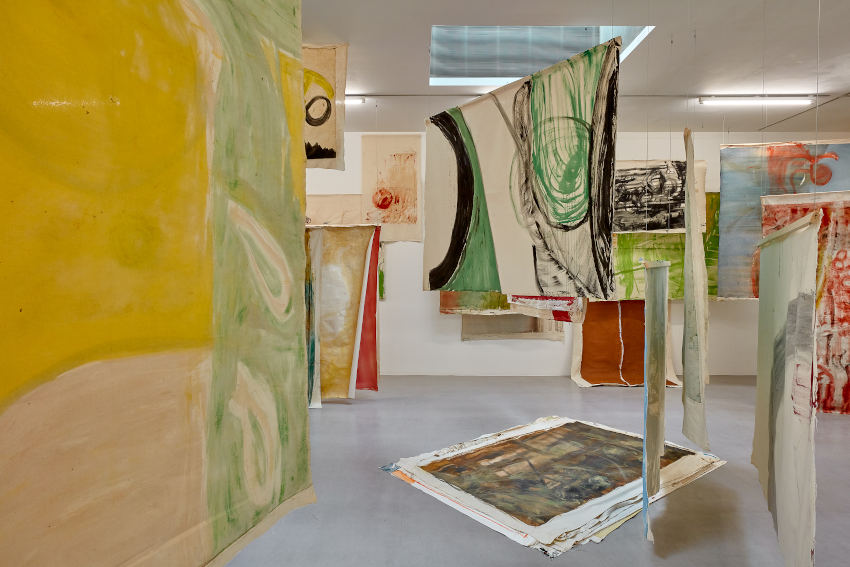 Vivian Suter: Tintin's Sofa, Installation view at Camden Arts Center


Natural Selection
The method Suter uses to exhibit her work is yet another manifestation of her embrace of nature. She skips the stretcher bars, hanging her canvasses roughshod from the walls and ceilings, or even stacking them on the ground. The canvases read like supple fruits dangling from vines, or piling up on the jungle floor. Suter thrills viewers by immersing them in this intricate, hanging web of color and material purity. She also challenges the very conceit of an art exhibition: that every work is precious and deserving of careful, contemplative consideration. Some of the works hang so high on the wall that you cannot possible see them up close. Others hang in bunches, like carpets on racks in a department store. The passageway through the exhibition feels crowded, yet delightful. Something unexpected like the tiny, simple tactile wonder inspired by a hole or a fold in a canvass, or a smattering of loose strings hanging from its edges, somehow becomes as important to the work as the image Suter has painted on its surface.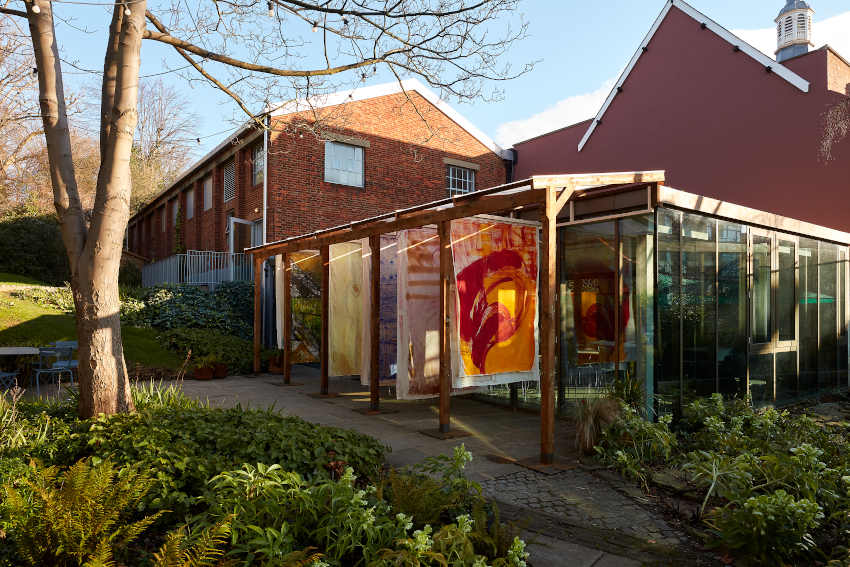 Vivian Suter: Tintin's Sofa, Installation view at Camden Arts Center

However, there is also something disappointing about the way Suter has been exhibiting her work, and that is that such a small percentage of the works curated into her installations really hold their own in terms of vitality and originality. Finding the best works in her exhibitions is like hunting for hidden gems in a crowded resale store. The discrepancy between the strongest and weakest pieces is magnified by the fact that everything is included. In some cases, the simple act of trying to see the entire show induces a sense of fatigue. Considering her philosophy and her working methods, it makes sense why Suter offers everything she has to curators, and why curators in turn decide to leave so little out. In nature, there are no bad choices. However, as much as humans are also animals and are inherently part of nature, we must also be true to whatever makes us distinct. Part of that is our ability to edit.
Featured image: Vivian Suter: Tintin's Sofa, Installation view at Camden Arts Center
All images used for illustrative purposes only
By Phillip Barcio