Blog Home
Virtual Reality in Art - A Powerful New Game-Changer
Feb 28, 2017
Virtual Reality art is nothing new. In the 1960s, Morton Heilig invented the Sensorama, considered by some to have been the first Virtual Reality artwork. Heilig described his invention, which immersed viewers in a cinematic environment that included physical sensations like smell and touch, as an experience theater. That term could also be used to describe many of the ways Virtual Reality is manifesting in the contemporary art world today. Since tools like Tilt Brush for Oculus Rift have come to the market, artists can easily use Virtual Reality as a digital medium to create aesthetic phenomena that immerse viewers in artificial visual realms. Not unlike being strapped into the Sensorama, we can simply don headsets and be transported into digital artworks that simulate three-dimensional space, yet do not exist in physical space at all, except as data. And it is not only artists who are exploring the intersection of Virtual Reality and aesthetics. For galleries, museums, art fairs and auctions houses, Virtual Reality is becoming a more powerful force every day. Here is a brief rundown of ways those who make art, exhibit art and bring art to the market are using this tool to shape their future.
Virtual Reality Artists
In the mid-1990s, Canadian artist Char Davies created a Virtual Reality artwork called Osmose. An interactive environmental installation, Osmose combined breath and balance-focused motion tracking software, a head-mounted viewfinder, 3D visuals and audio to immerse viewers in an artificial realm. Unlike the Sensorama, Osmose was not intended to provide a physical, cinematic experience. What it created was something psychical. It allowed viewers to enter a mental spatial dimension at will, in which they could experience novel kinds of aesthetic phenomena. In the video for Osmose, Davies quotes the French philosopher Gaston Bachelard, author of The Poetics of Space, who said, "By changing space, by leaving the space of one's usual sensibilities, one enters into communication with a space that is psychically innovating. For we do not change place, we change our nature."
The technology Davies used to make Osmose is downright simple compared to the Virtual Reality gear available to creatives today. But it is questionable whether the philosophy of Virtual Reality art has progressed as far as the technology. Much contemporary Virtual Reality art is undeniably cool looking, such as the 3D art posted on Sketchfab. And using Tilt Brush and other VR technologies, artists regularly create stupefying virtual environments that allow us to step into paintings, explore sculptures and installations, and move through artificial space. But artists like Davies show us that we should expect more from Virtual Reality as an artistic medium. She established that the potential for profundity in Virtual Reality art lies in its ability to expand what viewers expect from an aesthetic experience. And she demonstrated how at its best Virtual Reality art might even convince us of the possibility for new paradigms of existence.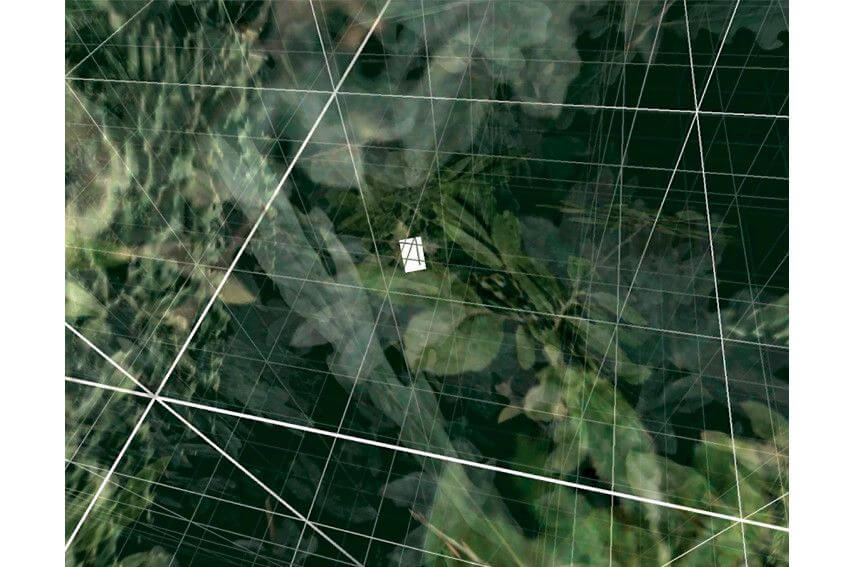 Char Davies - Osmose, 1995, © Char Davies
The Virtual Gallery
Aside from offering fascinating new tools for the creation of art, Virtual Reality technology is also creating opportunities for innovation in bringing art to the market. In particular, this technology is changing how consumers are able to shop for art online. IdeelArt recently debuted 3D Exhibitions, Virtual Reality environments in which art buyers can immerse themselves within a three-dimensional architectural space along with the artworks they are considering buying. 3D Exhibitions remove a key barrier that many art buyers encounter when shopping for art online. It allows them to interact with artworks "in person" and to get a sense of the physical scale of the work and how it converses with a built space.
The first IdeelArt 3D Exhibition features the work of San Francisco-based artist Jessica Snow. For the exhibition, the interior of Les Bains Des Docks, an aquatic recreation center in Le Havre, France, was photographed. The photographs were then used to create a 3D, Virtual Reality tour of the building with the work of Snow exhibited on the walls. Designed by award-winning architect Jean Nouvel, Les Bains Des Docks features 12 swimming pools plus multiple spas, steam rooms, saunas and fitness areas. The interior of the building is all white, resulting in a heavenly, ethereal atmosphere as the white surfaces interact with daylight spilling in from outside and the subtle blue hue of the water. In addition to providing a practical and uniquely pleasurable way for buyers to experience the art of Jessica Snow, this innovative use of Virtual Reality technology also lets viewers explore one of the most aesthetically stunning architectural environments in the world.

Jessica Snow - The Exhibition View
Real Meaning in Virtual Reality
One of the most pressing questions artists are helping us confront about our time is that of what is real. Virtual Reality art has the potential to play an influential role in how we answer that question. For example, although Virtual Reality environments are encountered in what could be described as a purely mental space, people nonetheless experience physical sensations while in that space. Chemicals are released into their brains, feelings are made manifest, and memories are created. In an increasingly alienated society, it is curious whether artists will find ways to connect virtual art experiences to the realities of the universal human world.
Innovations like 3D exhibitions and Virtual Museums could help Virtual Reality find its place in the art world by offering practical applications of the technology. And ideas like communal Virtual Reality art experiences could offset the potential the technology has to be alienating by creating shared experiences in virtual space. In our minds, these are the innovations to watch for. In a recent interview with Artsy, Char Davies put it perfectly when she said, "I think a more pertinent question would be: Can artists overcome the inherent biases of the technology, and the profit-driven imperative of the gigantic corporations gathering behind it, to create meaningful, relevant work?"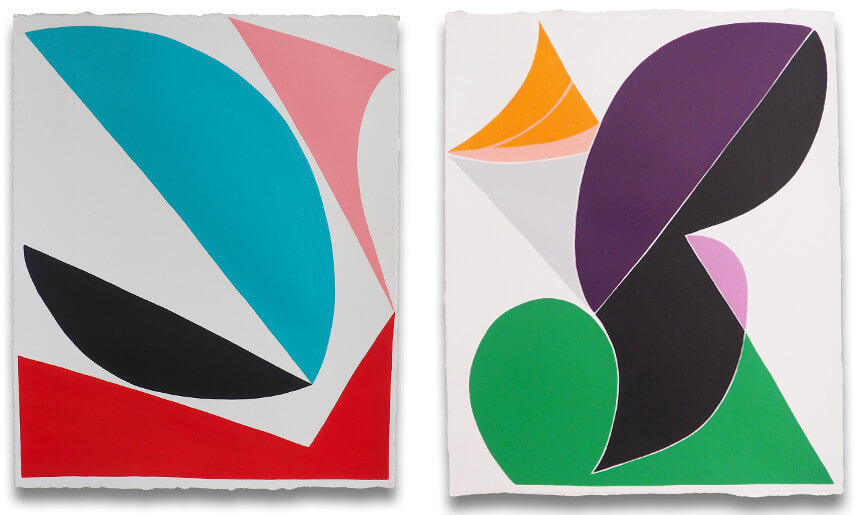 Jessica Snow - Cut Space, 2016 (Left) and Finite Field, 2016 (Right)
Featured image: Jessica Snow - Six Color Theorum (detail), 2013
By Phillip Barcio