Blog Home
Victor Vasarely's Shaping Forms at Centre Pompidou Paris
Mar 20, 2019
For the first time in more than 50 years, a major Victor Vasarely retrospective is on view at a French museum. Centre Pompidou opened Vasarely: Sharing Forms this past February, bringing together more than 300 objects, including art works and ephemera, documenting the complete aesthetic evolution of one of the giants of 20th Century Modernism. The exhibition firmly establishes Vasarely not only as a great artist, but as a great idealist, one who believed there to be no boundary between art and everyday life. Born in 1907 in Pécs, Austria-Hungary, Vasarely enrolled at the Műhely (workshop) school, the local Budapest version of the Bauhaus, in 1918. The school was run by the artist and graphic designer Sándor Bortnyik. After two years of studying with Bortnyik, Vasarely moved to Paris and began a career as a graphic designer. His ambition was to apply the visual lessons of Modernism to the world of mass communications. One of his most famous early works, "Zebra" (1937), embodies the liminal space where the seemingly separate disciplines of art and design merge as one. The black and white, linear composition shows two zebras tangled together, possibly in combat, possibly in love. The image deftly declares Vasarely a master of perspective by demonstrating his ability to transform a flat surface into a kinetic, three-dimensional field. Yet, to this day critics struggle with the question of whether this and his other early work should be classified as art or design. In fact, the last time a major survey of his work was mounted in France was in 1963, when the artist was only 57 years old, at the Musée des Arts Décoratifs—not a fine art museum, but a museum of decorative arts and design. Just two years later, however, Vasarely was included in The Responsive Eye, the landmark Museum of Modern Art exhibition that established the leading artists of the Op Art movement. Vasarely: Sharing Forms brings all aspects of his work together in a universal way. Rather than forcing definitions, this exhibition respects the complexities and nuances of his vision, offering a much needed enlargement of the Vasarely story.
The Eternal Reformer
When Vasarely first began his career as a graphic designer, he considered advertising to be the most ubiquitous form of visual culture, so he set out to transform it by adapting it to the visual languages of Cubism, De Stijl, Suprematism, and other early Modernist positions. After World War II, however, he shifted his focus and decided that rather than using art to reform design, he would look to the real world for clues of how to transform art. He took notice of everything in his visual landscape, from architectural structures, to the patterns of shadow and light falling on natural forms, to the surfaces of crystals. He realized there is an aesthetic space in which the principles of geometric abstraction co-exist with the principles of the natural and built worlds. Works like "Kiruna" (1952) show how he broke the visual world down to its most essential building blocks, such as circles and squares, and to the simplest possible color palette.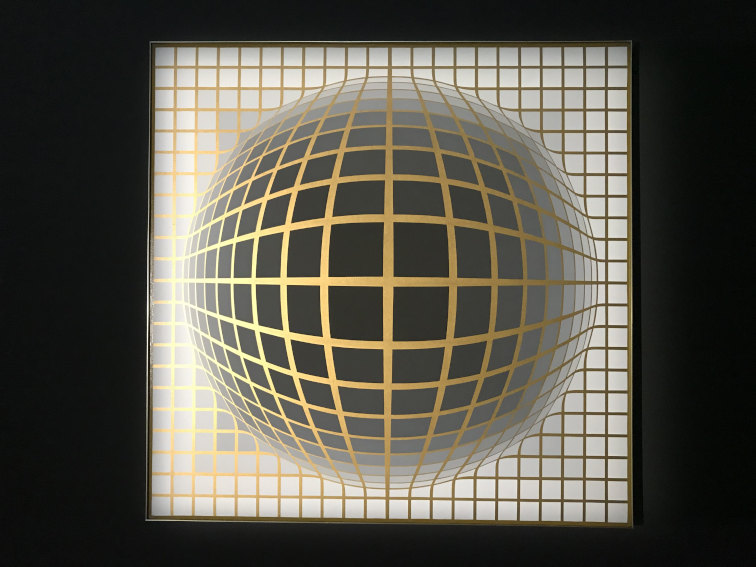 Victor Vasarely - Re.Na II A, 1968. Installation view at Centre Pompidou, Paris, 2019. Photo courtesy IdeelArt.
Even as he had begun to develop his own truly unique visual language, Vasarely remained ever the reformer. He perceived that his geometric compositions were not yet complete. They needed one additional aspect—the appearance of movement. But rather than creating actual kinetic art, such as the mobiles of Alexander Calder, Vasarely was interested in how the brain perceived movement. He observed how waves on the surface of water, or in the heat of the sun, create the illusion that space is warped, and that solid objects are fluid. He applied this thinking to his compositions, introducing wave patterns to his geometric compositions, and seemingly warping the surfaces of the works. In paintings like "Re.Na II A" (1968), the surface seems to bulge outward. In other paintings, the surface seems to collapse. Most amazingly, as soon as the eye catches on to what it is seeing in these wave patterns, the image seems to shift, giving both the illusion of three-dimensional space and the impression of movement.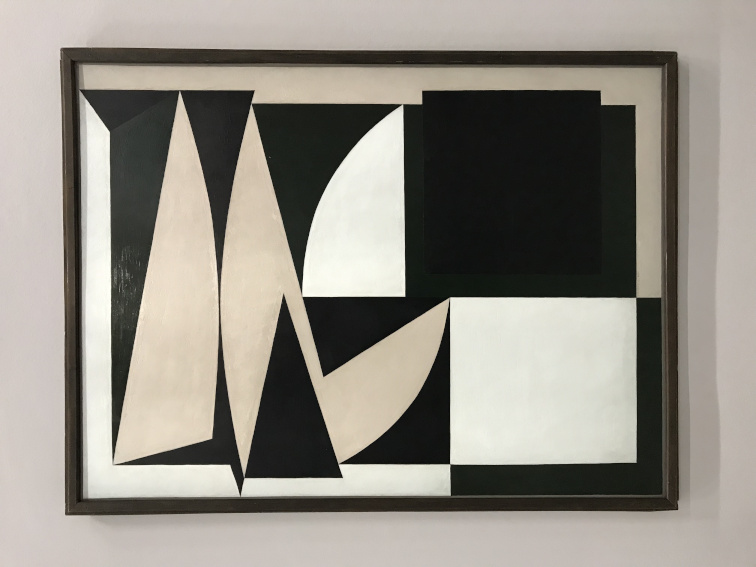 Victor Vasarely - Zante, 1949. Installation view at Centre Pompidou, Paris, 2019. Photo courtesy IdeelArt.
A Universal Visual Language
One of the most idealistic aspects of the Vasarely legacy was his creation of the "plastic unit:" a basic visual tool that can be adapted to create infinite visual compositions. The Vasarely plastic unit consists of one geometric shape of one color that contains a second, different geometric shape of another color inside of it—for example, a blue square surrounding a red circle, or vice versa. In contemporary terms, the plastic unit is like a pixel. Vasarely would combine the plastic units together in various geometric combinations then use line and color to introduce waves into the compositions. This simple visual language was truly democratic, since it could easily be copied by anyone. The universality of the style even inspired Vasarely to again wonder how to use what he had created to positively affect the everyday lives of citizens.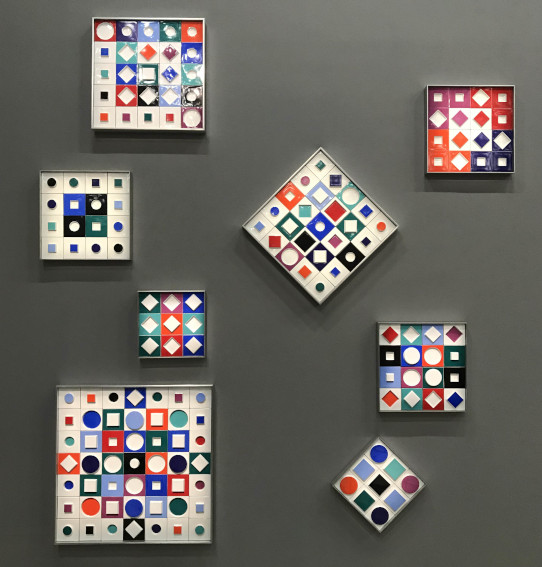 Victor Vasarely - Forme 1009 décor 5110, vers 1973. Édition 23/50. Forme 1008 décor 5105, vers 1973. Edition de 75. Forme 1008 décor 5104, vers 1973. Édition 17/75. Forme 1009 décor 5108, vers 1973. Édition 22/50. Forme 1007 décor 5101, vers 1973. Édition 27/100. Forme 1008 décor 5106, vers 1973. Édition 61/75. Forme 1010 décor 5112, vers 1973. Édition 31/100. Forme 1007 décor 5100, vers 1973. Édition 6/100. Installation view at Centre Pompidou, Paris, 2019. Photo courtesy IdeelArt.
As Vasarely: Sharing Forms beautifully shows, Vasarely conceived of numerous strategies to bring his art into the public space. He created a multitude of murals, posters, and even industrial designs, such as the 21-Piece Coffee and Dessert Set he designed for Rosenthal. He created logos for businesses, such as Renault and the Musee de Cinema, among others. And he devoted himself to creating all types of art in public spaces. He envisioned what he called a "polychrome city of happiness," where his vibrant, colorful, geometric public works would bring the "gloomy and grey suburbs" to life. Throughout this exhibition we see how plasticity is common to all forms of visual culture. Vasarely demonstrated how it is an essential part of fine art, of course. But he also saw plasticity as essential to the very stones used to build the city, and in the colors and shades of light falling on nature. The artificial separations between the fields of art, design, fashion, cinema, architecture, and even advertising melt away when we see all of visual culture in this way. This is the lesson that Vasarely taught: that art is everywhere. Vasarely: Sharing Forms is on view at Centre Pompidou through 6 May 2019.
Featured image: Victor Vasarely - Alom, 1968. Installation view at Centre Pompidou, Paris, 2019. Photo courtesy IdeelArt.
All images used for illustrative purposes only
By Phillip Barcio
[related_artworks]