Blog Home
A Look at Vasudeo S. Gaitonde's Burgeoning Art Market
Jun 2, 2021
Indian artist Vasudeo Santu Gaitonde has appeared in the art media repeatedly over the past decade, always in the context of auction records. Paintings by Gaitonde routinely sell for millions of dollars, leaving the collections of shrewd buyers of the past to enter those of the moneyed elites of the present. Two recently auctioned paintings illustrate the incredibly broad appeal Gaitonde has amongst buyers. One sold from the collection of Aditi Mangaldas, an influential Indian Kathak dancer, and the other sold from the collection of Robert Marshak, a nuclear physicist whose work on the Manhattan Project earned him the uncanny distinction of having nuclear blast shock waves—a.k.a. Marshak Waves—named after him. It is unlikely when either of these collectors originally acquired their Gaitonde paintings they could have predicted the works would reach the multi-million dollar prices they recently commanded. They instead likely bought these works because something about their compositions, or their material presence as objects, compelled the purchase. What is it about the art of V. S. Gaitonde that attracts both creators and destroyers, or traditionalist natives of India and Bronx-born academics? I propose his wildly varied appeal is tied to his total lack of interest in making paintings that appealed to anyone but himself. Gaitonde was a radical individualist. He devoted his career to a gradual discovery of his personal essence. His paintings are not visions of the outer world, but visions of his inner self. Maybe that sounds sentimental, but true self-knowledge is an achievement few humans ever attain. When an artist has the courage to free themselves from ego and truly experiment, they have a chance to create art that connects with the desire we all have to really know ourselves. Gaitonde made paintings that peer into the depths of his own humanity. We recognize ourselves in them because they show us the stuff we are made of.
The Partitioners
Gaitonde was born in 1924 in the city of Nagpur, in Northern India. The year prior to his birth, his hometown was the site of a violent Hindu-Muslim riot, which led to the foundation there of the Hindu nationalist, paramilitary group Rashtriya Swayamsevak Sangh in 1925. The eventual Partition of India in 1947 occurred one year before Gaitonde graduated from the Sir Jamsetjee Jeejebhoy School of Art, the oldest art school in Mumbai (then called Bombay City). After college, Gaitonde entered a culture intent of reinvention. The people of India had not only been partitioned from British colonial rule and partitioned into two independent dominions of India and Pakistan, governed by the separate spiritual traditions of Hindu and Islam. They furthermore had gained a chance to achieve a meaningful partition between the history and the future of their culture.
In the visual arts, the new spirit of separation in India was personified by the Bombay Progressive Artists Group (PAG), an artist collective founded just a few months after the political partition of the country. According to their writings, PAG artists desired an "almost anarchic" independence to "paint with absolute freedom for content and technique." Gaitonde was a close associate of many members of the group, and in 1950 he even temporarily joined them. But ultimately, he realized that belonging to any group or movement was antithetical to real freedom. At the same time, he realized that to totally separate himself from history was dishonest because it denied part of who he was. Free, honest self-expression required him to go all the way down the rabbit hole alone—to learn about where he came from; to synthesize that with who he was as a citizen of the globe; and then develop a unique and purely individualized visual voice with which to paint.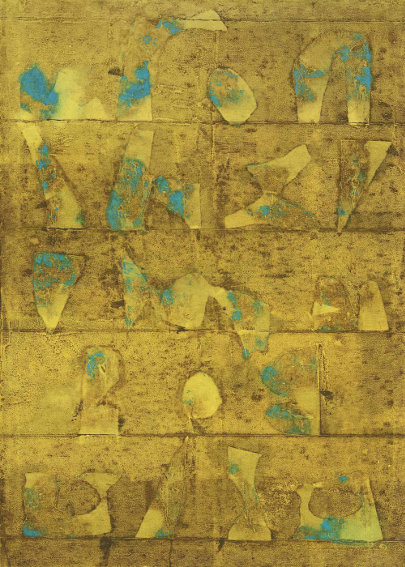 Vasudeo S. Gaitonde - Untitled. Oil on canvas. 55¼ x 40 1/8 in. (140.3 x 101.9 cm.). Painted in 1995. Courtesy of Christie's
A Solitary Communion
Most tellings of the story of V. S. Gaitonde describe him as an abstract artist. Indeed, his most powerful and coveted works are also the most abstract. But Gaitonde arrived at his abstract position through a slow and deliberate evolution that was rooted in objective art. He first mastered the historic figurative techniques native to the Indian subcontinent. Next, he studied and imitated various international approaches to art, including expressions of Western Modernist abstraction. He studied calligraphy and other ancient forms of writing, and looked at the artistic traditions of various religious traditions, such as hinduism and Buddhism. When we analyze the evolution of his style from figurative painting to what we call abstraction, and what he called "non-objective" painting, we see that he was seeking not to exclude the real world from his paintings, but rather to include in the work only what he considered essential about his lived reality. "I do not have a scientific point of view," Gaitonde said of his process. "It is mostly my total experience of life and nature that comes through me…manifested on canvas."
Gaitonde painted his last painting in 1998, and died three years later. It is interesting to me that his paintings did not necessarily follow the simple trajectory of becoming more sparse the older he got, as one might expect from a painter who is paring things down towards essentials. There are as many forms, shapes and other complexities in his last paintings as there are in his early paintings, indicating that for him Essentialism was not the same as Minimalism. This painter who worked privately, never married, and had almost no public life, seemed to extract from his solitude a feeling of communion with something beyond superficial relationships. I suspect the reason his non-objective paintings fetch such high prices at auction, and why they appeal to such a broad range of buyers, is that they reveal something we all recognize and value—something separate from nationality, history, and trends; something connected to the depth of possibilities that exist within the human search for self-knowledge and freedom.
Featured image: Vasudeo S. Gaitonde - Untitled. Oil on canvas. 49 5/8 x 39¾ in. (126 x 101 cm.) Painted in 1958. Courtesy of Christie's.
All images used for illustrative purposes only
By Phillip Barcio