Blog Home
Revisiting the Sculpture of Tony Smith through These 5 Works
Jun 14, 2019
Tony Smith enjoys a radically individualized status within the story of 20th Century art. His sculpture oeuvre defies easy categorization, occupying a place somewhere between architecture, science experiment and art. The trajectory of his career was also anything but traditional. He began his professional life as an architect, studying with László Moholy-Nagy at the New Bauhaus in Chicago then apprenticing with Frank Lloyd Wright. And he was in his 50s before his art career even began to take off. Smith purposely conceived the works he created more as structured aesthetic phenomena than fine art. One of his earliest pieces, which laid the conceptual groundwork for his big idea, was a fabricated steel cube called "Die." Smith made the model for "Die" in 1962, and had it fabricated in 1968 by the Industrial Welding Company in Newark, New Jersey after he noticed a sign outside the company that read, "You specify it; we fabricate it." He called the company and specified a six-foot cube of quarter-inch steel. He chose that size because it was human in scale, occupying a middle ground, he said, between a monument and a mere object. The title "Die" could refer to a game piece, or the die cast production method, or death. Adding to the wit of the piece is the fact that six feet is the standard depth of a human grave. The rest of his works share this mixture of intellect, artfulness and wit, combining references to natural and human-devised structures, and mixing predetermined plans with intuitive choices. In terms of art history, he is most often refered to as a Minimalist. This could be because one of his works was included in the Primary Structures exhibition at the Jewish Museum in New York City in 1966, which helped to usher in Minimalism. But the methods Smith used, as well as his philosophy, did not really fit in with Minimalist intents and purposes. Adding to the confusion, Smith himself suggested that what he made might not even be art at all, saying, "the volume of my work has much to do with a response to contemporary life generally. I don't think it relates much to the art scene." Whatever you want to call them, here are five of our favorite Tony Smith creations:
Bennington Structure (1961, Destroyed)
Constructed while Smith was an instructor of painting and architectural design at Bennington College in Vermont, the "Bennington Structure" occupies a fascinating position between architecture and sculpture. Consisting of identical geometric modules made from plywood, metal, lathe, and Portland cement, the structure at once resembles a beehive and a stacked assortment of World War II-era machine gun nests. The modules are human-sized, and when combined create a structure that seems to be made to be occupied, giving it an architectural presence, yet as shelter it is neither protective nor particularly useful.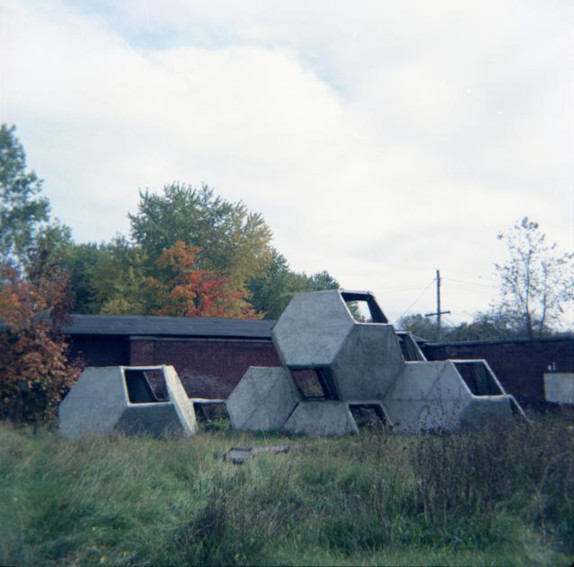 Tony Smith - Bennington Structure, 1961. Plywood, metal, lathe, and Portland cement. 40' long overall, diameter of each unit approx 9'. Bennington College, VT, 1961. © Tony Smith Estate/Artists Rights Society (ARS, New York)
Moondog (1964)
The 17-foot tall, black aluminum sculpture "Moondog" shares a direct aesthetic lineage with the "Bennington Structure." It looks as if the shells of two of the geometric modules from the former have morphed into three-dimensional, crystalline versions of themselves then stacked atop each other. The title refers whimsically to the presence of the piece, which from some points of view seems to resemble a creature walking on three legs, and from other perspectives looks like a space ship. Presciently, the overall structure of the piece suggests the first lunar lander, which would not exist until several years later.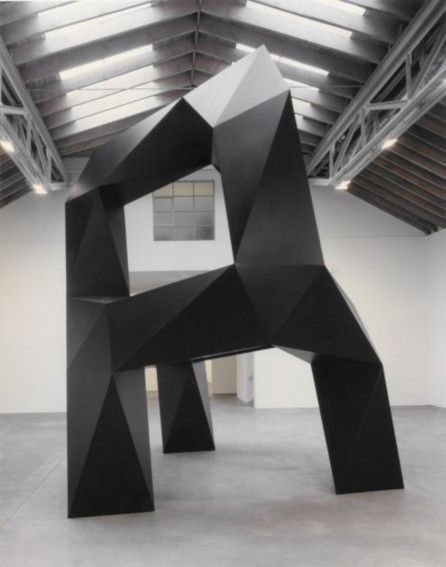 Tony Smith - Moondog, 1964. Aluminum, painted black. 17'1-1/4" x 13'7-1/4" x 15'8-1/2". Edition 1/3. © Tony Smith Estate/Artists Rights Society (ARS, New York)
Smoke (1967)
At 47-feet high, "Smoke" is anything but human scaled. The black aluminum structure embodies the interest Smith had in mimicking both the natural and human made worlds. The piece again consists of identical, fabricated modules assembled into a quasi-architectural structure. From afar, the piece looks like geometric abstraction. Up close, it takes on a frightening, animalistic presence, similar to the gigantic, spider-like "Maman" sculpture Louise Bourgeois would make three decades later in 1999. Smith explained that the reason he called the work "Smoke" is that the illusion of smoke is that its a solid, but really it just disappears. This structure, too, has the characteristics of a solid, but really only contains emptiness.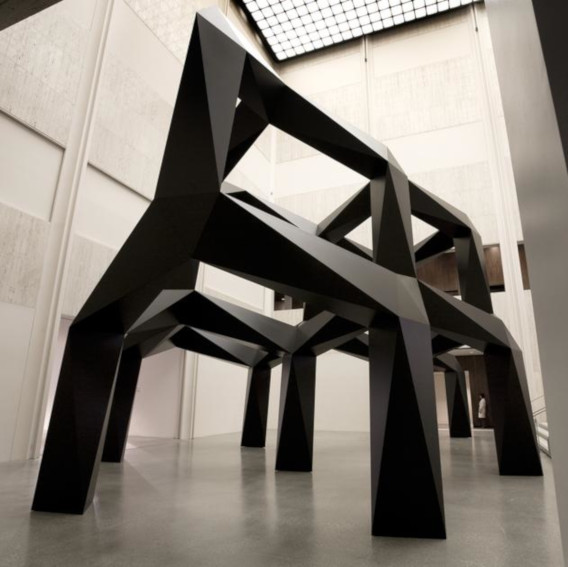 Tony Smith - Smoke, 1967. Aluminum, painted black. 24'2" x 47' x 33'. Edition 1/3. Los Angeles County Museum of Art, CA. Photo © Museum Associates/LACMA
Light Up (1971)
Commissioned by the Westinghouse Electric Corporation, "Light Up" combines two geometric forms—a tetrahedron and an octahedron. Made of steel and painted bright yellow, the form harkens back to an experimental work Smith made ten years earlier, called "Cigarette." For that earlier work, Smith began with a model but then realized it had become too complicated, making it resemble a memorial of sorts. He began stripping the model down to its bare essentials, until he arrived at a simple spine, which to him resembled "a cigarette from which one puff had been taken before it was ground in the ashtray." The whimsically named "Light Up" shares the aesthetic qualities of "Cigarette," suggesting a playful dual reference to the company that commissioned its creation, and the earlier sculpture from which its form seems to have emerged.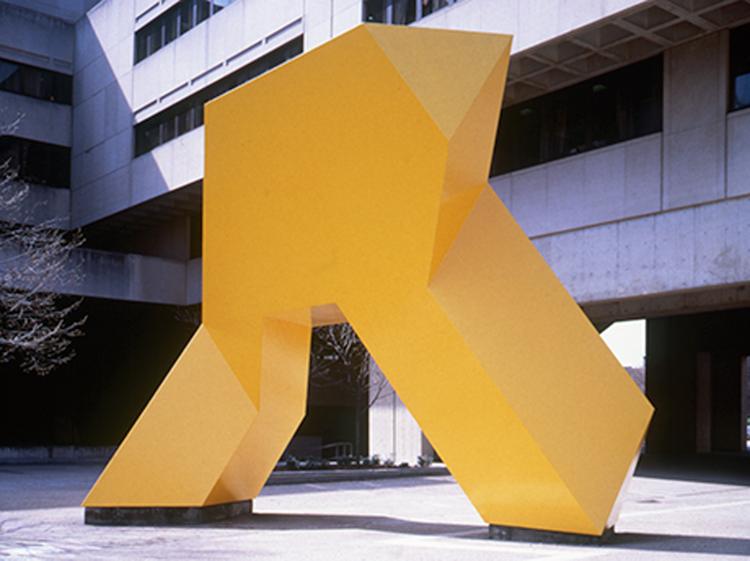 Tony Smith - Light Up, 1971. Steel, painted yellow. 20'9" x 28'7" x 16'6". Edition 1/1. University of Pittsburgh, PA. © Tony Smith Estate/Artists Rights Society (ARS, New York)
Smog (1969-70) and Smug (1973)
As previously noted with "Smoke," one of the key concepts that interested Smith was the idea of the relationship of forms to the void, or the connection between solids and nothingness. Each of his structures contains some reference to this conversation, as each acts like a container of sorts for empty space. Emanating form the work he did on "Smoke," the related pieces "Smog" and "Smug" offer compressed versions of the same basic structure. "Smog" squashes the structure down into an interlacing pattern of tetrahedrons. "Smug" adds a second layer to the structure, suggesting that the pattern could go on infinitely from there. The squashed down nature of the empty space in these structures transforms their relationship with viewers, as we can no longer stand underneath their structure. The void becomes claustrophobic, and somewhat mysterious, echoing the most iconic quote Smith made about his methods: "I don't make sculpture, I speculate in form."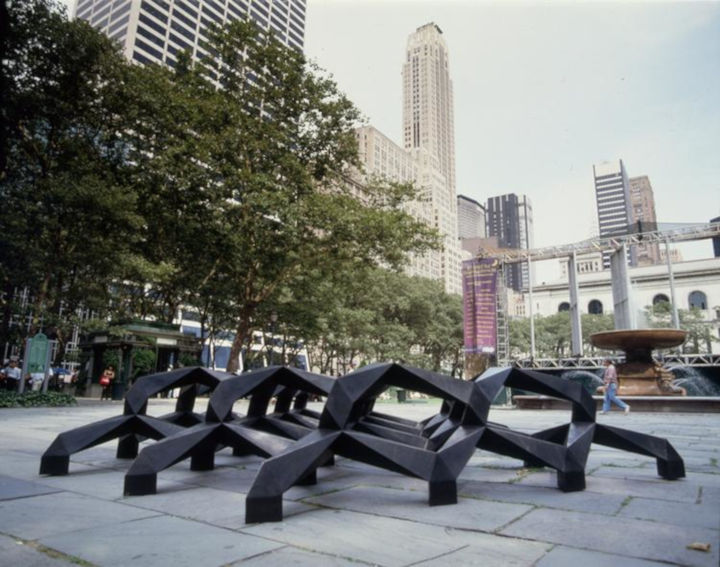 Tony Smith - Smug, 1973. Cast bronze, black patina. 3' x 16' x 11'8". Edition 1/6. © Tony Smith Estate/Artists Rights Society (ARS, New York)
Featured image: Tony Smith - Smog, 1969–70. Cast bronze, black patina. 12" x 9'5" x 6'7". Edition 5/6. © Tony Smith Estate/Artists Rights Society (ARS, New York)
All images used for illustrative purposes only
By Phillip Barcio