Blog Home
Following The Curves of Tony Cragg's Sculpture
May 19, 2021
Works by renowned British abstract artist Tony Cragg are on view this summer at Houghton Hall, a lavish British country estate currently occupied by David George Philip, the 7th Marquess of Cholmondeley. Typical of British peerage, Lord Cholmondeleyis white, wealthy, and inherited his status. Atypically, he is a professional filmmaker, some may say an artist. The current exhibition at his ancestral Houghton Hall is the latest in a series Lord Cholmondeley initiated in 2013, starting with a homecoming show of paintings his descendant Sir Robert Walpolesold to Russian empress Catherine the Great in 1779. In 2015, Light and Space artist James Turrell was invited to create a site-specific installation at Houghton Hall, which went over well. Richard Long took over the house and grounds in 2017, beautifully assimilating his works into the environment in a sublime symbiosis of art, land, and architecture. In 2018, Damien Hirst installed a perfectly ridiculous exhibition on the property, wonderfully matching the absurdity of this ancestral monument to elitism and inequity. A selection of works by Henry Moore elegantly occupied the locale in 2019. Then in 2020, Anish Kapoor activated the house and grounds with works that exuded a hauntingly beautiful, alien harmony. For the current Houghton Hall exhibition, Cragg sent over a slew of top-notch works from his German studio, some made especially for the occasion. However, despite my admiration for Cragg and for these works, the show is my least favorite of the series so far. The poetry of past exhibitions lied in how the works occupied the territory, often conveying the feeling that the art had been there all along. These Cragg sculptures, as wonderful as they are, feel as though they are merely on view here, set atop short plinths as they would be in any other gallery or garden. Their relationship to their exact surroundings hardly seems inevitable or engineered. I presume the shortcoming is owed to the unfortunate limitations of international pandemic collaborations. I nonetheless regret that the long history of avant-garde concepts and methods for which Cragg is known did not receive a more fitting showcase.
A Natural Artist
The earliest works I remember seeing by Cragg are a series of rock stacks he made in the late 1960s. In the photos I saw, they look just exactly like what we have all seen countless times while walking along the beach: small rocks delicately stacked atop each other to form a column. Cragg was the first contemporary artist I know of who stacked rocks atop each other in the wild and called it sculpture, and his stacks still occupy a strange and whimsical mid-ground between Land Art, Conceptual Art, Performance Art, and playtime. What makes them special is that Cragg was not just interested in the rocks—he was trying to understand the forces that the rock stacks were collaborating with as they became the thing he wanted them to be. Some of those forces, like gravity and mass, are natural. Others, like intent and desire, are decidedly human. I see in these early works an artist who is wondering what the difference is between natural and human-made materials; natural and human-caused processes; and natural and human-directed outcomes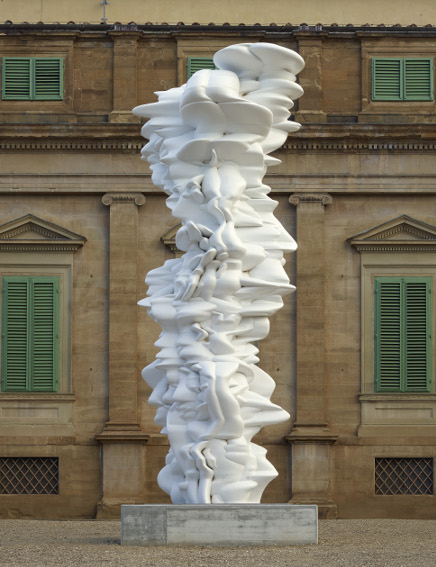 Tony Cragg - Mean Average, 2018. Fiberglass. 620 x 261 x 237. Photo: Michael Richter. © Tony Cragg. Courtesy Thaddaeus Ropac, London • Paris • Salzburg
Cragg further examined those same ideas in multiple other bodies of work over the course of multiple decades, prior to arriving at what people now consider his mature aesthetic voice. He experimented with a range of materials, from natural elements like dirt and sand, to styrofoam to found plastic. He worked in a range of mediums, including photography, installation, drawing, and painting. Along the way, sculpture became his primary medium, and he developed a unique ability to recognize the moments when his sculptural process resulted in objects that transcended; when the work reached a moment of perfect balance between the spirit of nature and the will of the artist. The mature sculptural style on view this summer in Houghton Hall expresses that strange balance through biomorphic, abstract forms that seem part cave formation, part Surrealist nightmare, and part alien autopsy.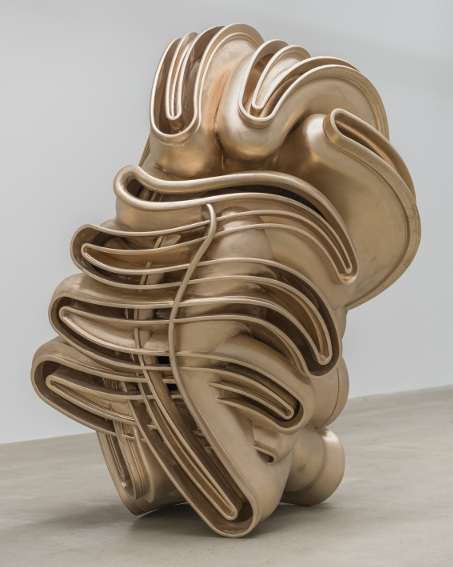 Tony Cragg - Migrant, 2015. Bronze. 220 x 150 x 147. Photo: Charles Duprat. © Tony Cragg. Courtesy Thaddaeus Ropac, London • Paris • Salzburg
Searching for Harmony
The most recent works he is making show Cragg reaching new heights in his sculptural career. They express such ideas as the power of wave forms, inexhaustible multiplicity, and out-of-control growth—elegant, and sometimes frightening abstract expressions of our current anxieties. The natural-looking aspect of these sculptures makes them more unsettling, as viewers grapple with the knowledge that though we are part of nature, we are at war with it, and with ourselves. Cragg is hardly an ecologist in the traditional sense, however. He came of age in a time when the ecology movement was just getting started, but unlike many of his peers, he embraced the idea of using plastic and other pollutant materials in his practice. Looking at his work, I have never had the sense that he considers human interference with nature to be fundamentally negative. Instead, I see his work as an expression of the potential for something harmonious to result from our presence in the biological realm.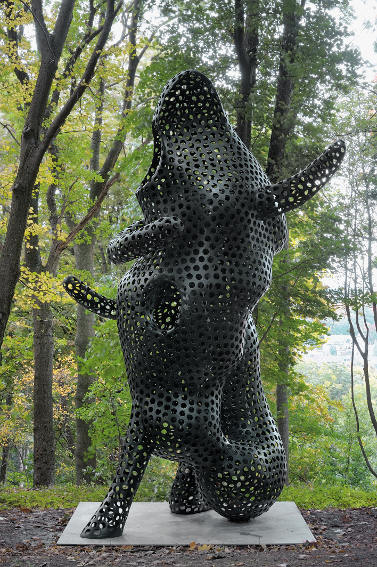 Tony Cragg - Ferryman, 2001. Bronze. 385 x 190 x 120. Photo: Charles Duprat. © Tony Cragg. Courtesy Thaddaeus Ropac, London • Paris • Salzburg
Complaining about a chance to look at art while most of the world remains locked down feels petty, but I feel that the current exhibition of several dozen of his works at Houghton Hall may not be the most successful survey of what Cragg has so far offered to the contemporary art conversation. Again though, this is likely simply because it was rushed. Theoretically, this locale could be uniquely perfect as a site to show his work since it is loaded with several sympathies that are right in line with the ideas Cragg is working with, such as colonization, power structures, and manipulation of the natural world. Perhaps if Lord Cholmondeley had simply delayed the Cragg exhibit until the artist could personally have spent more time with the environment, responding more intimately to its particular visual and material presence, then the show might have more adequately spotlighted the full depth and poetry of the work.
Featured image: Tony Cragg - It is, It isn't, 2014. Stainless steel. 310 x 100 x 122. Photo: Charles Duprat. © Tony Cragg. Courtesy Thaddaeus Ropac, London • Paris • Salzburg
By Phillip Barcio