Blog Home
How Toko Shinoda Made Gems of Abstract Expressionism
Mar 10, 2021
Japanese artist Toko Shinoda has died at age 107. For more than 70 years, Shinoda has been celebrated for the abstract drawings and paintings she created using the ancient method of sumi-e, which literally translates into black ink painting. Sumi-e ink is traditionally made in China or Japan from a three-step process. First, tree branches are burned in vegetable oil. The soot from the burned branches is then mixed with glue rendered from animal skin, and kneaded into a stick. Finally, the ink stick is dried, which can take as little as a few months for inexpensive ink sticks, or many years for more expensive sticks. The ink sticks Shinoda used for her paintings were between 300 and 500 years old. In 1980, she was interviewed at the opening of an exhibition of her work in the basement of a Buddhist temple once used by the Tokugawa Shoguns. She told the reporter, "About 30 years ago a lot of sumi came from China to Japan and I bought it all. I have been using those supplies ever since and there is enough to last my lifetime." Imagine being an artist and going to the art supply store one time, and making paintings for the next 70 years with the materials you bought on that trip! In the early 1950s, around the same time Shinoda bought her lifetime supply of ink, she also traveled to the United States. In New York, she visited the studios of many of the leading abstract artists of the time, including Jackson Pollock and Mark Rothko. It is often assumed by Western writers that Shinoda was influenced by the Abstract Expressionists, but decades after her trip to America she told a reporter, "I never studied Western art. No Western influence has come to me." Rather, her work stemmed from her study of the ancient tradition of calligraphy. In the title of this article I refer to her work as abstract expressionism—but I am not saying Shinoda was part of the American art movement of the same name. I am saying she was an artist who used abstraction to share expressionistic visions of the world she experienced. Like sumi-e, that is a practice that long predates the modern age.
Expressing the Abstract
Some of the earliest examples of abstract ink painting were made by Chinese artists living during the Tang Dynasty (ca. 618-907). Earlier forms of Chinese painting prioritized the ability to realistically copy the real world. Perhaps inspired by spiritual traditions such as Buddhism, which concentrate more on understanding the essence of something rather than copying its exact form, Tang ink wash painters shifted their emphasis towards capturing the spirit of whatever they were painting. If they were painting a bird, they no longer tried to express the exact shape and size of the wing; rather, they attempted to express the freedom or ecstasy of flight. The brush marks that ink wash painters used shared much in common with the tradition of Chinese calligraphy, which dates back thousands of years earlier. The symbols made by calligraphers are a mixed expression of denotation and connotation—conveying what something is as well as the feeling it expresses.

Within the Japanese tradition of calligraphy, artists are taught to develop their craft by following a process called shuhari. Shu means to obey; ha means to digress; ri means to separate. The idea is that first the student should obey the strict teaching of time tested, traditional methods. Second, they should experiment with new ways of doing the old things. Finally, they should forget all about what they have learned, and just trust their own instincts in order to create an expression of their art that is truly their own. Shinoda was born in 1913, and began learning calligraphy as a young child. She made a living as a professional calligrapher in the 1940s. At that time, during her ha phase, she found that by extending the brush marks of the symbols she was drawing she could add more energy and emotion to them, and thus better express the essence of what she was attempting to say. The paintings she later when on to make for more than 70 years are representations of a mature artist her ri phase, who found a true expression of her personal vision of the world.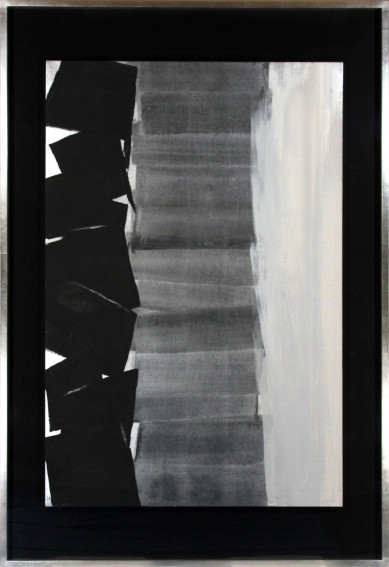 Toko Shinoda - Departure - Black [190 x 130 cm] - 2013. Sumi and white paint on Japanese paper. Image 59 x 40 in, Frame 75 x 51 in. Toko Shinoda/Courtesy of the Tolman Collection of Tokyo
Words and Forms
Though some of her works remained untitled, Shinoda frequently gave her paintings straightforward, one word titles related to a personal feeling, such as Joy, Gratitude, or Quietude. Other times, she gave them more elaborate titles that refer to more of an outside experience of life, such as Fleeting Passage, Arriving Wind, or Morning Leafy / BLESSING / Deep Winter. Such paintings could be called abstract. However, Shinoda would likely not have used that exact language to describe the work. Early in her career she was abstracting specific symbols, altering them for effect. Her mature works, however, might be better understood as representational pictures of abstract things. She once said, "If I have a definite idea, why paint it? Mount Fuji is more striking than any possible imitation."

Many artists who stick with their practice long enough eventually create their own visual vocabulary—marks and shapes and patterns that instantly identify the work as their own. The forms Shinoda invented are more like a visual vocabulary that anyone can share in. She was not so interested in creating a body of work that would be instantly recognizable as her own. She was more interested in creating a body of work that would connect people with the unseen, unspeakable feelings that constitute so much of the human experience. The elegance of her work shows the extent to which she mastered her craft, and the depth to which she understood nature and the human spirit.
Featured image: Toko Shinoda, Eventide, 1992. Lithograph with hand brush strokes, ink and coloring on paper. Edition 4/45. 17.5 x 22.2 inches (44.5 x 56.4 cm). Toko Shinoda/Courtesy of Seizan Gallery
All images used for illustrative purposes only
By Phillip Barcio